3 Bean Salad
In certain parts of the country, a good three bean salad is almost always the anchor to a potluck or picnic, or any kind of gathering where sturdy, crowd-pleasing, portable, and frankly inexpensive food is wanted.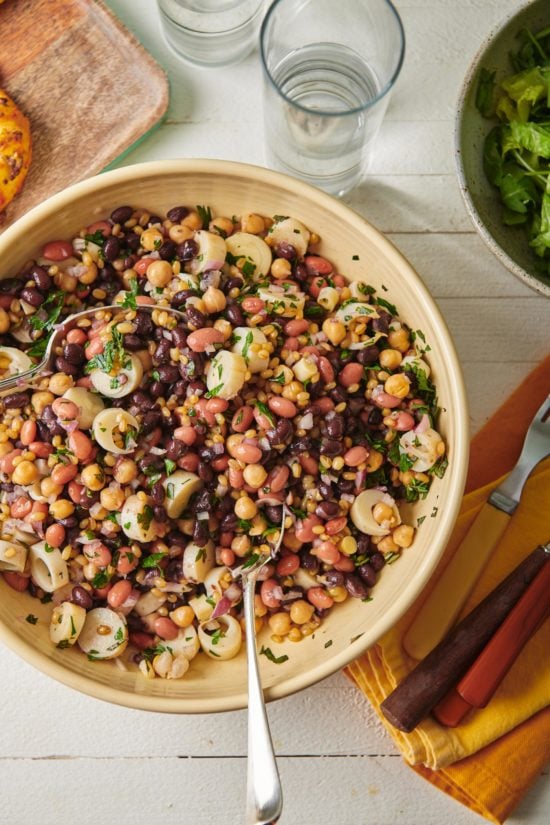 There have been countless three bean salads made with simply the three beans and the addition of some bottled vinaigrette and nothing else, and they've most certainly been well received. But a plain old three bean salad made only with canned beans can feel a bit heavy and monotonous…and old fashioned.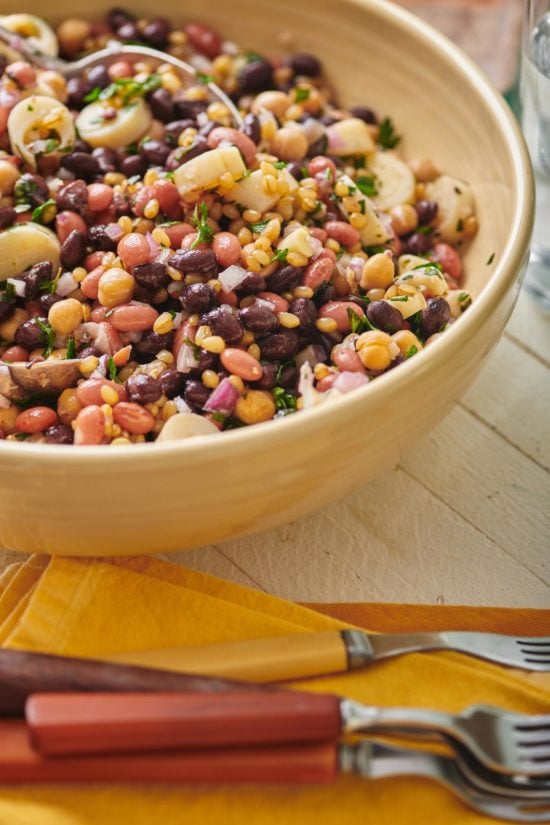 In this more contemporary version the addition of a few handfuls of whole grains and sliced jarred or canned hearts of palm lighten things up a little and provide textural interest. A generous amount of fresh herbs provide brightness.
Whole Grains in Bean Salads: Pick Your Favorite
The two I have used in this recipe are spelt and farro, but you can also try wheat berries or barley, or anything you like!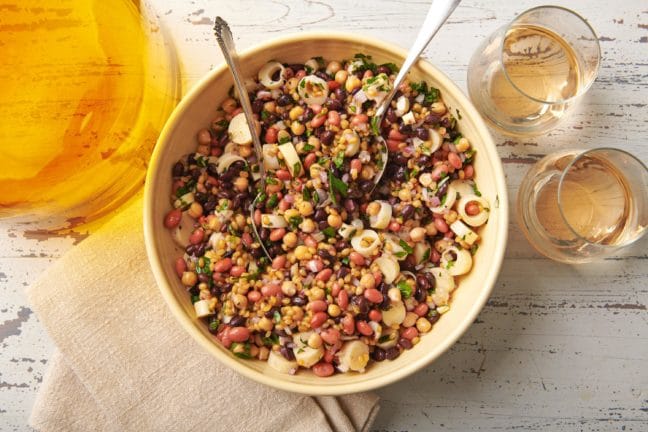 Spelt Grain Salad
Spelt is a whole grain that been around since ancient and medieval times, but now it is only commonly grown in Europe. It fell out of favor in the 1900s, but now that whole grains are back in the spotlight, it's becoming very popular again. It'ss quite chewy and nutty, in large, fat rice-shaped grains. Some people who have wheat intolerances can enjoy spelt, but it is a member of the wheat family, so it's not for people who are celiac or who have more serious wheat aversions. It's usually soaked for several hours before cooking, which reduces the cooking time.
Soak 1 cup spelt grains in water to cover overnight. Drain the spelt. Bring three cups of water or broth to a simmer in a medium-sized pot over medium high heat, add the drained spelt, and simmer for about 1 hour until the spelt is tender.
Farro Grain Salad
Farro is another super ancient grain, possibly the oldest grain in the world. It originated in Western Asia, and has been extremely popular of late with the resurgence of interest in whole grains. It's like a denser, chewier barley. For more on farro and cooking farro, click here!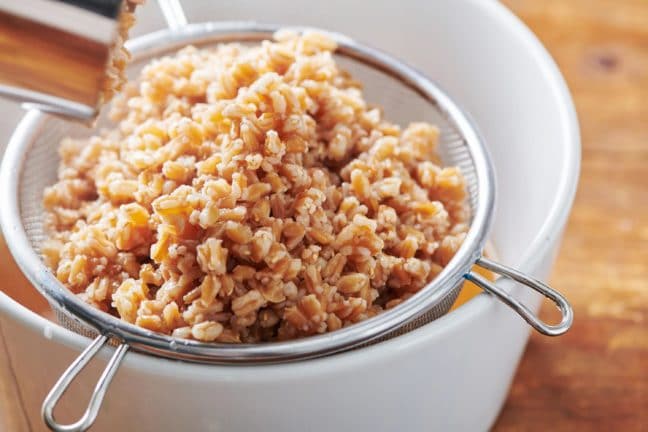 When you are cooking the spelt of farro for this recipe, make some extra, which is nice to have later in the week in pilafs, soups and stews.
Herby Dressing
The modern three bean salad dressing is quite thick, close to a pesto-ish paste, but it distributes itself perfectly over all of the ingredients when you toss the whole thing together. I used a combo of basil, thyme and parsley, but you can change up the herbs as you like. Feel free to add some other fresh vegetables as well, like diced zucchini, tomatoes or avocado, but add those shortly before serving.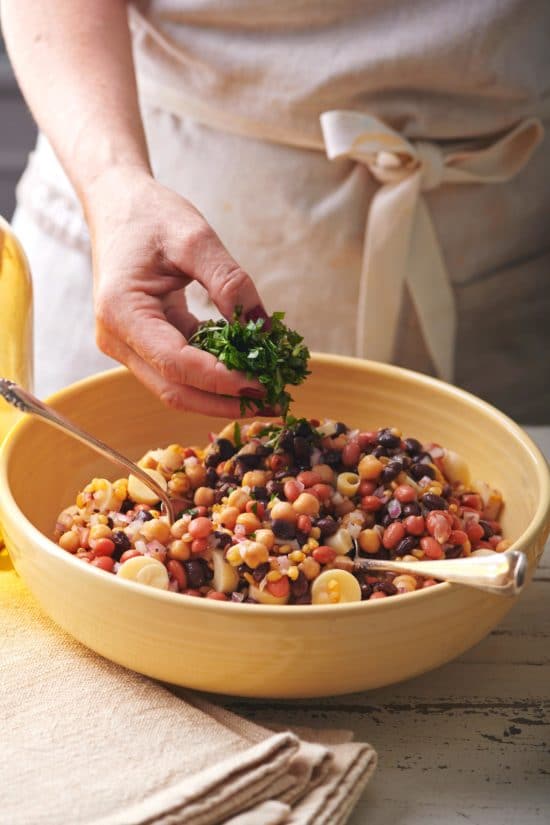 Make Ahead Bean Salad
You can make this salad up to three days ahead of time and store it covered in the fridge. Leftovers make terrific lunches on the go (or at home…).
What to Serve with Three Bean Salad: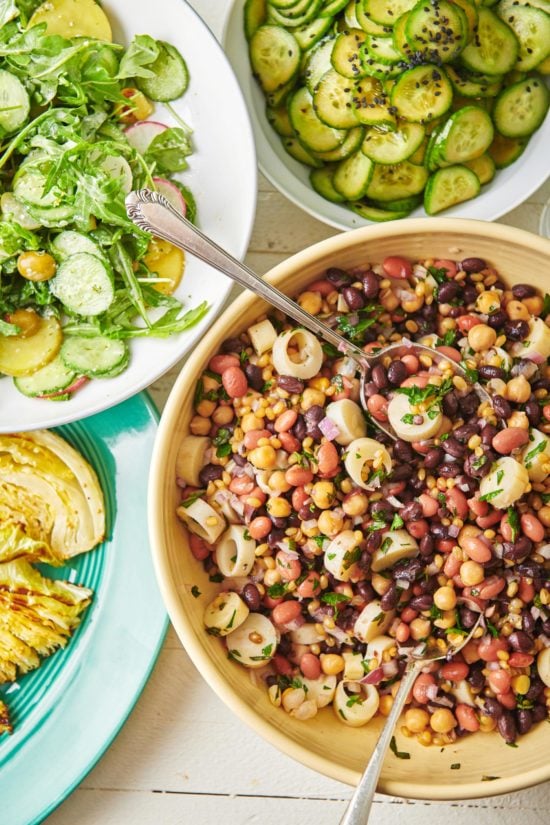 Other Great Picnic and Potluck Side Dish Recipes:
Like this recipe? Pin it to your favorite board on Pinterest.

Pin This
Modern Three Bean Salad
A contemporary version of a classic side dish, with the addition of whole grains, hearts of palm, and fresh herbs to brighten it up.
Ingredients
1

14-ounce can hearts of palm

drained

1

15.5-ounce can kidney beans

rinsed and drained

1

15.5-ounce can chickpeas beans

rinsed and drained

1

15.5-ounce can black beans

rinsed and drained

1

cup

cooked, cooled spelt or farro

(see above or package directions)

¼

cup

chopped fresh parsley

2

tablespoons

chopped fresh basil

2

tablespoons

chopped fresh thyme

2

tablespoons

rice vinegar

2

tablespoons

extra-virgin olive oil

½

cup

finely chopped red onion

Kosher salt and freshly ground pepper

to taste
Directions
Rinse the hearts of palm and cut them into ½–inch slices. In a large serving bowl mix together the hearts of palm, kidney beans chickpeas, black beans and cooked spelt.

In a small bowl or container mix together the parsley, basil, thyme, vinegar, olive oil, onion and salt and pepper. Stir or shake to combine well, then pour the dressing over the bean salad and toss to coat everything well. Serve at room temperature or slightly chilled.
Nutrition Information
Calories:
287
kcal
|
Carbohydrates:
49
g
|
Protein:
14
g
|
Fat:
5
g
|
Saturated Fat:
1
g
|
Sodium:
12
mg
|
Potassium:
1234
mg
|
Fiber:
12
g
|
Sugar:
9
g
|
Vitamin A:
253
IU
|
Vitamin C:
9
mg
|
Calcium:
64
mg
|
Iron:
5
mg
The nutrition values are provided as an estimate. It is not intended as a substitute for the advice of a qualified healthcare professional.
Made this recipe? Post a photo of your delicious creation on Instagram with our hashtag #dinnersolved