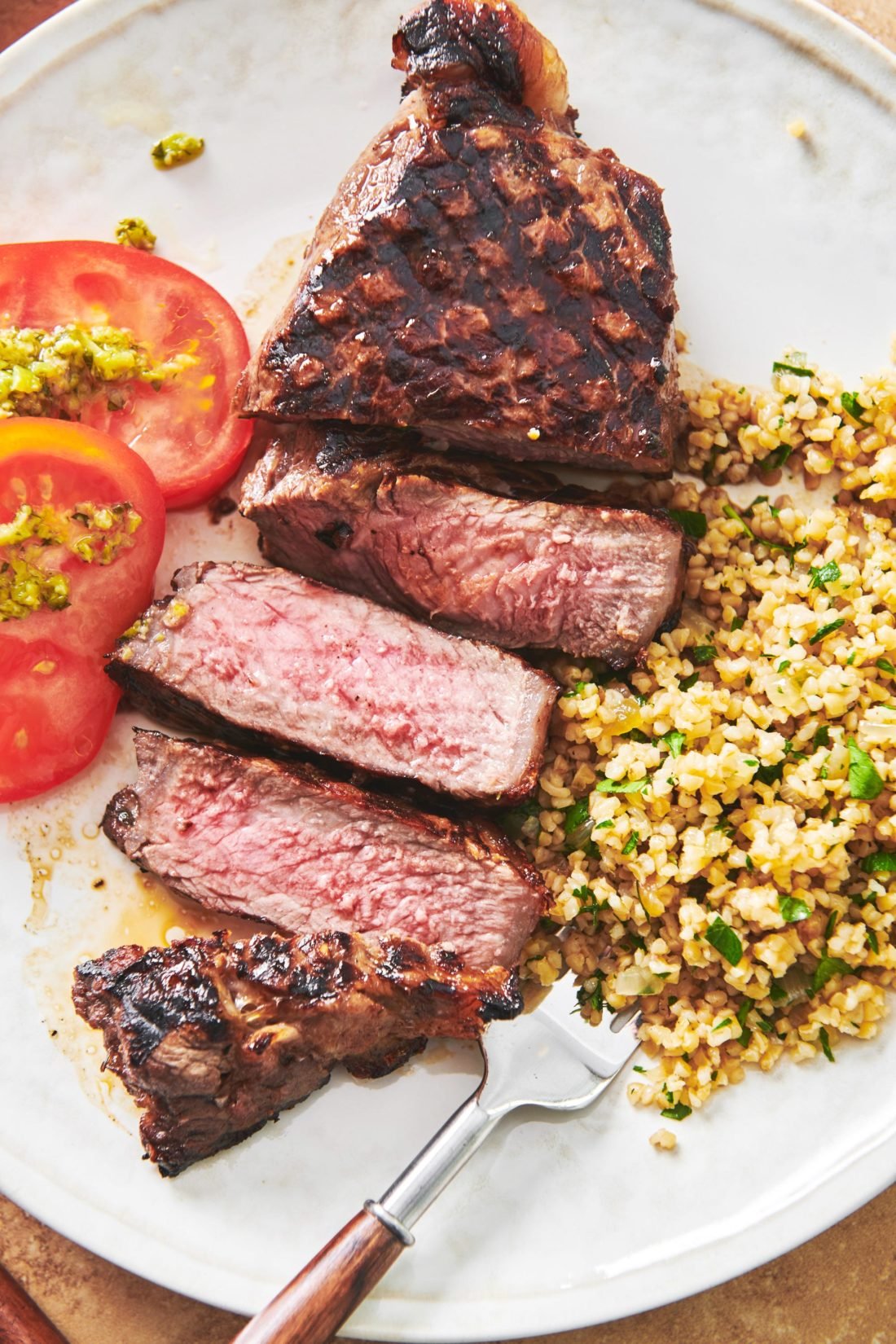 What kind of steak floats your boat the most? My guys are open to every stripe of steak from rib-eyes to sirloins, prepared all kinds of ways, but one of their favorites is a New York Strip Steak, nicely marbled and seared up on the grill. Full of flavor, and here enhanced by a marinade that is anything but shy, and with a firm but tender texture, this is steak nirvana for them.
New York Strip Steak
New York Strip goes by different names in different places: Kansas City Strip, Omaha Strip, Club Steak, and Top Loin Steak. NY Strip seems to have the most traction though (said the food writer from NYC). It usually has the bone removed (though not always) so nothing stands between you and beautiful slices of meat. It's from the loin cut of the cow, the center cut, between the rib and the sirloin.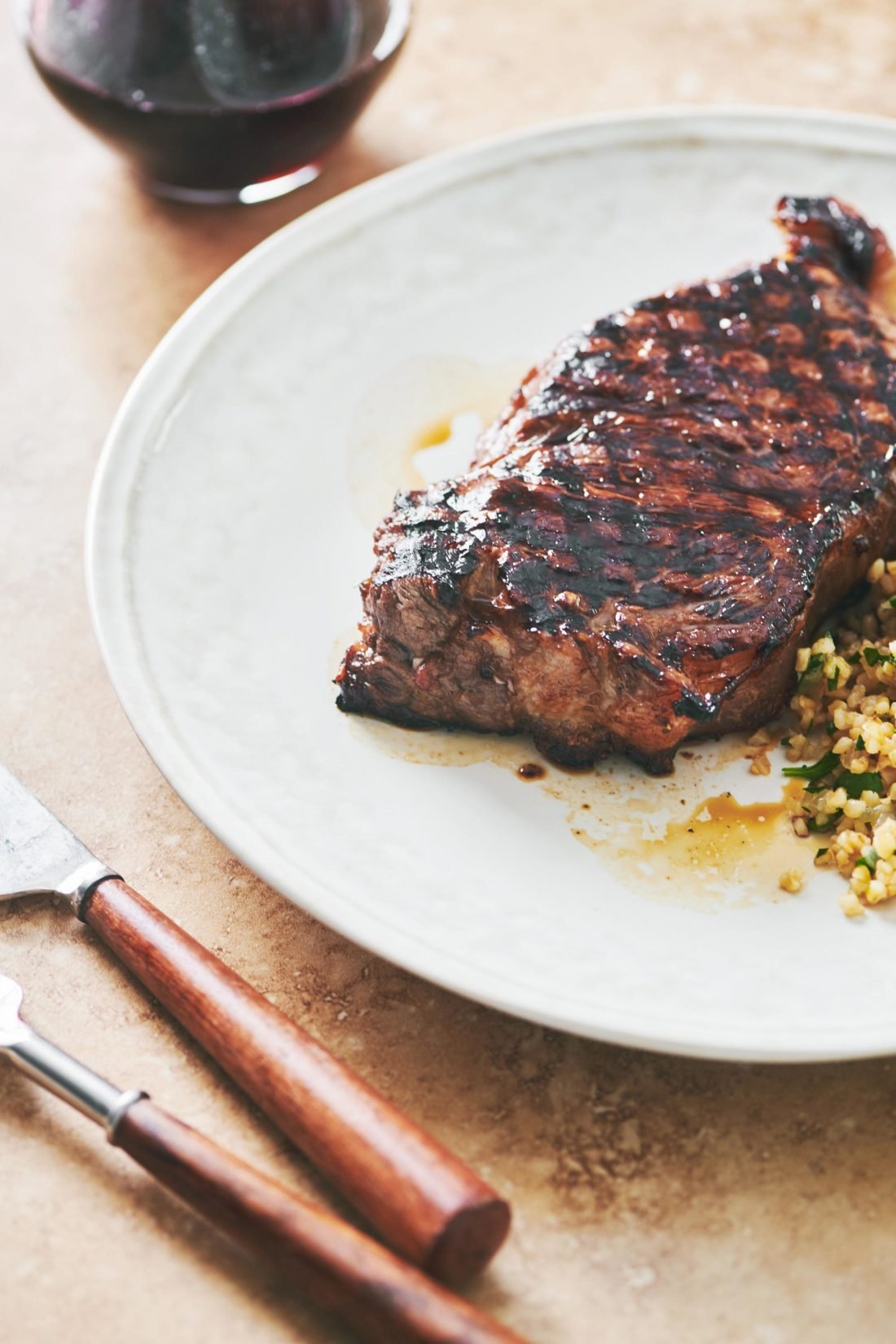 New York Strip Steak Marinade
The marinade is robust—red wine, balsamic vinegar, shallot, garlic, Dijon mustard, tarragon, and a generous amount of salt (use kosher or sea salt—definitely a coarse salt) and pepper. 2 to 4 hours is ample for the steak to pick up lots of flavor—more than that might start to obscure the flavor of the meat. And if you've bought yourself a good NY Strip Steak (and I sure hope you did—prime or choice; no marinade is going to compensate for a not-so-great piece of meat), you definitely want to taste the beef.
Do Steaks need to Come to Room Temperature?
Elizabeth Karmel, author of the brand new cookbook Steak and Cake, insists that the need to bring a steak to room temperature before cooking it is a myth. This is a woman who knows her way around a steak, and a grill. She maintains that cooking a steak from a cool temperature is the way to go, and I think there is merit to that, especially if you like your insides rare, and your outside nice charry browned. I think this notion is especially true when it comes to grilling. And again, it's very true for thinner steaks, which can benefit from the middle staying cooler long to give the outside a chance to get those lovely grill marks.
How Thick Should a Steak Be For Grilling?
This recipe calls for steaks about 1 ½ inches thick. I always go for a steak at least 1-inch thick for grilling. Thinner steaks are harder to cook perfectly, especially if you want a nice crust on the outside. By the time you get a nice set of grill marks on the outside, the inside may be more well done than you like.
Go for a thicker steak, and slice it to serve, or you can even cut bigger steaks in half. The days where someone needs and/or wants a full 12 or 16-ounce steak on their plate are pretty much in the rearview mirror.
How to Get Cross Hatches on Grilled Steaks
Lovely crosshatches can be obtained by flipping the steaks so that each side gets two chances to be against the fire and searing against the grill. Make sure that the second time each side of the steak hit the grill it is perpendicular to the first, or at a 90 degree angle, so that you get those nice diamond or square shaped marks.
You're aiming for a total of 5 minutes per side, so it's 2 to 3 minutes between flips. For steaks, 135°F is medium rare; check it out with an internal meat thermometer.
Cooking Steaks in a Cast Iron Skillet
If you want to cook these steaks on the stove, you can. A cast iron skillet is the best pan for this. Lightly oil the skillet, heat it up so that it is very hot, over medium high heat, and sear the sides for about 5 minutes on each side, and check for doneness with the meat thermometer.
With this recipe, you won't get the same kind of caramelization as you would with the grill, as the steaks will be moist with the marinade when you pan cook them, but the will still be delicious, and if you don't have a grill, you should still have NY Strip Steak. Steaks with no marinate, simply patted dry and seasoned will brown up more fully.
Let the Steaks Rest
As with all meat, make sure to let the steaks rest for a bit after you remove them from the grill to let them finish cooking in their own heat, and to let the juices settle back into the beef.
This Grilled Marinated New York Strip Steak is steak nirvana: nicely marbled, full of flavor and seared on the grill or on a cast iron skillet.

Tweet This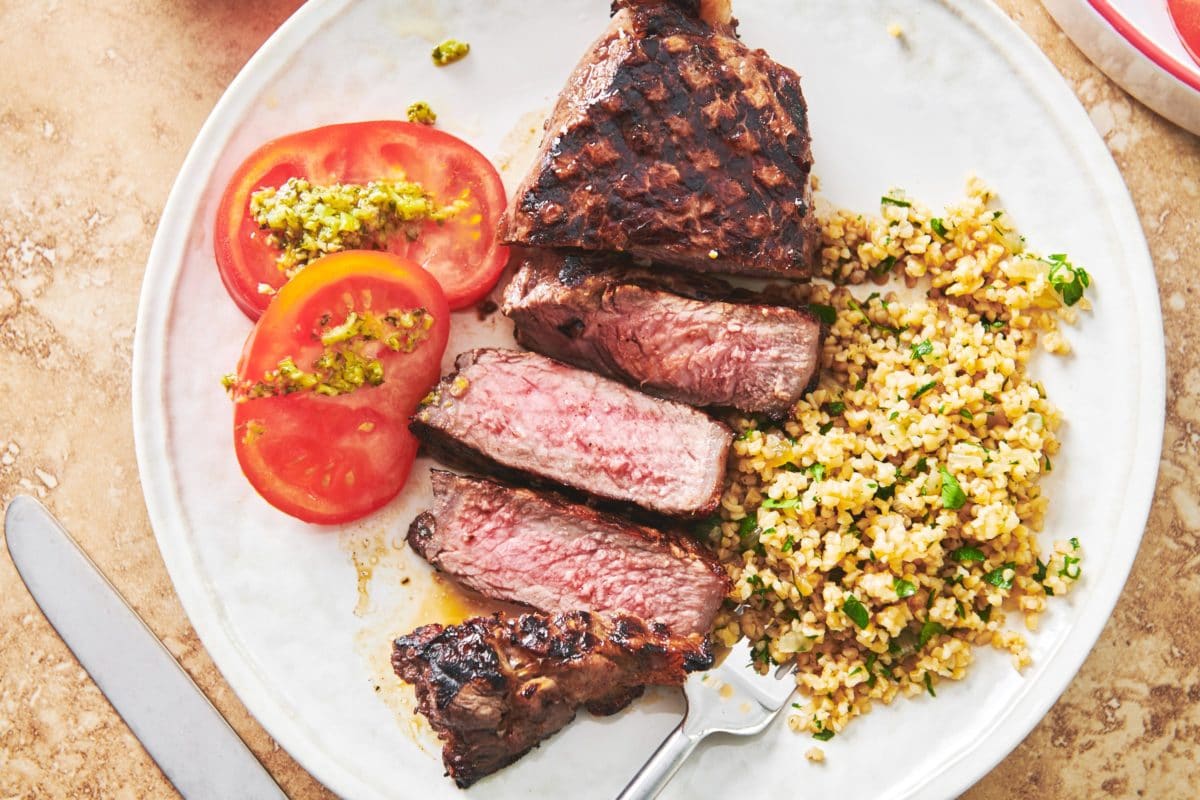 What to Serve with NY Strip Steak:
Mexican Avocado, Corn and Three Bean Salad
Summer Corn, Tomato and Bacon Salad
Want to go all out? Pair this with Grilled Lobster Tail for a totally indulgent surf and turf meal!
Like this recipe? Pin it to your favorite board on Pinterest.

Pin This
Grilled Marinated NY Strip Steak
Steak nirvana: nicely marbled, full of flavor and seared on the grill or on a cast iron skillet.
Ingredients
½

cup

red wine

2

tablespoons

balsamic vinegar

2

tablespoons

olive oil

¼

cup

minced shallot

1

tablespoon

minced garlic

1

tablespoon

Dijon mustard

1

teaspoon

minced fresh tarragon leaves

or ½ teaspoon dried

1

teaspoon

kosher salt

1

teaspoon

freshly ground pepper

2

1-pound 1 ½-inch thick NY Strip steaks
Directions
In a large (gallon sized) zippertop plastic bag combine the red wine, balsamic, olive oil, shallot, garlic, mustard, tarragon, salt and pepper. Squish so that everything is blended, then slide in the steaks and turn them so that they are coated with the marinade.

Seal the bag, pressing out excess air, and refrigerate the steaks in the marinade for 2 to 4 hours.

Heat the grill to medium high. Grill the steaks for a total of 5 minutes on each side, flipping them a total of three times to get cross hatch marks on both sides, turning the steak ¼ turn for the last two flips, so that the grill marks will form and cross hatch on the other side.  Let sit on a cutting board for 5 to 10 minutes before slicing and serving.
Nutrition Information
Calories:
305.56
kcal
|
Carbohydrates:
1.84
g
|
Protein:
23.62
g
|
Fat:
20.66
g
|
Saturated Fat:
7.38
g
|
Cholesterol:
90.72
mg
|
Sodium:
372.94
mg
|
Potassium:
386.02
mg
|
Fiber:
0.13
g
|
Sugar:
0.74
g
|
Vitamin A:
10.5
IU
|
Vitamin C:
0.44
mg
|
Calcium:
30.74
mg
|
Iron:
1.9
mg
The nutrition values are provided as an estimate. It is not intended as a substitute for the advice of a qualified healthcare professional.
Made this recipe? Post a photo of your delicious creation on Instagram with our hashtag #dinnersolved