How to Cook Farro
Cooking farro is just as easy as cooking a pot of rice. But farro has a more robust texture and a hefty nutritional boost, and while it's a nice side on its own, it also can be used in all kinds of ways.
What is Farro?
Farro is a super ancient grain, possibly the oldest grain in the world. It originated in Western Asia, and has been extremely popular of late with the resurgence of interest in whole grains. It is similar to barley, but denser and chewier.
Is Farro Nutritious?
Farro is nutritious, high in protein, fiber (the more bran the more fiber), iron, magnesium and B vitamins. It has almost no fat, and it's cholesterol free.
Is Farro Gluten Free?
No, but it's low in gluten so some people with mild gluten intolerances can have farro, but it's not safe to assume that it's gluten free.
How Do You Cook Farro?
There is more than one way to cook farro, and even on the stove, you have some options. Some people prefer cooking their farro with just the right amount of liquid to be fully absorbed, much in the same way most people cook their rice. Other methods involve cooking the grain in more than enough water enough that there is a lot left over, and you drain it, more like the way you cook pasta.
This method is somewhere in the middle. I like cooking farro in enough liquid for it to simmer, which also means you don't have to worry about the grains absorbing the liquid too quickly and the grains drying out or worse, burning on the bottom, of the pot. Think about a 1 to 3 ratio, 1 cup of farro to 3 cups of water or broth. I like to use diluted broth so you can still taste the flavor of the farro, but enrich the grains slightly with the flavor of whatever broth you choose.
You can toast the farro first in a dry pot over medium heat, stirring frequently, for a few minutes to give it an even nuttier flavor before proceeding with the simmering instructions below.
How to Make Farro
First, rinse and drain 1 cup of farro (soaking is optional, see more on that below).
Place the drained farro into a pot.
Add 3 cups broth or water.
Season with salt and add a bit of olive oil or butter if desired.
Simmer, covered, for about 30 minutes. Drain off any excess liquid once the grains are cooked to the level of tenderness you like them.
How Much Farro Does 1 Cup of Dried Farro Make?
1 cup of dried farro will make about 2 to 2 1/2 cups of cooked farro.
Ratio of Water to Farro
1 cup farro will take 3 cups water or broth to cook.
| Farro | Water |
| --- | --- |
| ½ cup | 1 ½ cups |
| 1 cup | 3 cups |
| 1 ½ cups | 4 ½ cups |
| 2 cups | 6 cups |
What Are the Different Types of Farro?
There are three different kinds of farro:
Piccolo (einkorn, triticum monococum)
Medio (emmer, triticum dicoccum)
Grande (spelt, or tritucum spelta)
Farro also is available with different amounts of the bran intact or removed:
Whole grain farro takes on the longer side to cook, but has none of the bran removed.
Semi-pearled farro is in the middle in terms of cooking times and how much bran (fiber) is left.
Pearled farro cooks the fastest, but has less nutrients in it.
Check the package to get a sense of what you've purchased, but don't worry–no matter what kind you've bought, the cooking method below will work. The cooking time will simply vary, based on the kind of farro you are cooking, and whether you've soaked it.
Farro is an amazing chewy, delicious ancient grain and here is what you need to know to cook it perfectly (it's as easy as cooking pasta)!

Tweet This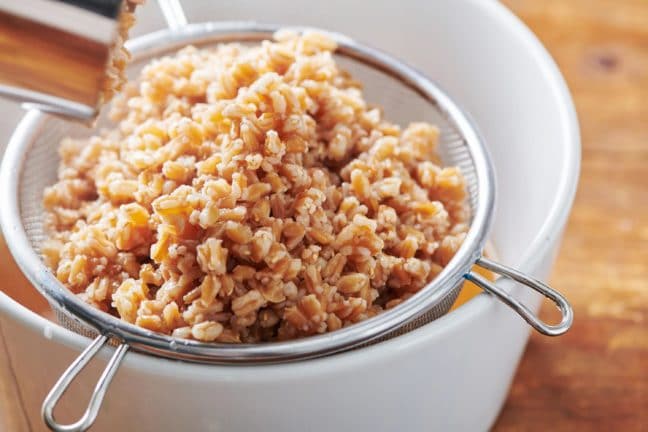 How Long to Cook Farro?
Cooking time really depends on the type of farro itself and the age of the grain. It also depends on when it was harvested, how deep or shallow your pot is, and if other ingredeints have been added to the pot. It can take anywhere from 25 to 40 minutes on the stove. Luckily farro keeps its texture without getting mushy even if it has extra time on the stove. The key is making sure that the liquid doesn't evaporate, as then the bottom grains will starts to brown and burn.
Do You Need to Soak Farro?
Soaking farro will shorten the cooking time. If you've soaked it overnight, you may have a cooking time as short as 20 minutes. It's not necessary, but unsoaked farro will probably take between 30 and 40 minutes to cook so if you plan ahead and soak the farro, you will have a shorter cooking time.
Where to Find Farro?
Farro is available packaged (Bob's Red Mill brand is often the one stores carry), or it may be in the bulk foods aisle of well stocked supermarkets and natural foods stores. Or you can buy it online.
How Can You Use Farro?
You can add farro to soups and stews, as well as salads. It might be the starring ingredient in a grain salad, or a handful of cooked farro makes a very interesting addition to lettuce or vegetable-based salads. Because it's a dense grain, if it is the main ingredient you will want to add a substantial amount of other ingredients so that the salad doesn't feel too heavy.
Recipes with Farro:
Ready to cook farro? Try these farro recipes.
Other Basic Cooking Recipes!
Like this recipe? Pin it to your favorite board on Pinterest.

Pin This
How to Cook Perfect Farro on the Stove
Farro is an amazing chewy, delicious ancient grain and here is what you need to know to cook it perfectly (it's as easy as cooking pasta)!
Ingredients
1

cup

farro

3

cups

water

stock or a mixture of both

½

teaspoon

Kosher salt

1

teaspoon

butter or olive oil

optional
Directions
Place the into a sieve and rinse with cold water. Drain.

Place the farro into a medium sized pot with a lid. Add the water or stock or a combination of both and add the salt and butter or olive oil if using. Bring to a boil over high heat.

Reduce the heat to low, cover, and gently simmer for about 30 minutes, until it is tender but still chewy (if you have soaked it overnight, the cooking time will be shorter). The cooking time depends on a number of factors, all explained above! If there is liquid remaining in the pot, drain it in a sieve.

If you are using it in a salad or a room temperature dish, spread it out on a rimmed baking sheet to cool to prevent it from getting mushy.
Nutrition Information
Calories:
185
kcal
|
Carbohydrates:
39
g
|
Protein:
5
g
|
Fat:
2
g
|
Saturated Fat:
1
g
|
Cholesterol:
3
mg
|
Sodium:
313
mg
|
Potassium:
140
mg
|
Fiber:
8
g
|
Sugar:
1
g
|
Vitamin A:
31
IU
|
Calcium:
20
mg
|
Iron:
1
mg
The nutrition values are provided as an estimate. It is not intended as a substitute for the advice of a qualified healthcare professional.
Made this recipe? Post a photo of your delicious creation on Instagram with our hashtag #dinnersolved