Me and hearts of palm, we have a thing.
I always loved them (more on why you should love them too in two tics). And then when I was pregnant with Charlie they were my top craving. I ate at least a half jar a day. Whatever was not great about them was offset by the fact that I wasn't eating a cheesecake, so I felt good about that. I didn't say there was no cheesecake, just not daily cheesecake.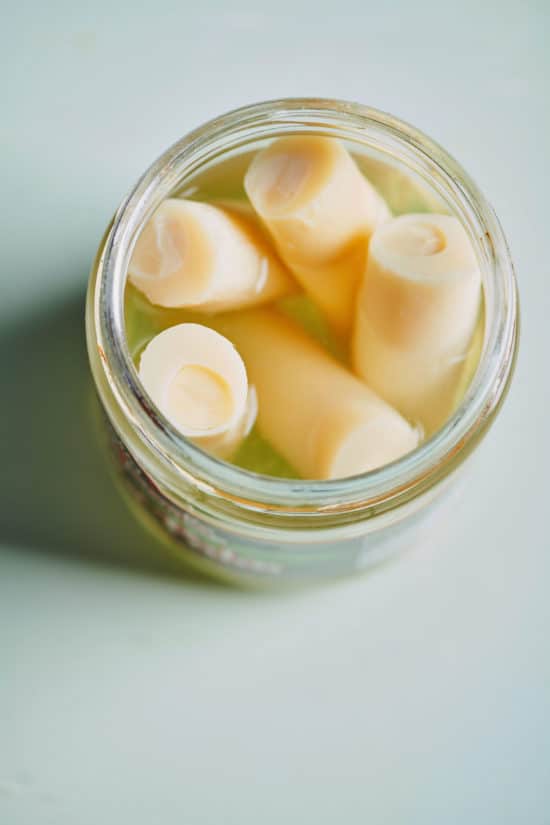 What Are Hearts of Palm?
The most obvious question is….are these really the hearts of palm trees? And the answer is in fact—yes! They are! The come from the center of palm trees, most often the cabbage palm.
What Do Hearts of Palm Look Like?
They look like long thick white asparagus, minus the tips. They have thick concentric layers within their column like shape.
What Do Hearts of Palm Taste Like?
Texturally a good heart of palm is a lovely balance between tender and crunch. The taste is slightly reminiscent of artichoke hearts, but more delicate. The flavor similarity is underscored especially when they are jarred or canned, as they are packaged with a liquid that is similar to the liquid used with artichoke hearts.
How Do I Store Hearts of Palm?
Hearts of palm are usually sold jarred or canned, and you should just check out the expiration date on the packaging. Once opened, they can be stored, resealed, in the fridge for about a week, before they start to get a bit mushy and past their prime.  Before they are opened they can be stored at room temperature. Check the expiration date on the can or jar.
How Do I Use Hearts of Palm?
They can be used right from the jar or can, sliced or diced and added in vegetable or grain salads (like this Bright, Herby Three Bean Salad or this Hearts of Palm Salad), or wrapped with a piece of prosciutto or ham and eaten as a snack or appetizer.
They can also be used in cooked dishes, like stir-fries, or this Brazilian Casserole of Shrimp and Hearts of Palm (Camarões com Palmito).
Hearts of palm also have similarity to the texture of crab or lobster meat, and I have used them chopped in place of those shellfish in different recipes, like crab cakes (but with hearts of palm) or hot dips. They are an interesting substitute if you are looking to make a dish vegetarian or vegan. You could use hearts of palm instead of artichokes in this hot cheesy dip as well (vegetarian, but not vegan!).
Will Harvesting Hearts of Palm Kill the Palm Tree?
It depends. There are some harvesting techniques that will not kill the tree, and if you are a regular hearts of palm consumer, you may want to look into the harvesting practices of your favorite brand. There are some new growing and harvesting methods that produce more hearts of palm from one plant, without doing harm to the plant itself.
Can You Buy Fresh Hearts of Palm?
Fresh hearts of palm are very hard to find. If you do find them, wow, please give me a call?
Are Hearts of Palm Nutritious?
Hearts of palm are a good source of many nutrients. They contain protein and fiber, and high in vitamin C and vitamin B6, calcium, niacin, phosphorous and zinc. Not that many vegetables are high in protein, so this is good to know, especially for vegetarians. They also low in calories; about 40 calories in a cup.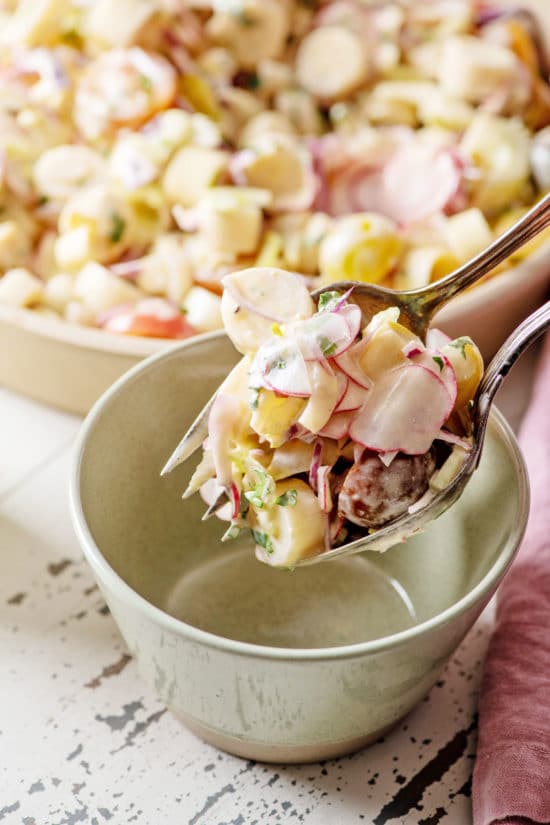 ---
Hearts of Palm Recipes
This is a total 15-mInute pantry salad, with the addition of some cucumber, celery and onion.
---
Hearts of palm get their moment in the spotlight in this satisfying salad.
---
A tomato-tinged brothy Brazilian one-pot dish, fragrant with scallions and cilantro and parsley.
---