This post may contain affiliate links. Please read our privacy policy.
Making your own bread crumbs couldn't be easier! And how amazing to know that you've not only made them quickly from scratch, but also that you didn't have to resign yourself from tossing that half a loaf of stale bread into the trash.  A double dose of satisfaction. Then you can use them in everything from Pasta with Sautéed Kale and Toasted Bread Crumbs to Pan Roasted Brussels Sprouts with Chorizo and Toasted Bread Crumbs to Air Fryer Mozzarella Sticks.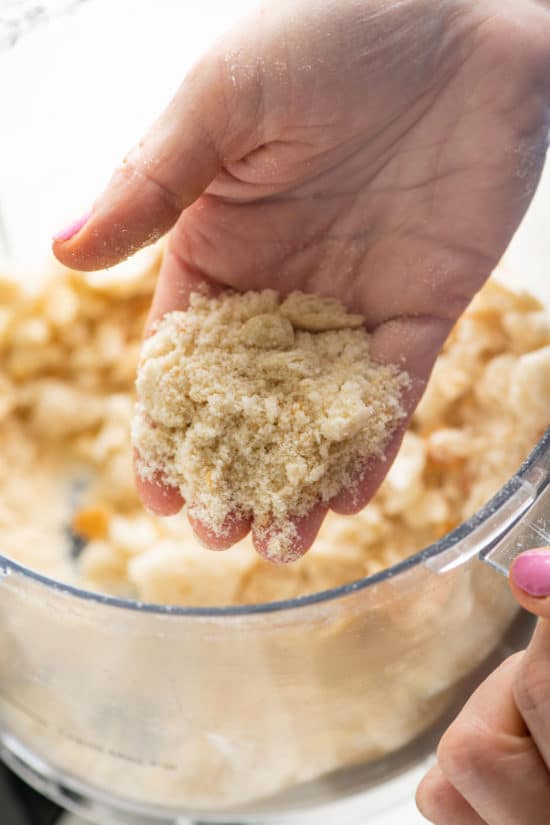 ---
How to Make Homemade Bread Crumbs
Make sure your bread is fairly dry/stale, but not rock hard.
If you want to hurry that process along (which is kind of funny; usually we are trying to keep things fresher longer), you can put the pieces of bread on a baking sheet and bake them in a preheated 325 degree oven for about 20 minutes until they dry out. If your bread is very hard and dry you can still make breadcrumbs, but they will resemble the dry bread crumbs you buy pre-packaged at the store.
2. Tear the bread into pieces.
They don't have to be tiny, but two inch pieces will let them chop up somewhat evenly.
3. Place the bread into a food processor.
Use the metal blade for this, and don't fill it more than about 2/3 of the way.
4. Pulse the bread.
You want to pulse the food processor in short bursts, so that you keep control over how finely the bread gets chopped.
Keep going until the bread crumbs are the size you want – either coarse, or fine, or a combination.
The drier the bread, the more fine the crumb will probably be.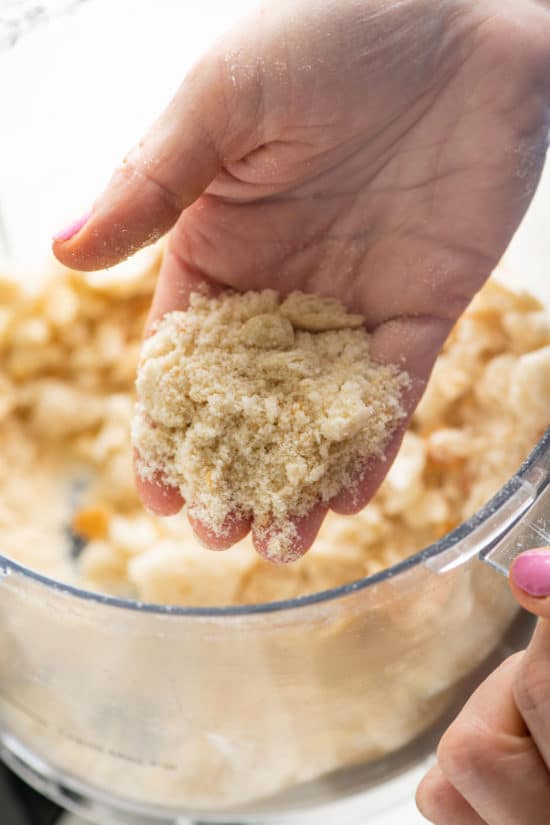 ---
How to Make Bread Crumbs: Making homemade bread crumbs — plain or Italian — is ridiculously easy. Here's how!

Tweet This
You can use the bread crumbs to coat chicken breasts or pork chops, or sprinkle over fish or scallops or pasta.
You might even toss these bread crumbs with a little garlic, fresh herbs and citrus zest first, for a wonderful pop of both flavor and texture (this is what known as a Gremolata in Italy, a great way to perk up so many dishes, from crostini toppings to green beans).
How to Make Italian Bread Crumbs
If you want to make classic Italian seasoned bread crumbs, just add in 1 to 2 teaspoons dried Italian seasoning (or a mixture of dried parsley, sage, basil, oregano and marjoram), ½ teaspoon garlic powder, and a pinch of salt. Make sure the mixture is well combined; give it a little shake or stir every time you use it so that the herbs are well distributed.
Storing Tips
Place the breadcrumbs in a sealed container, and keep them at room temp for 10 to 14 days. In the fridge they should last for about a month. If you are using bread that has seeds or oils in it, it might not last quite as long, but this is a good timing estimation for plain breads, whether white or whole wheat.
If you want to freeze bread crumbs, place them in a freezer-proof zipper top bag and press out any excess air. Label the bag and freeze for up to 6 months. Make sure to put the date on the bag. You can also freeze bread crumbs in a freezer proof container.
Recipes That Use Bread Crumbs:
Replace Panko with homemade breadcrumbs where appropriate.
Like this recipe? Pin it to your favorite board on Pinterest.

Pin This
How to Make Bread Crumbs
Making homemade bread crumbs is dead easy.
Ingredients
½

pound

stale good white bread approximately

cut into large cubes or torn into 1 to 2 inch pieces (about 8 cups total)
Instructions
Place the bread into a blender or a food processor and pulse or let the machine run until the bread crumbs are as fine or coarse as you like them. 

Transfer them to a sealed container and keep at room temperature for up to a week.
Notes
Store these in a very airtight container to preserve their texture.
Nutrition
Calories:
75
kcal
,
Carbohydrates:
14
g
,
Protein:
3
g
,
Fat:
1
g
,
Saturated Fat:
1
g
,
Sodium:
139
mg
,
Potassium:
33
mg
,
Fiber:
1
g
,
Sugar:
1
g
,
Calcium:
74
mg
,
Iron:
1
mg
Nutrition information is automatically calculated, so should only be used as an approximation.
Like this? Leave a comment below!