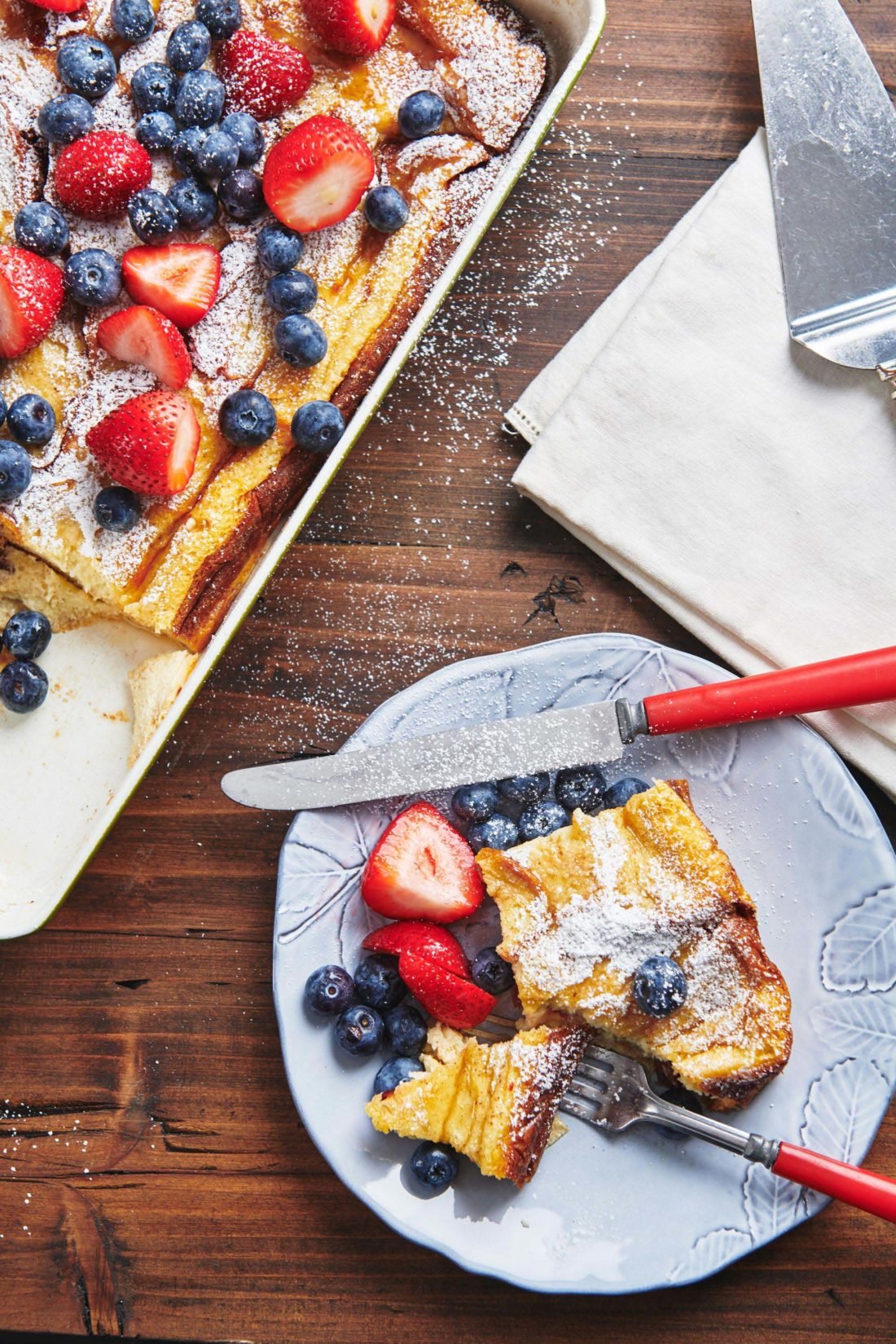 The idea of French Toast for breakfast is almost always appealing. The idea of making it for everyone is sometimes not so appealing.
French Toast Casserole
But what about an easy baked French Toast casserole, one that you could put together ahead of time, stumble out of bed the next day, preheat the oven, and soon have that amazing eggy, cinnamon-ey, bready fragrance filling the house? That is super appealing.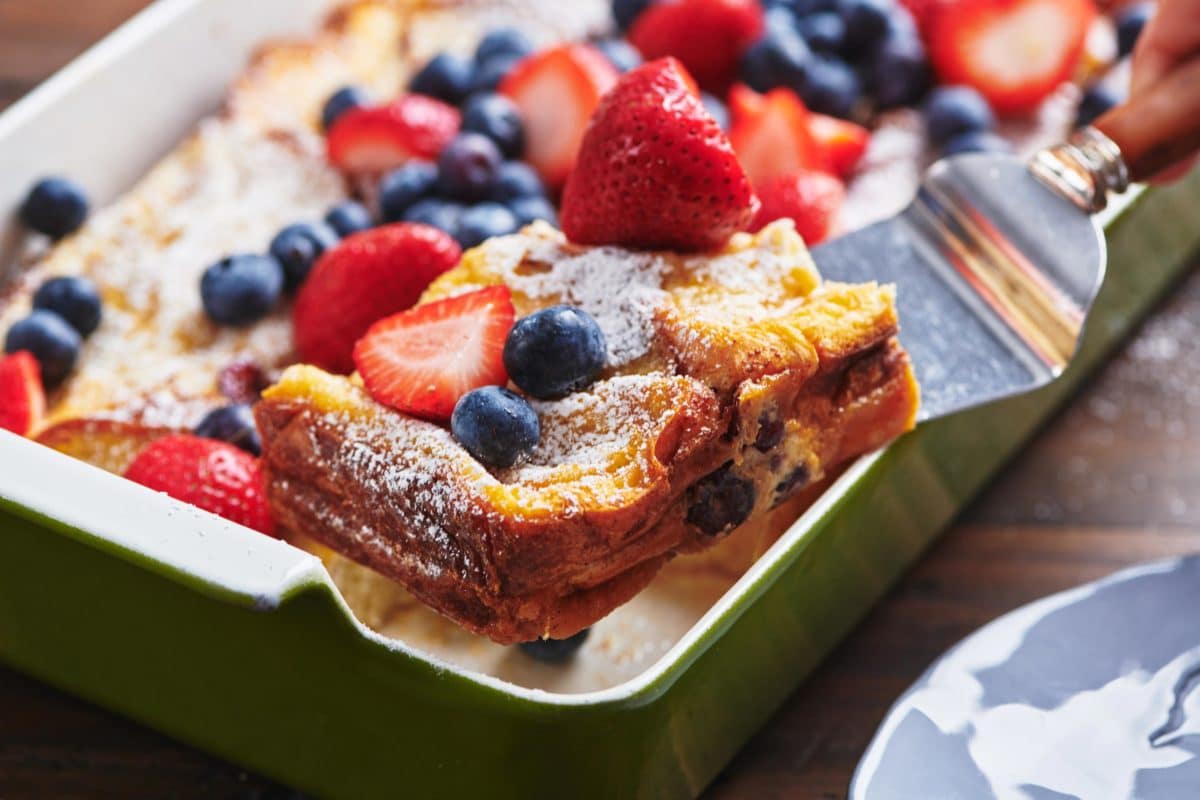 How to Make Baked French Toast
This dish is composed of layers of eggs, milk, and bread, plus your choice of flavorings. It's basically a strata. Stratas can be sweet, enhanced with chopped dried fruit, nuts, chocolate, or booze (that's for another post, though), or savory, layered with cheese, ham, and so on.
You blend up the milk and eggs, here plus some vanilla, sugar, maple syrup and cinnamon. Then you layer the bread in the casserole, and pour the liquid over.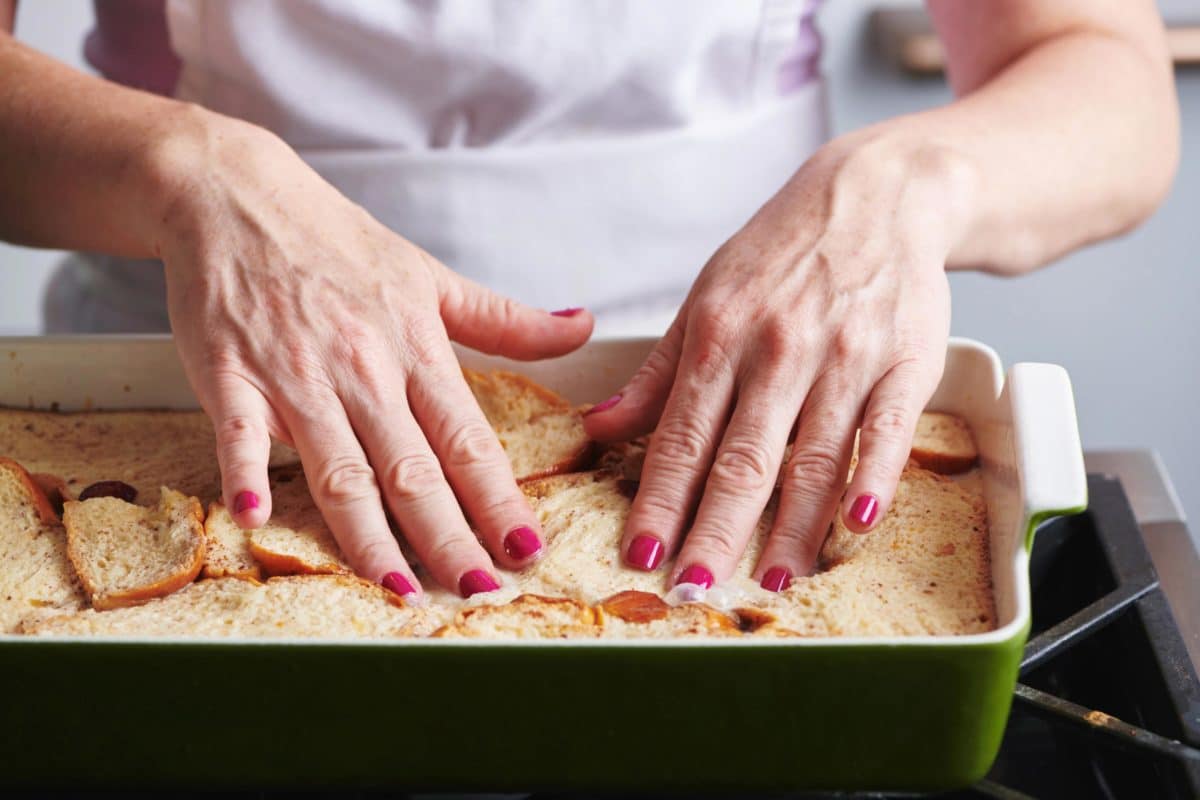 Press to submerge the bread.
Seal it up and place it in the fridge overnight so that the break can soak.
Pop it into a preheated oven and bake until it it slightly puffed and golden.
Top the baked french toast as desired with confectioners sugar, more maple syrup or a fruit syrup, berries or other fruit. Some whipped cream would not be outside the realm of consideration. The French Toast is great warm, room temperature, or even a bit cool.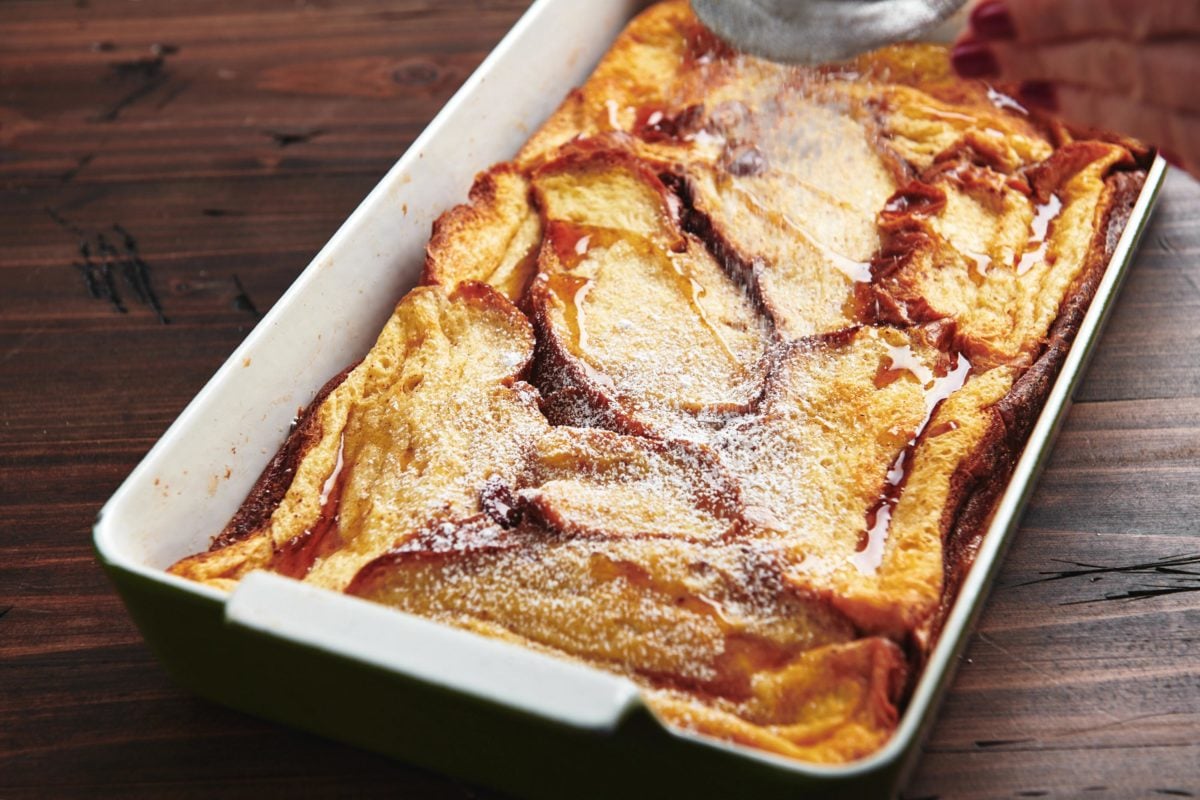 A baked make ahead French toast casserole to make your morning easier, but no less delicious.

Tweet This
French Toast in the Oven
The title of this recipe implies that your oven is lazy, which of course is ridiculous. Rather, it's the perfect brunch dish for a lazy weekend morning because everything can be assembled the night before casserole-style and transferred in the morning from the fridge to the oven. The ultimate make ahead dish, most stratas should be prepared about eight hours before they are cooked, so an overnight rest in the fridge makes sense. Leftovers do reheat nicely in the microwave or oven.
Make Ahead Fresh Toast
The ultimate make ahead dish, a strata has to be prepared about eight hours before it's cooked. So an overnight rest in the fridge makes sense. Leftovers do reheat nicely in the microwave or oven.
What the Kids Can Do
And it's a good dish to use to pull the kids into the action. They can help put together pretty much the whole French toast casserole, although you'll have to decide if they are old enough to help slice the bread (there are lots of kid-friendly plastic knives on the market). Let them pick and choose whatever dried fruits or nuts they like to go in the casserole.
Baked French Toast - an easy French Toast casserole with all of the happiness, much less of the stove time.

Tweet This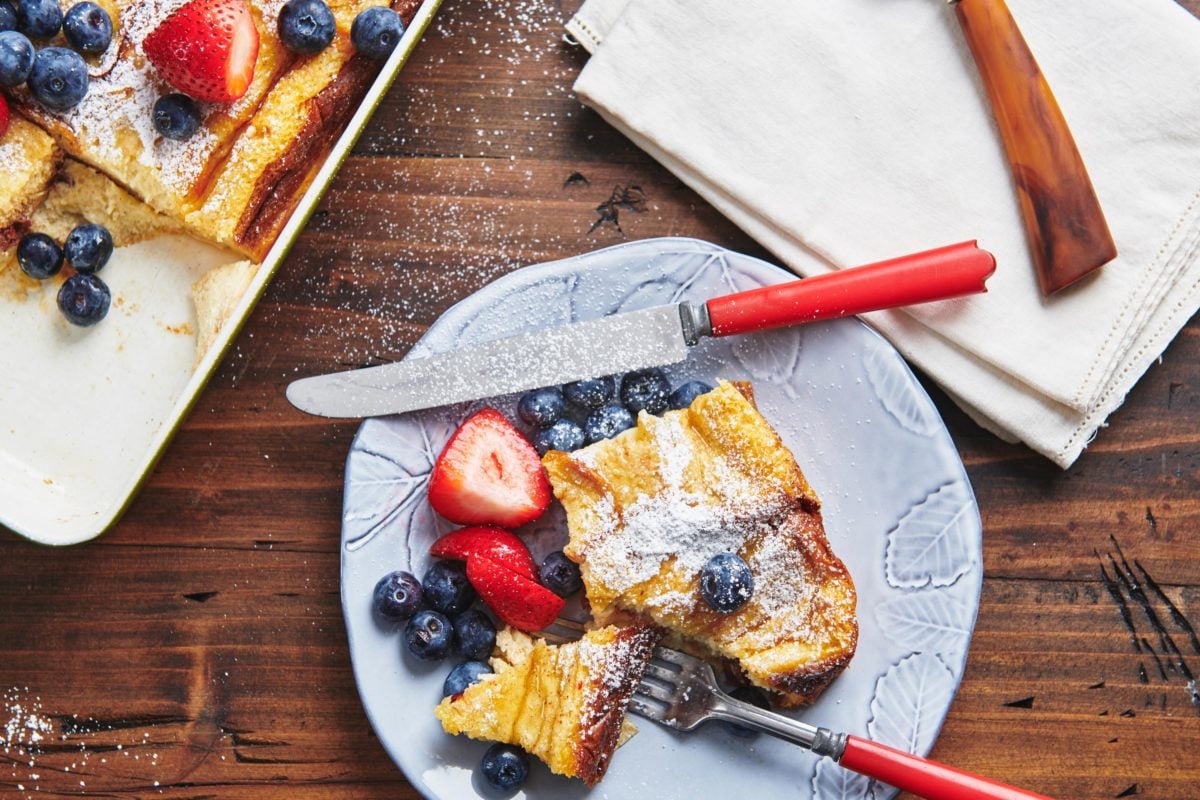 A Portable Casserole
You could even bring this to a potluck (reserve your oven time ahead, though! No one like a guest with a surprise needs-to-be-baked dish), and cook it there. Or if you're going somewhere close, cook it at your place and bring it warm. Do not forget the maple syrup. And a small container of confectioners' sugar for dusting, which you want to do right before serving. Yes, it's mostly for show, but nothing wrong with that.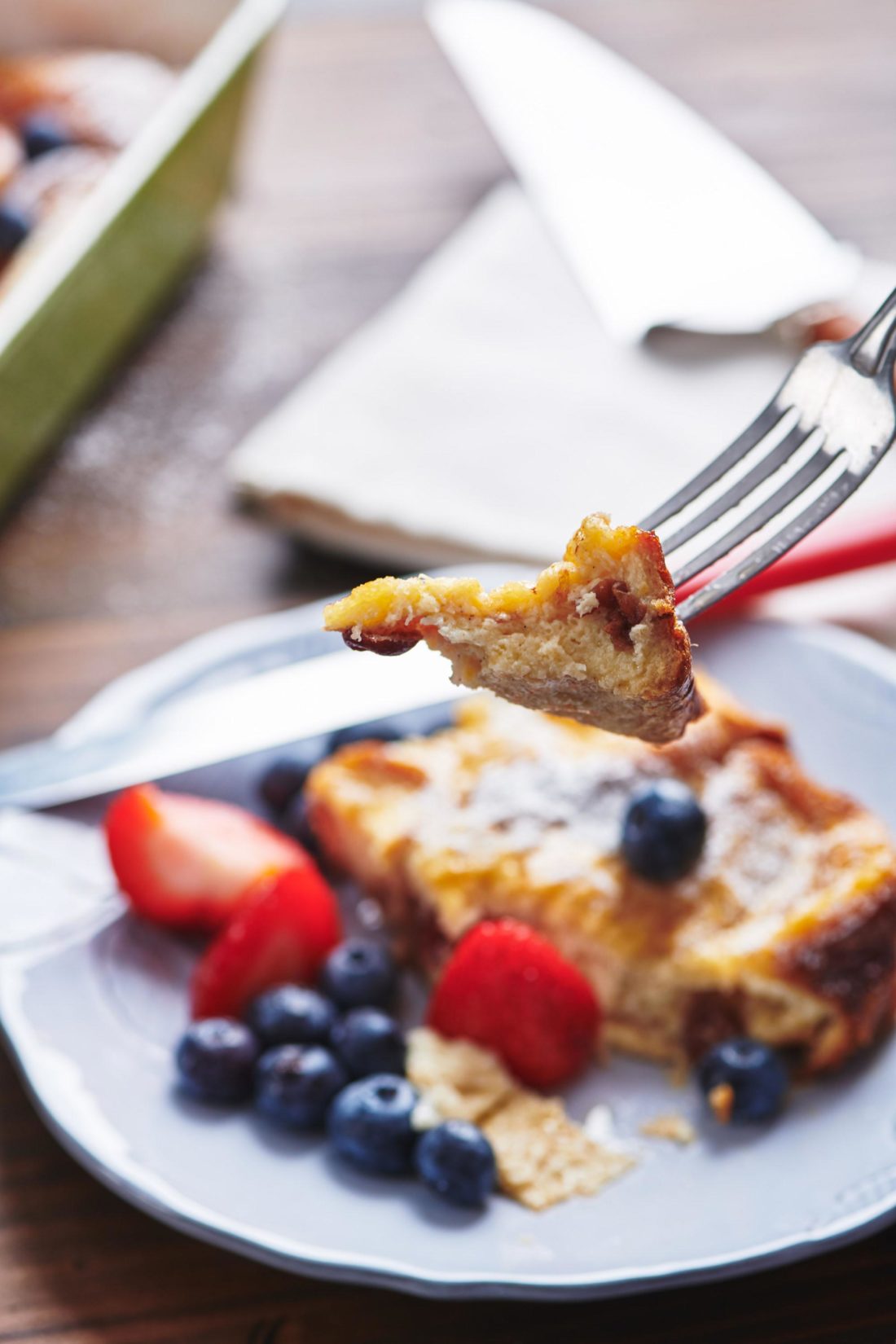 Other Make Ahead Brunch Recipes:
These are good make ahead options:
More Brunch Recipes:
These brunch recipes require some hands on morning time, but well worth it:
• Shakshuka with Swiss Chard — Essentially this eggs gently cooked in a vibrant tomato sauce,in this case  laced with little piles of chard. The sprinkle of feta on top is a great fresh burst of salty/creamy at the end.
• Migas – A madcap scramble of eggs, tortilla chips, peppers, onions and cheese is the kind of breakfast that make a whole lot of people a whole lot of happy.
• Fried Eggs and Smoked Salmon over Polenta Cakes— the polenta cakes are made the day before, so it mostly frying eggs and assembly.
• Creamy Stuffed Breakfast Crepes
Like this recipe? Pin it to your favorite board on Pinterest.

Pin This
Lazy Oven Baked French Toast
When french toast for breakfast is appealing, but making it in the morning isn't. An easy make-ahead French toast in the oven.
Ingredients
Butter or nonstick cooking spray

for greasing the baking dish

4

cups

milk

see Note

6

large eggs

2

tablespoons

granulated sugar

2

tablespoons

maple syrup

plus more maple syrup for serving (optional)

1

teaspoons

pure vanilla extract

½

teaspoon

ground cinnamon

½

teaspoon

kosher or coarse salt

1

large loaf challah bread

preferably slightly stale, 
sliced 3⁄4 to 1 inch thick (see the Cooking Tip)

¾

cup

whole raisins

chopped dried fruit, or chopped nuts (optional)

Fresh fruit such as berries, sliced peaches or pears, and/or confectioners' sugar

for serving
Directions
Grease a 13 by 9–inch baking dish with butter or spray it with cooking spray.

Place the milk, eggs, sugar, maple syrup, vanilla, cinnamon, and salt in a

medium-size bowl

and whisk to mix well. Set the milk mixture aside.

Arrange half of the slices of bread in the prepared baking dish, cutting the bread so that it fits in a solid layer. Pour half of the milk mixture over the bread, then evenly distribute about half of any dried fruit or nuts, if using, on top.

Repeat, creating a second layer of bread and then pouring the rest of the milk mixture on top and distributing the rest of the fruit or nuts over the bread. Lightly press the bread down into the liquid.

Cover the baking dish with

plastic wrap

and refrigerate it overnight. The bread will have absorbed almost all of the milk mixture. Uncover the baking dish and if there are dryer looking pieces on top, take them off and carefully tuck them underneath the bread on the bottom so that the more milk-soaked pieces are now on top (this is messy but it all works out in the baking). Note that any dried fruit sitting on the top of the French toast will get pretty chewy when baked and nuts on top will get toasty; the fruit and nuts that are tucked into the French toast will be softer, so disperse the fruit and nuts as you see fit.

Preheat the oven to 425°F.

Bake the French toast, uncovered, until it is puffed and golden, 30 to 35 minutes.

Let the French toast sit for 5 minutes to firm up a bit, then cut it into squares and serve it hot with your choice of maple syrup, fresh fruit, and/or confectioners' sugar.
Nutrition Information
Calories:
189
kcal
|
Carbohydrates:
23
g
|
Protein:
8
g
|
Fat:
7
g
|
Saturated Fat:
3
g
|
Cholesterol:
135
mg
|
Sodium:
249
mg
|
Potassium:
330
mg
|
Fiber:
1
g
|
Sugar:
12
g
|
Vitamin A:
376
IU
|
Vitamin C:
1
mg
|
Calcium:
166
mg
|
Iron:
1
mg
The nutrition values are provided as an estimate. It is not intended as a substitute for the advice of a qualified healthcare professional.
Made this recipe? Post a photo of your delicious creation on Instagram with our hashtag #dinnersolved