This post may contain affiliate links. Please read our privacy policy.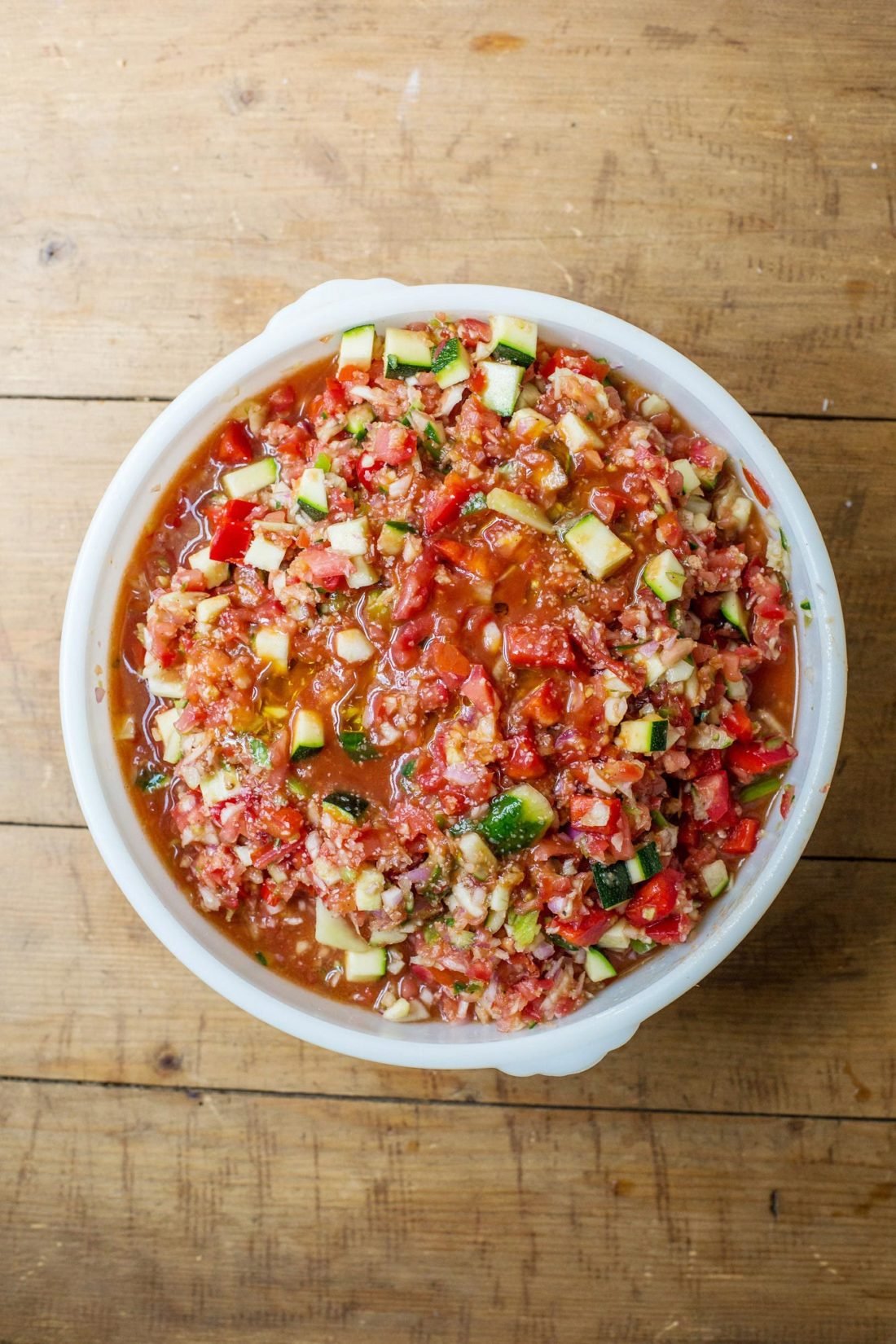 A friend of mine ordered gazpacho in a restaurant recently, and could not stop talking about how good it was. It had nuts in it, so I couldn't try it, but she spend a significant amount of time saying, "Oh,I WISH you could try this, it's SO good." And then I couldn't stop thinking about gazpacho.
It's like when someone hums a song, and then it's stuck in your head, and you can't move on until you download the song and listen to it 300 times. This is the download, and I plan to eat it 300 times before the tomatoes sail off into the horizon for the year.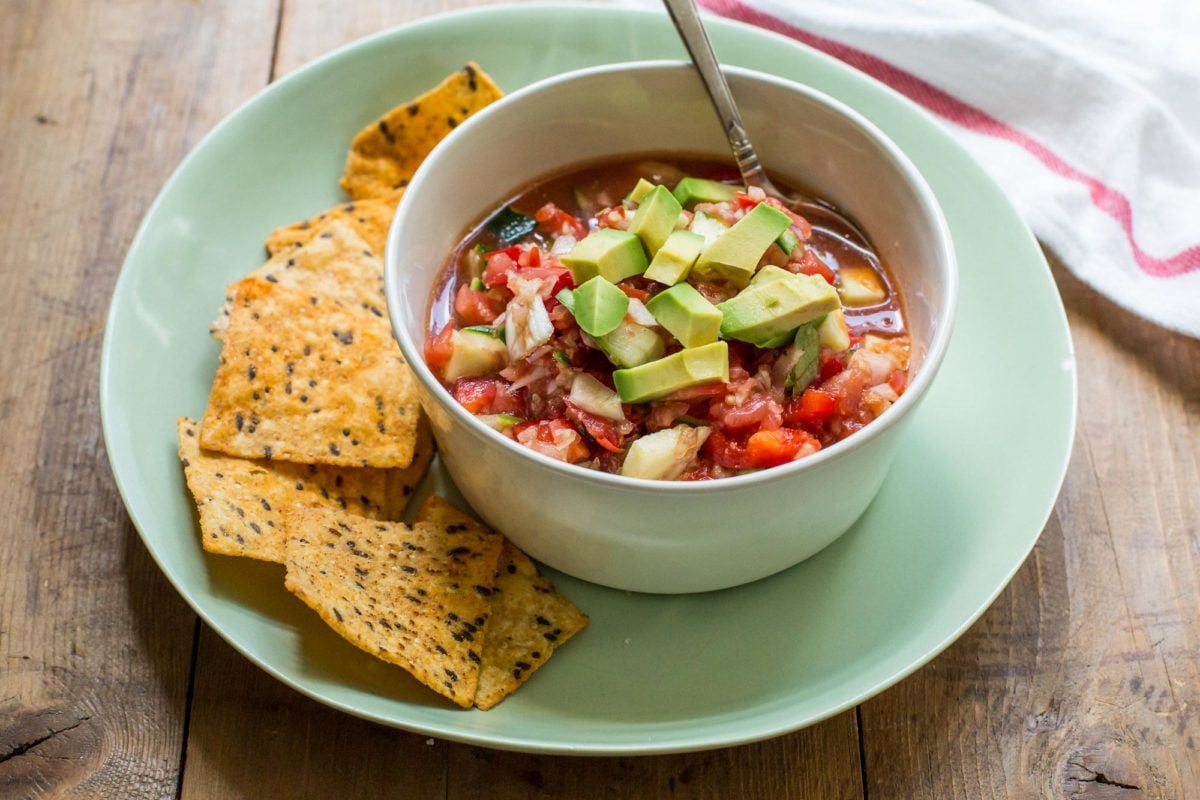 The Best Summertime Soup of All
If you want to taste summertime in a bowl, then look no further than this soup. It makes the very most of all of the vegetables that burst onto the scene with a vengeance towards the end of the summer, daring us to find ways to use them up before they either go bad, or fade away into the next season. Gazpacho looks those tomatoes and zucchinis and cucumbers and herbs in the eye and says, come to me, I will make you into something fabulous.
What is Gazpacho?
Gazpacho is a cold raw blended vegetable soup, often made with tomatoes, hailing from Spain, and also very popular in Portugal. While some traditionalists mince everything by hand, if you have a food processor or a blender you are well on your way. Tomatoes are usually the star of this soup, accompanied by cucumbers, something from the onion family, maybe some herbs.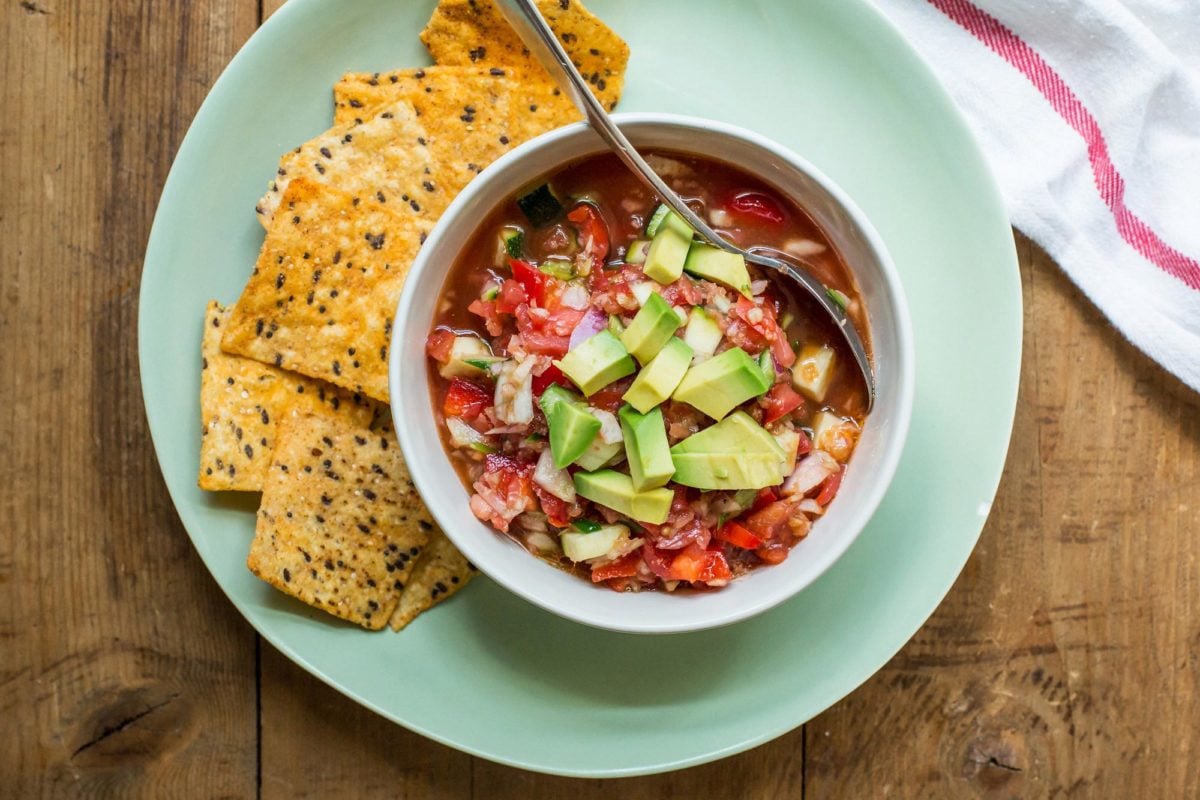 A bit of something acidic, most traditionally vinegar (sherry vinegar in particular), maybe some peppers (possibly sweet and hot together), and some olive oil for smoothness and overall flavor and deliciousness. After that, there is much open to interpretation (or maybe not much – it depends on how devoted you are to tradition).
There is discussion about whether or not to add tomato juice, or water, or just to let the juices of the tomatoes and vegetables pull it together. There is discussion about how smooth or chunky gazpacho should be, how thin or thick There is discussion about whether or not to add stale bread, whether almonds should be included, whether to use a blender, a food processor, or chop by hand.
In short, as with any traditional/beloved/classic dish, there is discussion. I am of the mind that there is more than one way to do almost everything, and so you can take this basic template for what it's worth, and layer on your own opinions!
How to make the best, most refreshing and beautiful soup of summer. With step-by-step instructions and photos.

Tweet This
How to Make Gazpacho
The order in which the ingredients are pulsed does not matter; just make sure you pulse the minced jalapeno with at least one of the cubed vegetables so it all incorporates nicely. You can pulse the vegetables coarsely, or until they are pretty finely ground, and you can add more or less tomato juice as you please – gazpacho is a very personal balance between flavor and texture.
Also, if you want to skip any of the vegetables (other than the tomatoes — that would be silly), that's fine. The tiny bit of sugar just brings out the natural sweetness of the tomatoes and balances the slight bitterness of some of the other vegetables.
Chop the Vegetables
I like to cut the vegetables into small chunks, then pulse most of the vegetables in the food processor in batches to control how finely they get chopped (and to prevent them from turning into a puree). Then they all get combined, so it's not critical which ones get chopped with which.
Garlic, shallots, any kind of onion, maybe even scallions or leeks. Here I'm using red onions and shallots. Some cucumbers, tomatoes, fennel.
Note that the food processor does not get cleaned out in between vegetables – they are all ending up in the same bowl! Here some fennel is being added along with the cucumber for a bright anise-y note, and hot pepper for heat. You could use hot sauce instead of hot peppers.
As for the tomatoes, to peel or not to peel? This is a question that I usually answer with "nah." I do make sure to cut out the tough stem and core, then cut the tomatoes into chunks, before roughly chopping in the food processor.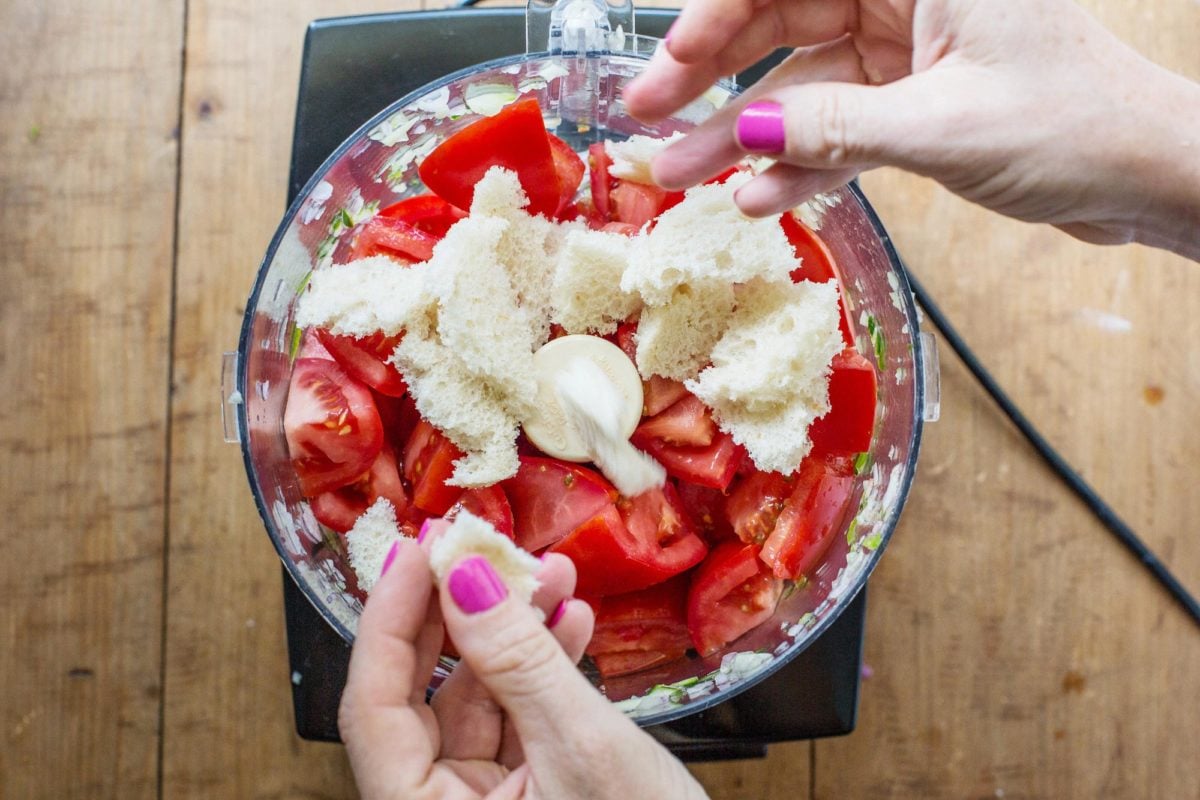 Adding a torn up slice or two of bread to the mix will thicken the gazpacho, and add body. Use a simple white bread so it doesn't interfere with the clean flavors of the vegetables.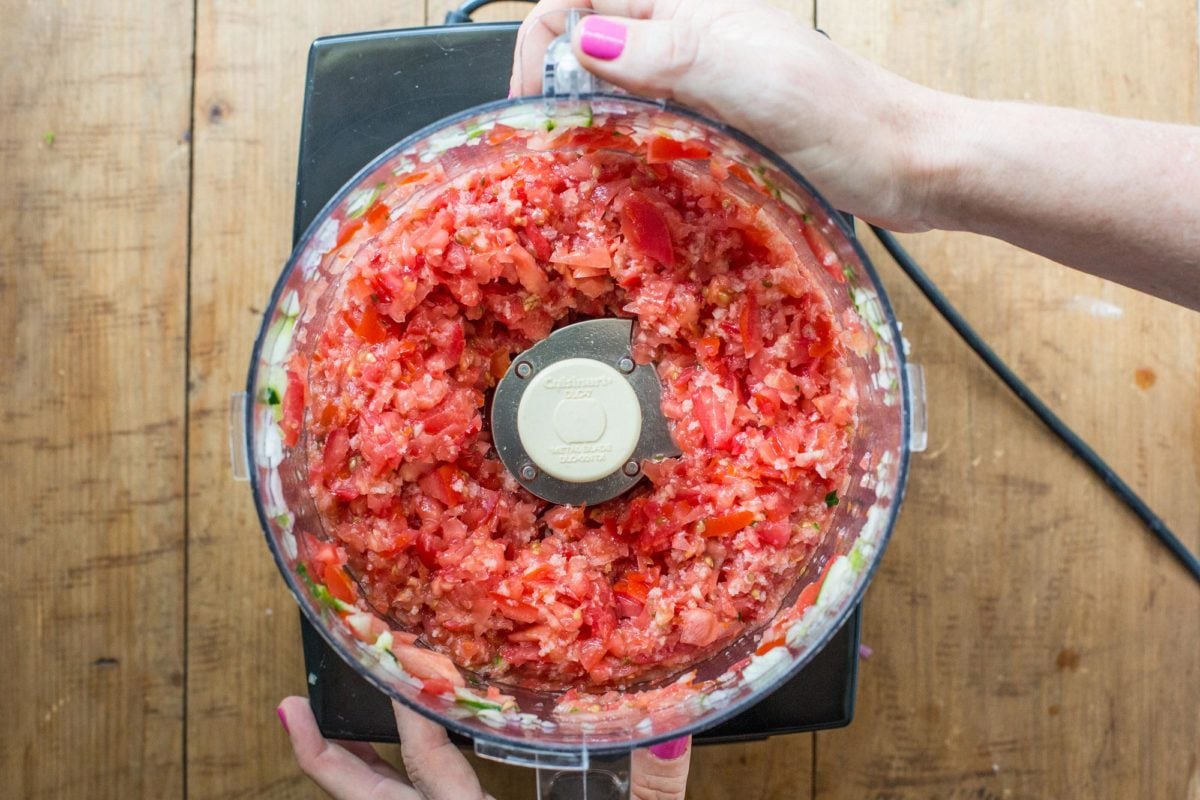 You don't want to let the motor run when making gazpacho, especially not here, so the bread doesn't turn into paste. Pulse away.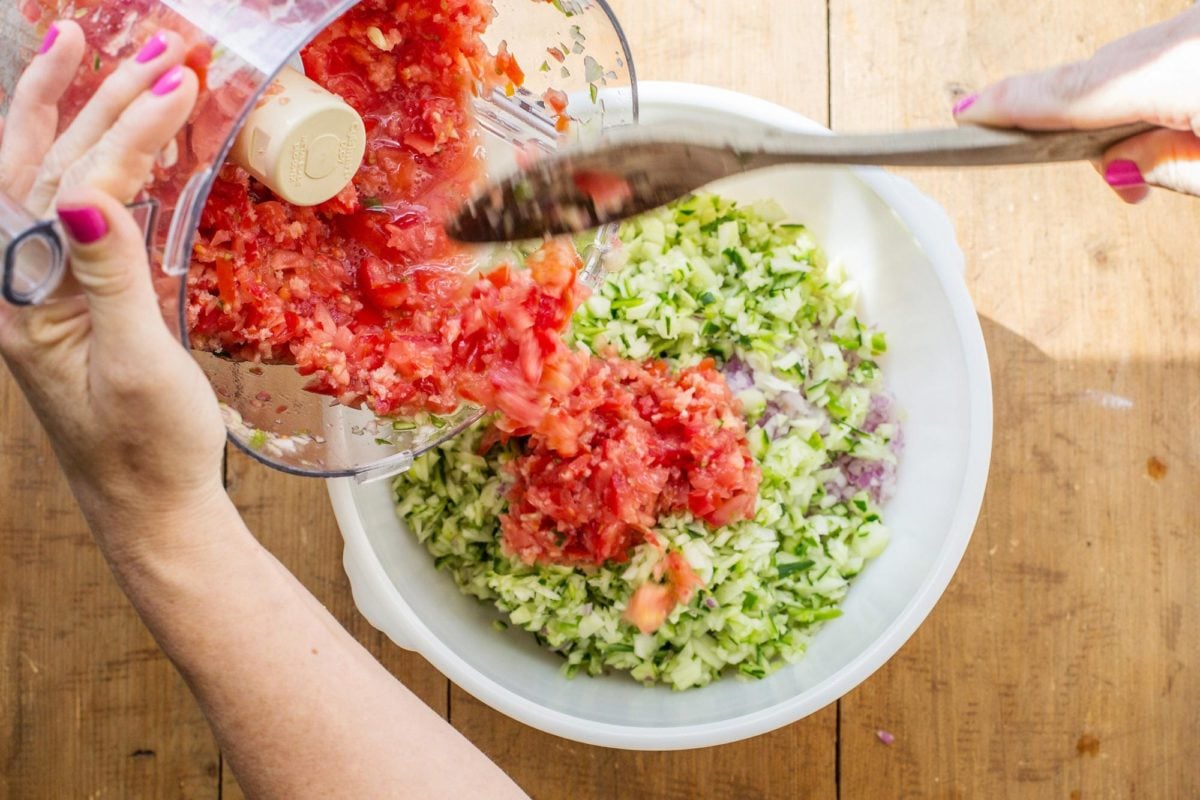 As you pulse or chop the vegetables in batches, add them to one big bowl where they will become your lovely soup.
And then I usually like to dice a couple of the vegetables so they have a little bit more shape which adds some nice textural contract to the gazpacho.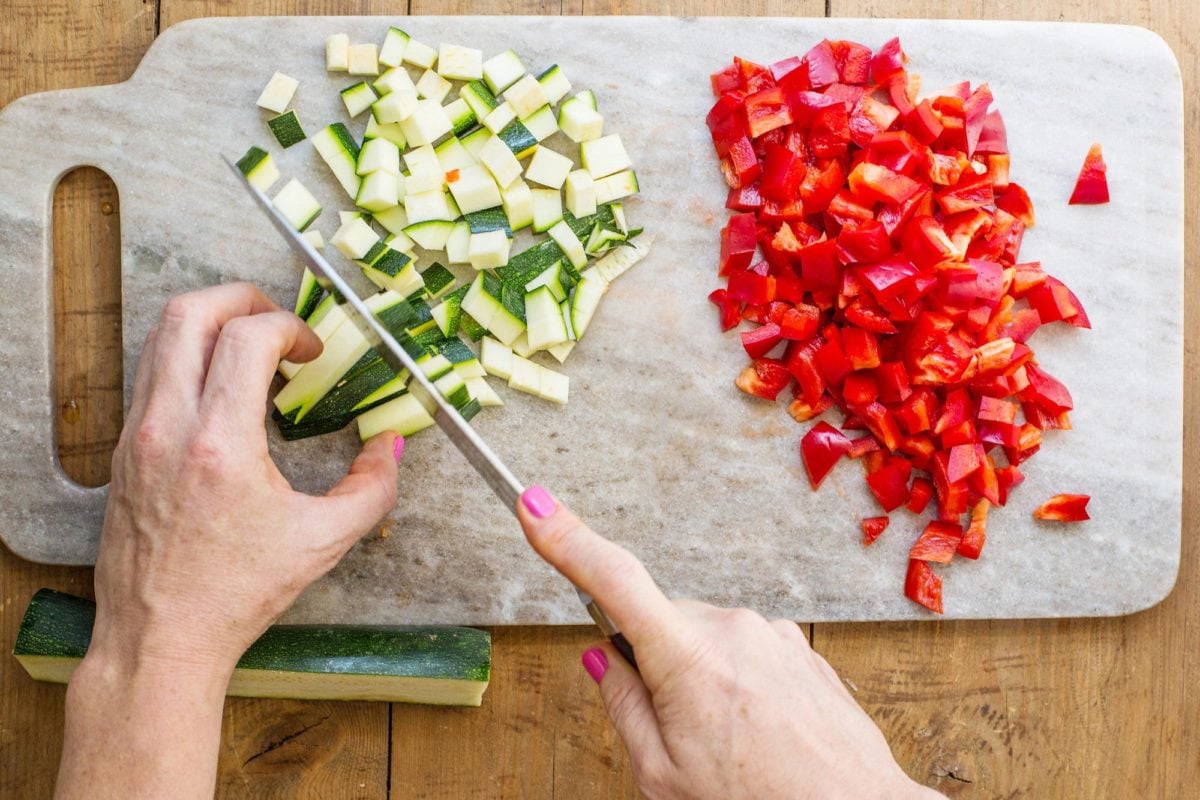 You can certainly pulse all of the vegetables in the food processor instead of cutting any of them by hand, and get a great gazpacho. And you can certainly dice all of the vegetables by hand if you want a more uniform, fancy looking gazpacho. That takes a lot of time though, so one compromise (that I love) is to dice one or two of the vegetables, especially vegetables that are easy to neatly dice, such as this zucchini and bell pepper.
Stirring in the liquid
While some people prefer to just let the natural juices of the vegetables mingle with some olive oil, a bit of acid (such as vinegar) and possibly water, to create the soupy texture of gazpacho, you can also add a bit of tomato or vegetable juice to help pull it all together. Another way to pull the mixture together into soup is to take a cup or two of the chopped vegetables and puree them with some liquid to create a thick puree that you can stir into back the gazpacho.
Adjust the seasonings
While it's true of many, if not all, dishes, somehow getting the right balance of tart, salt, and pepper seems to be a definitive line between good gazpacho and great gazpacho, so don't skip the final tasting and adjusting.
Garnishing the gazpacho
You don't need to do anything to this wonderful summer soup, but a drizzle of olive oil, some lime wedges and a few chunks of avocado never made anything worse.
Also try this version: Roasted Tomato Gazpacho.
Like this recipe? Pin it to your favorite board on Pinterest.

Pin This
Perfect Summer Gazpacho
How to make the best, most refreshing and absolutely beautiful soup of summer. With step-by-step instructions and photos.
Ingredients
2

shallots

roughly chopped

1

red onion

peeled and roughly chopped

1

large seedless cucumber

cut into chunks

1

medium bulb fennel

trimmed, cored and cut into 1-inch pieces

1

stemmed, seeded and chopped mild Hatch pepper

or 1 stemmed, seeded and chopped jalapeno

8

large plum tomatoes

cored, seeded and cut into 1-inch pieces

2

thin slices slightly dry white bread

crust trimmed, ripped into chunks

1

zucchini

diced small

1

teaspoon

red bell pepper

cored, seeded and diced small

3

cups

tomato or vegetable juice

such as V-8

3

tablespoons

extra virgin olive oil

break out the good stuff for this recipe, plus extra for drizzling

2

tablespoons

sherry vinegar

Kosher salt and freshly ground pepper to taste

Diced avocado and lime wedges to serve

optional
Directions
In the bowl of a food processor or in a blender, combine the shallots with the onion, and pulse until finely chopped, but do NOT puree! Turn into a bowl. Place the cucumber, fennel, and hot pepper into the food processor and do the same, then add those to the onion mixture. Then add half of the tomatoes with one slice of the bread, pulse, and turn those into the bowl as well. Finally, pulse the rest of the tomatoes with the remaining slice of bread, add them to the lot, and stir to mix.

Scoop one cup of the vegetable mixture back into the food processor, then add the tomato juice, olive oil, and vinegar and season with salt and pepper. Puree the mixture then add it to the bowl, along with the diced zucchini and bell pepper and stir to mix.

Check the seasonings. Chill the soup for at least three hours, and up to two days (the longer you let sit in the fridge, the more the flavors meld), and serve quite cold. Stir well before serving, adjust the seasonings as needed, and pass the diced avocado and lime wedges on the side if desired. You may also want to give the portions an final drizzle of extra virgin olive oil.
Notes
I like to cut the vegetables into small chunks, then pulse most of the vegetables in the food processor in batches to control how finely they get chopped (and to prevent them from turning into a puree).  Then they all get combined, so it's not critical which ones get chopped with which.
Nutrition Information
Calories:
123
kcal
|
Carbohydrates:
16
g
|
Protein:
3
g
|
Fat:
6
g
|
Saturated Fat:
1
g
|
Sodium:
210
mg
|
Potassium:
610
mg
|
Fiber:
3
g
|
Sugar:
7
g
|
Vitamin A:
1429
IU
|
Vitamin C:
49
mg
|
Calcium:
67
mg
|
Iron:
1
mg
The nutrition values are provided as an estimate. It is not intended as a substitute for the advice of a qualified healthcare professional.
Made this recipe? Post a photo of your delicious creation on Instagram with our hashtag #dinnersolved