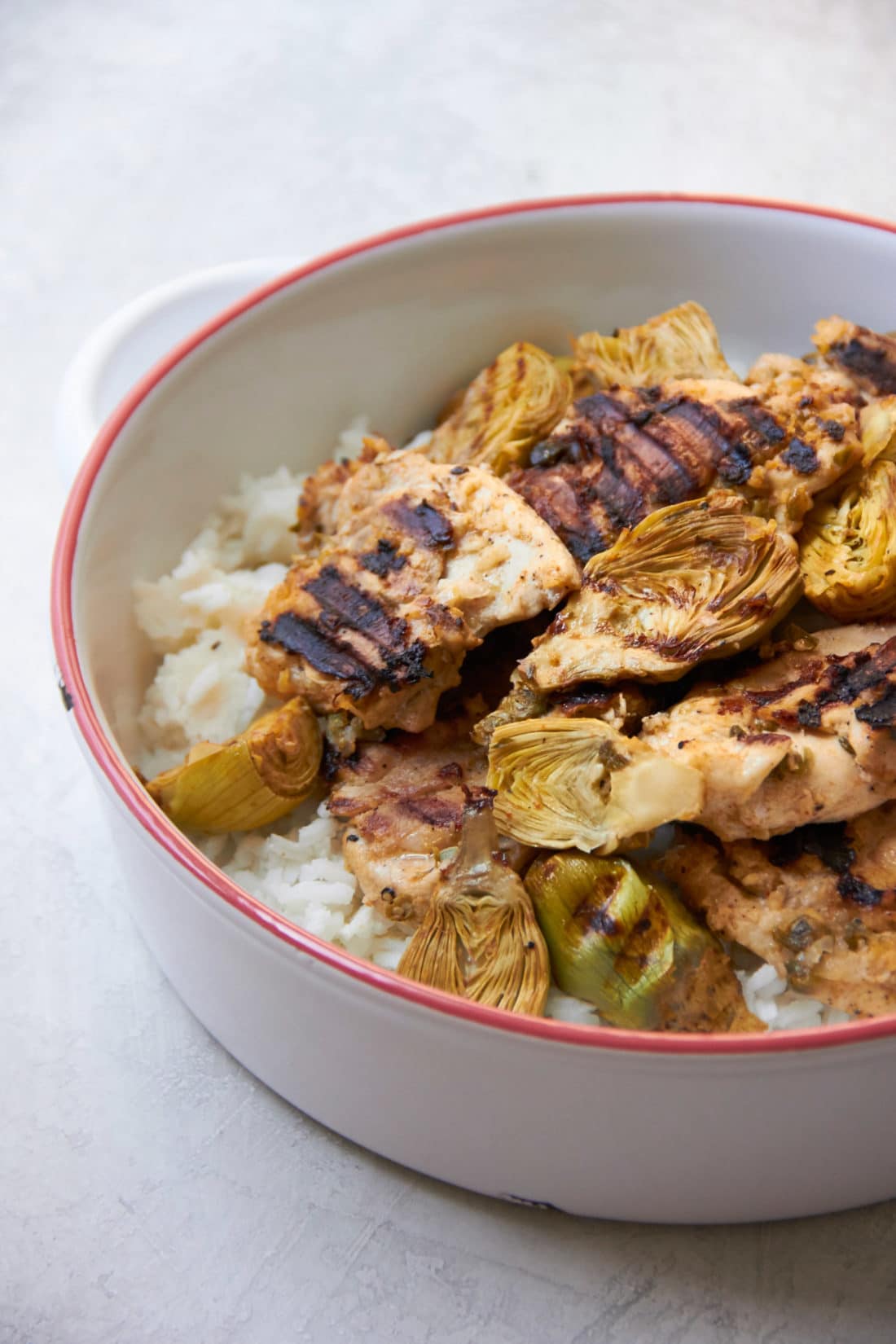 Oh, that first grilled meal of the season…that's the real sign of spring, forget about that fickle groundhog. I think this will be the kick off meal of the year. I made this first on the stovetop, using a grill pan. We all loved it, though it was great, but on the grill it takes on that whole other quality you can only get with outdoor live fire cooking. Gary said it was one of the best chicken dishes I have ever made, and I make a lot of chicken.
Baby Artichokes
Baby artichokes may not be something you've experimented with – they seem like they are going to be a lot of effort, but just commit to 15 minutes of prep time, all the while anticipating how delicious this dinner will be. Trim the pointy tops and the bottom of the baby artichokes, and remove the tougher outer leaves. If they are very small, they won't have any choke (inner bristly leaves), and you can leave them whole. Larger baby artichokes should be halved, and if you do see any spiky leaves in the middle, use a small spoon to scoop them out.
As soon as you finish trimming the artichokes , you want to get them into liquid that has something acidic in it, like lemon juice, to prevent browning. In this case they are going straight into a lemony marinade along with the chicken pieces. If you prefer chicken breasts instead of thighs go for it, knowing they may cook slightly faster than thighs.
How to Serve Grilled Lemony Chicken and Baby Artichokes
Once it all hits the grill, you are really just about 10 minutes until dinner, so make sure you have the rice or any side dishes ready to go. You can plate this up individually, or it really looks wonderful piled on the rice on a large serving platter.
Another nice way to serve this is over a pile of dressed greens. Just reserve 2 tablespoons of the marinade/dressing (that has not come into contact with the chicken). While the food is grilling, combine about 6 cups of mixed spring greens with the reserved dressing in a large bowl. Distribute the dressed greens on a serving platter, or individual plates, and distribute the grilled chicken and artichokes over the top. I paired this with Sesame Asparagus and Shiitake Mushrooms, and it was a lovely combo.
Or maybe pair it with a quinoa and greens salad, or a vegetable and brown rice salad or Mayonnaise-Free Potato Salad.
Or, you can cook the ribs completely on the grill, but given the significant sugar content in this sauce, this requires some vigilance on your part. Either preheat a gas grill to medium-low, or set up a charcoal grill for indirect grilling. Arrange the ribs on the grill but NOT over the direct flame, with the meaty side up to start, and grill them for an hour, turning them frequently, and watching closely for flare-ups.
And you can re-heat leftover ribs in a 300°F oven for 15 minutes. This recipes multiplies easily. You can also do this with 4 or 5 pounds of larger spareribs, just cook them for about 2 hours in the oven before grilling them, or cranking up the heat.
You can keep the artichokes and the chicken separate both during the marinating process and the cooking process (just divide the marinade in half), if you are looking to please vegetarians at your gathering. In that case you'll also want to double the amount of baby artichokes, if they will be the center of anyone's meal. This recipe can be easily multiplied.
(And if you don't have a grill? Try a panini press!)
Grilled Lemony Chicken and Baby Artichokes
This grilled chicken shares a super simple citrusy, tangy marinade with tender baby artichokes. 10 minutes on the grill!
Ingredients
1 ½

pounds

boneless, skinless chicken thighs

8 to 10

baby artichokes

½

cup

fresh lemon juice

½

cup

olive oil

¼

cup

minced shallots

¼

cup

capers

rinsed and drained

1

tablespoon

Sriracha sauce

or to taste

Kosher or coarse salt and freshly ground black pepper

to taste

Spring greens

to serve
Directions
Cut each chicken thigh in two or three pieces, about 2×3 inches each, and trim off any excess fat.

In a large container or zipper top bag, combine the lemon juice, olive oil, capers, Sriracha and salt and pepper.

Trim the bottoms and pointy tops off the artichoke hearts, and remove any tough outer leaves. Cut each artichoke in half lengthwise. As you prepare each artichoke, make sure it goes right into the marinade to prevent browning, and that the cut side of the artichokes in particular are submerged in the marinade. Add the chicken pieces and turn everything t make sure it is well coated with the marinade. Marinate for 6 to 12 hours.

Heat the grill to medium high. Grill the chicken and the artichokes for about 5 minutes on each side, until nicely the chicken is nicely browned and cooked through, and the artichokes are tender.

Serve hot or warm.
Nutrition Information
Calories:
526.95
kcal
|
Carbohydrates:
20.99
g
|
Protein:
39.28
g
|
Fat:
34.17
g
|
Saturated Fat:
5.52
g
|
Cholesterol:
161.59
mg
|
Sodium:
753.57
mg
|
Potassium:
448.15
mg
|
Fiber:
9.62
g
|
Sugar:
3.96
g
|
Vitamin A:
1574.02
IU
|
Vitamin C:
18.1
mg
|
Calcium:
79.19
mg
|
Iron:
4.41
mg
The nutrition values are provided as an estimate. It is not intended as a substitute for the advice of a qualified healthcare professional.
Made this recipe? Post a photo of your delicious creation on Instagram with our hashtag #dinnersolved