There are just an infinite amounts of sangria recipes to be made. My friend Alice makes sangria the way some of us cook, but with booze. She basically pours some wine into a pitcher, adds some fruit, and then opens the liqueur cabinet and pours in a little of this and a little of that. I admire her confidence, and I've never been let down by her sangria, not once.
Once you get the hang of sangria, playing around with different versions is quite freeing. Here's how I think of it: you can keep adding things until you get to where you want to be, so if not sweet enough, more sweetener, too boozy, more sparkling water or soda or fruit juice, too sweet, add some tartness or a little more booze. There are no wrong answers in sangria.
Some Tips for Making Sangria
Best Wines for Sangria
For white wine sangria, prosecco or other sparkling wine, pinot grigio, sancerre, more on the light and crispy side than the buttery oaky side (but again, feel free to differ!).
For red wine sangria: Lambrusco (a fizzy red wine meant to be served chilled), shiraz, zinfandel, rioja, san giovese.
Best Fruits for Sangria
All kinds of citrus, such as oranges (try all different kinds of oranges, like blood oranges and tangerines and mandarins), lemons (Meyer lemons are also lovely), limes, grapefruit, pomelos. Also good are stone fruit (peaches, nectarines, plums, apricots, cherries), tropical fruits (mango, pineapple, starfruit, papaya), fall fruits (all kinds of apples, firmer pears), berries of all sorts. Pomegranate seeds would be so pretty, too.
Use fruit that is on the firmer side, or if you are using softer fruit, add it shortly before serving. Frozen fruits are also a great option, as they chill the drink and hold their shape and texture longer.
Making Sangria Fizzy
Whether you are using sparkling water, sparkling soda, or sparkling wine, add this to the pitcher or glass just before serving so the sangria will keep its fizz. Not all sangrias are fizzy, but many have some bubbles.
Sangria is one of the most deliciously fun ways to make the most of summer fruit.

Tweet This
Put the ice in the glasses, not in the pitcher.
Putting the ice into the glasses and pouring the sangria over it means that the sangria in the pitcher will not get diluted.
Serve Sangria with a Spoon
Make sure you have a long handled spoon in the pitcher so that you can scoop out some of the fruit (and whatever other goodies you have thrown in) into the glasses as you serve the sangria.
Go Easy on the Sweetener
Especially if you have lots of sweet fruits in the sangria. Many sangrias are sweetened with a simple syrup, honey, agave, sugar, or other sweetener. A little is nice, a lo makes a drink that is too syrupy sweet (and if you are one of those people who thing that overly sweet drinks contribute to a hangover the next day, I am with you, so let's keep the sugar to a minimum. Plus you want to taste the other ingredients, so don't dull the flavor with sweetness.)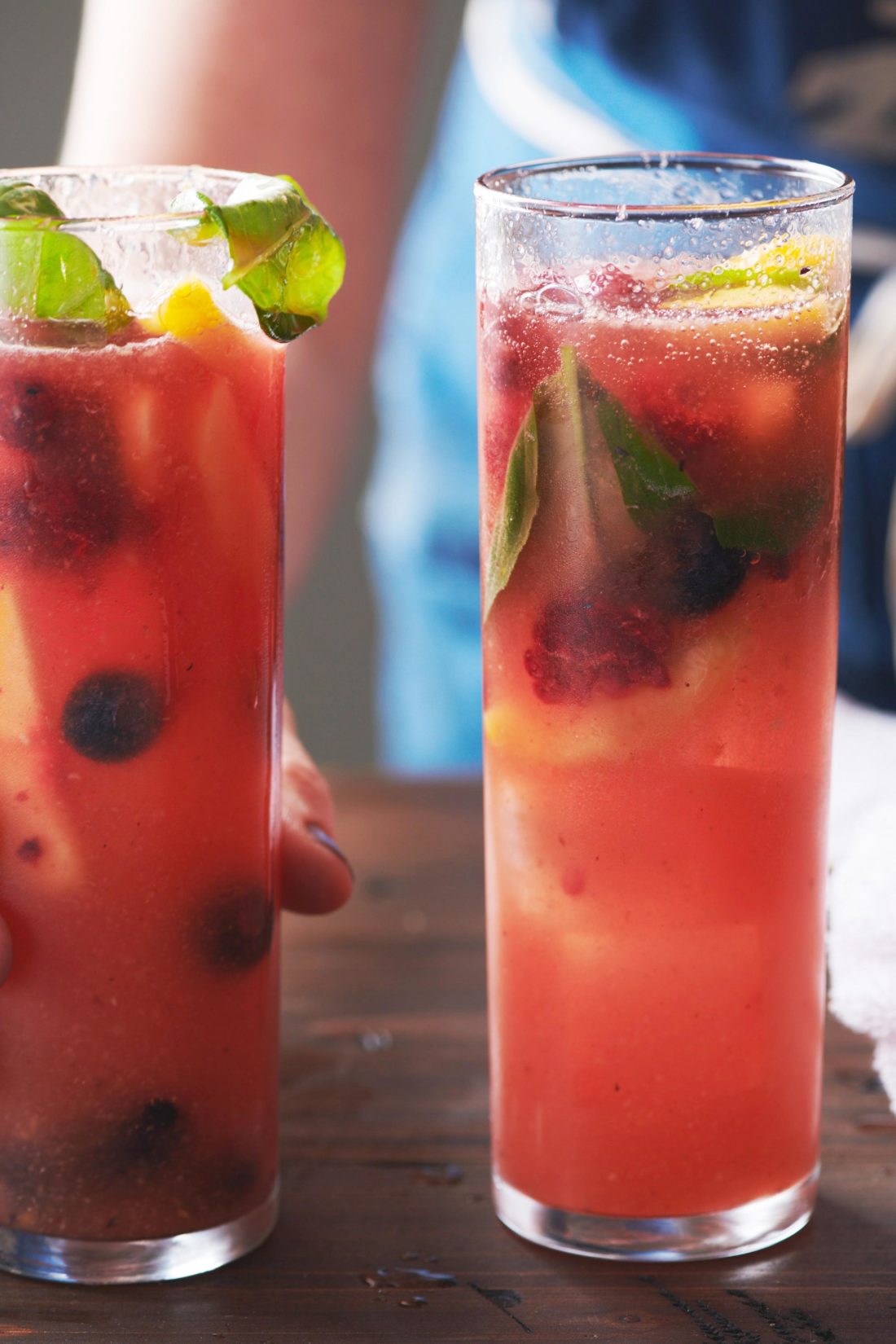 Use honey or agave instead of pomegranate molasses if desired.
You can top off glasses with additional sparkling wine or water to give them an extra burst of fresh fizziness, especially if the sangria has been sitting for a while. Try to keep it chilled.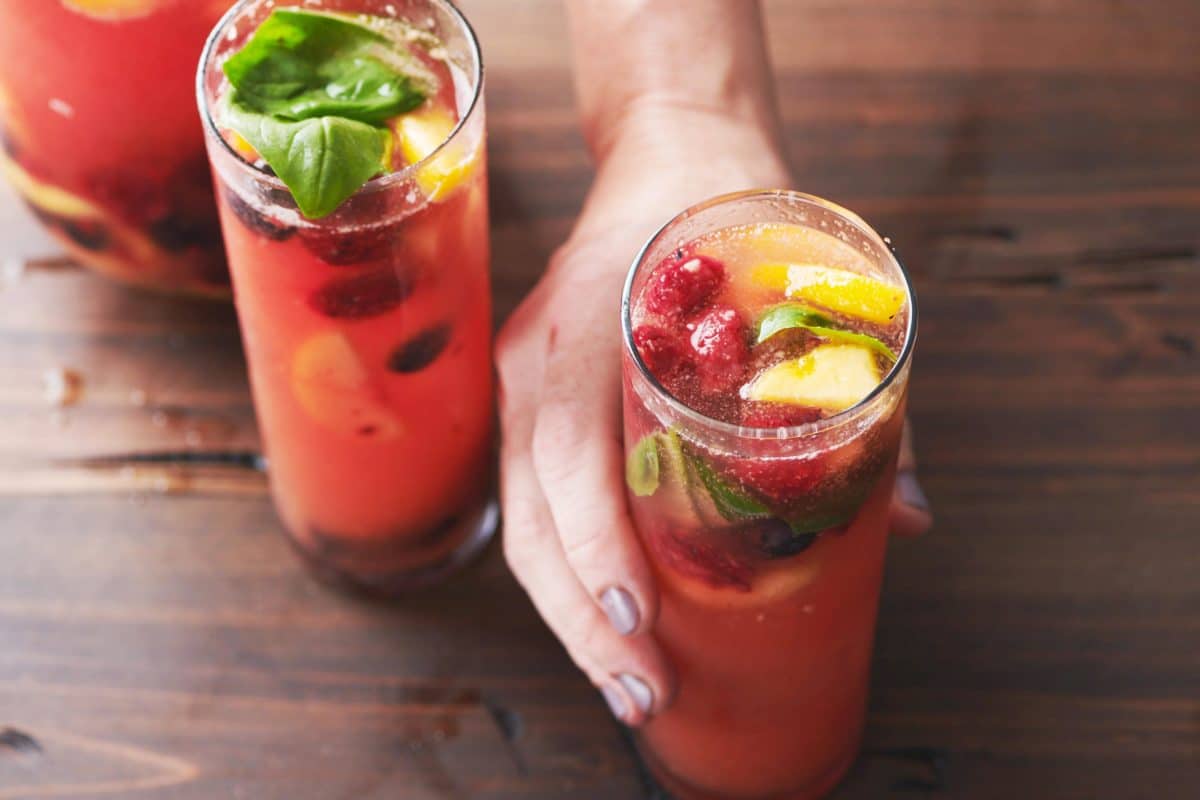 More Summer Cocktail Recipes:
Like this recipe? Pin it to your favorite board on Pinterest.

Pin This
Summer Fruit and Berry Sangria
Sangria is one of the most deliciously fun ways to make the most of summer fruit.
Total Time:
2
hours
15
minutes
Ingredients
4

large ripe peaches or nectarines

1

cup

raspberries

6

ripe plums

¼ to ½

cup

vodka or lemon vodka

depends on how strong you want the sangria to be!

2 to 3

tablespoons

pomegranate molasses or honey,

or to taste

1

(750 ml) bottle sparkling rose

1

(1-liter) bottle sparkling water

About 20 clean fresh mint leaves
Directions
Bring a medium pot of water to a boil. Have a medium bowl of ice water ready on the side.  Make a small x with a sharp knife on the bottom of two of the peaches.   Drop them into the boiling water and allow to cook for 30 seconds, then remove them with a spoon (preferably slotted), and drop them into the ice water bath.  Remove them after about 15 seconds; their skins should be able to be peeled or slipped right off.

Pit the peeled peaches and cut them into chunks. Place 2 peaches into a food processor or blender with the raspberries and puree.

In very large pitcher, combine the pureed fruit, and 3 tablespoons pomegranate molasses. Refrigerate for 2 hours until very cold.

Slice the other two peaches and the plums (no need to peel). Add the sparkling rose and sparkling water to the pitcher. Taste and add more molasses if needed. Stir in sliced peaches, plums and mint.

Fill large glasses with ice and serve the sangria over ice, making sure some fruit and mint go into each glass.
Nutrition Information
Calories:
73
kcal
|
Carbohydrates:
15
g
|
Protein:
1
g
|
Fat:
1
g
|
Saturated Fat:
1
g
|
Sodium:
2
mg
|
Potassium:
253
mg
|
Fiber:
2
g
|
Sugar:
12
g
|
Vitamin A:
332
IU
|
Vitamin C:
11
mg
|
Calcium:
17
mg
|
Iron:
1
mg
The nutrition values are provided as an estimate. It is not intended as a substitute for the advice of a qualified healthcare professional.
Made this recipe? Post a photo of your delicious creation on Instagram with our hashtag #dinnersolved