This post may contain affiliate links. Please read our privacy policy.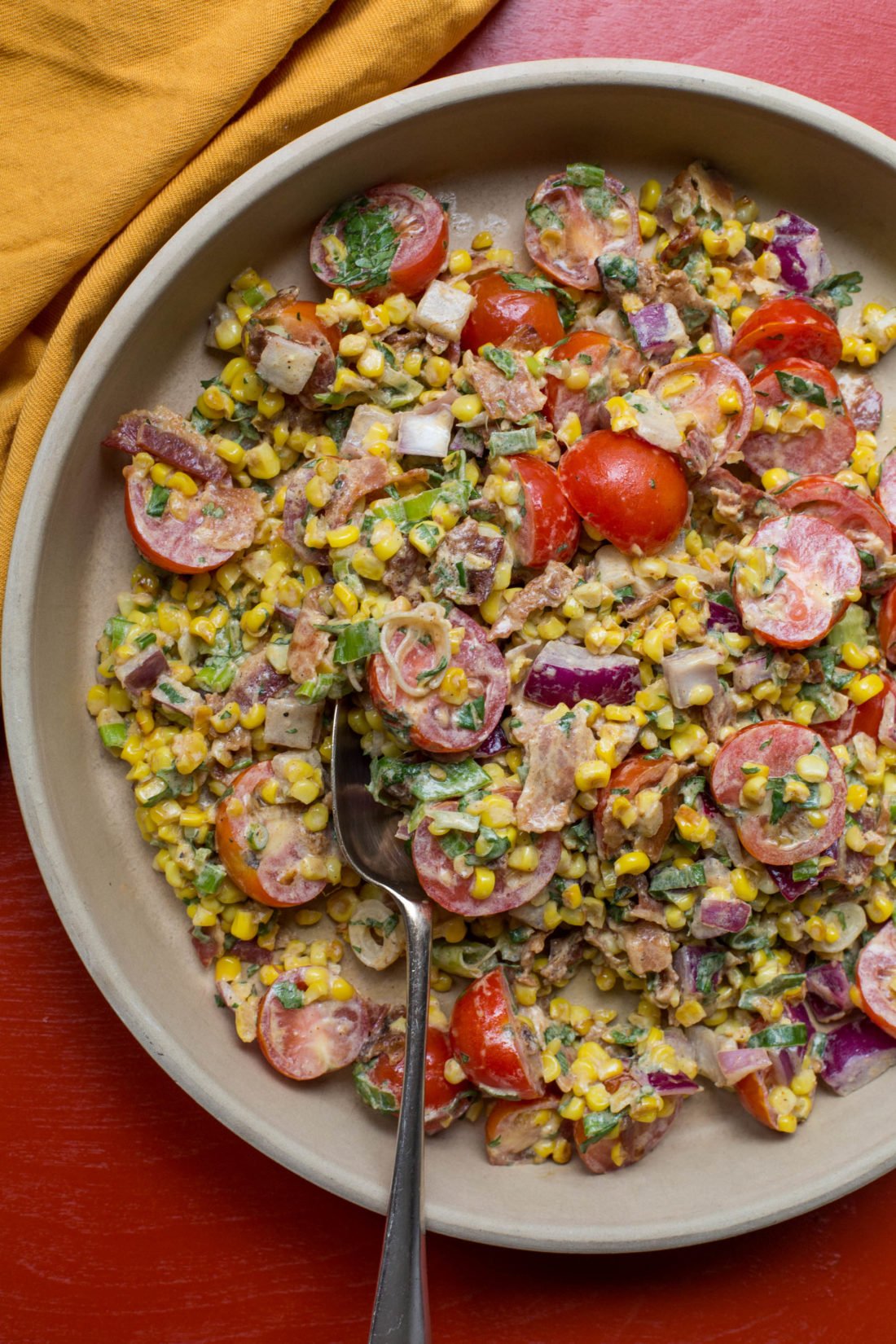 At this time of year there are more of us food writers babbling on and on about the bounty of produce at the markets than any one "foodie" (*gentle gagging noise*) could stomach. We especially love to shower worship and praise upon the various kinds of corn and tomatoes available. There is a special pedestal for August produce, and while it's deserved, it's frankly annoying.
But only a fool would ignore the tomatoes and corn. Only a blogger-curmudgeon would refuse to write up a recipe or two about the Serena and Venus Williams of produce. Yet only an ass would act as though the world wasn't always well aware that – yes! – tomatoes and corn are in season.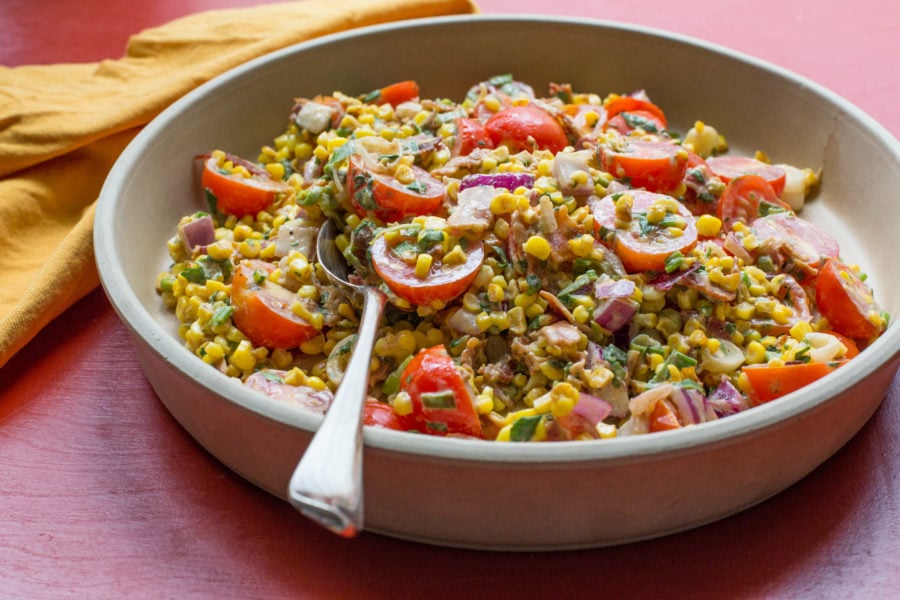 Side story – when Jack was super little, we were rushing through the airport in West Palm Florida, where we had just finished a visit with Gary's parents. I knew he could read a word or two (along the lines of "Cat and "Hat" – nothing too fancy). But suddenly he said, "Mom, how come that sign says, 'Yes! The bar is open' and not just 'The bar is open'?"
My baby can read! Whole sentences! And ….what an interesting first sentence! How memorable! I then explained to him that at 7:30 in the morning, which it was, people who were looking to see if the bar was open would be possibly both excited and surprised to see that it was, and therefore the establishment had chosen to recognize this by prefacing their unexpected news with an enthusiastic "Yes!"
I don't know that the full reasoning landed, but that was ok. My baby could READ!
Okay, re-focusing here. This is why editors have jobs.
The corn kernels get cut off the cob and given a quick pan sauté, though if you prefer you could grill the corn. Just husk it, and grill on the cob over medium high heat, turning it frequently until the kernels are lightly browned all around. Then slice the kernels off the cob.
Then the corn meets up with – yes! – tomatoes, and some red onion and scallions, and the whole thing gets tossed in a very lightly creamy dressing with – yes! – bacon. And cilantro, which makes the salad, but if you don't like cilantro there's no changing that, so leave it out if you must. And then you are done.
On the other hand, if you want to turn this into a lettuce-based side salad, then all of you have to do is ….add lettuce! However much you like, whatever kind you like. I went for iceberg, because sometimes you just want iceberg, and radicchio and arugula have to go play quietly in a corner for a little while.
And if you want to turn this into a grain salad, then all you have to do is (all together now)….add grains! Again, whatever kind you want, and as much as you like. Here we have some chewy firm wheat berries added to the equation. Play around. Be free. Tip your waiter.
I'm done now. Thanks for bearing with me.
More Summer Corn Recipes:
Summer Corn, Tomato and Bacon Salad
Starring the two best vegetables of late summer, with bacon as a supporting actor.
Ingredients
6

cups

corn kernels

preferably fresh

2

tablespoons

butter

2

cups

cherry or grape tomatoes

cut in half

½

cup

diced red onion

½

cup

sliced scallions

2

tablespoons

extra virgin olive oil

2

tablespoons

sour cream

1

tablespoon

fresh lime juice

or to taste

½

teaspoon

chili powder

6

slices

cooked crisp bacon

crumbled into large pieces

½

cup

roughly chopped fresh cilantro

optional
Instructions
In a

large skillet

heat the butter until it melts over medium high heat. Add the corn, season with salt and pepper and sauté for 5 minutes, not stirring too much, until the corn is browned in places, and cooked. Transfer to a bowl and cool.

Add the tomatoes, onions and scallions to the bowl. In a small bowl or container combine the olive oil, sour cream, lime juice, chili powder and salt and pepper. Pour over the salad, and toss. The salad can sit for a couple of hours, covered. Just before serving add the bacon and cilantro and toss again. Serve at room temperature.
Notes
Nutrition
Calories:
286
kcal
,
Carbohydrates:
37
g
,
Protein:
9
g
,
Fat:
14
g
,
Saturated Fat:
5
g
,
Cholesterol:
20
mg
,
Sodium:
186
mg
,
Potassium:
534
mg
,
Fiber:
5
g
,
Sugar:
9
g
,
Vitamin A:
1012
IU
,
Vitamin C:
23
mg
,
Calcium:
24
mg
,
Iron:
1
mg
Nutrition information is automatically calculated, so should only be used as an approximation.
Like this? Leave a comment below!