This post may contain affiliate links. Please read our privacy policy.
Healthy Cobb Salad
At the end of the summer, we are all awash in corn, zucchini, and tomatoes. This is, by and large, a good thing, but begs for a bit of creativity in the kitchen, so that the end-of-summer vegetables don't mount up and threaten to overtake us.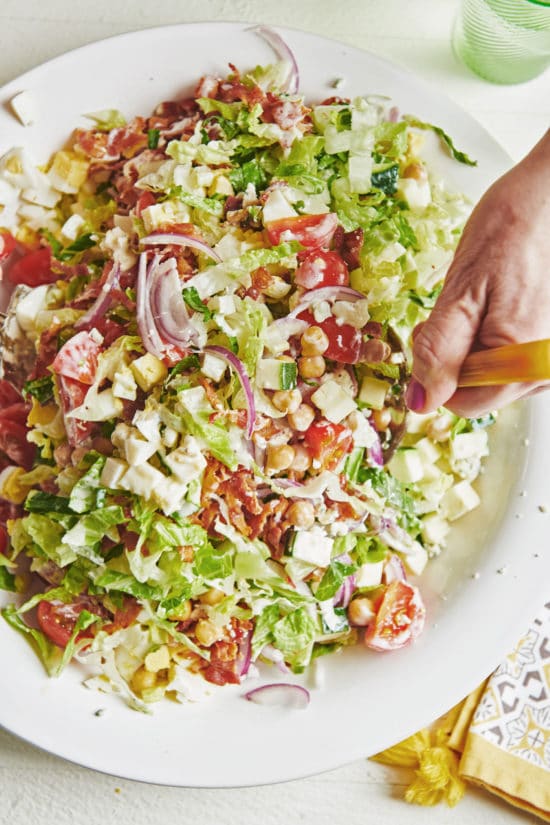 If you are growing any of these items in a garden you really need an arsenal of recipes that employee the vegetables you are growing, to keep the influx at bay—I have a neighbor, Ted, who once told me when he was growing up August was the only time the people in his Connecticut town locked their cars, because if they didn't they might come back to find someone had left a bag of zucchini on the seat. (I am sure I've told you this before.  I like this story.)  Lucky for me Ted has a serious green thumb, and I never lock my car.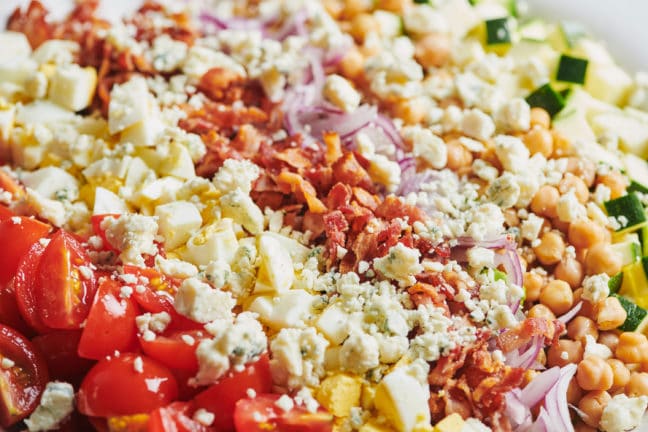 Even if you don't have a garden, these items are plentiful at the farmers' markets and supermarkets, and as summer starts to ebb we all want as much of this produce as we can get. Soon we'll be reminiscing about ripe, red tomatoes, and plump, sweet corn, and firm zucchini with their emerald skins. But for now, they are ours for the eating.
Charlie has a full-on passion for Cobb salad. And when I was retesting this, and then shooting it, he brought home a slew of friends. I had made a whole load of different dishes, but when he saw this he said, "Can I just keep this to the side? Because he didn't want to share. And while we had a hahaha about it, he was only kind of joking.
This Late Summer Cobb Salad with a creamy buttermilk dressing is the most delicious way to keep up with the end-of-summer influx of produce.

Tweet This
Cobb Salad Ingredients
This Cobb salad, has chickpeas and eggs as the main proteins, and the traditional bacon as well, which could be left out for a vegetarian version. You could add a row of cooked cubed or shredded chicken (I did, for Charlie, who loves his chicken in his Cobb salad), or cooked shrimp, or substitute it in for the chickpeas.
How to Make a Cobb Salad
The order of the rows is totally aribrary. Just try an mash up the colors and the shapes of the toppings. Here's how this one got arranged:
First, a row of zucchini.  Most of us think of zucchini as a vegetable to be cooked, but if you get small, very firm zucchini, they are lovely shredded, diced or peeled into ribbons and eaten raw.  Once you try this, you'll be a believer.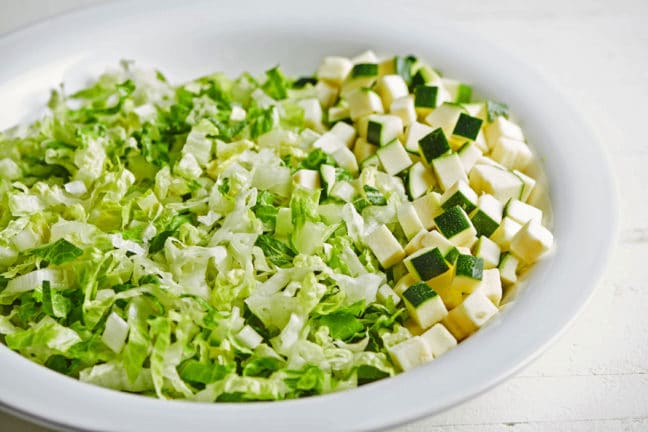 Then the chickpeas.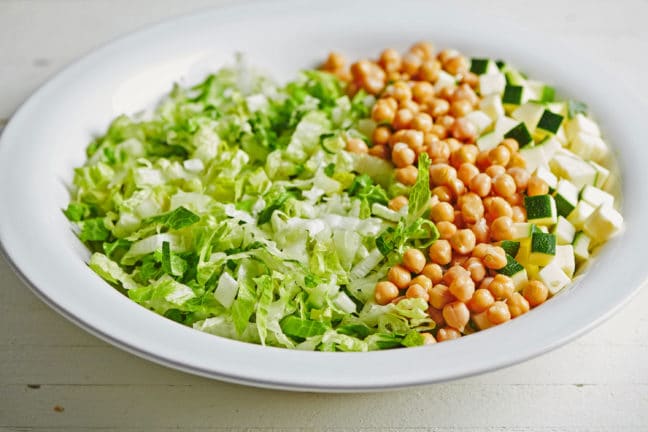 Slivered red onions.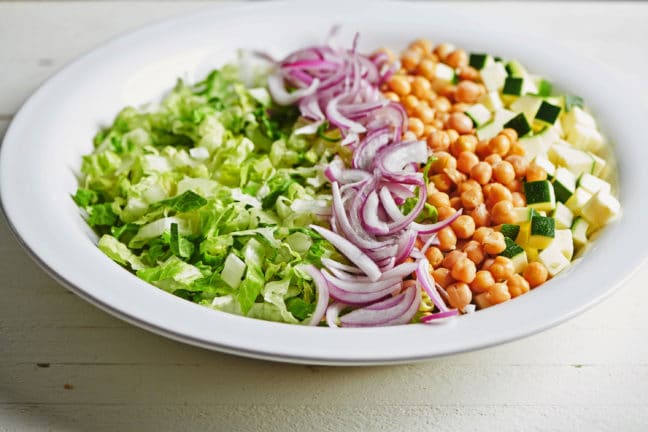 BACON.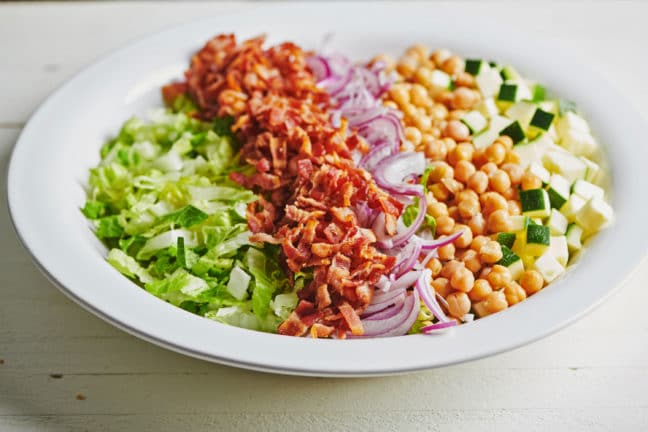 Hard cooked eggs (hard boiled? which do you say?)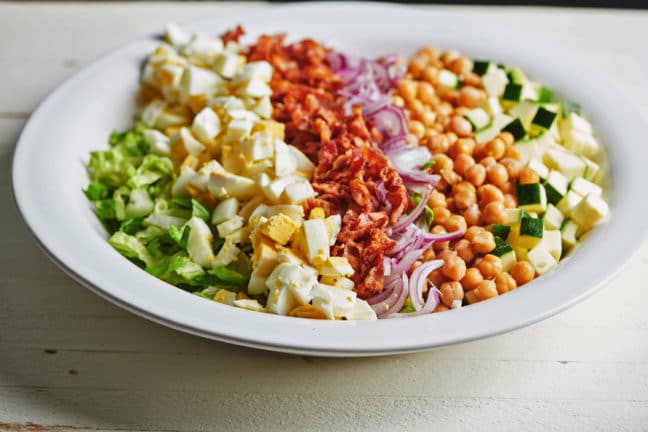 Tomatoes.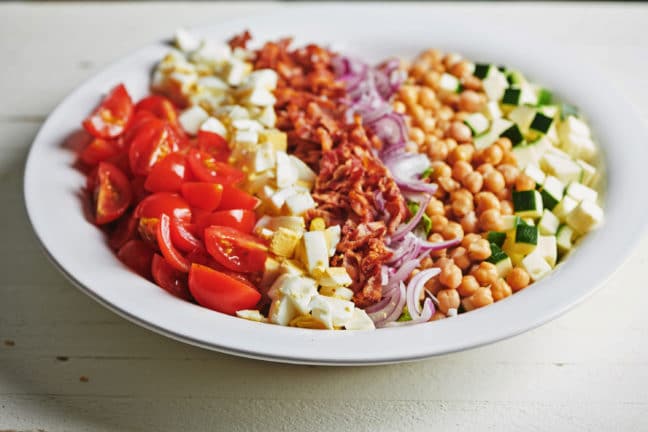 Blue cheese was supposed to be a row but I ran out of room so I sprinkled it over the top.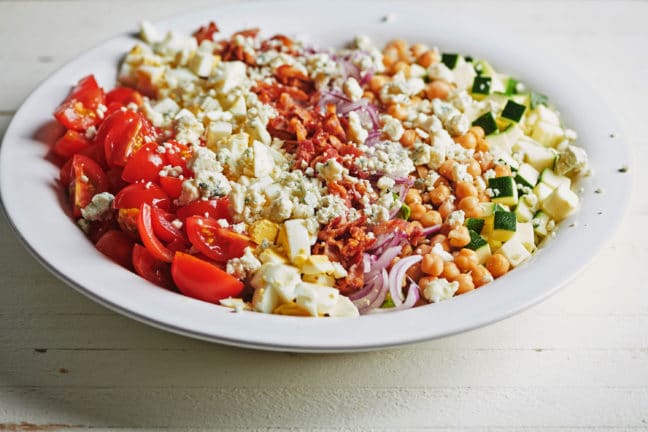 I ran out of room for the corn, but you should plan better than me. Drizzle over the dressing.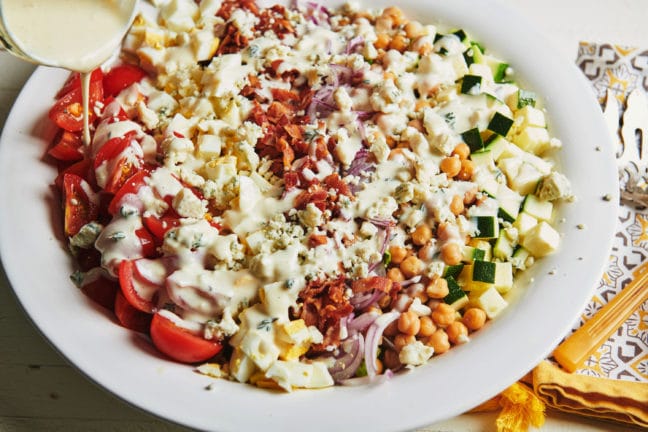 Serve with the salad still in the rows, and then toss at the table, because you want people to see how awesome your rows were.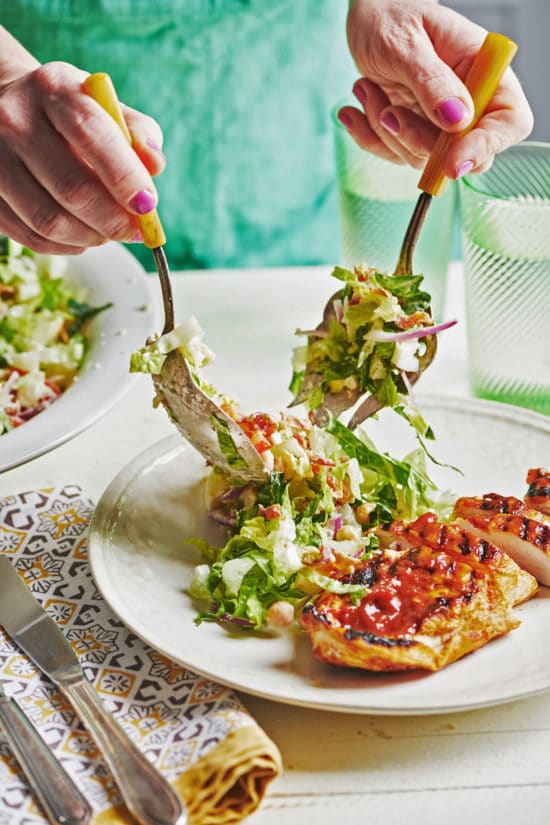 Like this recipe? Pin it to your favorite board on Pinterest.

Pin This
Late Summer Cobb Salad
The salad to keep up with the end-of-summer influx of produce.
Ingredients
For the Salad:
6

cups

slivered romaine lettuce

or a combination of iceberg and romaine, for more crunch

8

slices

bacon

cooked and roughly crumbled (see Cooking Tip 1)

3

hard boiled eggs

peeled and large diced (see Cooking Tip 2)

1

pint

(2 cups) cherry tomatoes

halved or 2 cups diced ripe tomatoes

2

cups

lightly cooked corn kernels

2

cups

diced zucchini

1

15.5 ounce can chickpeas

, drained and rinsed

½

cup

slivered or diced red onions

½

cup

crumbled feta or blue cheese

Kosher salt and freshly ground black pepper

to taste

½

cup

Buttermilk-Thyme Dressing

or to taste (recipe follows)
For the Buttermilk-Thyme Dressing:
Instructions
For the Salad: Distribute the lettuce over a large serving platter or shallow bowl.

Make nice neat rows over the lettuce of the crumbled bacon, hard boiled eggs, tomatoes, corn, zucchini, chickpeas, onion, and feta (the order is of no consequence, whatever strikes you).

For the Dressing: In a small container or jar, add the buttermilk, sour cream, mustard, vinegar, olive oil, thyme, garlic and salt and pepper. Shake well. You can drizzle the Buttermilk-Thyme Dressing over the salad, or serve it on the side. Keep in the fridge for up to 5 days and shake well before using to dress the salad.
Notes
Bake Your Bacon
You are welcome to cook bacon the old fashioned way on the stovetop, or you can bake it in a 350°F oven on a wire rack inserted into a rimmed baking sheet for about 15 minutes or until crispy. (Neater, less splattery, less hands on).
How to Make Perfect Hard Boiled Eggs
Place the eggs (this recipe calls for 12) in a large saucepan and add water to cover by at least an inch. Bring the water to a boil over high heat. Allow the water to boil for 30 seconds, then remove from the heat and let the eggs sit in the water for 9 minutes. Drain and rinse under cool water for a few minutes. Peeling the eggs while they are still slightly warm often makes it easier to remove the shells in big pieces, so you don't have to chip them off and mess up the eggs. Tap them lightly on the counter, and give them a quick roll to crackle up the shells, and then peel carefully. Another good tip that often helps is peeling the eggs while they are submerged in water. So: warm, crackle up the whole shell, and peel under water.
Nutrition
Calories:
556
kcal
,
Carbohydrates:
44
g
,
Protein:
25
g
,
Fat:
33
g
,
Saturated Fat:
12
g
,
Cholesterol:
192
mg
,
Sodium:
1109
mg
,
Potassium:
1081
mg
,
Fiber:
10
g
,
Sugar:
12
g
,
Vitamin A:
7297
IU
,
Vitamin C:
44
mg
,
Calcium:
245
mg
,
Iron:
4
mg
Nutrition information is automatically calculated, so should only be used as an approximation.
Like this? Leave a comment below!