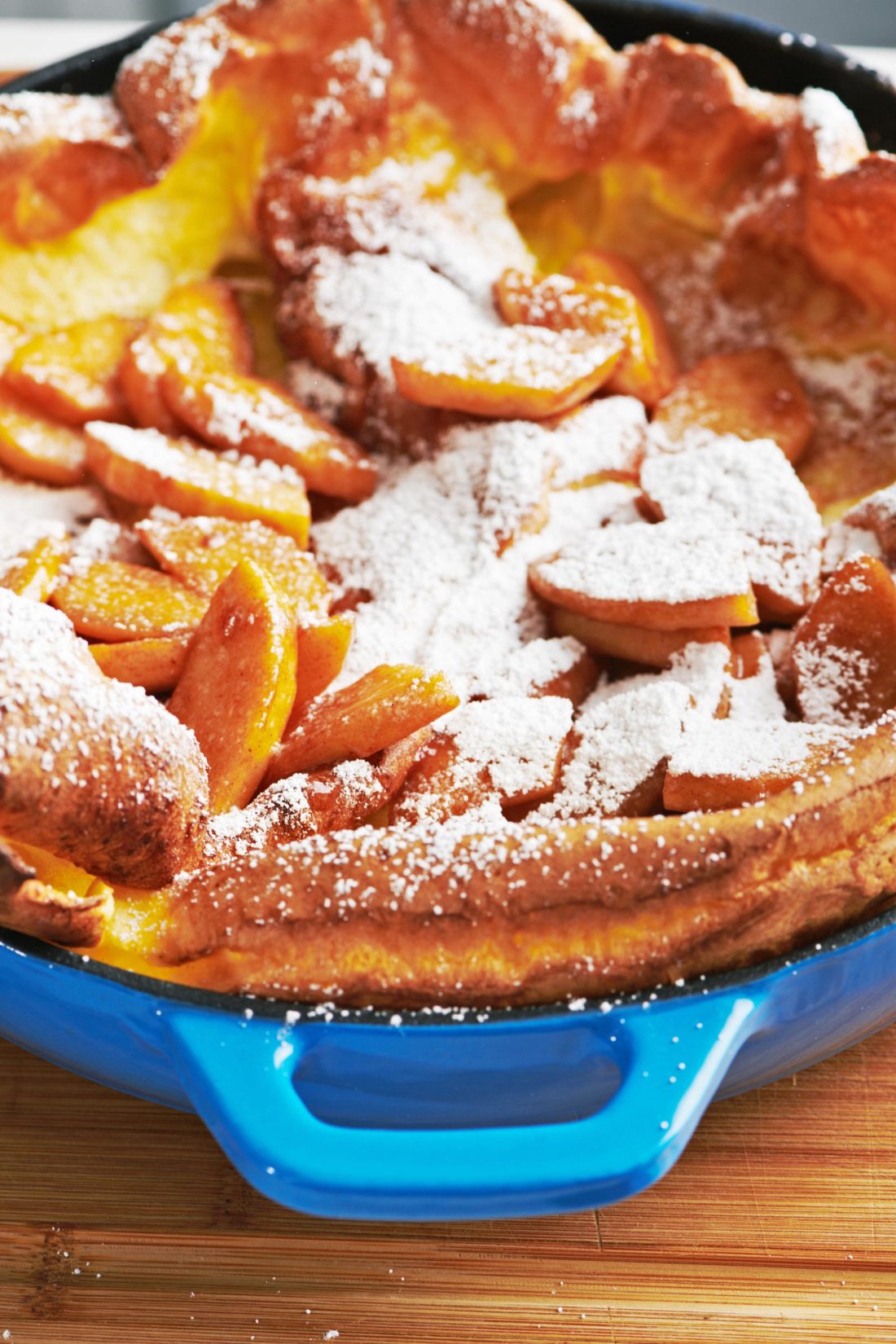 It would be completely understandable for a novice baker to look at this gorgeous puffy pancake and think "no way—no way could I make that." It looks soufflé-like in its fluffy height, and therefore intimidating—but no, no, no—truly if you feel ok about making pancakes or a quickbread then this is kind of a cross between the two.
Dutch Baby Pancake Batter
The batter is much like pancake batter, and the process of baking it is as if you were making a pan of, say, cornbread. So if you can make pancake batter and pour it into a pan, then you will have this gorgeous puffy pancake with about 8 minutes of active time, about 15 if you want to do the apples too. 20 minutes to bake, and you're in German Pancake business.
Dutch Baby vs. German Pancake—Which Is It?
Also, sometimes called a Dutch pancake, a Bismark, a Dutch puff, even a thick crepe. The use of the name Dutch Baby may have evolved from the German word "Deutch" which is the word German's use to describe their own language/culture.
These are in fact kind of like a cross between a pancake and a crepe a Yorkshire Pudding and a soufflé. Meaning they are a hybrid of many other absolutely delicious batter-based foods. The generous amount of eggs in the batter cause it to puff up when it hits the hot pan and then goes into the hot oven (it's critical that you preheat the pan with some butter in the oven, so that is really activates the rising when the batter hits the pan. (When the batter hits the pan…doesn't that remind you of another little saying?)
You will not believe how ridiculously easy this beautiful puffed pancake is to make. Top with the sauteed apples, or the seasonal fruit of your choice!

Tweet This
Fruit Topping for Dutch Pancakes
Switch out the apples for whatever seasonal fruit you have on hand, or think would be delicious. It's a great way to make something special about whatever is available to you.
In the fall, these apples, or maybe sautéed pears (pick firm ones so they will hold their shape while cooking), sliced banana or something tropical like sliced mango in the winter, in the spring sliced strawberries, in the summer peaches, apricots, nectarines or plums (quickly sautéed or fresh), or piles of fresh berries. Try raspberries, blackberries, blueberries, or something more unusual like sweet-tart golden berries.
Topping German Pancakes with Sifted Confectioners' Sugar
A finishing snowfall of confectioners' sugar always is a good option—put it into a small sieve and shake it generously over the top after you've piled on the fruit. A billowy pile of whipped cream in additional to or instead of the confectioners' sugar would not be unwelcome either, and then you definitely could serve this up as a dessert vs. a breakfast treat.
Other Breakfast and Brunch Recipes: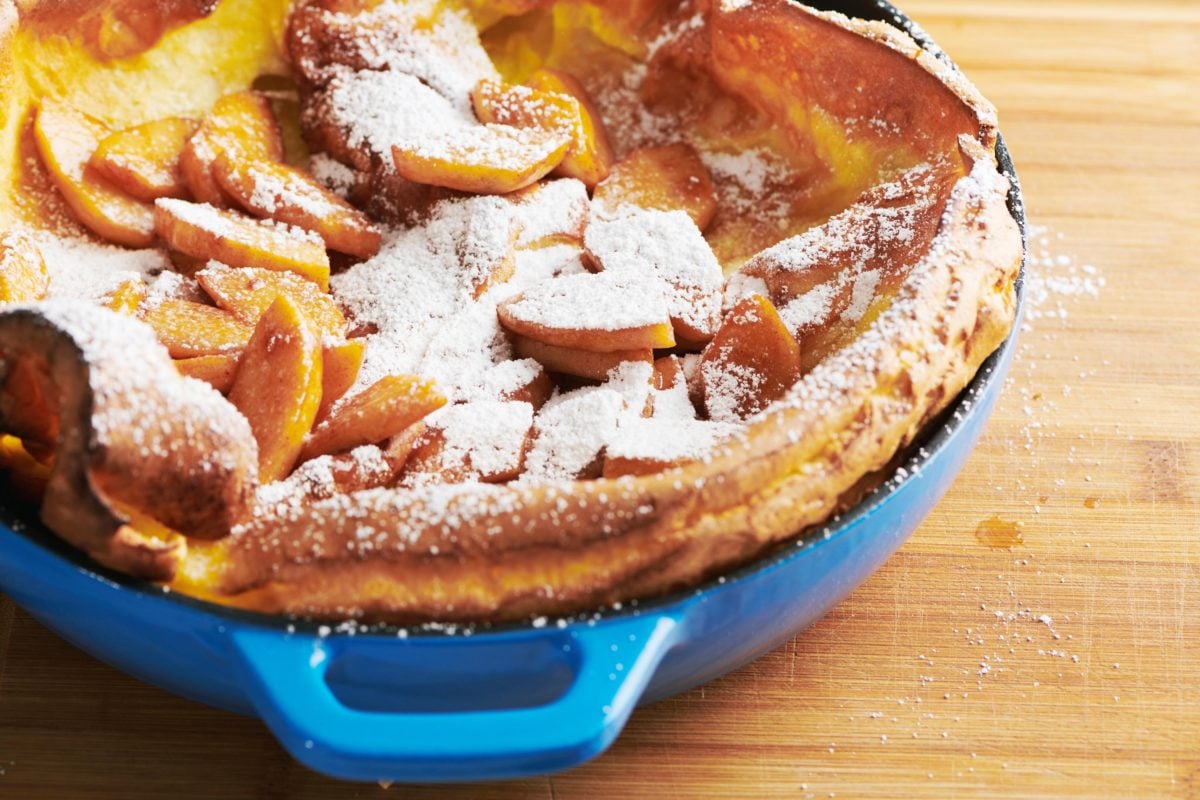 Other Apple Dessert Recipes:
Like this recipe? Pin it to your favorite board on Pinterest.

Pin This
Dutch Baby Pancake with Sauteed Apples
You will not believe how ridiculously easy this beautiful puffed pancake is to make.
Ingredients
4

tablespoons

unsalted butter

divided

4

large eggs

½

cup

whole milk

½

cup

all-purpose flour

1

teaspoon

pure vanilla

¼

teaspoon

kosher salt

2

firm apples

such as Granny Smith, Rome, or Empire, peeled and sliced

1

tablespoon

light or dark brown sugar

½

teaspoon

ground cinnamon

2 to 3

tablespoons

confectioners' sugar

1

Whipped Cream

optional
Directions
Preheat the oven to 425°F.  Place a 12-inch (or 14-inch) cast iron pan into the oven as the oven preheats, with 2 tablespoons of butter in the pan and allow it to melt; watch that the butter doesn't get brown.

In a large bowl, whisk together the eggs, milk, flour,  vanilla and salt until smooth.  (You can also use a blender or hand mixer for this if you prefer).

Remove the pan from the oven, and swirl so the butter coats the bottom of the pan.  Pour in the batter, and return the pan to the preheated oven.  Baked until puffed and golden brown, about 20 minutes. 

Meanwhile, melt the remaining 2 tablespoons butter in a medium skillet. Add the apples and sprinkle over the brown sugar and cinnamon.  Sauté until tender and glazed with the brown sugar and butter, about 8 minutes.

Remove the pancake from the oven and immediately spoon the apples and any sauce in the pan over the hot pancake. Dust the whole thing with the confectioners' sugar, and cut into wedges.  Serve right away, with the whipped cream if desired.

Nutrition Information
Calories:
211.47
kcal
|
Carbohydrates:
22.38
g
|
Protein:
5.65
g
|
Fat:
11.27
g
|
Saturated Fat:
6.15
g
|
Cholesterol:
131.35
mg
|
Sodium:
149.84
mg
|
Potassium:
143.38
mg
|
Fiber:
1.83
g
|
Sugar:
12.12
g
|
Vitamin A:
457.34
IU
|
Vitamin C:
2.79
mg
|
Calcium:
45.28
mg
|
Iron:
1.07
mg
The nutrition values are provided as an estimate. It is not intended as a substitute for the advice of a qualified healthcare professional.
Made this recipe? Post a photo of your delicious creation on Instagram with our hashtag #dinnersolved