Applesauce Pork Chops
Tender juicy pork chops paired with applesauce — this classic fall-feelings pairing never goes out of style. Apparently this comfort food combo is locked into the culinary lexicon via Spain and Britain, which is odd as I think of this as such an American dish (which just goes to show you how wrong we food writers can be!)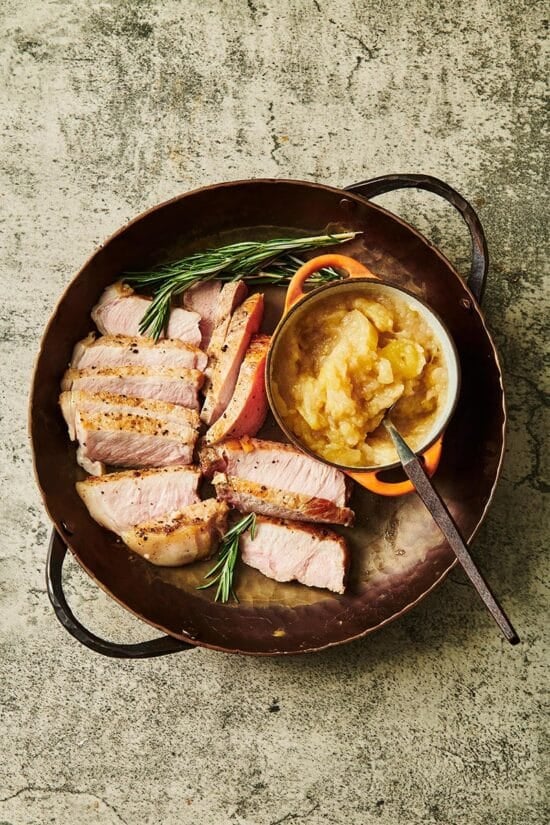 This recipe calls for boneless pork chops, but you can use bone-in pork chops if you prefer. Try and buy heritage pork, or small farm raised pork, which will be less lean than commercially produced pork. This will also contribute to a juicy pork chop result.
Pork Chops with Applesauce: Quickly pan cooked tender and juicy pork chops are a perfect match for sweet tart applesauce.

Tweet This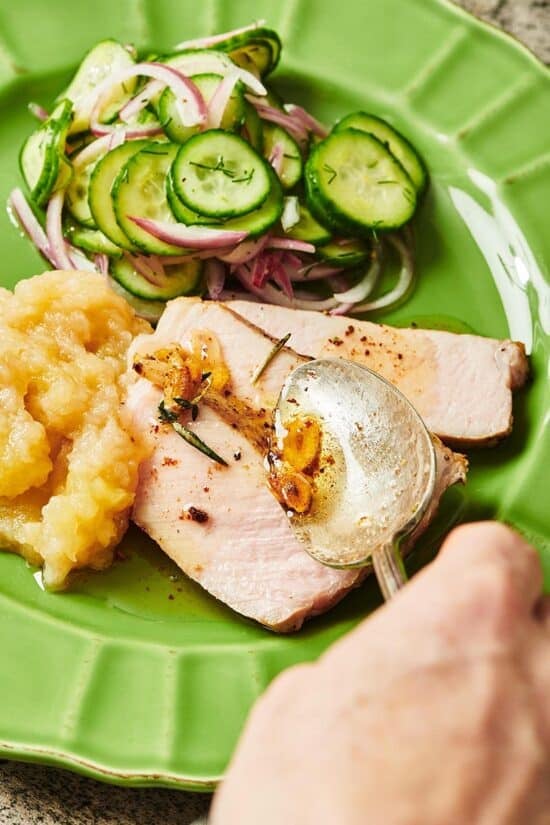 Brining Pork Chops
Brining your pork chops is optional, so if getting dinner on the table is what you need to do, you can skip it! If you can plan ahead and brine your pork chops even for a few hours you'll be basically guaranteed juicy pork chops, as long as you don't wander away and overcook them! Here's how to brine pork chops! I'm betting you already have the ingredients on hand.
And if you want everything-you-need-to-know-about-pan-cooking-pork-chops, click here!
Why Does Applesauce Go So Well with Pork?
I was curious about that myself! So I turned to a book that I think every curious cook would love – The Flavor Thesaurus. The author, Niki Segnit, speaks wonderfully (smartly, funnily, entertainingly) about why flavors and foods pair well together and why. And if that sounds dry to you, then I have to urge you to skim a few pages of this book and see if you don't change your mind. I was hooked.
So, this is what Segnit has to say about apple & pork:
"On the plate, these two are made for each other. With a plate of proper roast pork, by which I mean one with a curly roof of crackling, your apple pulls back the curtains and throws open the window of your palate. (Make more applesauce than you need. Lots more)."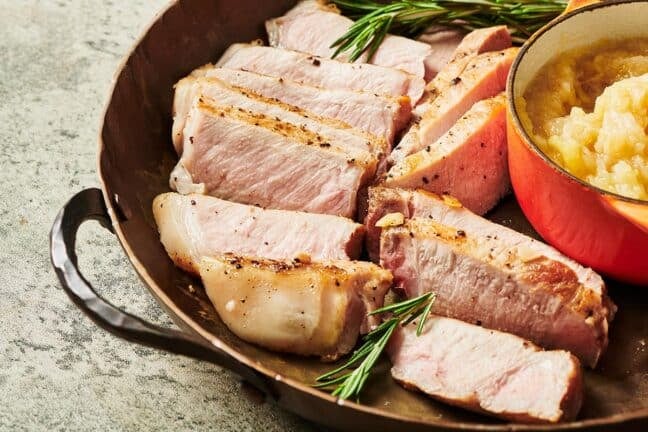 Pork Chops and Applesauce
This is the kind of meal that makes me think about my childhood. I don't think my mom made homemade applesauce all that often, but I do remember having this dinner in the fall.
If you don't feel like making your own applesauce, that's ok. If you can buy small batch made applesauce, definitely do it, as there are really only two elements to this dish — pork chops and applesauce — so each component should be the best you can find. Good quality "homemade" applesauce can be found at specialty stores, and also at farm stands or orchards during apple season.
What to Serve with Pork Chops with Applesauce:
Other Pork Chop Recipes:
Like this recipe? Pin it to your favorite board on Pinterest.

Pin This
Pork Chops with Applesauce
Quickly pan cooked tender and juicy pork chops are a perfect match for sweet tart applesauce.
Ingredients
2

1-inch thick boneless pork chops

(about 10-ounces each)

Kosher salt and freshly ground pepper

to taste

1

tablespoon

vegetable or other neutral cooking oil

1

tablespoon

unsalted butter

, at room temperature

2

cloves

garlic

, very thinly sliced

Applesauce

(warm or cool) to serve
Directions
Brine the pork chops, if desired. Either way, pat them completely dry. Season them with a bit of salt if you skipped the brining step, and pepper either way.

Heat the oil in a large, heavy skillet over medium-high heat. Add the oil, and then add the pork chops. Cook for about 2 minutes, then flip the pork chops with tongs, and continue cooking the pork chops, flipping them every 2 minutes or so, for a total of about 10 minutes. The internal temperature should read 140 F on a meat thermometer, and they will be a tiny bit pink in the center. Add the butter to the pan, and when melted, add the garlic. Use a spoon to spoon the melted garlic butter over the chops, flipping the chops a couple of times, and basting away. Remove the pan from the stove, and transfer the pork chops to a cutting board. Let them rest for 5 minutes; the internal temperature should reach 145 F.

Slice the pork chops and drizzle the pan sauce over the sliced pork. Serve with the applesauce.
Nutrition Information
Calories:
277
kcal
|
Carbohydrates:
1
g
|
Protein:
31
g
|
Fat:
16
g
|
Saturated Fat:
6
g
|
Polyunsaturated Fat:
3
g
|
Monounsaturated Fat:
6
g
|
Trans Fat:
0.2
g
|
Cholesterol:
102
mg
|
Sodium:
69
mg
|
Potassium:
536
mg
|
Fiber:
0.03
g
|
Sugar:
0.02
g
|
Vitamin A:
93
IU
|
Vitamin C:
0.5
mg
|
Calcium:
13
mg
|
Iron:
1
mg
The nutrition values are provided as an estimate. It is not intended as a substitute for the advice of a qualified healthcare professional.
Made this recipe? Post a photo of your delicious creation on Instagram with our hashtag #dinnersolved