Streusel lovers, this one's for you.
Thick Streusel Topping for Apple Crisp
This apple crisp has a thick layer of topping. This is a bit of an understatement. There is lots of topping. A deep, dense, non-apologetic layer of sweet oat-laced topping. We all know that's the best part of the crisp, so let's get in there. Look at that blanket of crunchy sweet loveliness.
Which Apples to Use for Baking
Some people have very firm opinions (slight pun, slightly intended – stay with me) about which apples to use in pies, crisps, and other baked goods. I don't. I definitely like to use a mixture when possible to give every bite a slightly different twist, and I like to use some apples that are more tart than not, mixed with a smaller amount of a sweeter variety. I like a bit of citrus for brightness, and a bit of cinnamon (not too much, we want to taste those apples).
Use any apples that are firm (there's the pun) so they will stand up to baking and have a nice texture. Jonagolds (sometimes called Jonathans), Braeburns, Honeycrisps, Mitsu, Cortlands, Winesap, Pink Lady, Empire, Granny Smith and all manner of green apples.
If you have the opportunity to go apple picking in the fall, just make it happen. Some of my fondest childhood memories are of those apple picking days—well, not the time I fell out of a tree when I was five and my family thought I was just being a little bit dramatic, so left me in the backseat of the car while they picked apples, and then when I was really quiet for a while drove me to the doctor to find out I had a broken leg.
Other than that one slightly blurred memory I have always really loved apple picking.
A thick layer of streusel topping goes on top of our Favorite Apple Crisp. Use a mixture of apples to give every bite a different twist.

Tweet This
Anyway, when you do go apple picking, you will probably pick several varieties of apples and then when you get home, become unable to remember which is which type. That's ok. Any apple that tastes good is good for eating, and any apple that is very firm is good for cooking. At least that's my basic rule of thumb.
Want a slightly different version? With a slightly more modest amount of streusel? I'm of the mind that almost all apple crisps are good apple crisps.
Whipped Cream with Apple Crisp
Oh, and if you're going to hit that streusel hard, you're probably also going to hit the whipped cream (or ice cream) hard. In for a penny, in for a pound.
Other Apple Recipes: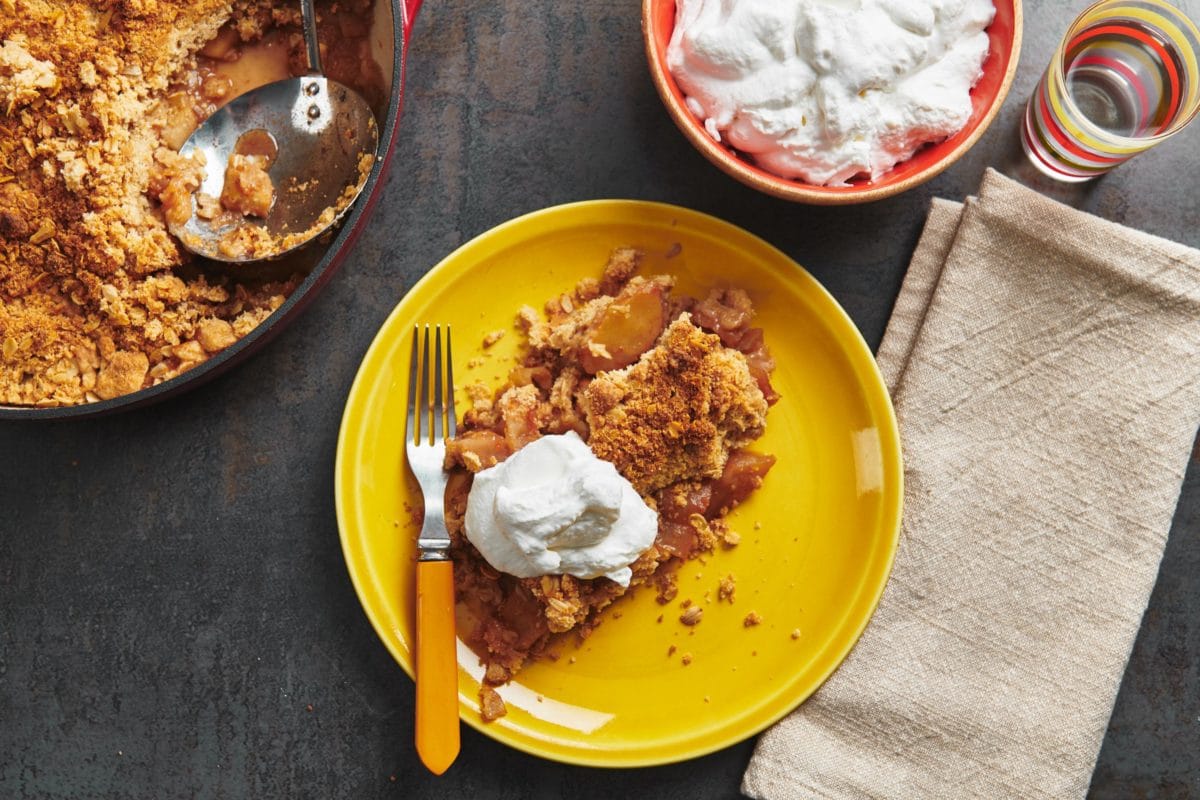 Like this recipe? Pin it to your favorite board on Pinterest.

Pin This
Favorite Streusel Apple Crisp
The first thing I make after every apple picking expedition.
Total Time:
1
hour
20
minutes
Ingredients
For the Crisp Topping
2

cups

all-purpose flour

¾

cup

dark brown sugar

¼

cup

granulated sugar

½

teaspoon

ground cinnamon

½

teaspoon

kosher salt

1

cup

(2 sticks) unsalted butter

chilled cut into pieces

1

cup

rolled or steel cut oats
5

pounds

Granny Smith

Maccoun or other apples that have good firmness and flavor, preferably a combination

Zest and juice of 1 lemon

Zest and juice of 1 orange

½

cup

granulated sugar

1

teaspoon

ground cinnamon

Vanilla ice cream or Sweetened Whipped Cream

see Note to serve
Directions
Preheat the oven to 375°F. Butter a shallow 4-quart baking pan.

Place the flour, brown sugar, granulated sugar, cinnamon and salt in a food processor and process to blend. Add half of the butter and pulse to incorporate a bit, then add the rest of the butter and pulse the mixture until it forms a nubby, pebbly texture, but not a paste. Transfer to a bowl and stir in the oats with a spoon, so they don't get minced up by the food processor. Hold the topping in the fridge while you prepare the apples if it's warm in the kitchen.

Peel and slice the apples about 1/2-inch thick. Toss them in a large bowl with the zest and juice of the lemon and orange, then sprinkle over the sugar and cinnamon and toss so that the apples are evenly coated with the mixture. Transfer the apples to the prepared pan and evenly distribute the topping over the apples.

Bake for about 1 hour until the apples are tender (slide a knife into the middle of the pan) and the top is browned. You can give it a minute or two under the broiler if you want to get the top a bit more browned, but watch it carefully. Cool on a wire rack until warm, and serve with ice cream or whipped cream.
Notes
For the Sweetened Whipped Cream
¾ cups heavy or whipping cream
1 tablespoon confectioners' sugar
In a mixing bowl, using a whisk or a hand mixer, combine the cream and confectioners' sugar just until slightly firm peaks are formed. This will keep for up to 4 days in the refrigerator.
Nutrition Information
Calories:
524
kcal
|
Carbohydrates:
87
g
|
Protein:
4
g
|
Fat:
20
g
|
Saturated Fat:
12
g
|
Cholesterol:
49
mg
|
Sodium:
127
mg
|
Potassium:
326
mg
|
Fiber:
7
g
|
Sugar:
55
g
|
Vitamin A:
690
IU
|
Vitamin C:
10
mg
|
Calcium:
43
mg
|
Iron:
2
mg
The nutrition values are provided as an estimate. It is not intended as a substitute for the advice of a qualified healthcare professional.
Made this recipe? Post a photo of your delicious creation on Instagram with our hashtag #dinnersolved