This post may contain affiliate links. Please read our privacy policy.
Easy Banana Cream Pie Recipe
I have been on a little bit of a quest to bring more old-school pies into my world. Diner-style pies, the kind that we all ogle behind the glass, the kind of pies that might be rotating on an electric Lazy Susan of some sort (poor Susan, how did she get stuck being associated with a slowly spinning circle?). And long overdue was this, Banana Cream Pie.
This is one of the most comforting pies I know. A flaky crust is lined with sliced bananas (use bananas that are ripe but definitely not mushy), then a simple sweet custard is spoon over the top. The whole shebang is covered with swells of whipped cream, and then – if you like—some curls of chocolate.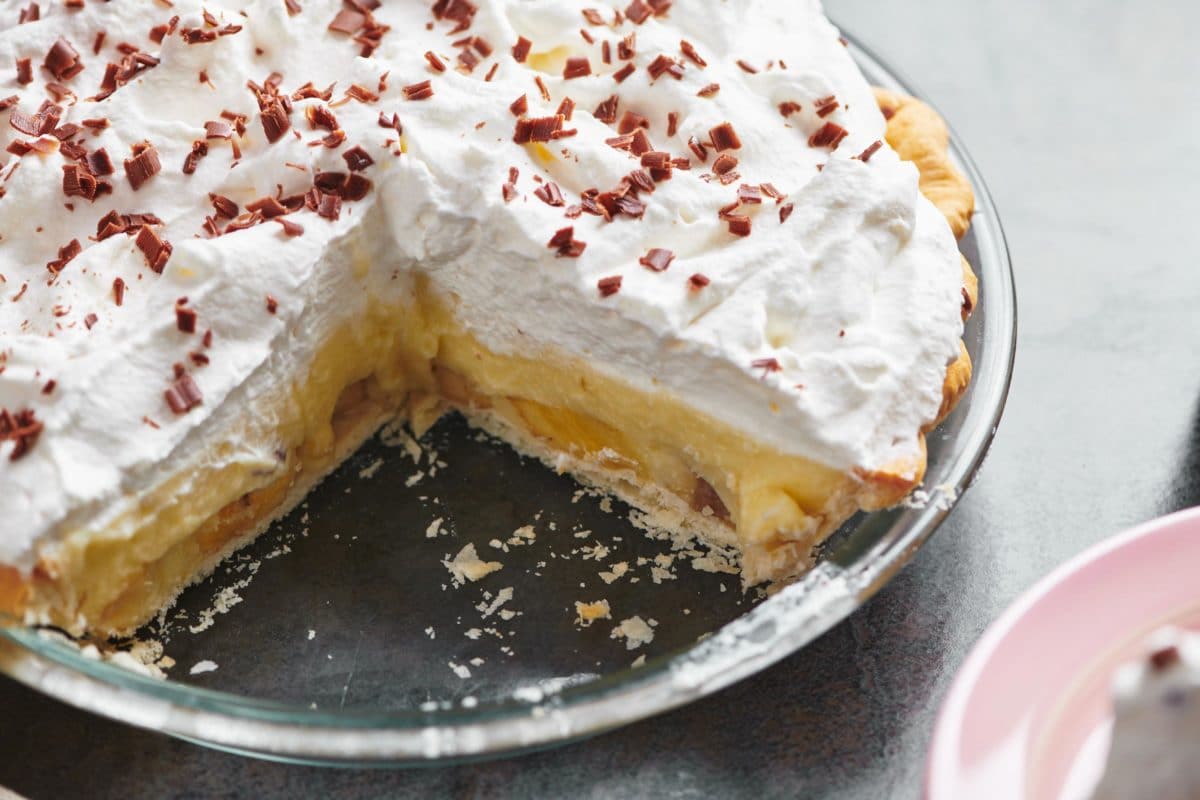 Using Premade Pie Crusts
And it's surprisingly simple to make. First you pre-bake a pie crust, which is easy as….oh, I won't say it. Just open a package of refrigerated pie crust, flip it into a pie plate, parchment side up, fill it with dried beans and rice and bake. Now it's flaky and crispy and ready to fill.
Best Banana Cream Pie: A slice of this sweet comfort-food pie is like having an old-school diner in your very own home.

Tweet This
How to Make Banana Cream Pie
The filling is cooked on the stove. The custard is made by thickening a sweetened milk mixture on the stove. Then, a small amount of the hot mixture is whisked quickly into the eggs so they don't scramble.
As soon as this has been blended, the warmed yolks are returned to the pot, with more whisking so that that the whole thing becomes thick and creamy and smooth.
The filling is finished with a bit of butter for richness and silkiness.
When the custard is thick and smooth, you'll transfer it to a bowl, and chill it. But before you put it in the fridge, place a piece of plastic wrap directly onto the surface of the custard, so that it doesn't form a skin as it cools.
Slice up those bananas and line the bottom of the cooled crust with them.
Then fill the crust with the custard.
While I don't feel bad about not making my own pie crust in the slightest, I do like to make my own whipped cream. With a hand mixer, it's so fast and easy and it tastes like happiness to me. Pile that whipped cream right onto the crust, and pile it high.
How to Top a Pie with Whipped Cream
You can simply dollop it on, OR if you want to create those lovely swoopy peaks and valleys you see on those awesome pies at the bakeries, you can make that happen. The best tool for this job is a mini offset spatula. A small offset is perfect for creating gorgeous swoops in whipped cream toppings, or to make perfect peaks and valleys in the meringue for a Lemon Meringue Pie.
Just let your hand gently move in a circular motion through the cream, up and down and swirly motion, without over stirring the whipped cream (you don't want to push out the air which is what makes whipped cream whipped). Just play around with it until you get the knack of it, and create a pretty rolling landscape of whipped cream atop your pie.
A bar of chocolate and a vegetable peeler will get you some pretty chocolate curls for the top. Mine were a bit flaky, because my chocolate was cold, but if you warm your chocolate slightly you will get curlier curls.
We completed our pie quest with some cold glasses of chocolate milk. See you for the next pie.
Other Pie Recipes:
Other Banana Recipes:
Like this recipe? Pin it to your favorite board on Pinterest.

Pin This
Best Banana Cream Pie
A slice of this sweet comfort-food pie is like having an old-school diner in your very own home.
Ingredients
1

rolled refrigerated pie crust

¾

cup

sugar

¼

cup

cornstarch

½

teaspoon

kosher salt

2 ½

cups

whole milk

3

large egg yolks

3

tablespoons

unsalted butter

1

teaspoon

pure vanilla extract

2

large firm but ripe bananas

1

thick bar semisweet chocolate
Instructions
Preheat the oven to 375°F.  Let the pie crust sit out at room temperature for 20 minutes, then unroll the crust and fit it into an 8 or 9-inch pie pan with the parchment on top.  Prick the pie crust with a fork in a number of places. Remove the parchment (reserve it!) and crimp the edges decoratively. Fit the parchment back into the pie crust and fill the pie with dried rice, dried beans, or pie weights.  For more on blind baking a pie crust click here.

Bake on the lower rack of the oven for 20 minutes, then remove from the oven, carefully remove the parchment and weights, and return the crust to the oven.  Bake for another 15 to 20 minutes until golden and cooked through. Set on a cooling rack to cool completely.

Meanwhile, in a large saucepan, whisk together the sugar, cornstarch, salt and milk . Place the pan over medium-high heat until it starts to bubble and thicken, then reduce the heat a bit so that it bubbles slowly for another two or three minutes and thickens up further.

Lightly beat the egg yolks in a small bowl.  Slowly pour a few tablespoons of the hot filling into the egg yolks, whisking all the while, until blended.  Slowly pour this egg mixture back into the pan over medium-high heat, whisking constantly, so that it is all smooth and blended.  Allow to come to a boil ( big bloopy bubbles will rise to the top and pop) and stir for another 2 minutes until the mixture is quite thick.

Remove from the heat and add the butter and vanilla.  Stir until the butter is melted. Transfer to a container and place some plastic wrap directly on the surfaced of the custard.  Refrigerate the mixture for about 1 hour, until it is fairly cool and evenly thicker.  

When the crust and the custard are cooled to at least room temperature, slice the bananas about 1/2 -inch thick.  Distribute the bananas on the bottom of the pie crust. Carefully dollop over the custard and use the back of a spoon or an offset spatula to smooth the top.  

Use a spoon or a piping bag to cover the top of the pie with the whipped cream.  If you used a spoon, then use the back of a spoon or an offset spatula again to make nice swirly swoops in the whipped cream.  Refrigerate the pie for 4 to 6 hours, until fully chilled. Top the pie with chocolate curls if desired: Use a vegetable peeler to scrape down the side of the chocolate bar, so that thin pieces of the chocolate fall off in curls.  

Slice and serve.
Notes
The custard is made by thickening a sweetened milk mixture on the stove.  Then, a small amount of the hot mixture is whisked quickly into the eggs so they don't scramble.  This is called tempering – because you are bringing the eggs up to a higher temperature, closer to the temperature of the custard, before you add them in.
Nutrition
Calories:
332.69
kcal
,
Carbohydrates:
39.21
g
,
Protein:
5.06
g
,
Fat:
17.74
g
,
Saturated Fat:
9.16
g
,
Cholesterol:
92.13
mg
,
Sodium:
218
mg
,
Potassium:
238.54
mg
,
Fiber:
1.29
g
,
Sugar:
23.97
g
,
Vitamin A:
461.15
IU
,
Vitamin C:
2.05
mg
,
Calcium:
107.29
mg
,
Iron:
0.84
mg
Nutrition information is automatically calculated, so should only be used as an approximation.
Like this? Leave a comment below!