Ok, so my Grampa, my Gramps, he loved lemon. And his younger son, my dad, loved lemon. As in my father used to eat lemons straight, in wedges, like regular folks eat oranges. We will not discuss what this did to the enamel on his teeth.
But l realize now that fresh lemons might not have been as regular a part of everyone's childhoods as they are of mine. And now, I can't think of an ingredient that I am less likely to run out of than lemons. I would say they are fourth, behind olive oil, salt, and garlic. That is how important they are to my cooking.
A Classic Lemon Meringue Pie
And so—now I'm on my path to a terrific lemon meringue pie. I think this will be a life journey, though I am pretty pleased with this recipe today. There are different camps of tartness vs. sweetness. Different kinds of meringue. Different heights of meringue. I think as with all iconic foods, there are lots of ways to go, and many things that people find iconic about said food.
When I close my eyes and picture a classic lemon meringue pie, it's rotating in a glass case in an old-school diner. The pie is about 8 inches tall all told, with slightly more meringue than lemon, and very, very tall. I think there was always once doing a slow circle in the luncheonette a block or so from where I grew up in NYC, my early years.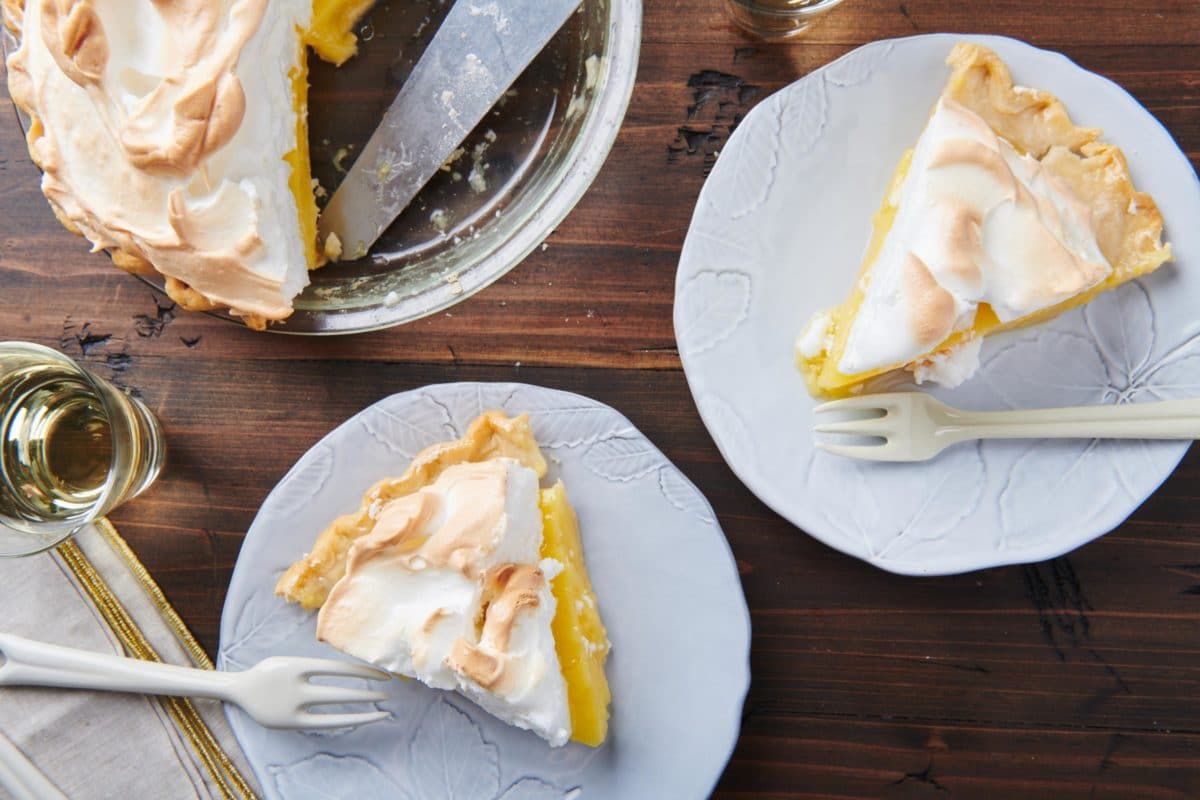 I wanted to make this pie because I love nostalgic desserts. In fact,I kind of only like nostalgic desserts, I realize. Partly this is because I have food allergies and avante garde desserts aren't exactly my friend. But in the end, I think most people are in this camp. Yes, occasionally an esoteric dessert is exciting, but really in the end don't we all just want crisps and cobblers and cookies and brownies? Not to mention lemon squares.
This classic Lemon Meringue Pie with a lemon custard filling topped with golden brown peaks of meringue is just like what you'd find in an old-school dinner.

Tweet This
Making Lemon Meringue Pie:
Don't be nervous about the filling. The trick to making a lemon custard filling (and other fillings involving a hot sugar mixture and raw eggs, like lemon curd), is to temper it. This simply means that you add a small amount of the hot mixture to the yolks, and whisk them together very quickly, and then add the yolk mixture back into the pot with the rest of the hot liquid, whisking away, until it blends and thickens.
Combining the hot liquid and the eggs in stages while stirring constantly means that you will end up with a thick, smooth custard for your pie, and not some lightly scrambled eggs in a warm sauce.
Allow the filling to cool slightly, just for about 5 minutes or so, before pouring it into the pre-baked (also known as blind baked) crust.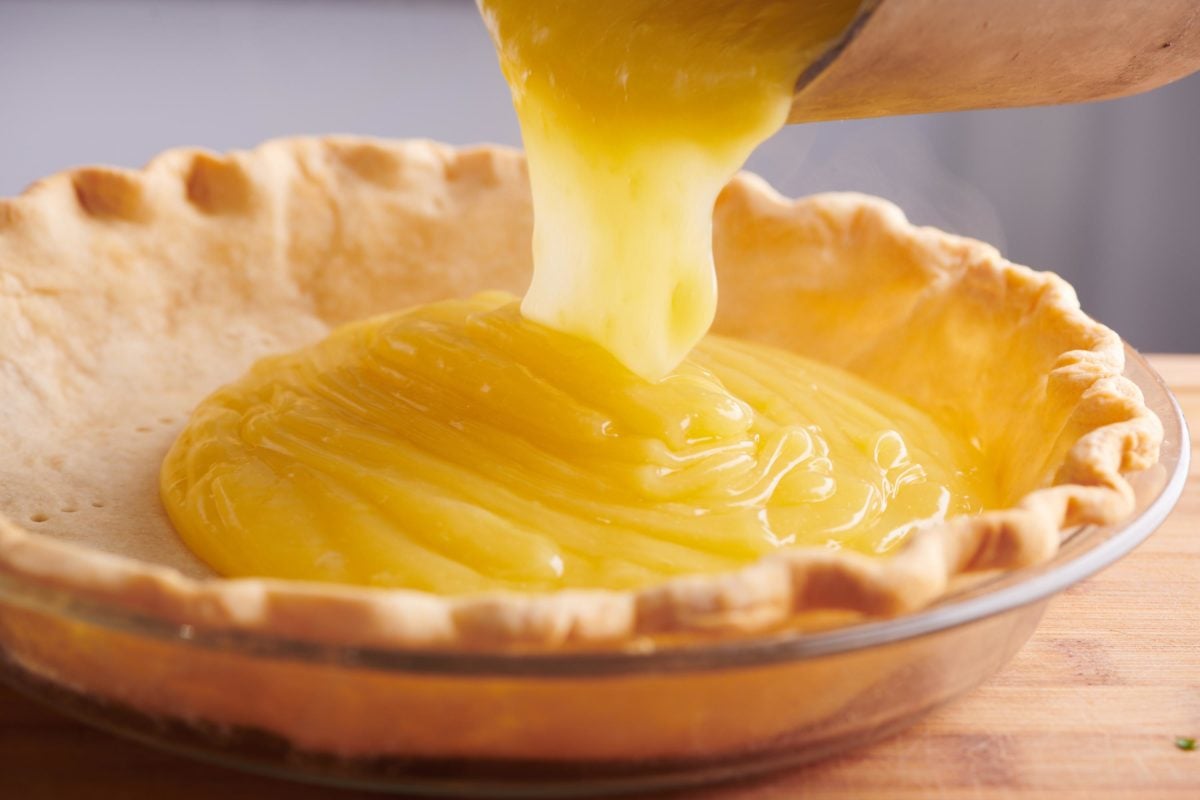 Making Meringue: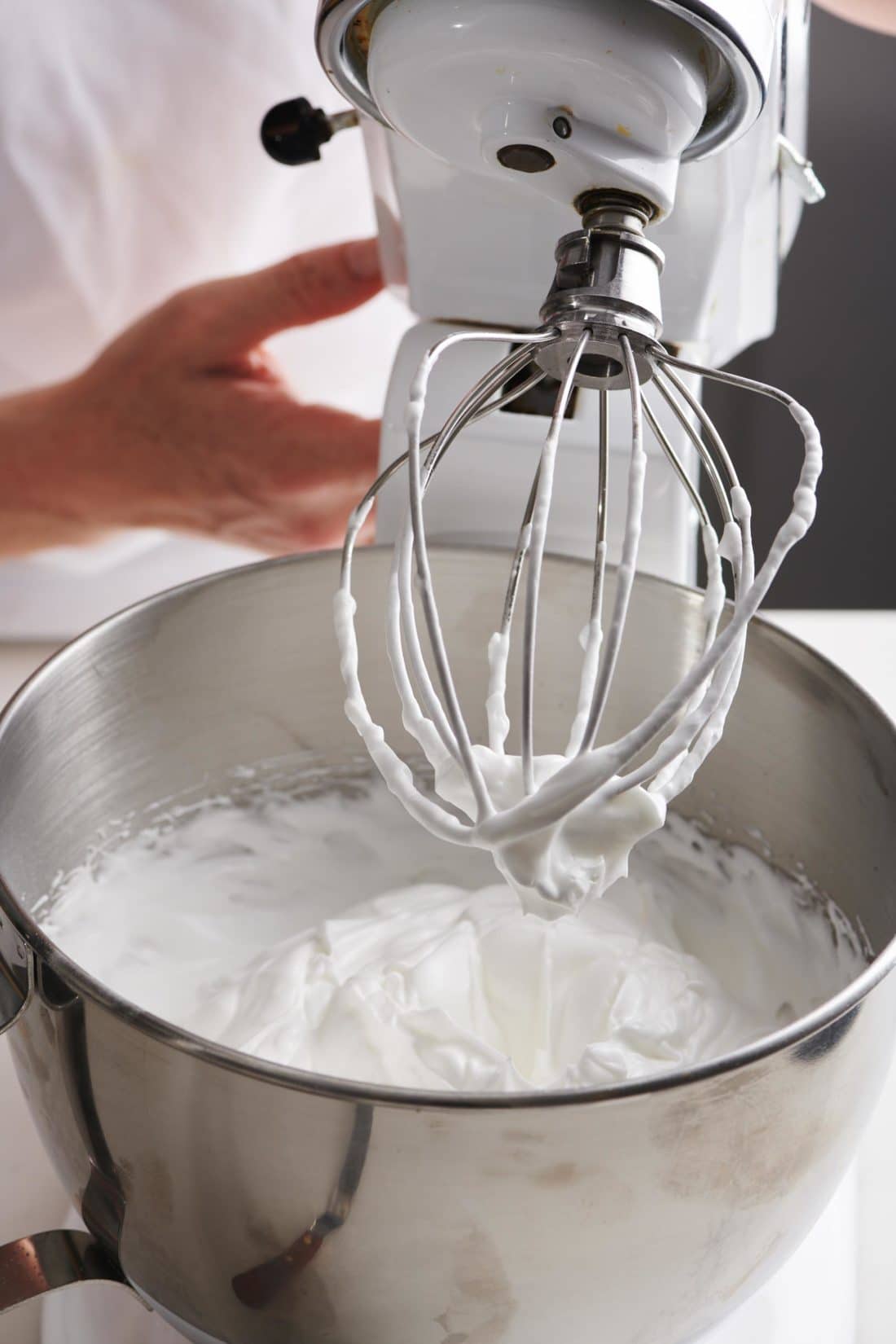 Meringue is really not much more than beaten egg whites with sugar. A bit of lemon juice and some cream or tartar helps stabilize the beaten whites, and that's how you get these lovely glossy peaks.
Sprinkling in the sugar slowly while beating also helps creates a stable, smooth meringue.
And use the back of a spoon or an offset spatula, so swirl the top of the meringue before baking, getting nice peaks and valleys which will look gorgeous once it's baked and the tips turn golden brown.
Lemon Meringue Pie Baking Tips:
Don't try making anything with meringue on a humid day. I mean do it if you want to, but know the meringue won't set up as well.
Be sure to temper the filling to get a smooth custard (see above, and see recipe below).
Make sure you start beating the egg whites and get them to soft peaks BEFORE starting to sprinkle in the sugar. And make sure to sprinkle in the sugar gradually; don't dump it in. Then beat until glossy stiff peaks appear, but be careful not to overbeat.
Make sure you gently spread the meringue all the way to tough the inner edges of the pie crust, all the way around. Otherwise the meringue will shrink as it cooks, and possibly get a little weepy, or liquidy, underneath (none of this is terrible, and it will still taste amazing, but we are going for maximum eye appeal of course).
Do your best to form those lovely swoopy peaks and valleys, which is how the meringue get broweed on the top edges of the peaks. Again, an offset spatula is amazing for this.
Make Ahead:
You don't want to make the lemon meringue pie more than a day ahead of time, if you can help it, because the meringue might start to separate a bit from the lemon filling, it is might get a little bit weepy. But of course, no one is going to turn their nose up at a piece of two day old lemon meringue pie. Conversely, you do have to make it at least 4 hours ahead of serving, because it needs time to cool and chill.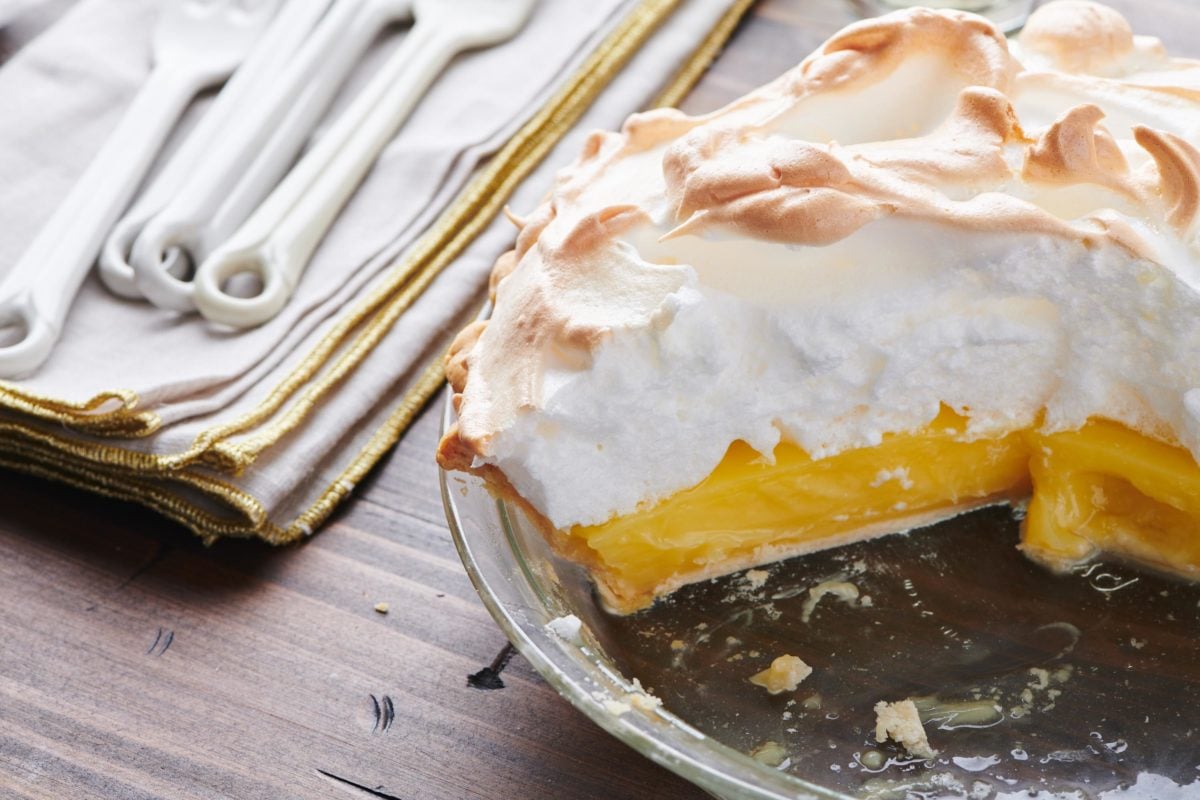 Other Pie Recipes!:
Lemon Meringue Pie
Classic, with a sweet tart lemon custard filling topped with golden brown peaks of meringue; just like what you'd find in an old-school diner.
Total Time:
1
hour
5
minutes
Ingredients
For the Lemon Filling
1 ¼

cups

sugar

⅓

cup

cornstarch

¼

teaspoon

kosher salt

1 ½

cups

warm water

5

large egg yolks

you will use the whites for the Meringue topping

⅓

cup

fresh lemon juice

1

tablespoon

finely grated lemon zest

2

tablespoons

unsalted butter
For the Meringue
5

large egg whites

1

teaspoon

fresh lemon juice

½

teaspoon

cream of tartar

¼

teaspoon

kosher salt

⅔

cup

sugar
Directions
Preheat the oven to 350°F.

Make the Lemon Filling: in a medium saucepan, combine the sugar, cornstarch, and salt.  Slowly whisk in the water until the mixture is fairly smooth.  Place the pot over medium heat and bring to a simmer whisking constantly.  Simmer for another minute or two until it has thickened, then remove from the heat.

Whisk the egg yolks in a medium bowl.  Slowly pour about 1/2 cup of the hot sugar mixture into the egg yolk mixture, whisking constantly.  Then, also whisking constantly, slowly pour the yolk mixture back into the pot with the hot sugar mixture.  Return the pan to medium heat and whisk in the 1/3 cup lemon juice, lemon zest, and butter.  Return to a simmer, and simmer again for another 2 to 3 minutes until thick and smooth.

Cool the filling for 5 minutes, then pour the filling into the pre-baked pie crust.  

Make the Meringue: Place the egg whites, 1 teaspoon lemon juice, cream of tartar, and salt into a large bowl, preferably the bowl of a standing mixer, and beat with an electric mixture on medium speed until soft peaks form.  Gradually sprinkle in the 1/2 cup sugar beating all the while until incorporated, and beat just until stiff glossy peaks form.  Do not overbeat.

Spoon the meringue over the surface of the pie making sure the entire filling is covered and that the topping touches the inner edges of the crust. Use the back of a spoon or a spatula (offset spatulas are great for this) to make nice swoopy waves in the meringue with some nice peaks.

Bake until the meringue is lightly browned on the top edges of the waves, about 15 minutes.  Place the pie on a wire rack to cool, and when it gets to room temperature transfer it to the fridge to chill for at least 6 hours before serving.
Nutrition Information
Calories:
377
kcal
|
Carbohydrates:
65
g
|
Protein:
5
g
|
Fat:
11
g
|
Saturated Fat:
5
g
|
Cholesterol:
130
mg
|
Sodium:
273
mg
|
Potassium:
105
mg
|
Fiber:
1
g
|
Sugar:
48
g
|
Vitamin A:
250
IU
|
Vitamin C:
5
mg
|
Calcium:
21
mg
|
Iron:
1
mg
The nutrition values are provided as an estimate. It is not intended as a substitute for the advice of a qualified healthcare professional.
Made this recipe? Post a photo of your delicious creation on Instagram with our hashtag #dinnersolved