This post may contain affiliate links. Please read our privacy policy.
Bill Smith's Atlantic Beach Pie changed my life. How often does anyone get to say that? The crunchy, salty saltine crust filled with creamy sweet-tart lemon filling, topped with billows of whipped cream is magical. The combo of flavors and textures makes this pie one of the best desserts I have ever eaten in my life, and I promise you you'll feel the same.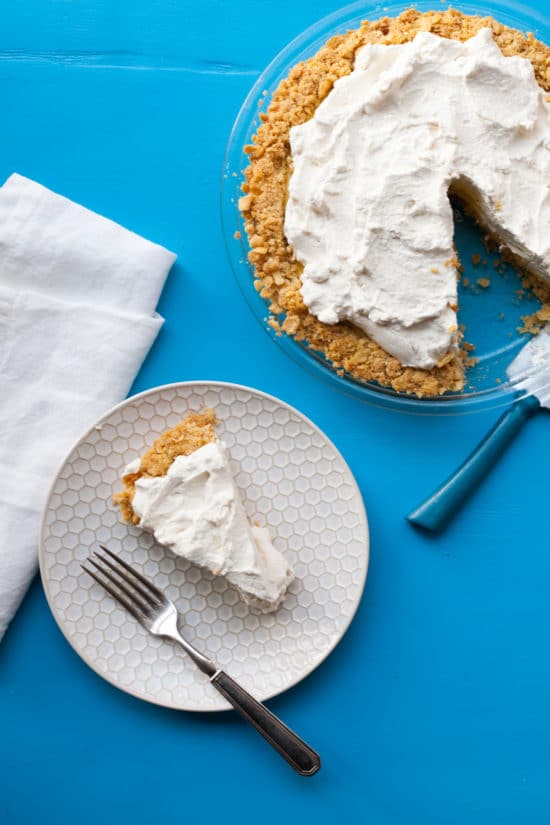 Bill Smith's Atlantic Beach Pie
This Atlantic Beach Pie recipe comes from Bill Smith, long-time chef of Crook's Corner restaurant in Chapel Hill, North Carolina. It's his version of a pie that was commonly served at seafood restaurants on the North Carolina coast when he was growing up.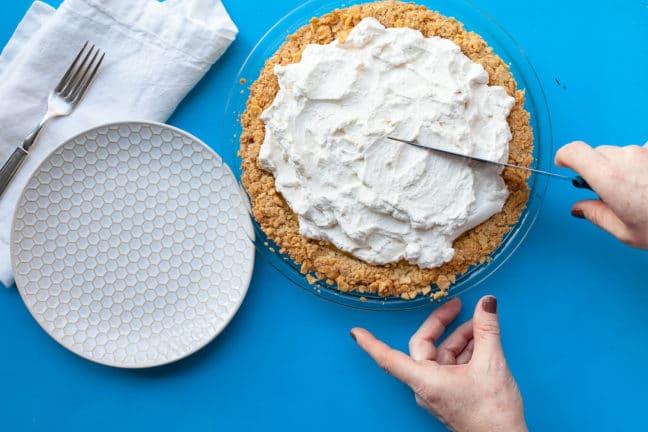 He had just put it in the menu, not even as a permanent offering, just as a special. When I first tasted the pie, all I could say was, "OH MY GOD, OH MY GOD." I went into a pie-induced fugue state of some kind.
I have a very patchy memory of finishing the pie, sharing it with my dinner companion, forks gentile-ly nudging each other for the final bites.
Lemon Pie with Saltine Cracker Crust
The beauty of this pie lies in the play between the salty, dense crust made from saltines, and the creamy sweet-and-tart filling featuring citrus juice. The billows of whipped cream don't hurt.
Atlantic Beach Pie on NPR
Just after my trip to Chapel Hill, NPR asked me if I wanted to do some segments on a series of shows they were creating called Found Recipes. In essence the show is about a person (in this case me) coming across kind of food or recipe that delicious/amazing/surprising – that weren't looking for at all. A happenstance serendipitous discovery that needs to be shared with a greater world.
Yes, I said. I would love to be on your show. And I have the perfect recipe.
The segment aired and the response was crazy enthusiastic. The phone started ringing at Crook's Corner people making reservations and checking to make sure the pie was on the menu. It had been, in fact, a sometime special, not a permanent menu item…..but Bill quickly realized that that pie needed to stay on the menu for good.
Crook's Corner is about to celebrate their 50th anniversary, and the created a timeline of milestones for the restaurant, the NPR piece about the pie made the chart! I was very proud.
The OH-MY-GOD pie of all time. As heard/seen on NPR and The New York Times! A saltine crust filled with creamy citrus filling and topped with whipped cream.

Tweet This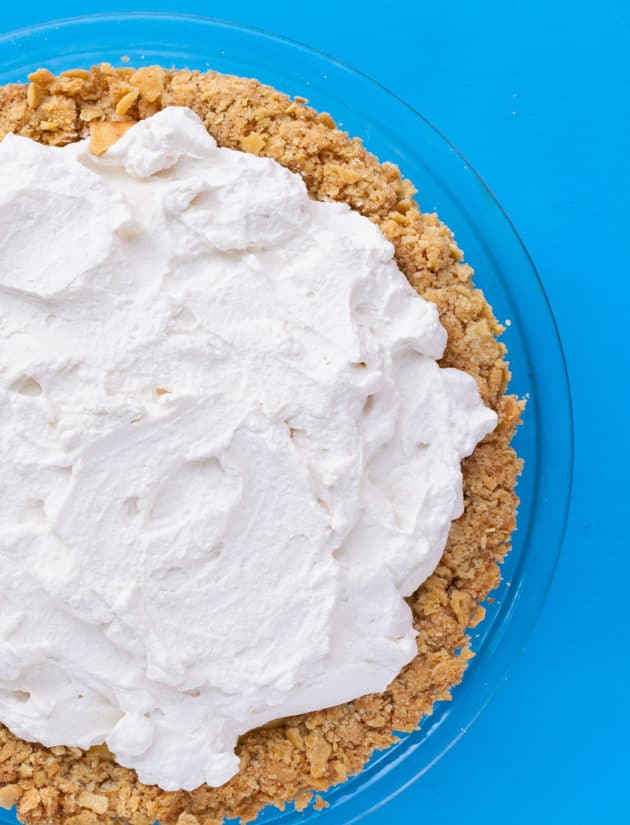 Famous Atlantic Beach Pie
And then just now Margaux Laskey told the whole story in the New York Times!
Says Margaux: "It was huge hit at the Southern Foodways dinner, so he added it to the Crook's Corner menu. Katie Workman, the author of 'The Mom 100 Cookbook: 100 Recipes Every Mom Needs in Her Back Pocket,' discovered it while eating there and went on to share the recipe on National Public Radio's Found Recipes series.
"And that was that. Soon, Crook's Corner had a line out the door, and the pie was selling out. Magazines and newspapers wrote features about it. Food bloggers sang its praises. (A quick internet search for the pie yields about 458,000 results.) Every cooking website worth their flaky sea salt added it to their recipes. Jeni's Splendid Ice Creams even developed an Atlantic Beach Pie flavor."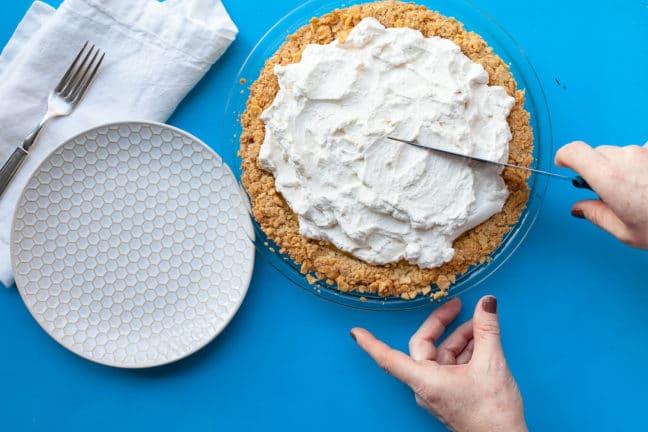 IS THAT EXCITING OR WHAT????
The Story of Atlantic Beach Pie
This pie came about because, as Bill explained, that back in the day there was a commonly held belief (which his mother still holds to this day) that if you ate sweets after a seafood meal you would get sick. His aunt even went so far as to test this theory by driving to a Dairy Queen after such a meal, and having a milkshake, and nothing actually happened.
Bill's mom still holds staunchly to this belief, however. The exception was apparently this citrus pie, which was the only dessert served at many of these coastal seafood joints. The saltine crust is sheer genius. It was often served with meringue on top, no doubt using the white from the yolks that are used in the filling. Bill prefers it with whipped cream, and I am not about to argue.
It's a good story, but it's an even better pie.
The pie has since been featured – oh everywhere. Southern Living (where it was the cover recipe for their July 2021 issue), billed it as "the easiest pie in the world!"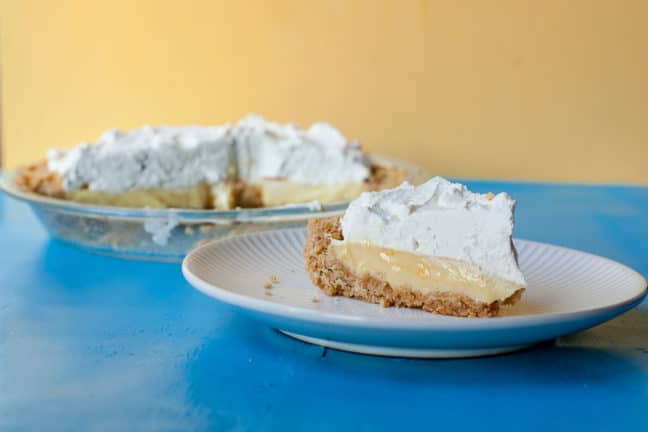 P.S. Like lemon? Check out lemon squares and Lemon Meringue Pie and Lemon Curd.
More Pie Recipes to Try:
Like this recipe? Pin it to your favorite board on Pinterest.

Pin This
Atlantic Beach Pie
This is one of the most deservedly famous pies of all time: a crunchy saltine crust filled with creamy sweet-tart lemon custard filling, topped with billows of whipped cream.
Ingredients
For the Crust
1 ½

sleeves of saltine crackers

8 to 10

tablespoons

unsalted butter

softened

3

tablespoons

sugar
For the Filling
1

14-ounce can sweetened condensed milk

4

large egg yolks

½

cups

fresh lemon juice or lime juice

or a mix of the two
For the Sweetened Whipped Cream
1 ½

cups

heavy or whipping cream

2

tablespoons

confectioners' sugar
Directions
Preheat the oven to 350°F.

For the crust, crush the crackers finely, but not to dust, and place them in a medium bowl. You can use a food processor, but it's just as easy to use your hands. Add the sugar, then knead in the butter until the crumbs hold together like dough. Press the mixture into an 8 or 9- inch pie pan, as you would for a graham cracker crust. Refrigerate for 15 minutes, then bake for 16 to 18 minutes or until the crust colors a little.

Remove the crust and while it is cooling slightly, make the Filling.  In another medium bowl beat the egg yolks into the milk , then beat in the citrus juice. It is important to completely combine these ingredients. Immediately pour into the pie shell and bake for 15 to 18 minutes until the filling has set.  Let the pie cool on a pie rack, then refrigerate to chill.

In a large mixing bowl using a whisk or a hand mixer whip the cream and confectioners' sugar just until slightly firm peaks are formed Pile the whipped cream over the entire filling. The pie needs to be completely cold to be sliced. This will keep for up to 4 days in the refrigerator.
Notes
You can make the pie earlier in the day and chill then whip the cream just before serving for the best texture.
Nutrition Information
Calories:
378.79
kcal
|
Carbohydrates:
29.22
g
|
Protein:
5.19
g
|
Fat:
27.73
g
|
Saturated Fat:
16.85
g
|
Cholesterol:
164.6
mg
|
Sodium:
73.44
mg
|
Potassium:
194.44
mg
|
Fiber:
0.04
g
|
Sugar:
27.15
g
|
Vitamin A:
1014.47
IU
|
Vitamin C:
5.97
mg
|
Calcium:
147.9
mg
|
Iron:
0.3
mg
The nutrition values are provided as an estimate. It is not intended as a substitute for the advice of a qualified healthcare professional.
Made this recipe? Post a photo of your delicious creation on Instagram with our hashtag #dinnersolved