The first time I made this recipe my Jack and Charlie's eyes lit up with a whole new level of love. I know you aren't supposed to win over your kids with indulgent sweets, but let's assume they liked me somewhat to begin with, and this thick shake was just the icing on the cake.
Ice Cream for Oreo Milkshake
I used chocolate ice cream, but you could definitely use vanilla and make a Cookies and Cream Vanilla Oreo Milkshake. Other flavors I am considering for future Oreo shakes: Dulce de Leche, Salted Caramel, anything malted, anything with coffee as a base…..and I wonder if some of the fruit flavors would also be good? I think we'll have to give it a go with strawberry and find out.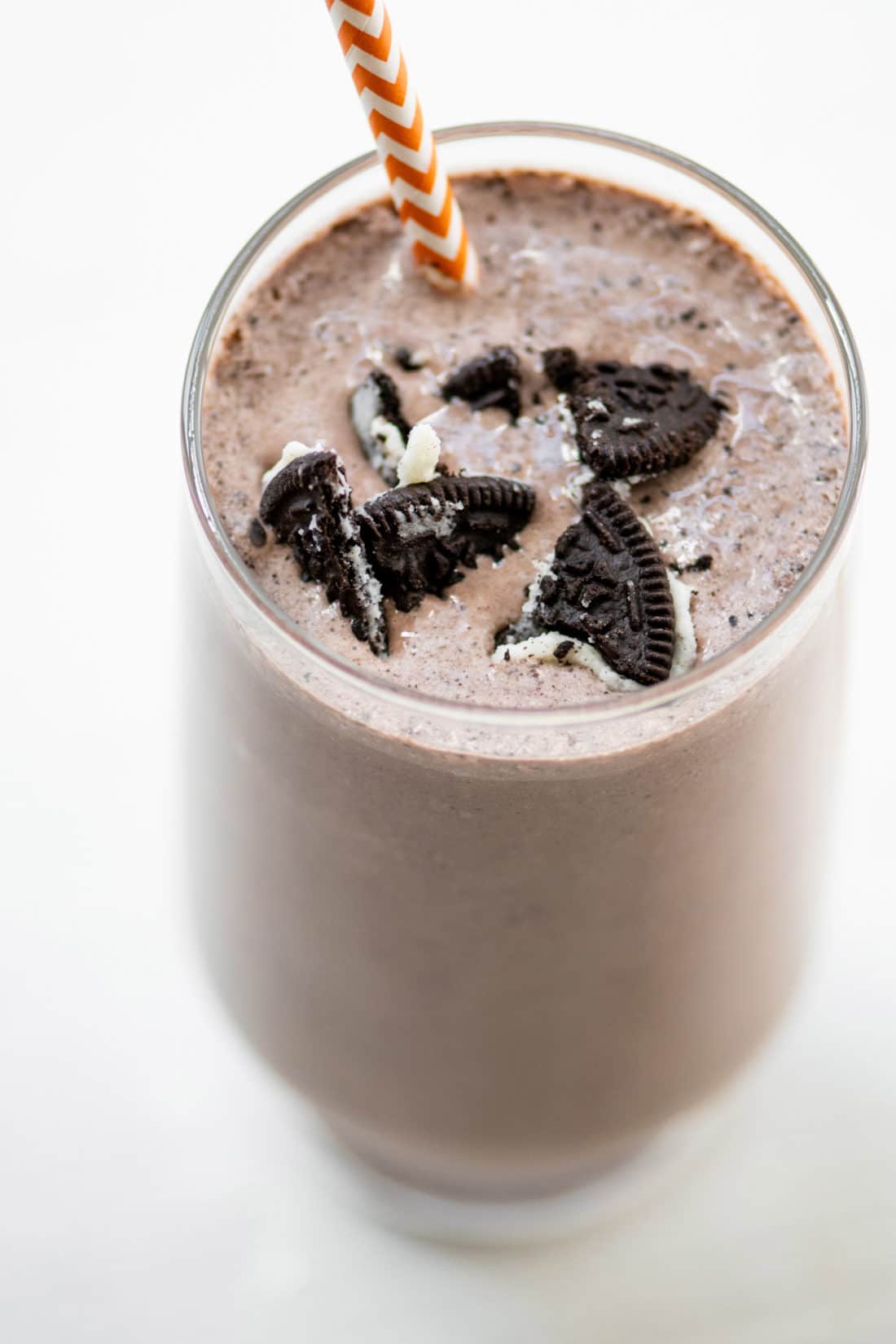 Kind of Milk to Use in Milkshakes
You can use whatever milk you want for this recipe, from 1% to whole, but in the case of a milkshake I always think whole milk is the way to go. It's a milkshake for pete's sake, not a cup of coffee. The only thing I have to ask you is for the love of god, do not use skim milk. It would be a waste of a milkshake, and even a bit of a travesty.
Extreme Milkshakes
Have you guys heard of Black Tap? It's not exactly new news, but not everyone spends all of their time obsessing over food trends, so it may be new to you.
In the case of a milkshake I always think whole milk is the way to go. It's a milkshake for pete's sake, not a cup of coffee.

Tweet This
If you live in New York you probably have heard of Black Tap. Or if you live in Vegas. Or if you enjoy food porn on Instagram. Or have any deep level of milkshake love in your life. The summary is that Black Tap is a burgers and beer place that has become super famous for their ridiculous over-the-top milkshakes. Look at this.
Decorating the Rim of the Milkshake Glass
Anyway, that's why you can see that some of these milkshakes got a little bit of the Black Tap treatment. To achieve this kind of craziness all you have to do is to smear the rim of a glass with peanut butter, then roll it around in crushed Oreos. You should then put the glass in the freezer until you are ready to serve it, so the Oreos stay put. It will soften as you slurp your way through and then if you still have room you can pluck off the chunks of Oreo and nibble the rim.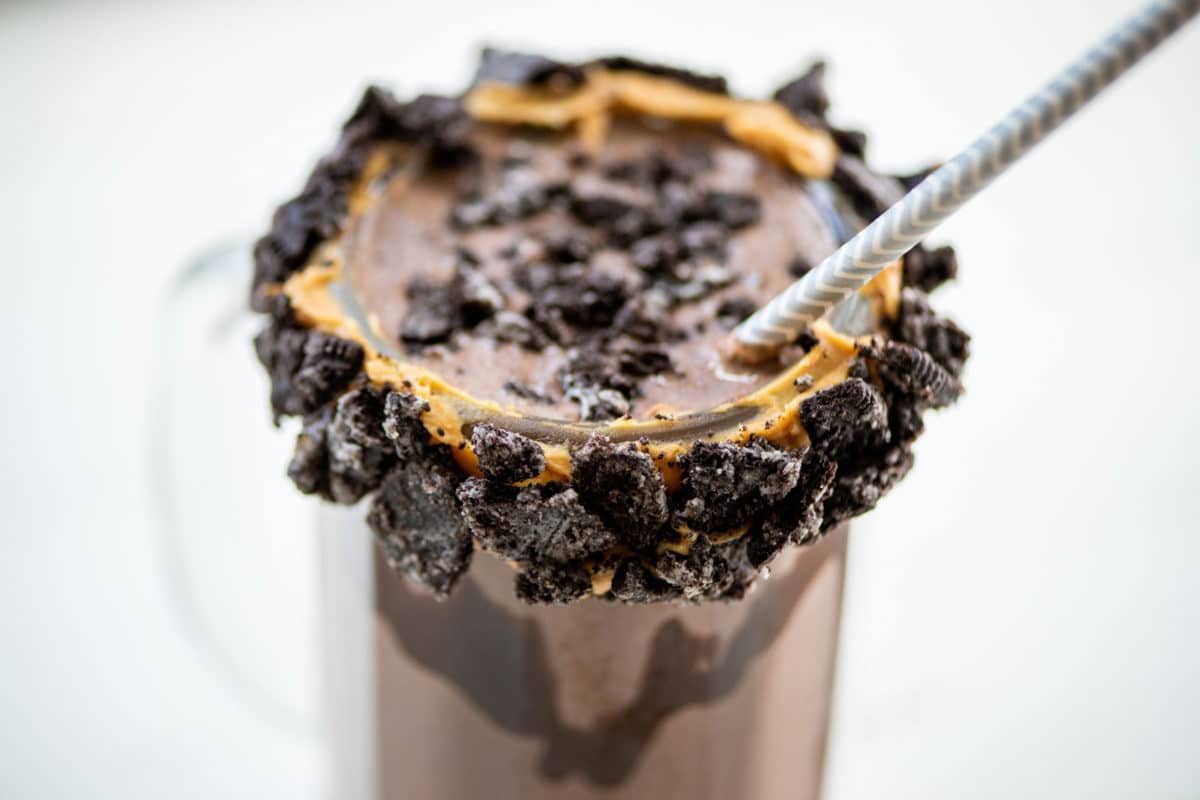 And you can also fill the glasses halfway, and then drizzle or squirt a bit more chocolate sauce into the glass right against the sides so it shows through the glass, and then fill up the rest of the glass with this thick, creamy Oreo milkshake.
Also, feel free to add a tablespoon or two of peanut butter to the shake itself.
I know, I know….this is ridiculously indulgent. This is the type of food for which you have to be an active teenager to justify more than once or twice a year
You can also serve this in 4 glasses for more moderately sized milkshakes.
Other No-Bake Chocolate Recipes:
Like this recipe? Pin it to your favorite board on Pinterest.

Pin This
Thick Chocolate Oreo Milkshake
If this doesn't fill you with lust then I don't understand.
Ingredients
1

pint

chocolate or vanilla ice cream

1

cup

milk

8

Oreo cookies

or any type of chocolate sandwich cookie, plus 2 more for garnish

1

tablespoon

chocolate sauce
Directions
Place the ice cream, milk, 8 of the Oreo cookies and the chocolate sauce in a blender, and puree until smooth.

Crush the remaining Oreo cookies by placing them in a zipper-sealed plastic bag, and pounding on them a few times with a rolling pin until they beak into chunks.

Pour the milkshakes into two large glasses, and top each with crushed Oreo cookies (see the recipe intro above for more info on how to create the crazy full on milkshake presentation). Serve the shakes immediately, with a straw.
Nutrition Information
Calories:
843.82
kcal
|
Carbohydrates:
112.47
g
|
Protein:
15.97
g
|
Fat:
40.33
g
|
Saturated Fat:
21.8
g
|
Cholesterol:
92.73
mg
|
Sodium:
485.94
mg
|
Potassium:
880.33
mg
|
Fiber:
4.45
g
|
Sugar:
89.16
g
|
Vitamin A:
1181.85
IU
|
Vitamin C:
1.66
mg
|
Calcium:
406.3
mg
|
Iron:
6.49
mg
The nutrition values are provided as an estimate. It is not intended as a substitute for the advice of a qualified healthcare professional.
Made this recipe? Post a photo of your delicious creation on Instagram with our hashtag #dinnersolved