This post may contain affiliate links. Please read our privacy policy.
Easy Banana Bread
Bananas turning dark and spotted on your kitchen counter?  Good for you (and me, too!) Don't stop, don't think about it, just grab the flour, sugar and eggs…you're making banana bread.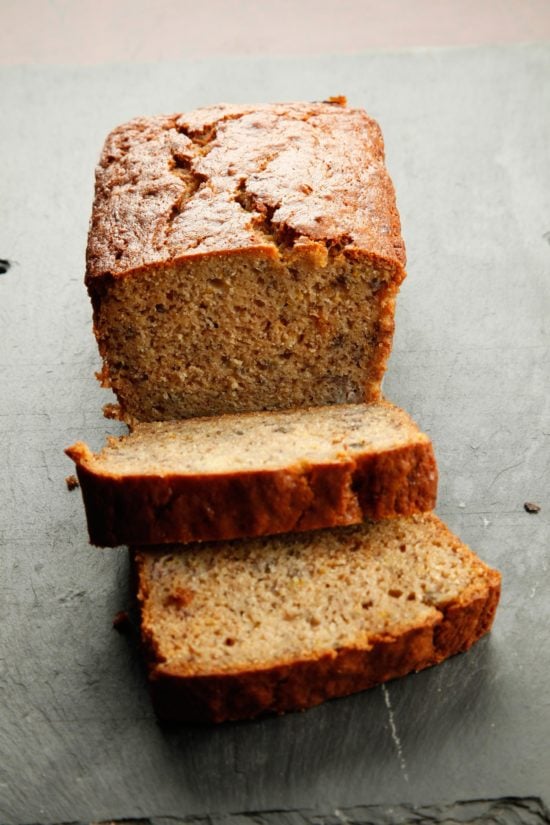 Homemade banana bread really does come together very quickly, and it's hard to imagine a homier snack or treat or brunch offering. Let's face it, banana bread is a very close cousin of cake, and cake is always welcome. And at this moment when stress baking is practically an Olympic sport, this is a very easy way to be part of the game.
Tips for How To Make Banana Bread:
Use Ripe Bananas
Don't make banana bread with anything other than ripe bananas. If you have ripe bananas, then you are all ready to go, but if you are planning ahead, make sure to shop for those bananas ahead of time.
At this moment, between the banana bread baking and the smoothie making, I have two bunches of bananas on my counter at all times. One bunch ripe and ready to go, and one bunch yellow and bench warming until they get streaked with brown and softer. I buy a new bunch every time the ripe bunch starts to diminish, and just keep this banana cycle going. It may sound a little neurotic or OCD, but in a moment where I feel like I cannot control much, have a ready supply of ripe bananas feels like a small victory.
Don't Overmix the Batter
Over-blending quick bread batter results in tough breads and muffins. You want to barely still see faint streaks of flour and mushed banana. I like to switch to a wooden spoon once I start to add the dry ingredients, which prevents overmixing.
You can use a standing mixer, but if you do, use the paddle attachment, and do not over blend. You can also use a hand mixer. And you can also use a spoon and some elbow grease.
Don't Over Mash the Bananas
You don't want fully pureed bananas, you still want little lumps which add so much flavor and texture, not to mention visual appeal, to banana bread. You can use a fork, or a potato masher if you have one.
Grease the Pan
Don't forget to lightly oil the loaf pan or spray it with nonstick spray so the banana bread comes out easily. I am a big fan of nonstick cooking sprays. Greasing cake pans and muffin tins and (particularly) muffin tins has always been one of those kitchen tasks I find a bit odious, and a hefty spray of nonstick cooking spray does the job pretty well, in most cases.
Also, for cakes and other baked goods, there is a spray that actually has the same effect as buttering AND flouring a pan, which is just messy work and frankly has stood between me and a homemade cake a few times, even though of course it's just not that big a deal.
At this moment when stress baking is practically an Olympic sport, we all need a loaf of moist, perfect banana bread.

Tweet This
Banana Bread Variations and Substitutions:
First, you can use whatever dairy you have on hand, which makes this super pantry friendly. Use buttermilk, heavy cream, half and half, whole milk, plain yogurt (Greek or otherwise), or sour cream, whatever is available to you.
Then, you can add come chocolate chips, or not. You can add some orange zest, or not. You can add some cinnamon, or not.
Moist Banana Muffins:
This recipe can easily be converted to muffins. Paper liners are very handy. They ensure muffins won't stick to be the pan, which is very frustrating after all of your effort, and they also make the muffins easier to transport and serve.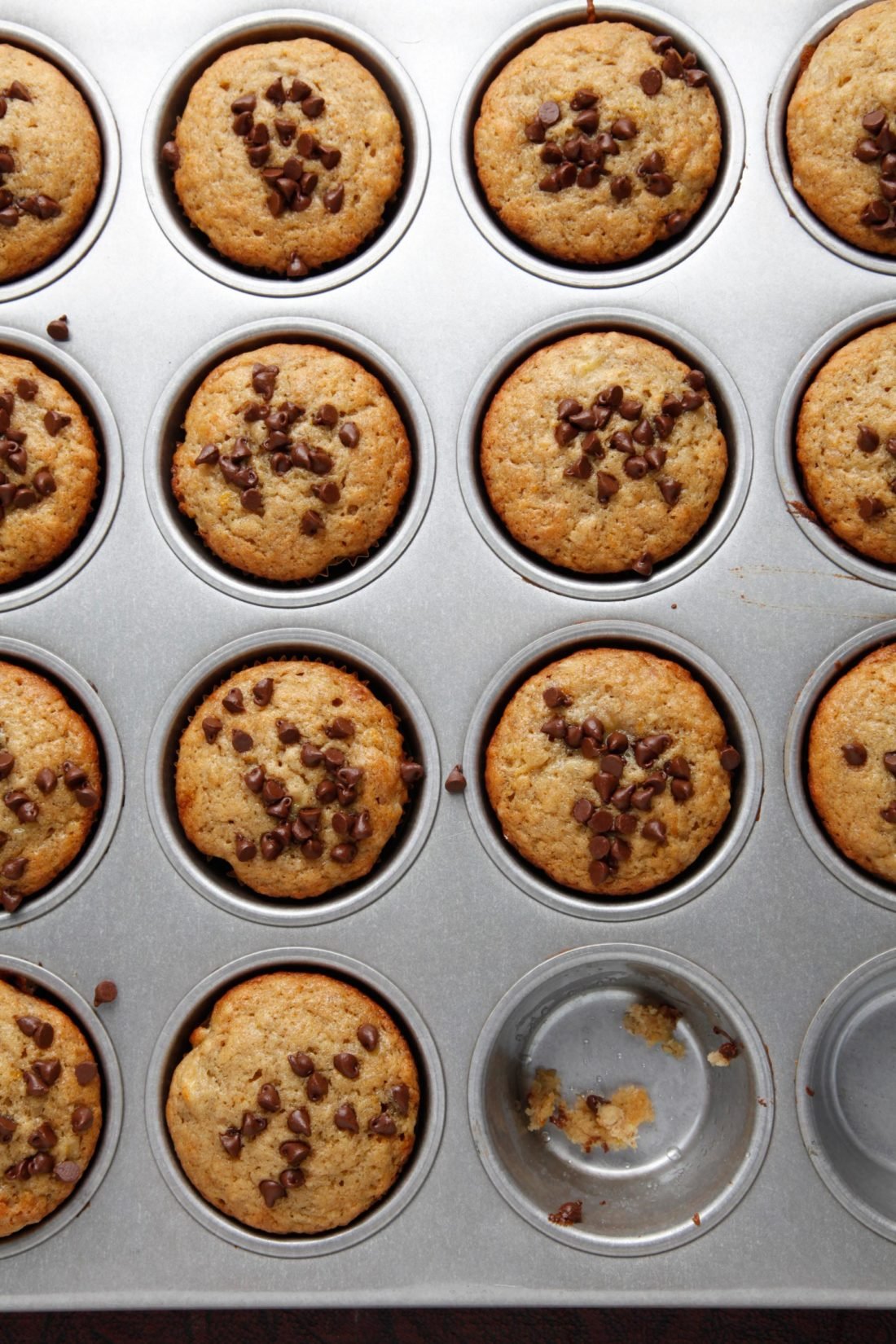 And there's also something to be said for the fact that some kids (not mine of course, but I've heard stories), tend to want to touch a few muffins before landing on the one they feel is their destined muffin soulmate, and the paper liners make this a little less germy feeling.
And muffins are a cousin of cupcakes, just without the frosting (but oh, yes, you can also frost them if you wish.
Make Ahead Tip:
This banana bread will last in a tightly sealed container for up to 3 days without drying out much, thanks to the bananas and dairy. I've been loving my new Snap Pak containers, manufactured in the USA and Canada, and they come in sizes large enough to accomodate a loaf of quick bread. The are 100% BPA free, and click shut in the most satisfying airtight way.
Freezing Banana Bread:
You can freeze banana bread and muffins very easily, which is very useful for weekday breakfasts and spur-of-the-moment snacks.
To freeze banana bread, first cool it completely out of the pan on a wire rack.  Then wrap it securely in plastic wrap, and then with wrap the whole thing in aluminum foil, or slide it into a gallon size freezer proof zipper top bag and press out any excess air.  
Label the bread, including the date, and freeze. Banana bread will last for up to 6 months in the freezer, but try and use it before 4 months. Shouldn't be an issue. Just defrost it in the fridge or on the counter for a day or so before unwrapping, slicing and eating.
To freeze banana muffins, putt them in a freezer-proof zipper top bag, squeeze out any extra air, trying not to squeeze the muffins, and put them in the freezer.  You can defrost them at room temperature, in the microwave, or reheat them in a 375°F., oven for 15 or so minutes.  Give it a light squeeze, or insert a toothpick, to see if it's fully thawed.  Or eat one.
What Can the Kids Do?
Making banana bread is a classic and beloved kid baking project. Put the liners in the muffin tins, mash the bananas (if you have an old-fashioned potato mashed this becomes much more fun; if not use a fork), measure the ingredients, crack eggs, stir, scoop batter into the muffin tins, sprinkle chocolate chips on top.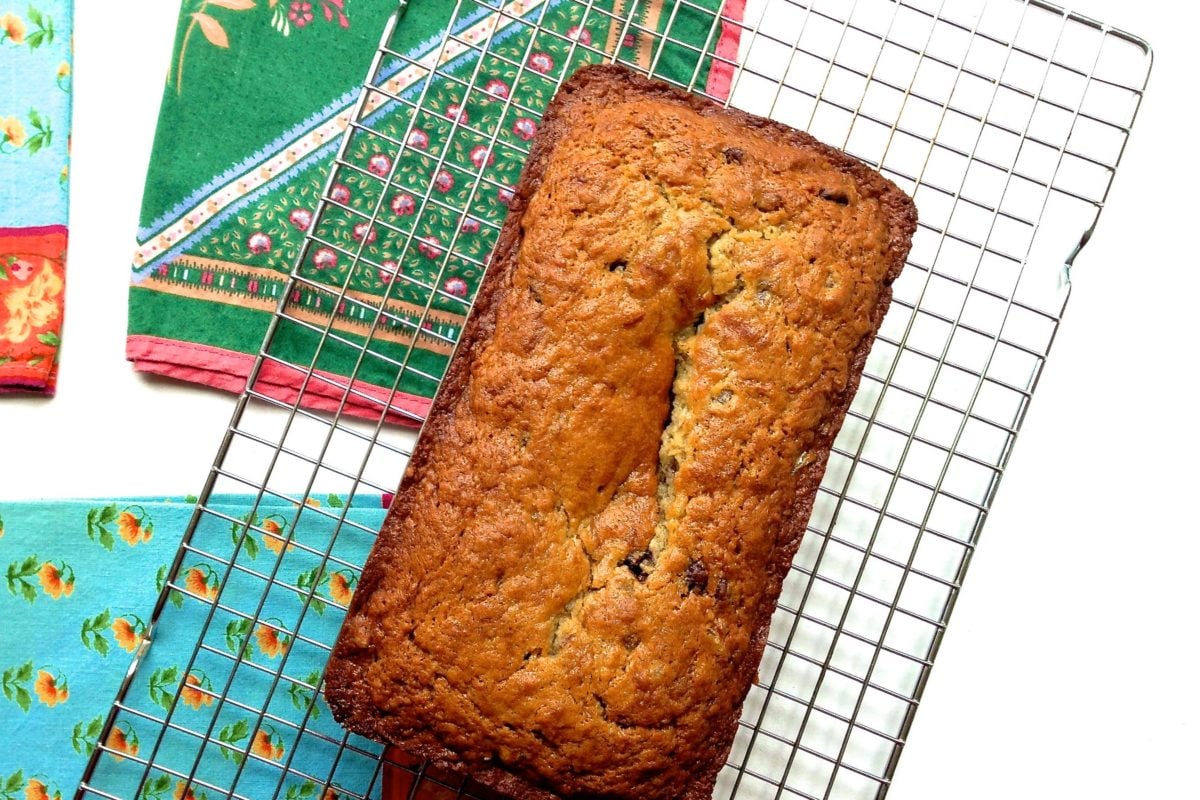 Other Recipes with Ripe Bananas:
Like this recipe? Pin it to your favorite board on Pinterest.

Pin This
Best Easy Banana Bread
At this moment where baking is practically an Olympic sport, a moist, perfect loaf of simple banana bread is the best way to get into the game.
Ingredients
½

cup

(1 stick) unsalted butter,

at room temperature

¾

cup

sugar

2

large eggs

1

teaspoon

pure vanilla extract

1 ¾

cups

all-purpose flour

1

teaspoon

baking soda

½

teaspoon

kosher salt

2

large very ripe bananas

peeled and mashed (about 1 cup mush)

½

cup

buttermilk

heavy cream, half and half, whole milk, plain yogurt (Greek or otherwise), or sour cream

½

teaspoon

grated orange zest

or ½ teaspoon cinnamon (optional)

⅓

cup

mini chocolate chips

for sprinkling on top, optional
Instructions
Preheat the oven to 350°F. Grease a 9 x 5-inch loaf pan or spray with nonstick cooking spray.

In a small bowl, mix together the flour, salt, and baking soda.

In a large bowl with an electric mixer, beat the butter and sugar until lightly and fluffy, about 3 minutes. Beat in the eggs one at a time, then add the vanilla. Blend in the mashed bananas and buttermilk along with the orange zest or cinnamon, if using.

Switch to a wooden spoon and add the flour mixture in batches to the batter, mixing just until each addition is incorporated. At the end the batter should be barely blended (it will be thick). Scrape the batter into the prepared loaf pan.

Sprinkle the chips on top, if desired. Bake until a toothpick or wooden skewer inserted in the middle comes out clean, about 45 minutes. Cool in the pan on a wire rack for 10 minutes, then turn the loaf out of the pan and finishing cooling the bread upright on the wire rack.
Notes
Variation: Moist Banana Muffins
Grease a 12 muffins tin or spray with nonstick cooking spray. Pop paper liners, if you have them, into the cups. Fill each muffin liner (or cup)3/4 full of batter. Sprinkle on the mini chocolate chips evenly, if using.
Bake for 23 to 27 minutes or until the muffins spring back when pressed lightly in the center. Let them sit in the tins on wire racks for 5 minutes, then gently turn them out of the tins, and cool them upright on a wire rack. Eat warm or at room temperature.
Nutrition
Calories:
243
kcal
,
Carbohydrates:
35
g
,
Protein:
4
g
,
Fat:
10
g
,
Saturated Fat:
6
g
,
Cholesterol:
49
mg
,
Sodium:
214
mg
,
Potassium:
114
mg
,
Fiber:
1
g
,
Sugar:
19
g
,
Vitamin A:
316
IU
,
Vitamin C:
2
mg
,
Calcium:
27
mg
,
Iron:
1
mg
Nutrition information is automatically calculated, so should only be used as an approximation.
Like this? Leave a comment below!