Oh, wow, are we ever heading into the biggest pie season of the year! And my family is all in – perhaps never having met a pie they didn't like. Apple, sweet potato, quiches and other savory pies, you name it.
But I had never made a butterscotch pie. Just the name alone is marvelously old-fashioned. I started looking at various butterscotch pie recipes for inspiration, searching online, and from older nostalgia-inducing cookbooks. Many recipes used words like "scald," sometimes double boilers and ice baths were called for, and in days of yore crusts were always made from scratch.
And you, dear readers, probably know by now that from-scratch crusts aren't my thing…. I am never without a few of their refrigerated crusts and doughs in my fridge, and since it's pie season, pie crusts are always at hand these days.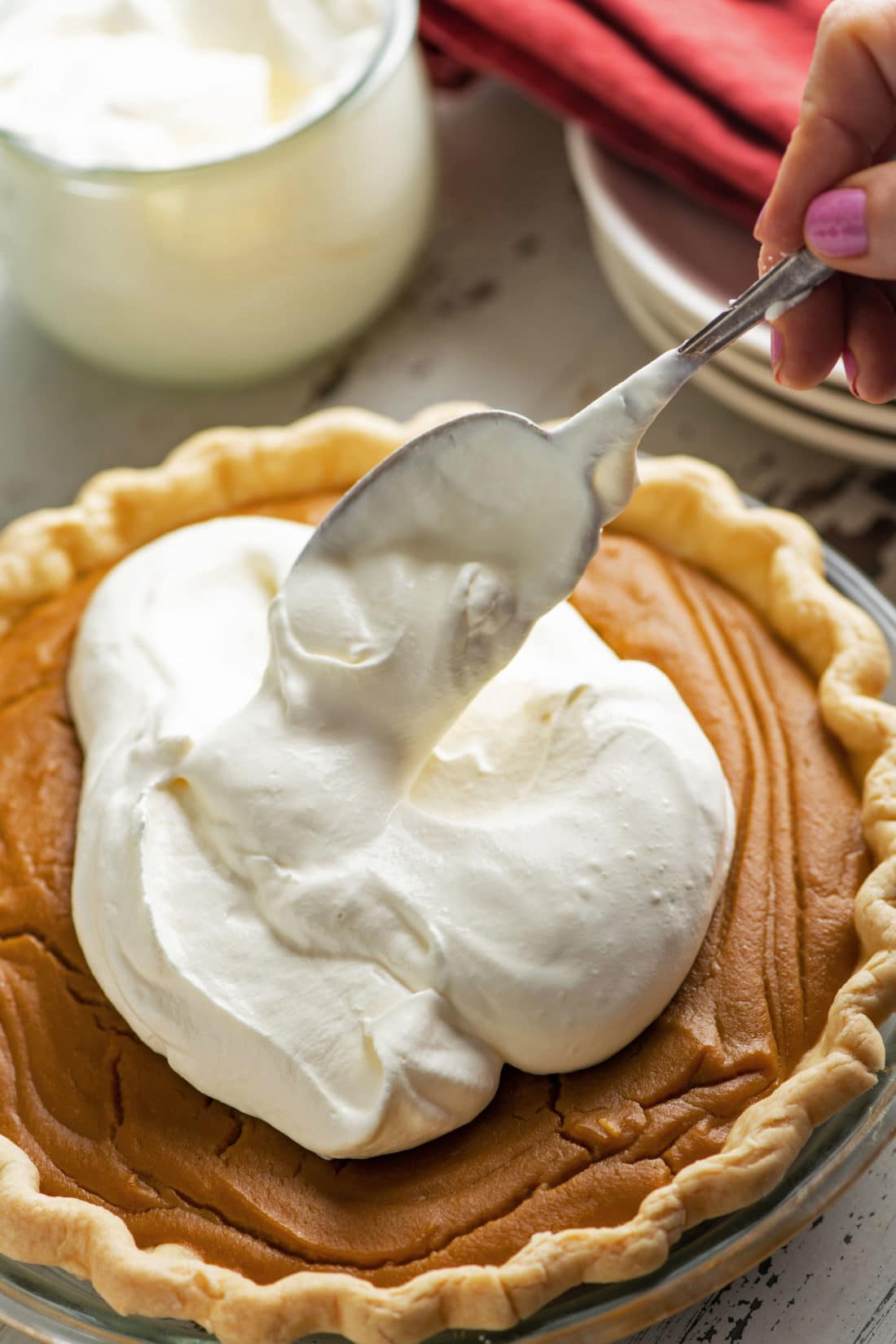 Butterscotch Pie Filling
There are so many ways to make butterscotch pie! Who knew?   Some called for evaporated milk, some regular milk, some cream. There were recipes with flour in the filling, some with cornstarch, some both. Some involved a baked filling, while others just allowed fillings to set in pre-baked crusts. Some had meringue on top, others whipped cream.   I read and mulled and read some more.
Salted Butterscotch Pie: Smooth and creamy and the caramelized brown sugar salty-sweet thing going on that hits you in the back of the throat in the most pleasant way.

Tweet This
Sometimes hot milk was added to eggs, sometimes an egg and milk mixture was slowly added to hot butter and sugar. However you do it, when raw eggs met heat, a technique called "tempering" has to be involved, which means that the eggs are slowly heated within other ingredients, so they don't cook and scramble on their own. This is a non-negotiable part of a custard pie.
In short, there were a lot of directions to explore. I played around with a few approaches, with a simple objective: a quick and easy pie with great flavor and texture. I hope you will agree that this pie achieves those goals. And also—a hit of salt to balance out the sweet. I figured, hey if it works for caramel, it surely has to work here.
Sweet and Salty Butterscotch Filling
And, oh, it did. Smooth and creamy and the caramelized brown sugar salty-sweet thing going on that hits you in the back of the throat in the most pleasant way. Charlie pronounced this butterscotch pie amongst the best pies I've ever made, and it's going to make its larger debut at a Friendsgiving celebration I am hosting in mere days.
Precooking, or blind baking, the pie crust pretty much all the way allows it to firm up since the cooking time for the filling is much shorter than it to would take to allow the crust to cook though. Make sure to save the rice or beans you cook with for the next time—you can use them pretty much forever—just make sure to keep them in a jar labeled "baking weights" because that's what they are (and they aren't good to cook normally after you bake them).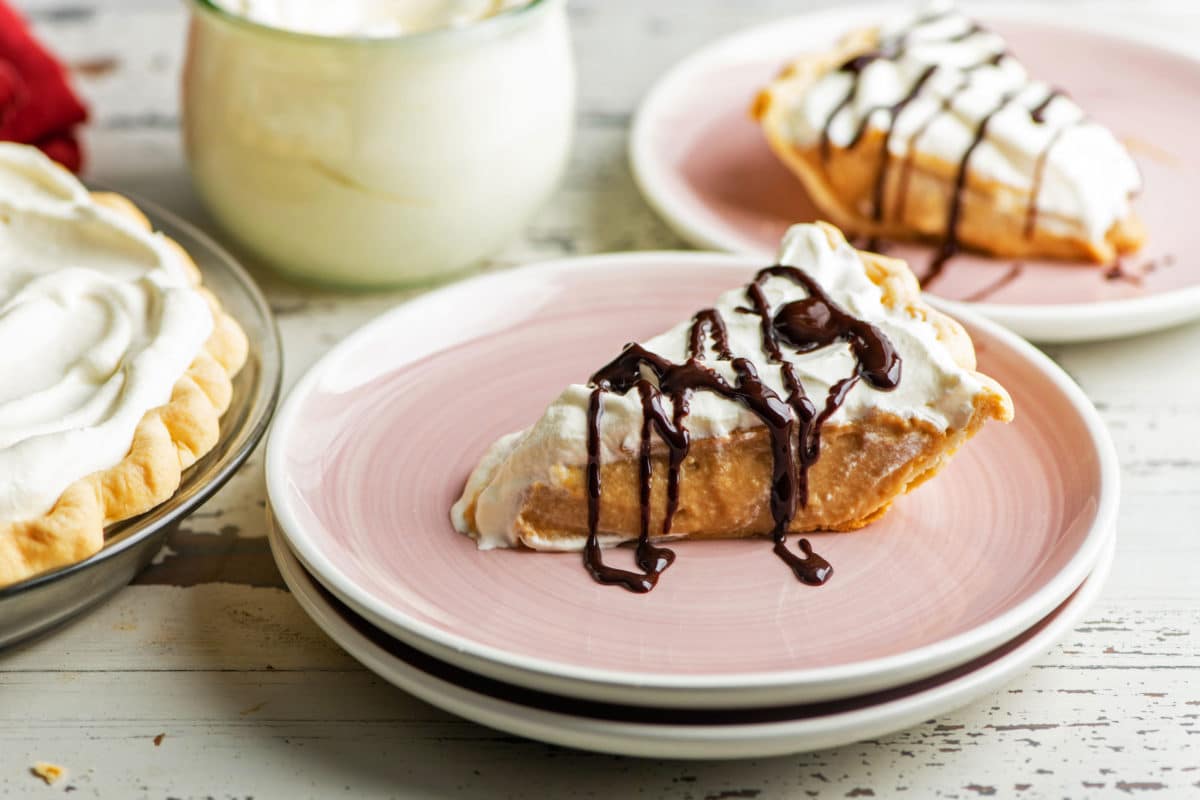 Other Delicious Pie Recipes:
Like this recipe? Pin it to your favorite board on Pinterest.

Pin This
Salted Butterscotch Pie
Smooth and creamy and the caramelized brown sugar salty-sweet thing going on that hits you in the back of the throat in the most pleasant way.
Prep Time:
1
hour
30
minutes
Total Time:
2
hours
15
minutes
Ingredients
For the Salted Butterscotch Filling
¼

cup

cornstarch

¾

teaspoon

kosher salt

5

large egg yolks

lightly beaten

3

cups

whole milk

4

tablespoons

(1/2 stick) butter

cut into tablespoons and divided

1

cup

packed dark brown sugar

1

teaspoon

pure vanilla extract

1

recipe

Whipped Cream

Chocolate sauce for drizzling

optional
Directions
Let the pie crust sit at room temperature for 15 to 20 minutes before starting. To partially blind bake the crust, transfer it to a 9-inch pie pan (save the parchment!) Gently press it into the pan, into the corners and up the sides. Fold the edges underneath themselves to form a thick rim that hangs just over the edge of the pie pan, and crimp it attractively. Prick the crust in several places with a fork. Place the crust into the freezer and chill for 30 minutes to one hour (you can also do this and leave it overnight, if you want to get this step done ahead of time).

Before you take the pie out, preheat the oven to 375°F. Line the inside of the crust with parchment paper, then fill it with uncooked rice or dried beans. Bake the crust for 20 minutes, then carefully remove the parchment with the grains or beans inside. Return the crust to the oven and bake for another 16 minutes or so, until the crust is fairly firm and just turning golden brown. Remove and let cool completely on a wire rack, leaving the oven on.

While the crust is baking, make the filling: In a large bowl, whisk together the cornstarch, salt, egg yolks and 1/2 cup of the milk until the cornstarch is dissolved. Whisk in the remaining 2 1/2 cups milk.

In a saucepan melt 3 tablespoons of the butter in a saucepan over medium-low heat, and then add the sugar and stir until the mixture is smooth and bubbly (it will be thick); make sure it doesn't burn. Give the milk mixture a good whisk again, then very slowly pour it into the pot, whisking all the while, until smooth and incorporated. Turn the heat up to medium whisking almost continuously, and let the mixture come to a simmer, then continue whisking until the mixture is thick and smooth, about 3 more minutes. Remove from the heat and stir in the remaining tablespoon butter and the vanilla.

Let the mixture cool for about 10 minutes, stirring occasionally to prevent a skin from forming, then pour it into the mostly baked pie shell. Bake for 15 minutes (it will still be jiggly when you take it out of the oven), then remove and cool completely on a wire rack.

You can serve the pie after it finishes cooling, or to firm it up even more, you can refrigerate it for 2 to 24 hours, which makes it slice more cleanly. Pile on the whipped cream over the top of the pie, swirling it attractively and mounding it so that it covers the filling. Cut into wedges with a clean sharp knife, and drizzle with chocolate sauce if desired.
Nutrition Information
Calories:
288.68
kcal
|
Carbohydrates:
36.67
g
|
Protein:
4.86
g
|
Fat:
13.77
g
|
Saturated Fat:
6.5
g
|
Cholesterol:
117.09
mg
|
Sodium:
326.21
mg
|
Potassium:
152.18
mg
|
Fiber:
0.45
g
|
Sugar:
25.15
g
|
Vitamin A:
388.31
IU
|
Calcium:
117.16
mg
|
Iron:
0.87
mg
The nutrition values are provided as an estimate. It is not intended as a substitute for the advice of a qualified healthcare professional.
Made this recipe? Post a photo of your delicious creation on Instagram with our hashtag #dinnersolved