Pork Tacos
Grilled pork chops are one of the fastest dinner options around. They take about as much time to cook up on the grill as chicken breasts (all thicknesses being equal), and they are often quite cheap. You can make this recipe with bone-in pork chops or boneless, all good.
You could also grill up a whole pork tenderloin and slice it — as with all pork, you want to make sure it has an internal temperature of 140°F before you pull it from the heat. And yes, you could make this with chicken breasts. Actually, you could throw any meat or protein of your choice on the grill, just rubbed with some olive oil and salt and pepper, and just let the salsa ranchera be its magical self.
If you would like to serve these pork chops whole, with the salsa on top or on the side, that's a lovely option, and you can enjoy the nice grill marks on the chops. Or, do as I did and slice them up and serve them with tortillas, and have a soft taco moment.
Salsa Ranchera
Salsa ranchera is one of the best versions of salsa around – tomatoes, garlic and hot peppers are all roasted up or grilled together, and then pureed with some seasoning, resulting in a salsa that is deeply flavored and smoky and freaking awesome.
Quick Brine for Pork
Brining pork, or any other lean meat, is a foolproof way to ensure that the meat stays juicy. However, if you don't have the time to do the brine, as long as you don't overcook the chops, you will still get nice moist pork. You are looking for a final internal temperature of 145°F, which means you should take the pork chops from the heat when the temperature reaches 140°F, and let them site for 5 minutes before slicing. This will allow the temp to rise to the safe 145°F, and also allow the juices to recollect in the meat.
Grilled Pork Tacos with Salsa Ranchera: Juicy pork chops are sliced for soft tacos and topped with a zingy smoky salsa.

Tweet This
I used thick pork chops, about 1 ¼- 1 ½ inch thick, but you can use thinner pork chops if you prefer. Thicker ones will obviously take longer to cook, and because of that you could flip them two or three times during the grilling process which will allow you to get those crosshatched grill marks.
You can also cook these in a grill pan or even on a panini press, or pan sear them or roast them, whatever works for you.  In this recipe, it's all about the pairing with the salsa.
(Also see How to Warm Tortillas!)
What to Serve with Grilled Pork Tacos: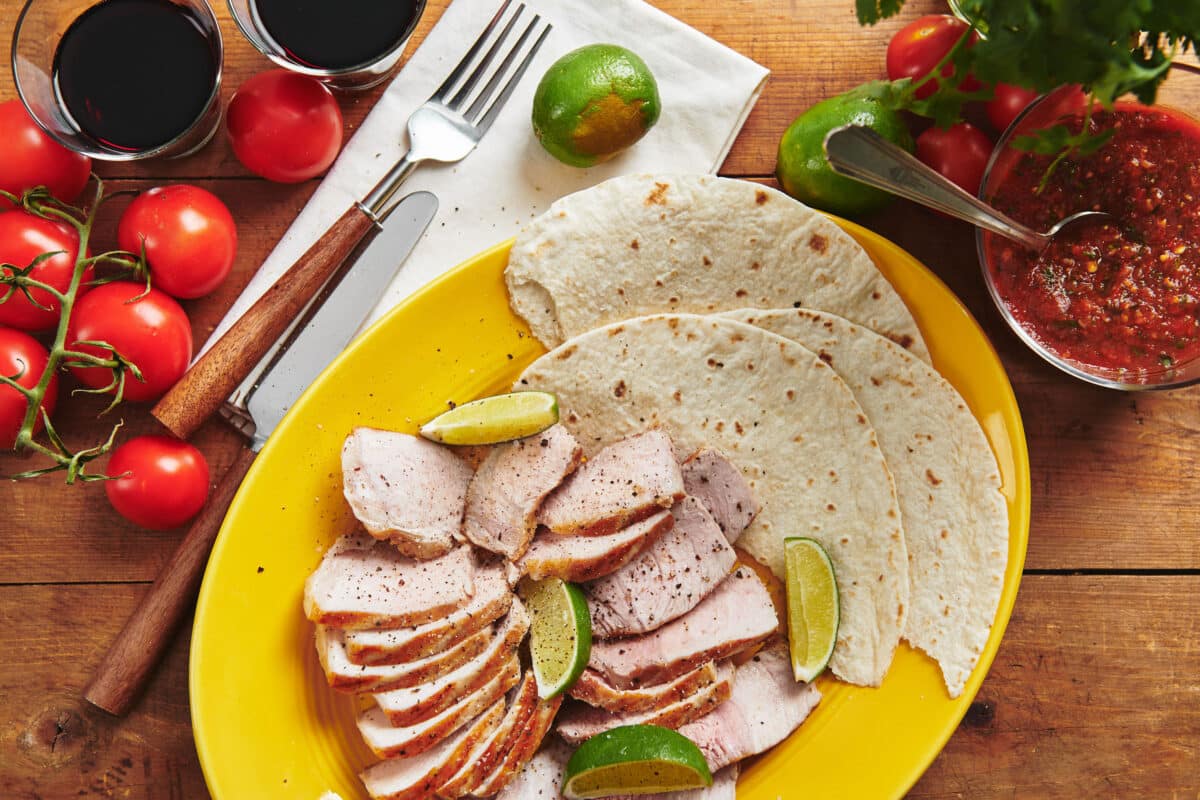 Other Taco Recipes:
Like this recipe? Pin it to your favorite board on Pinterest.

Pin This
Grilled Pork Tacos with Salsa Ranchera
Juicy pork chops are sliced for soft tacos and topped with a zingy smoky salsa.
Ingredients
For the Quick Brine:
½

cup

kosher or coarse salt

3

tablespoons

sugar

1

tablespoon

peppercorns

½

cup

boiling or very hot water

3

cups

very cold water

4

(6 to 8 ounce) pork chops

, about 1 1/4-inch thick

Olive oil

for brushing the pork chops

1

cup

Salsa Ranchera

Warmed tortillas

to serve
Directions
If you are brining the pork chops (again, optional!!): In a medium sized container add the salt, sugar, and peppercorns. Add the hot water, and stir until the salt and sugar are mostly dissolved. Add the cold water, maybe a few ice cubes. Place the pork chops in the brine, making sure they are submerged, and refrigerate them for 2 to 3 hours.

Heat a grill to medium high.

Remove the pork chops from the brine and pat dry with paper towels. Brush the pork chops with olive oil and grill for about 4 minutes on each side until the just pink in the center, or cooked to an internal temperature of 140°F.

Let the chops sit for a minute or so before serving with the salsa ranchera and tortillas, and any toppings of your choice..
Nutrition Information
Calories:
443
kcal
|
Carbohydrates:
11
g
|
Protein:
49
g
|
Fat:
16
g
|
Saturated Fat:
6
g
|
Polyunsaturated Fat:
2
g
|
Monounsaturated Fat:
7
g
|
Trans Fat:
1
g
|
Cholesterol:
152
mg
|
Sodium:
14266
mg
|
Potassium:
882
mg
|
Fiber:
1
g
|
Sugar:
9
g
|
Vitamin A:
23
IU
|
Calcium:
42
mg
|
Iron:
2
mg
The nutrition values are provided as an estimate. It is not intended as a substitute for the advice of a qualified healthcare professional.
Made this recipe? Post a photo of your delicious creation on Instagram with our hashtag #dinnersolved