This post may contain affiliate links. Please read our privacy policy.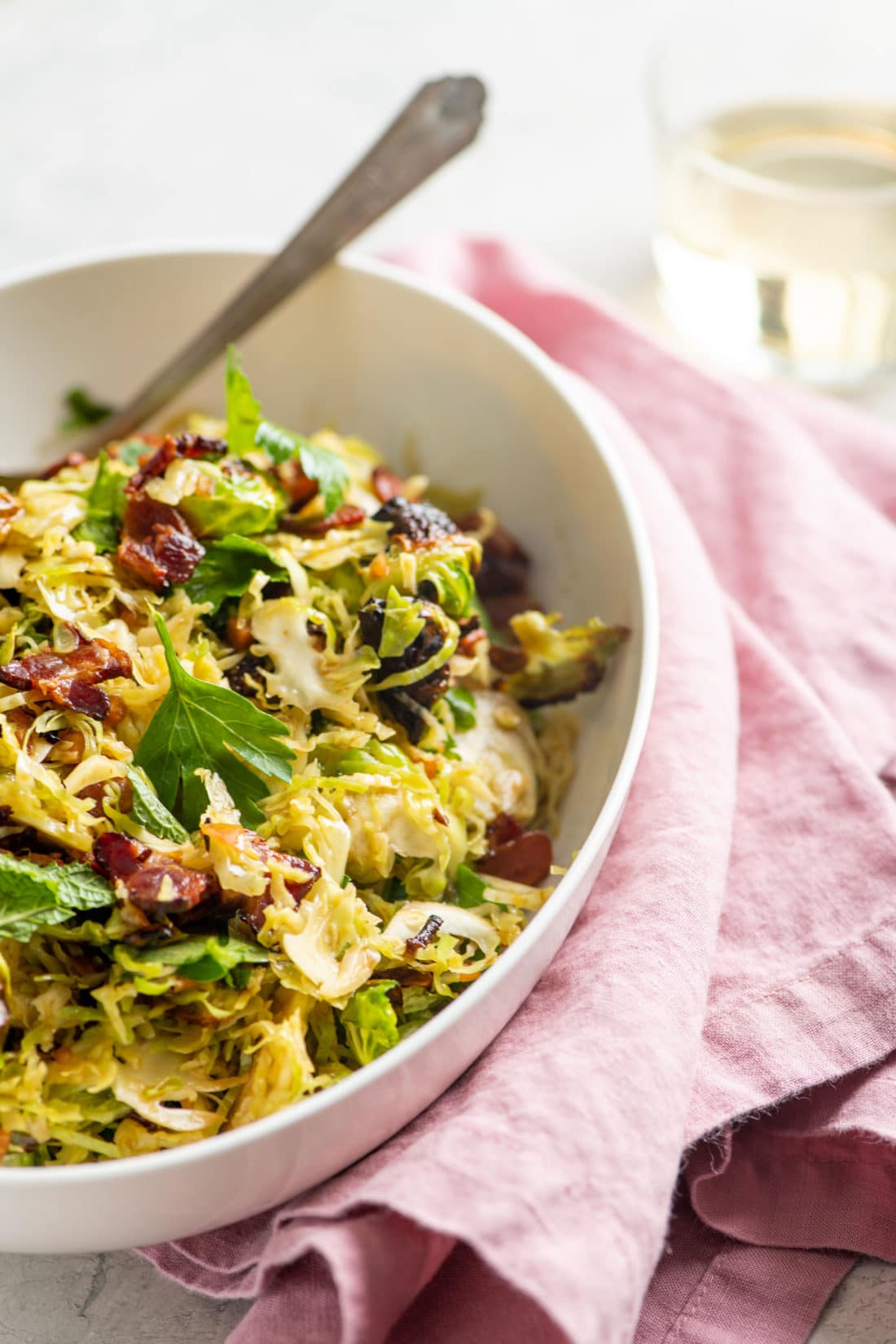 Every time I open up one of Alex Guarnascelli's cookbooks I need to grab a little pack of post-its because I want to make dozens of the recipes within. As a cookbook author, and more relevantly as a cookbook and recipe editor in previous years, I am all too aware of the fact that many people say that they only use a few recipes in any given cookbook. As an author I work hard to make sure that's not the case. And in the case of Alex Guarnaschelli, that is SURELY not the case.
I am a Brussels sprouts devotee, and when I saw the title of the recipe there was no doubt in my mind that this would be the first entry into Alex's book The Home Cook. This recipe is indicative of what is so terrific about her cooking. She plays with flavors everyone likes, but gives them another layer of depth and sophistication, and then layers on some bright notes. I love her food.
Brussel Sprout Salad with Bacon
She prefaces this recipe by writing "One of my favorite ingredient combinations is Brussels sprouts and bacon." (pause: yes, Alex, we are all with you). "To me, fried Brussels sprouts taste like nori seaweed, full of umami. The soy sauce in the vinaigrette here adds a deep salty note alongside the bacon without taking away from our star veggie. Most of this can be prepared in advance and then tossed together at the last minute."
I am also a fan of using soy sauce as a seasoning in recipes that aren't intrinsically Asian, and in playing with her recipe I actually doubled the amount she suggested.
Crispy Brussel Sprout Leaves
The other small change I made with to sauté the Brussels sprout leaves in just a bit of oil, vs. deep frying them. I felt like I got a pretty similar result, and in my kitchen deep frying is saved for rare occasions and more substantial food, like fried calamari.
Crispy Brussels Sprouts Salad is a sophisticated but not at all complicated Brussels sprout dish that is pretty close to divine.

Tweet This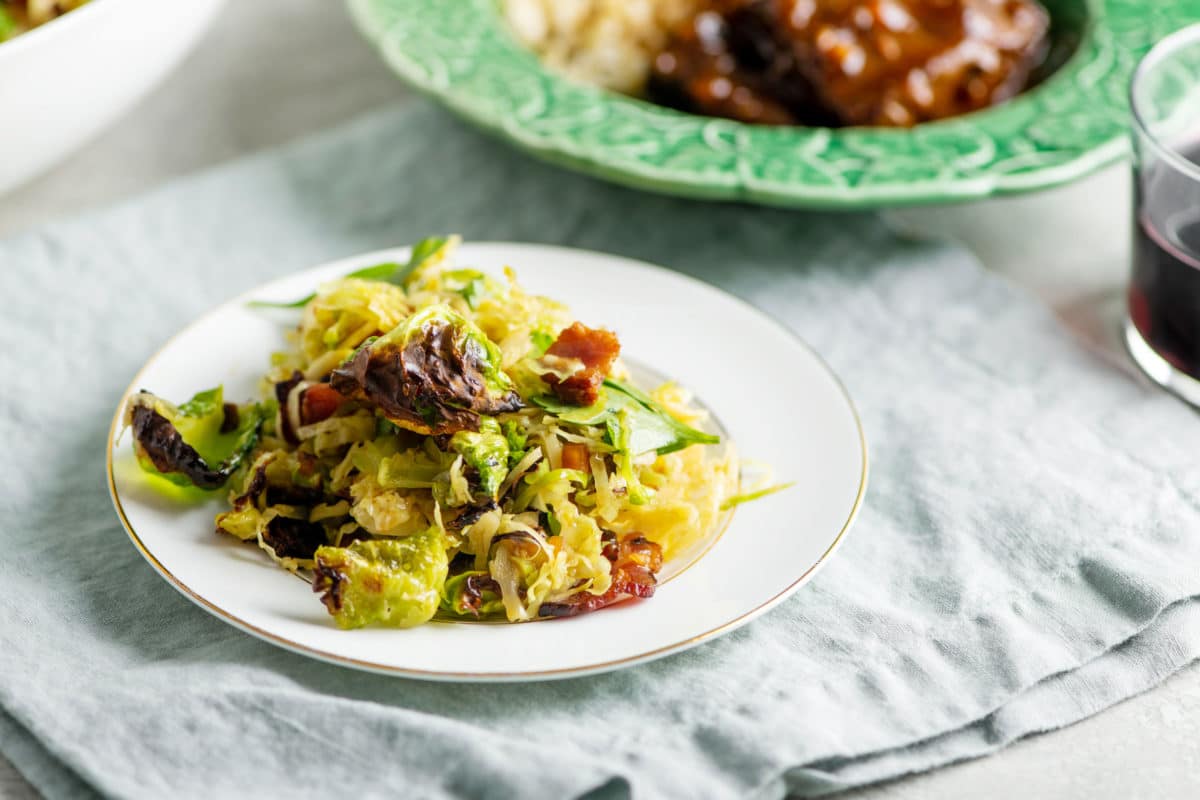 I'd like to try it her way though, preferably at her house. I also loved the way she used a bit of the fat from cooking the bacon in the vinaigrette. Kind of a Southern thing, but useful anywhere, any time. And I love using whole parsley leaves in dishes of all kind, and letting it stand up as an herb, not just a garnish.
I also added a touch of hot sauce, harissa in the is case, but you can use whatever you want, because I was in the mood for a little jolt of heat.
This is adapted from Alex's version.
More Brussels Sprout Salad Recipes:
Like this recipe? Pin it to your favorite board on Pinterest.

Pin This
Crispy Brussels Sprouts Salad
Alex Guarnascelli's sophisticated but not at all complicated brussels are pretty close to divine.
Ingredients
1

pound

Brussels sprouts

6

ounces

thick cut bacon

cut into 1-inch pieces

2

tablespoons

extra virgin olive oil

1

tablespoon

soy sauce

1

teaspoon

harissa sauce or other hot sauce

or to taste

Juice of 2 lemons

2

medium shallots

minced

¼

cup

vegetable or canola oil

Kosher salt and freshly ground pepper

to taste

¼

cup

small to medium fresh mint leaves

roughly torn

½

cup

fresh flat-leaf parsley leaves
Instructions
Cook the bacon: Heat a medium skillet over medium-high heat and sauté the bacon until it becomes crispy, about 12 minutes, turning to cook it evenly. Drain on paper towels, reserving the fat in the pan.

While the bacon is cooking, prepare the Brussels sprouts: Remove and discard any damaged leaves. Then peel away the outer layer from each Brussels sprouts to yield a total of 3 cups leaves. Set those leaves aside. Thinly slice the remaining core pieces of the Brussels sprouts, and set them aside separately.

Make the Vinaigrette: In a large bowl whisk together 2 tablespoons of the reserved bacon fat with the olive oil, soy sauce, harissa and lemon juice. Stir in the shallots.

Cook the Brussels Sprout Leaves: Line a surface or plate with paper towels. Pour off any remaining bacon fat from the skillet and in the same skillet heat the vegetable or canola oil over medium-high heat until shimmering. Add the leaves, carefully – the may splutter when they heat the oil, and cook for about 3 or 4 minutes until crispy, stirring often. Transfer them with a slotted spoon to the paper towels, and lightly season them immediately with salt.

Assemble the salad: Add the thinly sliced raw Brussels sprouts into the bowl with the vinaigrette and toss with the mint and the parsley. Add the bacon and the warm crispy Brussels sprouts leaves, toss again and serve immediately.
Notes
These give you an amazing flavor and texture without the excess fat (and mess!) of deep-frying.
Nutrition
Calories:
284.25
kcal
,
Carbohydrates:
10.15
g
,
Protein:
6.93
g
,
Fat:
25.33
g
,
Saturated Fat:
11.88
g
,
Cholesterol:
18.71
mg
,
Sodium:
389.88
mg
,
Potassium:
433.07
mg
,
Fiber:
3.5
g
,
Sugar:
2.76
g
,
Vitamin A:
1081.35
IU
,
Vitamin C:
76.04
mg
,
Calcium:
46.29
mg
,
Iron:
1.75
mg
Nutrition information is automatically calculated, so should only be used as an approximation.
Like this? Leave a comment below!