How to Grill Vegetables
Not so long ago, it felt like grilled vegetables showed up as just a casual side at a barbecue, maybe something you felt like you should make for the vegetarians at the party. But wow, to make grilled vegetables an afterthought is to miss out on one of the best dishes of summer.
You can make a small sampling of grilled vegetables, or go all out for a jewel-toned grilled vegetable platter. Olive oil and salt are all you need to make perfect grilled vegetables, or you can make a simple marinade, but that's truly optional. You can also serve them with a dip or sauce of sorts to make the whole thing a bit more interactive and interesting.
Grilling over direct high heat makes vegetables softer, sweeter, silkier, and there is something about grill marks on a pepper, onion, or slab of zucchini that makes us very, very excited to eat our vegetables.
What are the Best Vegetables for Grilling?
SO many vegetables are great on the grill. You can grill potatoes, corn, lettuces (radicchio, endive, romaine), cauliflower, broccoli, cabbage, eggplant, zucchini, summer squash, tomatoes, carrots, onions, peppers, brussels sprouts and more. You can grill smaller pieces of vegetables of kebabs or skewers, but larger pieces make for a dramatic presentation, and allow your guests to pick and choose the vegetables they like best. It also gives you flexibility in how you use the vegetables in other ways; you can cut them into smaller pieces later if you like.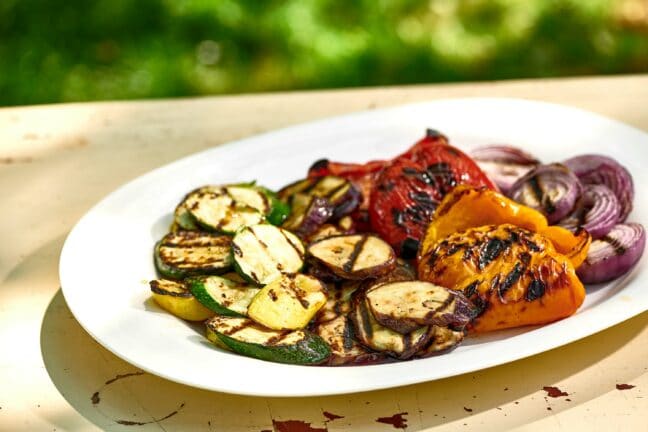 Tips for Grilling Vegetables:
Grilling Harder Vegetables
If you are looking to grill more dense vegetables, like potatoes, cauliflower, broccoli, winter squash, and the like, it is usually smart to par cook them before grilling them, meaning to cook them part way through. Because they are so hard they will take a very long time to become tender on the grill, and consequently you will find it a little too easy to char the outsides before the insides become soft.
Try steaming them until they are somewhat tender but still firm in the middle before skewering them and grilling them. Your other option is to cook them lower and slower over indirect heat on the grill, but that takes some time and attention.
How to Cut Vegetables for Grilling
The short answer is that it's up to you. For larger pieces, let the vegetables dictate their shapes. For instance, you might want to cut bell peppers into thick planks, or simply halve them lengthwise, and remove the membranes and seeds. eggplant, zucchini and summer squash can be sliced crosswise or lengthwise, tomatoes should be halves. Smaller vegetables like mushrooms or cherry tomatoes, or skinny vegetables, like asparagus, should be left whole; again think about a grilling basket.
Approximate Total Times for Grilling Vegetables
(Including flipping them!) Of course much depends on the heat of your grill, the thickness of the vegetables, and the distance between the grates and the fire, but these are approximate total times for grilling vegetables directly over medium high heat with about 4 inches between the food and the flame.
Should You Marinate Vegetables for Grilling?
If you decide to just toss the vegetables with a bit of olive oil, and sprinkle them with kosher salt and pepper, you will have wonderful grilled vegetables with nothing standing in the way of the flavor. However, a delicate marinade can bump up the taste even more, and takes all of 3 minutes to pull together. You can marinate vegetables from 6 hours to 24 hours, with the flavor becoming slightly deeper over time.
Try this Lemon Garlic Marinade for your vegetables.
How to Make Grilled Vegetable Skewers
Click here for a step by step guide to making veggie skewers. The marinade in this recipe can also be used for larger grilled vegetables.
Grilled Vegetables: There is something about grill marks on a pepper, onion, or slab of zucchini that makes us very, very excited to eat our vegetables.

Tweet This
Grilling Vegetables in a Grill Basket
Instead of skewering or kebabbing smaller cut vegetables, you can prepare them as though they were going to be skewered, but then put the cubes into a grill basket, making sure they are not layered too deeply. You want them to cook quickly and evenly, so while you don't need only a single layer of vegetables in the basket or tray, you want to make sure everything has a chance to be at the bottom against the fire, so don't stack them too thinly.
Toss them every few minutes as they grill, until they have some nice browned spots and are tender. This will take anywhere from 8 to 16 minutes, depending on how many vegetables are in the basket, how high the heat is, and how dense the vegetables are. As with kebabs, try and pick vegetables that will take the same approximate amount of time to cook.
Ways to Use Grilled Vegetables
Grilled vegetables can be used in any recipe or way that you might use roasted vegetables. You can obviously serve them up plain, alongside a piece of grilled chicken or fish or meat, or as part of a larger grilled vegetable assortment.
You can also: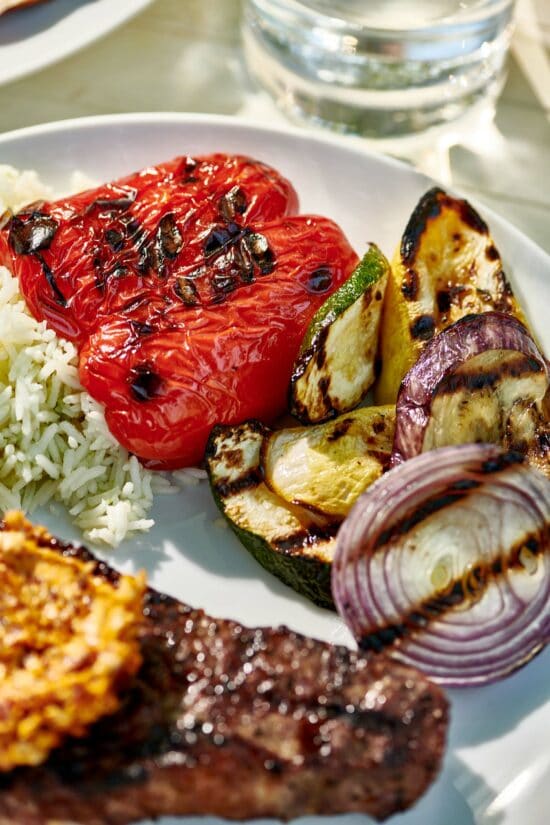 What to Serve with Grilled Vegetables:
Like this recipe? Pin it to your favorite board on Pinterest.

Pin This
Grilled Vegetables
The best way to perfect vegetables on the grill.
Ingredients
1

pound

assorted vegetables cut into ½-inch or so thick slices

, such as red onions, bell peppers, zucchini, summer squash, whole cherry tomatoes, mushrooms, eggplant, or lightly cooked cauliflower or broccoli (see Note)

Olive oil for brushing the vegetables

(about 1/4 cup)

Kosher or coarse salt

to taste

Freshly ground pepper

to taste (optional)
Directions
Trim, clean and cut the vegetables as directed above, depending on which vegetables you have chosen.

Brush the vegetables on both sides with olive oil and sprinkle with salt and pepper, if desired.

Heat the grill to medium-high. Grill the vegetables 4 inches from the heat sauce, turning them every few minutes, until the vegetables are tender and everything has a nice grill-marked exterior, anywhere from 8 to 15 minutes depending on which vegetables you choose.

Serve warm or at room temperature.
Nutrition Information
Calories:
123
kcal
|
Carbohydrates:
15
g
|
Protein:
4
g
|
Fat:
1
g
|
Saturated Fat:
1
g
|
Polyunsaturated Fat:
1
g
|
Monounsaturated Fat:
1
g
|
Sodium:
53
mg
|
Potassium:
240
mg
|
Fiber:
5
g
|
Vitamin A:
5758
IU
|
Vitamin C:
12
mg
|
Calcium:
28
mg
|
Iron:
1
mg
The nutrition values are provided as an estimate. It is not intended as a substitute for the advice of a qualified healthcare professional.
Made this recipe? Post a photo of your delicious creation on Instagram with our hashtag #dinnersolved