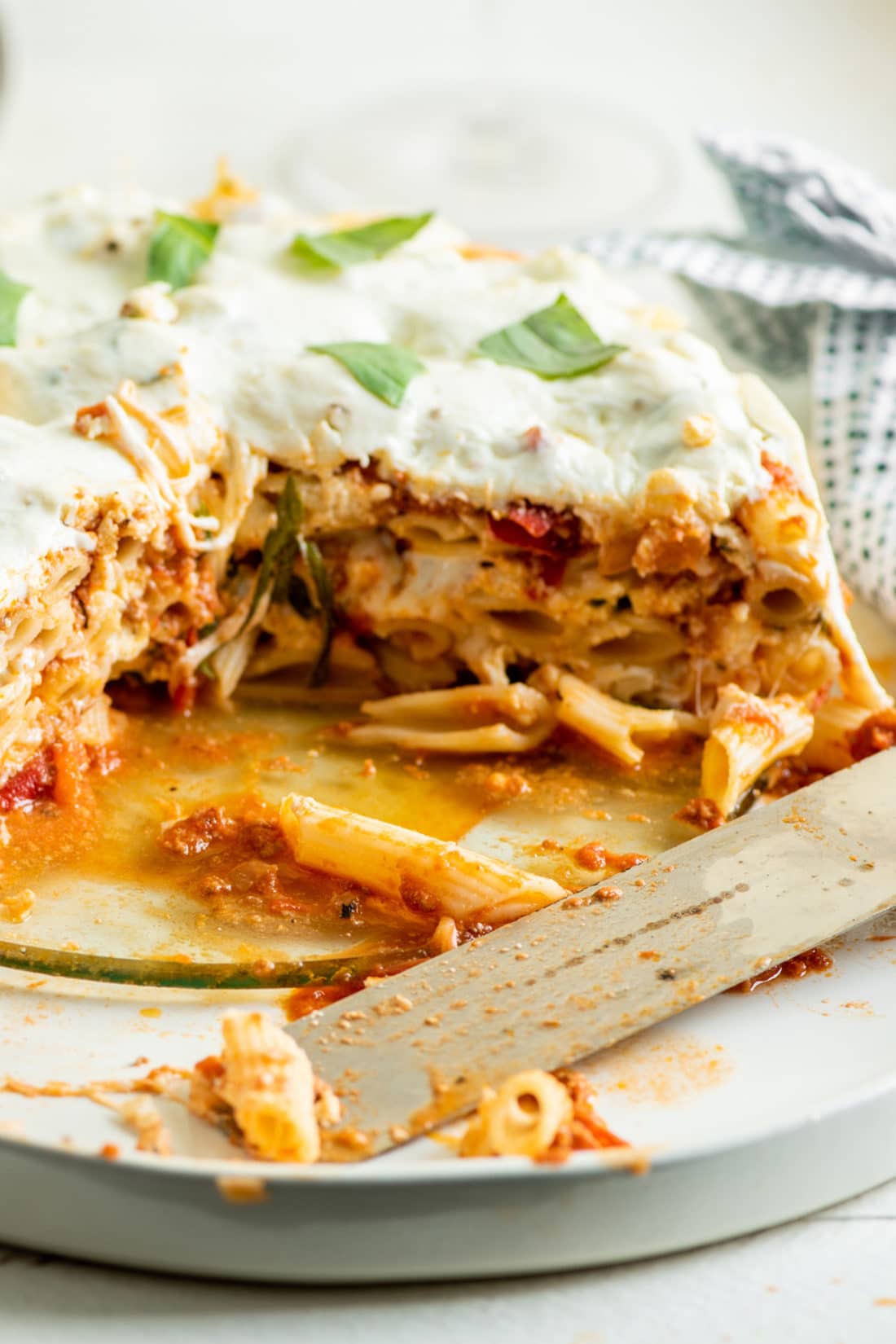 If the sales of Instant Pot cookbooks are an indicator, we're still deep in the Instant Pot craze. In fact, most of us who own an Instant Pot know that in order to make the most of your machine, you actually need some solid recipes with detailed instructions, or you're going to feel a bit lost with all of those buttons. It's a super smart kitchen tool, but it's not the most intuitive machine in the world.
I set out to play around with my Instant Pot, which has been hanging out on a bottom shelf since I bought it, save for a few occasions. I am determined to make a go of this – so many people love this machine, I want in on the Insta joy.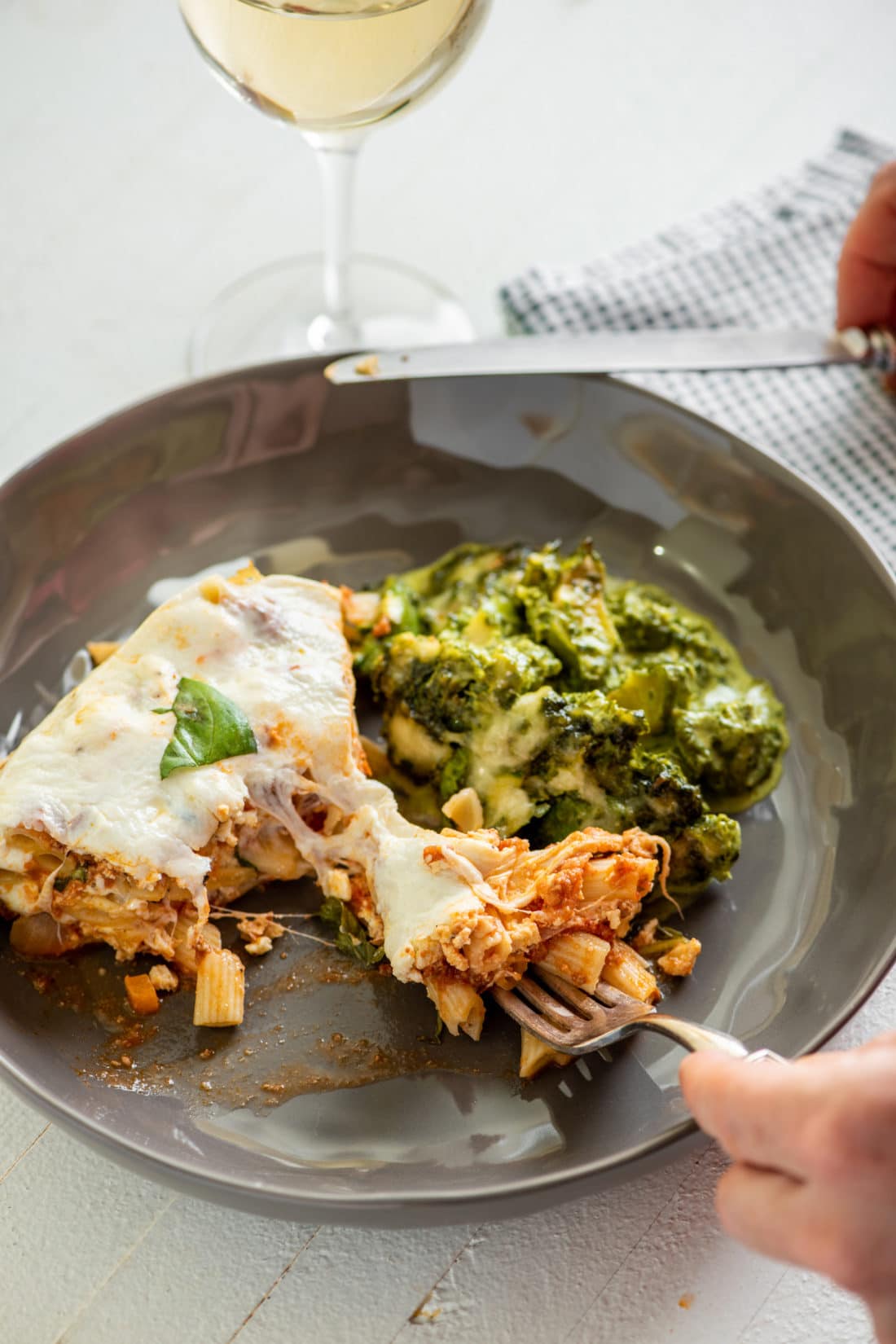 I wanted to make some sort of baked pasta dish, and then I got it into my head that I wanted to unmold it, and have it stand proudly on its own, like a freeform pasta lasagna of sorts. I went so far as to buy a springform pan, which fits neatly. But if you don't have a springform pan, you can use a regular round pan; just make sure it's the right size to fit comfortably in the pot.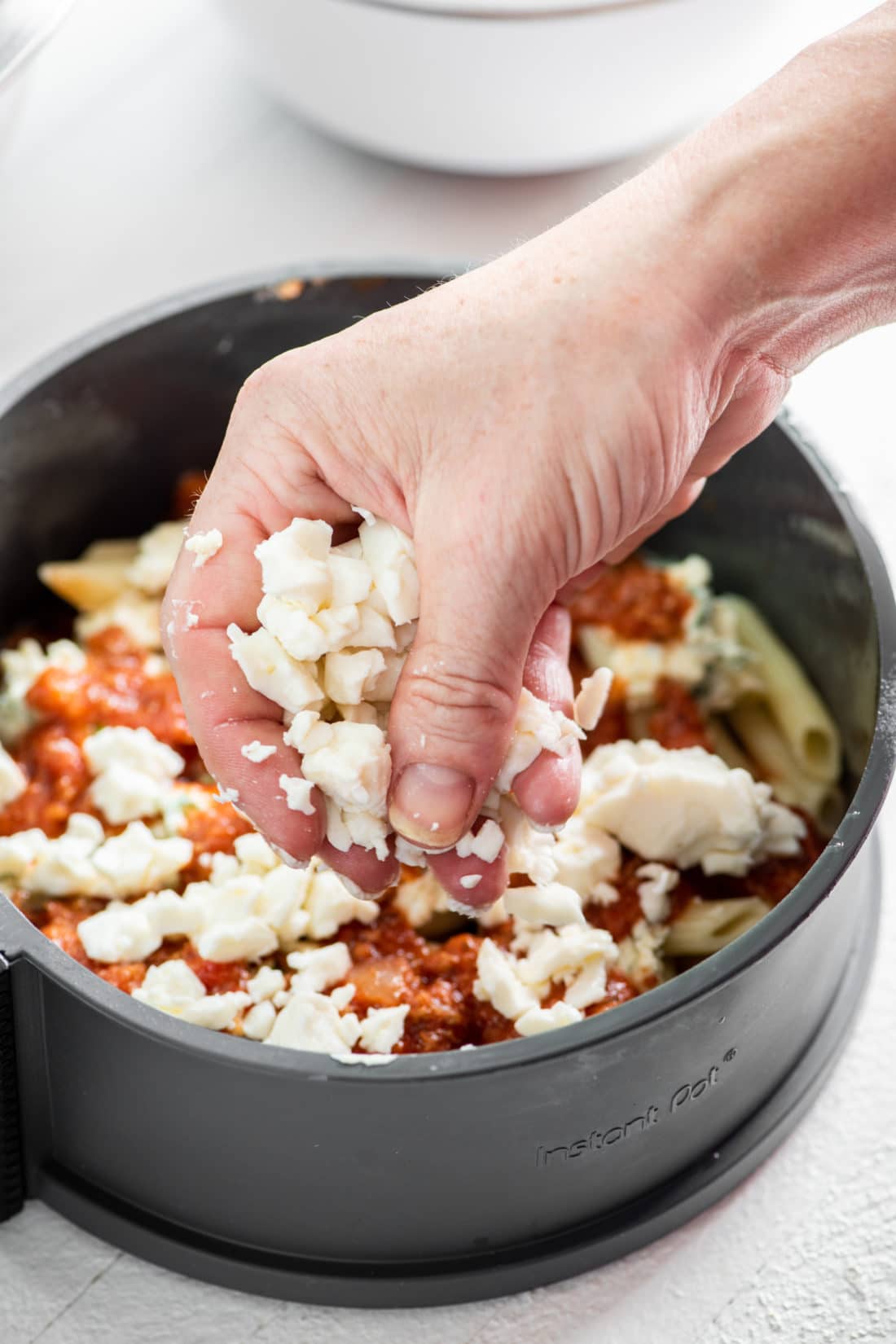 And then in trying to figure out how to lower and lift my pasta creation in and out of the Instant Pot, I came across a slew of online directions for crafting a sling out of aluminum foil for the purpose of ferrying a pan in and out of the device. Which seemed like a possible disaster waiting to happen.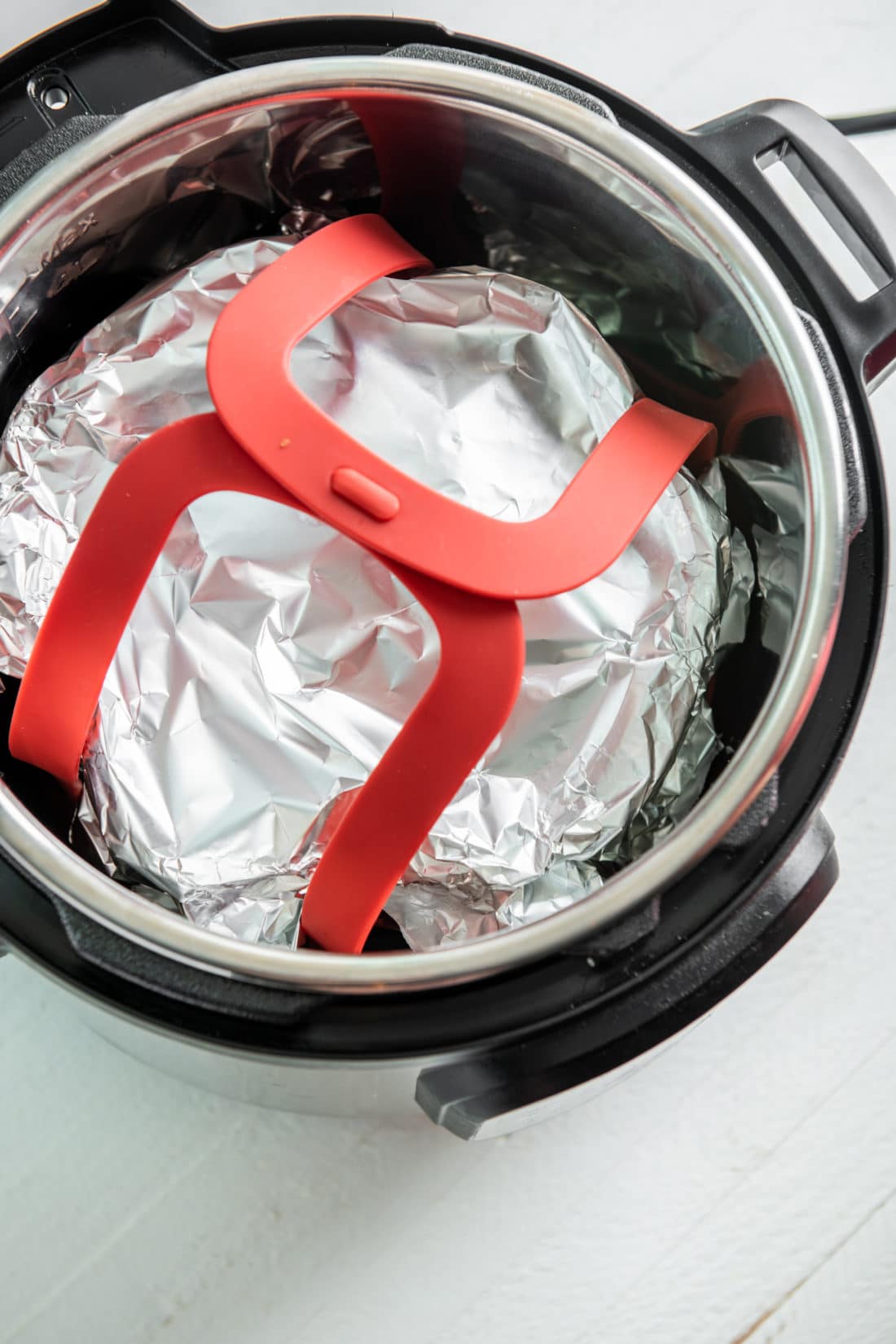 But those smarty smart smarts at OXO were one step ahead, and they sent me their latest kitchen stroke of genius, the Pressure Cooker Silicone Sling. This little silicone innovation was designed exactly for the purpose of lifting and lowering things safely and easily in and out of the Instant Pot. Plus it's soft and bendy so doesn't take up any real storage space – in fact, it can be folded right into the pot for storage. And as I'm getting cozy with my IP, I'm realizing how handy and necessary this sling really is.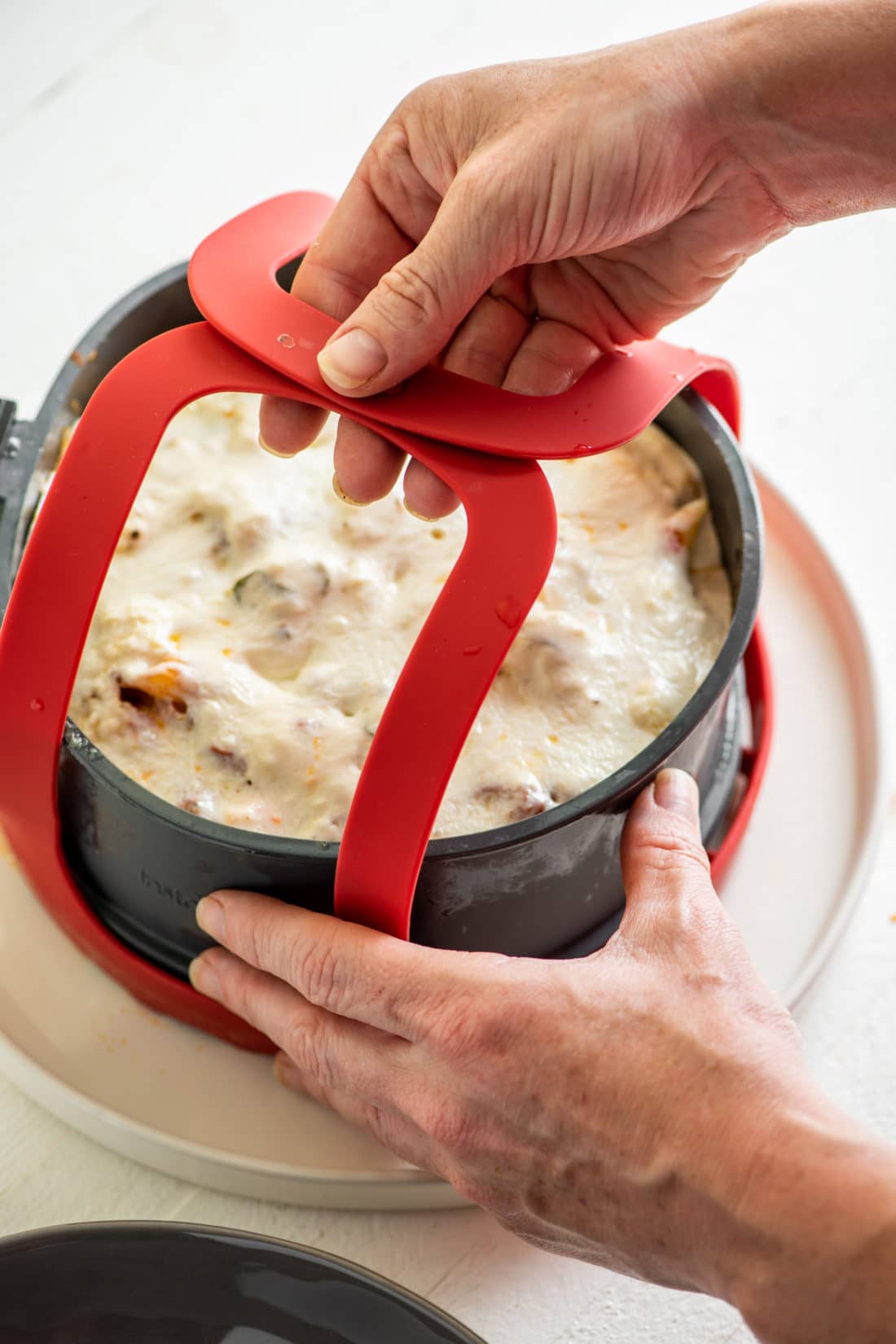 This dish really is just a terrific classic baked pasta, but with a few extra things going for it. 1) No oven, no preheating, so nice when you don't want to heat up the kitchen. 2) Fast – they don't call it the Instant Pot for nothing. 3) A nice level of show-offy-ness, because when you unmold it, it just looks super cool. I've made it a few times now, and it's impressive. If I feel a little more OCD next time, I might line up the noodles in a linear way, so that the slices have a cool pattern when you cut them. Or that might never happen. Only time will tell.
This Instant Pot Ziti Lasagna with Bolognese Sauce has nice level of show-ffy-ness, because when you unmold it, it just looks super cool.

Tweet This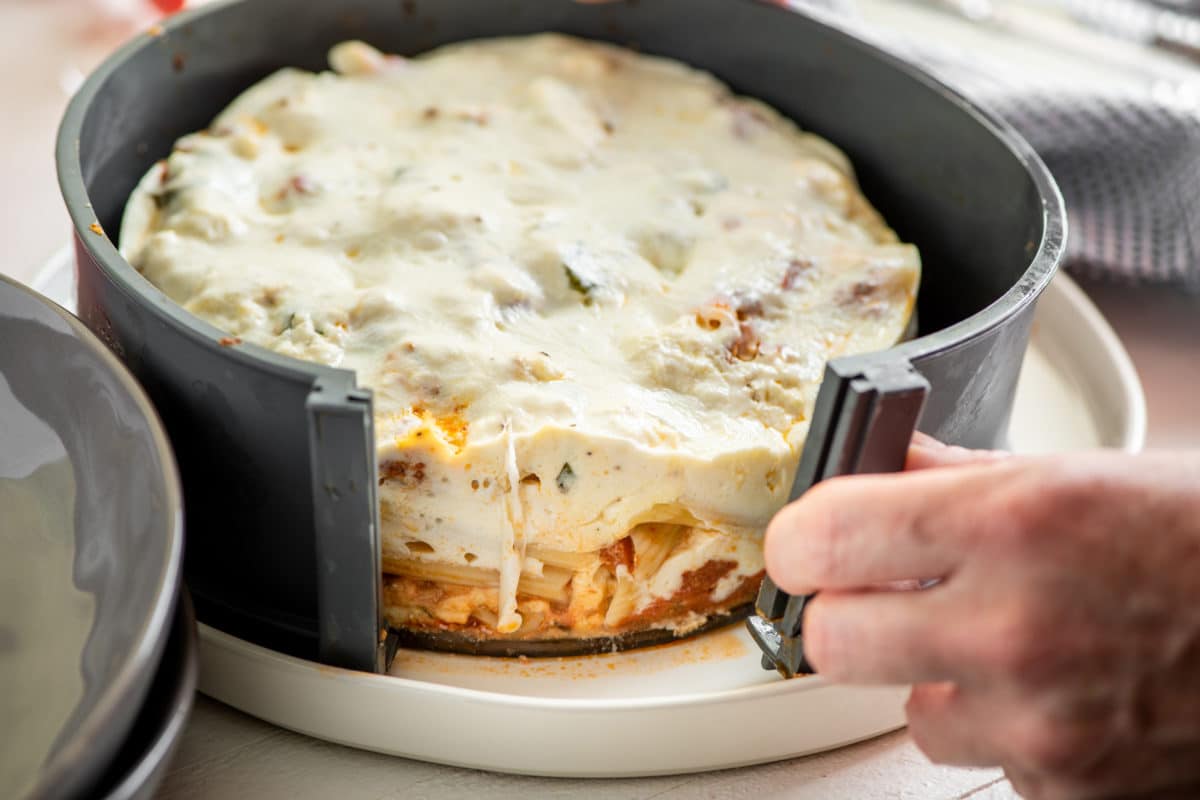 Add a cup of diced sautéed zucchini or summer squash if you like. You can make the Bolognese sauce with ground turkey, ground beef, ground pork or a combination of any of these. Make sure to make extra Bolognese sauce so you can freeze it in pint containers for future pasta dinners, or future Instant Pot Ziti "lasagnas". If you prefer to use another type of meat sauce, or even a plain pasta sauce, you can change this up however you like.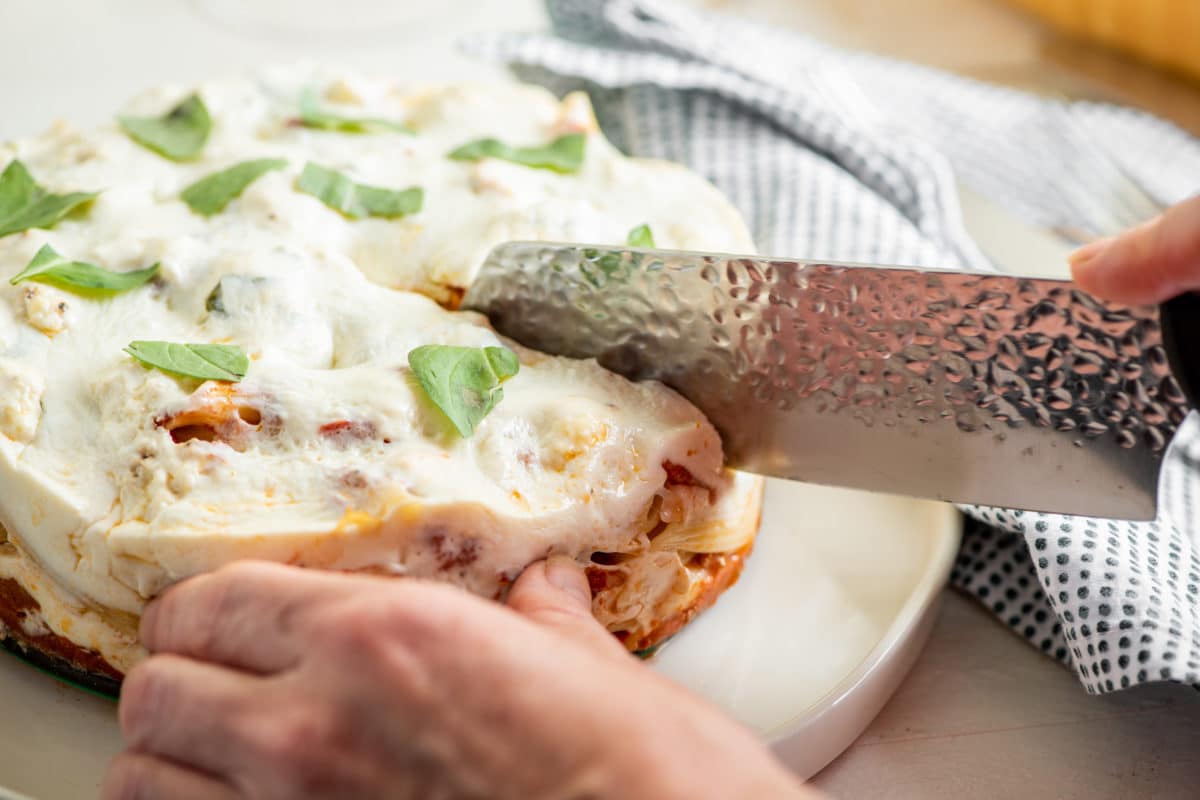 So fun right? And with my little OXO sling helper it went in and out of the pot like a champ, no tilting, or spilling, or getting burned, which is a specialty of mine. Make sure to let the casserole sit after you take it out of the pot for at least 20 minutes, so it holds it shape when you unmold it.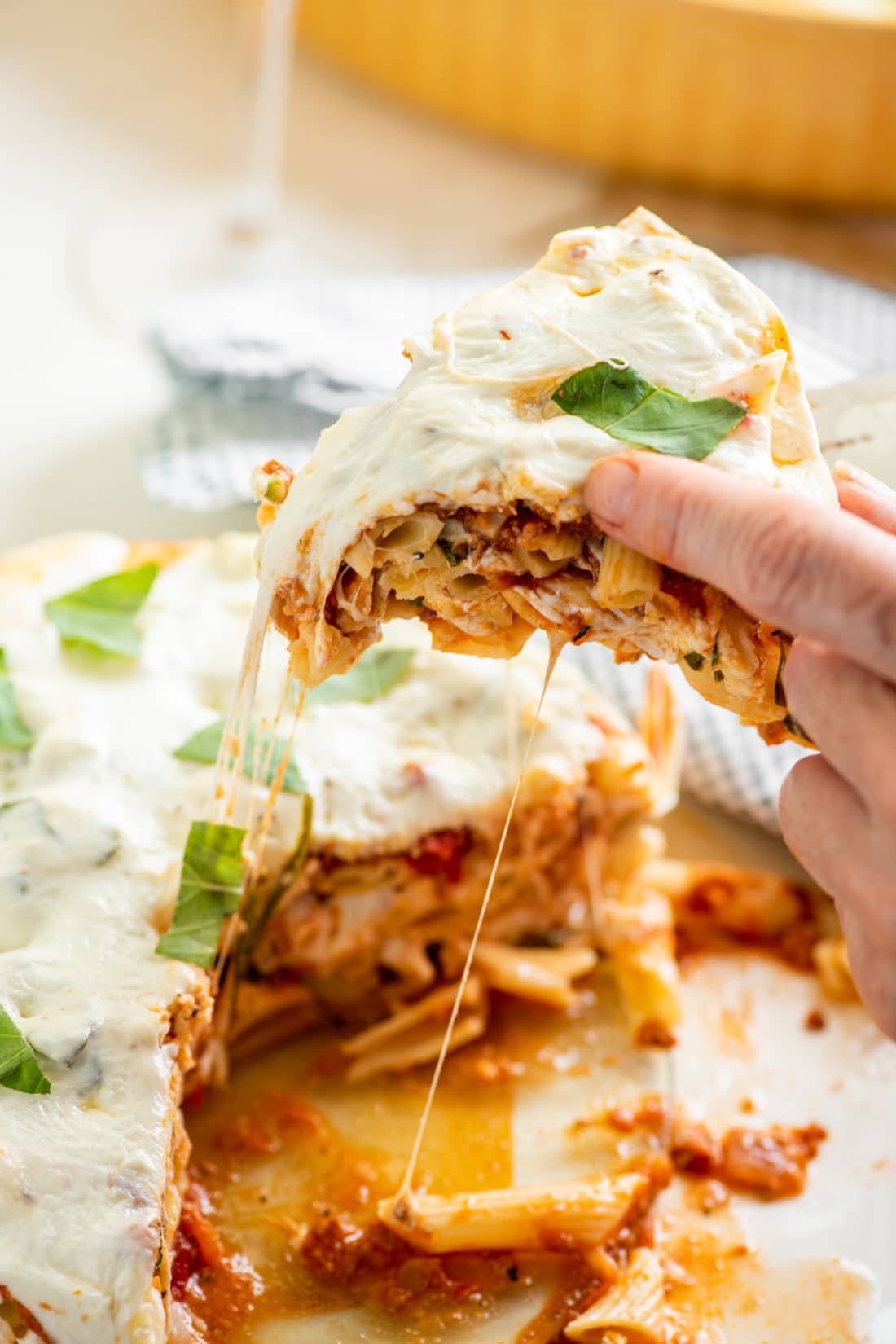 Also, fun fact—the beloved Frankies restaurants in NYC only serve their lasagna at room temperature because they feel it tastes better that way. Which has fully given me the confidence to do the same, and validates the needed resting period here. Serve with a green vegetable or some sort, or a salad.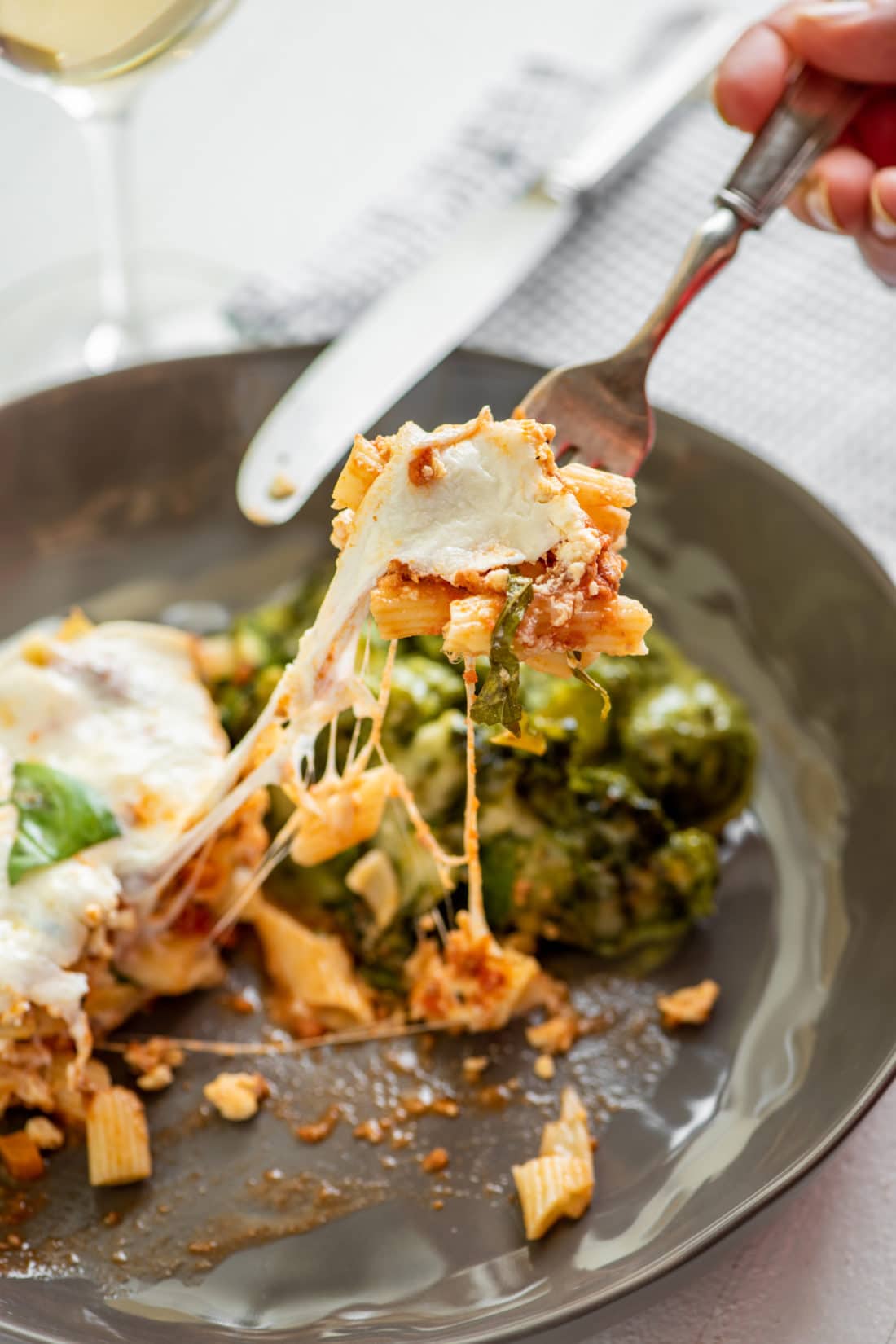 Other cheesy, beefy dinners:
Like this recipe? Pin it to your favorite board on Pinterest.

Pin This
Instant Pot Ziti "Lasagna" with Bolognese Sauce
The Instant Pot quickly makes cooked pasta, sauce, and cheese come together in a layered pasta dinner.
Total Time:
1
hour
10
minutes
Ingredients
½

pound

dried ziti or penne

1

cup

ricotta cheese

preferably fresh

1

large egg

½

cup

freshly grated Parmesan cheese

¼

cup

chopped or chiffonaded, thinly sliced fresh basil

plus more to serve

Kosher salt and freshly ground pepper

to taste

2

cups

Bolognese sauce

homemade or store-bought

2

cups

grated mozzarella

preferably fresh
Directions
Bring a large pot of salted water to a boil and cook the pasta according to package instructions, draining it 1 minute before it is tender, so about 9 to 10 minutes.

While the pasta is cooking, in a medium sized bowl combine the ricotta, egg, Parmesan, 1/4 cup basil and salt and pepper until well blended.

Grease a round 7 inch pan or spray it with nonstick baking spray– if you can do a springform pan all the better, since you will then be able to unmold it easily and really see those beautiful layers. Make sure it is 7-inches, though, since a larger size won't fit into the Instant Pot.

Spoon a thin layer of the sauce into the bottom of the pan. Transfer 1/3 of the pasta to the pan to make a single layer over the sauce. Spoon over the ricotta mixture to that you have a layer just covering the noodles, spreading it carefully with the back of a spoon or your fingers to try and keep the noodles in place. Spoon over a layer of the Bolognese sauce to cover the ricotta. Then sprinkle over 1/4 of the mozzarella (1/2 cup). Repeat the layers 2 more times, ending with the remaining 1/2 of the mozzarella (1 cup).

Pour 1 1/2 cups of water into the bottom of the Instant Pot.   Cover the baking pan with aluminum foil (spray the underside of the foil with nonstick spray so that it won't stick to the top of the casserole). Place the pan onto the OXO sling, and lower it carefully into the Instant Pot. Close the lid.

Press the "Manual" Button and set the timer for 20 minutes. Make sure the cooking pressure is adjusted to high and that the release valve is on the "Sealing" setting. The timer will stat counting down once the cooking pressure has risen to the right level.

After 20 minutes, when the timer goes off, allow the casserole to sit in the Instant Pot for 10 minutes as the pressure releases. Then press the "Quick Pressure Release" button to open the Instant Pot. Life the casserole from the Instant Pot using the OXO sling. Let it sit for 20 minutes until still warm but not super hot. Unmold the casserole but removing the outside of the springform pan.

Slice into wedges and serve warm.
Nutrition Information
Serving:
4
g
|
Calories:
555
kcal
|
Carbohydrates:
46
g
|
Protein:
33
g
|
Fat:
26
g
|
Saturated Fat:
15
g
|
Cholesterol:
128
mg
|
Sodium:
613
mg
|
Potassium:
264
mg
|
Fiber:
2
g
|
Sugar:
2
g
|
Vitamin A:
820
IU
|
Calcium:
567
mg
|
Iron:
2
mg
The nutrition values are provided as an estimate. It is not intended as a substitute for the advice of a qualified healthcare professional.
Made this recipe? Post a photo of your delicious creation on Instagram with our hashtag #dinnersolved