This post may contain affiliate links. Please read our privacy policy.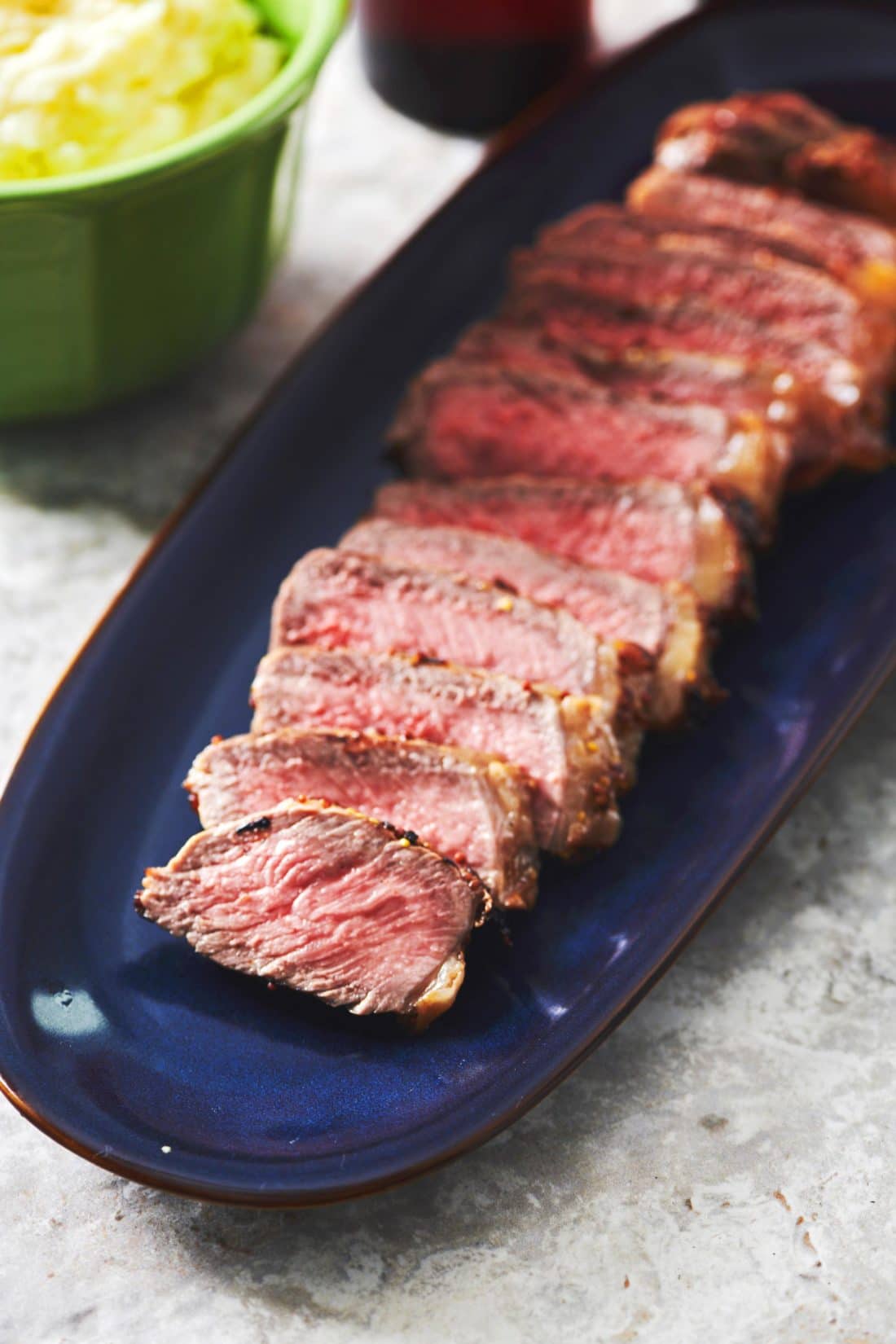 This is the recipe to make when you have the desire for a steak with a little something going on, but only about 5 minutes to make that something happen. Steaks just love mustard and pepper—it's a perennially winning combination.
Peppering the Steaks
These steaks are pretty generously peppered, and you can dial it back if you want. Use freshly ground pepper for these if at all possible.  Set your peppermill to looser rather than tight so the pepper comes out in slightly larger bits, not powdered. You want to add both flavor and the texture.
Steak au Poivre, which is the French translation of pepper crusted steak, came of age in the 1960s when Julia child published her recipe for it in Mastering the Art of French Cooking. She called for 2 TABLESPOONS of crushed peppercorns for 2 pounds of meat, which is a real commitment. And then there was a sauce. Which was redolent with cognac and beef broth and butter. And I'm quite sure absolutely delicious. Most steak au poivre recipes follow the theme of loads of pepper, and a rich sauce. And I absolutely want to make that steak—someday.
Today I just wanted to amp up the flavor of steak, and so I just stole the idea of lots of pepper (but not so much that the steak can't be heard), and added a bit of mustard and olive oil in lieu of a sauce. Just kind of a wet rub/quite marinade. These will 100% end up on the grill next summer, but they were lovely broiled fairly close to the heat, so that they browned up nicely on the outside, but stayed delightfully pink in the middle. Pan searing would be another way to go.
Serve these steaks with…
I served these Pepper-Mustard Strip Steaks with Parmesan Mashed Potatoes and Roasted Carrots with Tapenade Dressing (recipe coming soon!) and that was a dinner my people will not be sorry to see happen again. Try Roasted Winter Vegetables Sriracha Honey Glaze, Best Parmesan Roasted Broccoli or Roasted Cauliflower with Chimichurri Sauce, Creamed Spinach and Crispy Sauteed Potatoes on the side. A loaf of Chimichurri Garlic Bread would also be excellent. Or go classic with a Baked Potato.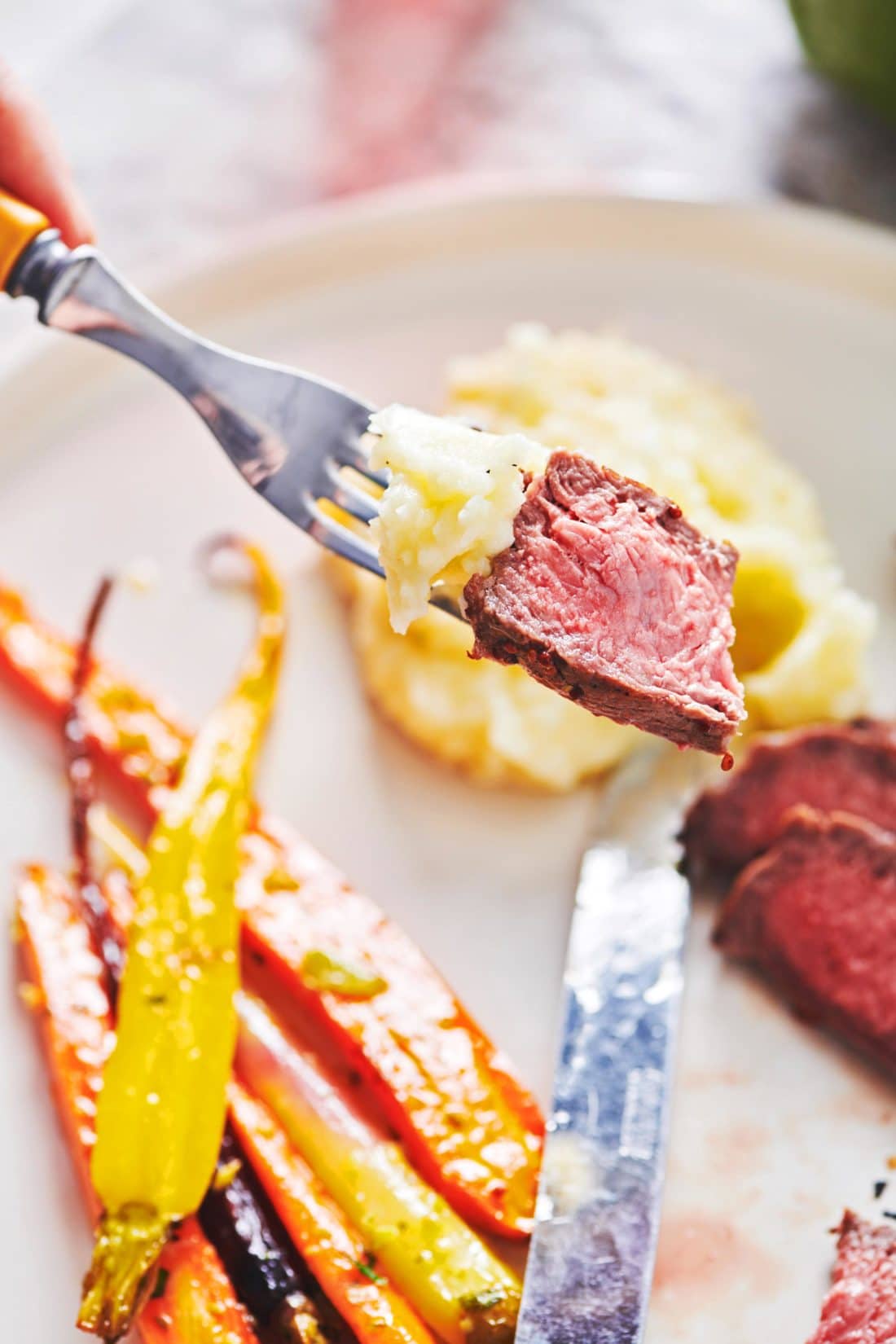 Other Steak Recipes:
Pepper-Mustard Strip Steaks
A modified and simpler version of Steak au Poivre, with about 5 minutes of prep time.
Ingredients
2

teaspoons

olive oil

1

tablespoon

Dijon mustard

2

teaspoons

cracked black pepper

1

teaspoon

kosher salt

2

1-pound, 1 ½-inch thick NY strip steaks
Instructions
Preheat the broiler. Line a rimmed baking sheet with foil or spray with non stick cooking spray.

Spread the mixture on the steaks and let sit for 15 minutes. Or not, if you don't have time.

Broil the steaks for 5 mins on each side, until the exterior is nicely browned and the inside is cooked how you like it (130 to 135 F internal temperature for medium rare; check with a meat thermometer). Let the steaks sit for 5 minutes before slicing.
Notes
Broiling these gives you the perfect outside texture with the correct doneness inside. Make sure and watch carefully so they don't burn.
Nutrition
Calories:
265
kcal
,
Carbohydrates:
1
g
,
Protein:
23
g
,
Fat:
18
g
,
Saturated Fat:
7
g
,
Cholesterol:
91
mg
,
Sodium:
371
mg
,
Potassium:
362
mg
,
Fiber:
1
g
,
Sugar:
1
g
,
Calcium:
28
mg
,
Iron:
2
mg
Nutrition information is automatically calculated, so should only be used as an approximation.
Like this? Leave a comment below!