This post may contain affiliate links. Please read our privacy policy.
If you have dipped into Pinterest even briefly over the past few years, you know that Graze Boards are A Thing. Beautiful boards or platters filled all kinds of different foods ready to be sampled, snacked up, nibbled, and ok, grazed.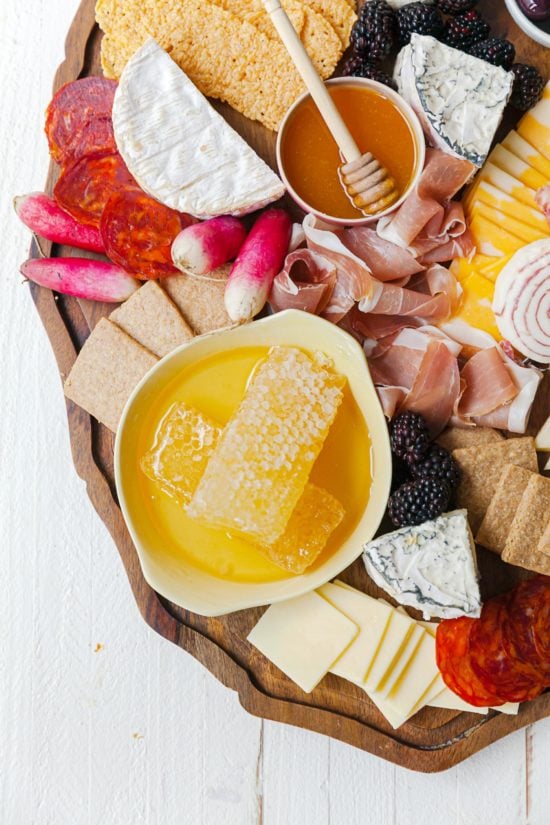 It's such a nice way to entertain, or even to offer up a room temperature meal for your family during game nights or movie nights or what have you. I've been making them for years, though I will confess, not as carefully or artfully as some of the ones I see in all those purty pitchers on the interwideworldweb.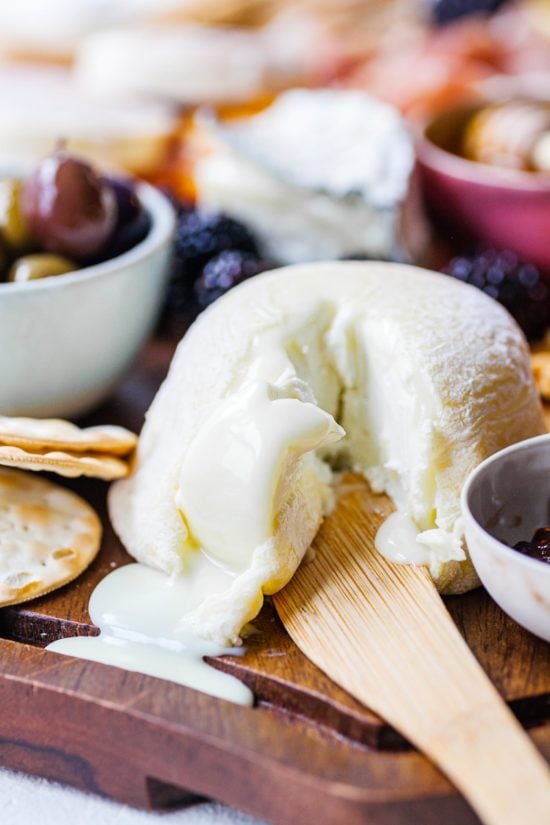 I actually have always called them Board Meals. They are a great way to use up odds and ends from the fridge and pantry, and to avoid cooking, which I suppose I shouldn't say but hey, as I write this I'm sitting in front of a fan during one of this past summer's heat waves, and the thought of turning on the oven makes me whimper.
How to Make a Graze Board: From cheeses to meats to spreads to pickles- all you need to know about creating a beautiful grazing board.

Tweet This
How to Make a Grazing Board
So, here's what you can think about putting on a graze board – and here's what I picked for this one. Take inspiration from what you like, and then do what I do: stand in front of the fridge and start pulling out anything you think might get eaten. Don't get too caught up in what goes with what – rice crackers and olives? Pickles with raspberries? Sure. People will dip in and dip out of a graze board, and this is the opposite of a planned out three-course themed dinner.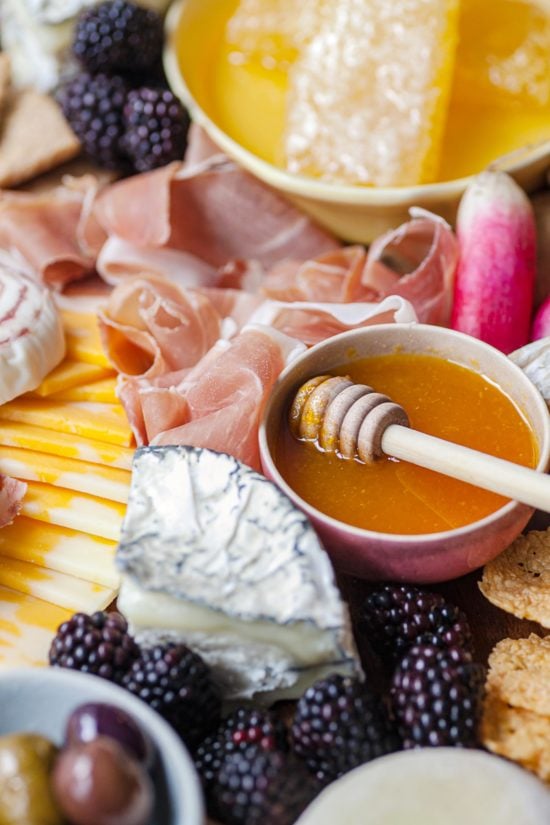 Tips for Making The Perfect Holiday Grazing Platter
Pick a board or platter that feels ample, because the point of a graze board is to feel abundant and filled with options (see below).
A good place to start is cheese (cheese is never the wrong answer). It's nice to offer a selection: hard cheeses (such as cheddar, Parmesan or Manchego), soft cheese (such a double or triple cremes, eg, brie camembert, goat cheese) blue cheeses.
Meats: Cured meats in particular are great choices, all kinds of salumis (fancy word for the salami family) and hams (prosciutto, salami, speck, soprassata, sliced dried sausages like chorizo). Pate is another nice offering.
Small things. This is a very broad category, I know, but basically I'm thinking about everything from to olives to pepperoncini to small pickled things to nuts (check for allergies) to marinated artichoke hearts to sundried tomatoes.
Vegetables and Fruits: Cut up carrots and celery and cucumbers and peppers. Cherry or grape tomatoes. Sliced apples, pears, stone fruits, berries, cherries, figs. And don't forget about dried fruits: apricots, cherries, figs, cranberries, plums…
Spreads and Drizzles: Don't just think savory, sweet is really nice, especially when paired with cheeses. Mustards, pestos (also Sundried Tomato Pesto), mayonnaises and aiolis. Jams, jellies, honeys, interesting syrups.
Dips – you might want to add a dip to the mix. Think about Green Goddess Dressing and Dip, Easiest Herb Dip Ever, Arugula-Basil Dipping Sauce, Tzatziki, hummus, or Harissa Dipping Sauce.
Bread and crackers. Sliced baguette or other small pieces of good bread or toast, and any and all stripes of crackers. People can use them to enjoy the other things on the tray, and also to snack on bare naked.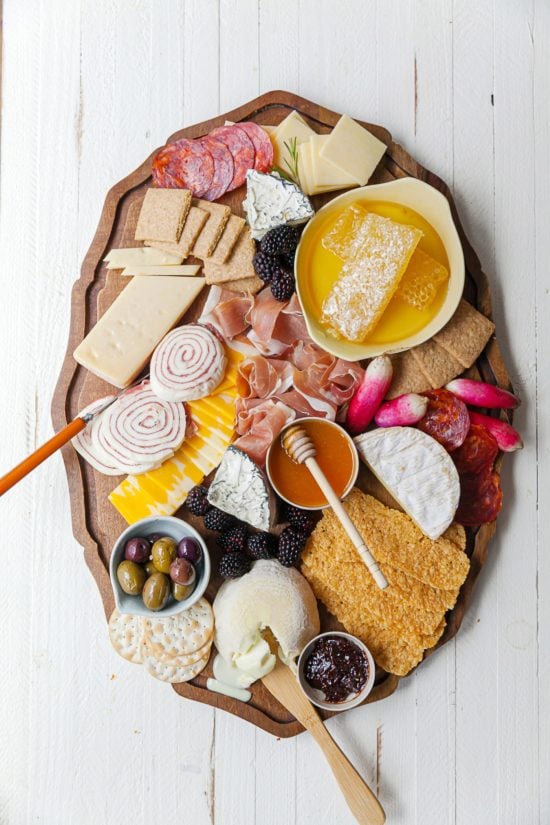 What Can I Use for a Graze Board?
You should feel free to use whatever you have on hand that has ample surface area. That might mean a large platter, a cutting board, a cheese tray, a marble or stone slab. Wooden boards make a very pretty base for grazing boards, and you might find them by searching online for cheese boards, charcuterie boards or grazing trays. You can find also them in housewares stores, the kitchen sections of larger stores, and also at tag sales and flea markets.
Ideas for Your Next Graze Board and Party Platter
In the board above, starting from the top and going clockwise in kind of a swirl til you get to the middle:
Aged Coupole Goat Cheese, Plain table water crackers, Mixed olives, Sliced Colby Cheese, Sliced mozzarella and prosciutto roll, Asiago cheese, Oat crackers, Chorizo, Humbolt Farm goat cheese, Sliced cheddar cheese, Honeycomb from Savannah Bee Company, French breakfast radishes, Camembert cheese, Parmesan Crisps, Jam, Blackberries, Satsuma syrup, Prosciutto.
---
Other Great Party Appetizers