This post may contain affiliate links. Please read our privacy policy.
We were always more of a vinaigrette family than a creamy dressing family when I was growing up, but in later years I came to appreciate and crave the thick, creamy ranch and blue cheese and buttermilk dressings that turn so many people in salad lovers.
Best Ranch Dressing From Scratch
When they were young two of my nieces would essentially only eat a vegetable if there is ranch dressing to dip it in, so in preparation for a visit from them, it was time to start getting a recipe together. There are decent bottled dressings out there, but nothing compares to the freshness of a homemade ranch dressing, and it's quite easy to make. Plus it will last for a week in the fridge, so salads a-plenty for everyone.
I won't pretend that this is a low-fat dressing, HOWEVER, the buttermilk, which (contrary to its name) contains no fat does offset the other ingredients, and you can also make the lower-fat variation, which uses Greek yogurt in place of the sour cream. It's creamy and it's refreshing and it's delicately tangy and it may get some reluctant vegetable eaters to embrace salad, so that a good thing.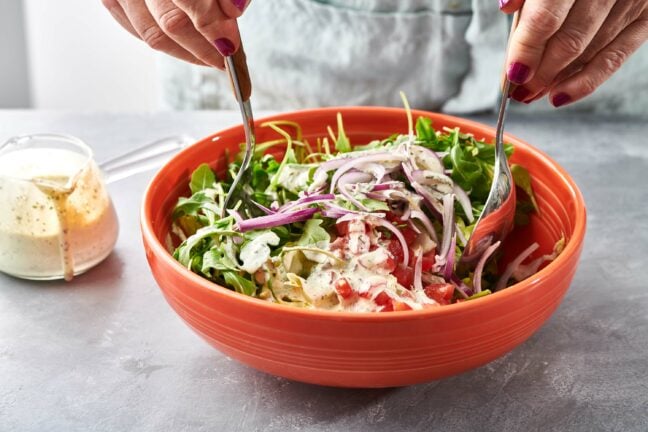 And when we were shooting the ranch dressing for my first cookbook, The Mom 100 Cookbook, the head of the Saveur Test Kitchens (where we were shooting the photography for the book) insisted that was the item she wanted to take home. She let other people divvy up the lamb chops and the shrimp scampi, but there was no way she was leaving the ranch dressing behind. I count that amongst my favorite small victories.
Homemade Ranch Dressing: The classic salad dressing we all crave: creamy and tangy (and it will make a salad lover out of anyone!)

Tweet This
Ranch Dressing Variations:
Ranch Dip
If you want to make a thicker version, which serves as a more substantial dip for crudités or chips, reduce the buttermilk to ½ cup and increase both the mayonnaise and the sour cream to 2/3 cups each.
Lower-Fat Ranch Dressing:
Use low fat mayo and substitute ½ cup 1% Greek yogurt for the sour cream.
Greek Yogurt in Ranch Dressing
Greek yogurt is thicker, creamier, and has less of a tart-tangy taste than regular yogurt. It gets its thick texture from being strained, so that the whey is removed from the yogurt.
Greek yogurt has become increasingly available in the U.S. over the past decade, and can in many cases be used as a substitute for sour cream, cutting down on the fat and calories in a recipe. It is full of protein, and available in fat free, 1%, 2% and whole versions, and as with milk, the more fat, the creamier the texture and the richer the flavor. Most Greek yogurt available here in the States is made with cow's milk.
Salad with Ranch Dressing
To make a simple salad that is the perfect canvas to highlight the delicate yet creamy dressing, combine 6 cups washed and dried torn lettuce, such as romaine, butter or Bibb, and arugula (or mixed), 1 cup peeled and thinly sliced seedless cucumbers, thinly sliced red onions, and 1 cup halved cherry or grape tomatoes or diced large tomatoes. Add about ½ cup ranch dressing and toss well, adding more dressing as desired — don't overdress your salad! Keep tossing until the dressing is evenly distributed amongst the salad ingredients before you decide to add more.
What to Serve with Salad with Ranch Dressing:
Other Salads with Creamy Salad Dressings:
Like this recipe? Pin it to your favorite board on Pinterest.

Pin This
Homemade Ranch Dressing
The classic dressing we all crave: creamy, tangy, and perfectly seasoned.
Ingredients
½

cup

mayonnaise

½

cup

sour cream

⅔

cup

buttermilk

1

tablespoon

white wine vinegar

1

tablespoon

chopped fresh parsley

½

teaspoon

dried dill

or 1 teaspoon chopped fresh dill

½

teaspoon

dried thyme

¾

teaspoon

finely minced garlic

or garlic powder

⅛

teaspoon

sweet paprika

1

teaspoon

Dijon mustard

Kosher salt and freshly ground black pepper

to taste
Instructions
In a small bowl, whisk together mayonnaise, sour cream, buttermilk, vinegar, parsley, thyme, oregano, garlic, paprika, salt, and pepper. You can also blend this up in a food processor or blender if you want a smoother dressing.

Taste for seasoning and add more salt and pepper, if you like.

Place salad ingredients in a large serving bowl, drizzle over the desired amount of dressing toss and serve.
Notes
Variations:
Ranch Dip for Veggies:
Reduce the buttermilk to ½ cup and increase both the mayonnaise and the sour cream to 2/3 cups each.
Lower-Fat Ranch Dressing:
Substitute ½ cup 1% Greek yogurt for the sour cream.
Nutrition
Calories:
91
kcal
,
Carbohydrates:
1
g
,
Protein:
1
g
,
Fat:
9
g
,
Saturated Fat:
2
g
,
Polyunsaturated Fat:
4
g
,
Monounsaturated Fat:
2
g
,
Trans Fat:
1
g
,
Cholesterol:
10
mg
,
Sodium:
86
mg
,
Potassium:
39
mg
,
Fiber:
1
g
,
Sugar:
1
g
,
Vitamin A:
130
IU
,
Vitamin C:
1
mg
,
Calcium:
29
mg
,
Iron:
1
mg
Nutrition information is automatically calculated, so should only be used as an approximation.
Like this? Leave a comment below!