Easy Chicken Quesadilla Recipe
These are stupidly easy, but sometimes you just need a quesadilla. And if you want a little refresher on how to make them, then you are in a good place.
Quesadillas are one of my top 5, maybe top 3, things to make when I Just Need To Make Dinner Now. No one in my family has ever been sad to see a quesadilla for dinner. I almost always have tortillas and shredded cheese in the house, and I almost always have leftovers. (Plus you can store tortillas in the freezer, and they defrost very quickly). One, two, three, and dinner is made. #quesadillasaremycrutch #Imokwithit #Ihaveworsethingstoownupto
Throw together a salad while the quesadillas cook. And I almost always have salsa and sour cream on hand as well, and if you start to rely upon the quesadilla concept in your life as much as I do, I suggest you keep these items in stock as well.
How to Make Quesadillas on the Stove
My favorite way to make quesadillas is in a pan on the stove, and once you get comfortable by making a few, you will see that it's quite easy to make two in a pan at once time. By two I mean two folded over tortilla quesadillas, which is my go-to-method, resulting in two half moon quesadillas. You can also make one big round quesadilla with two tortillas, one per batch, which is a little harder to flip, but the same concept.
A tortilla goes in hot pan with a bit of melted butter. A handful of cheese is added. Then the other stuff, whatever the other stuff is; in this case it's shredded chicken. Obviously if you have home cooked chicken you can and should use that instead of rotisserie chicken.
And then some more cheese. Why cheese in two places? Because it helps the tortilla stick to the filling, silly (just kidding – you are not silly. It took me about 20 years of making quesadillas to stumble upon this little tiny life hack that has made a big difference in my life, because of the aforementioned quesadilla dependency.)
Cook until golden brown on the bottom, then flip the quesadillas.
Continue cooking for another few minutes until golden brown on the new bottom (e.g., the other side).
Cut into wedges. Serve with salsa, guacamole, and sour cream.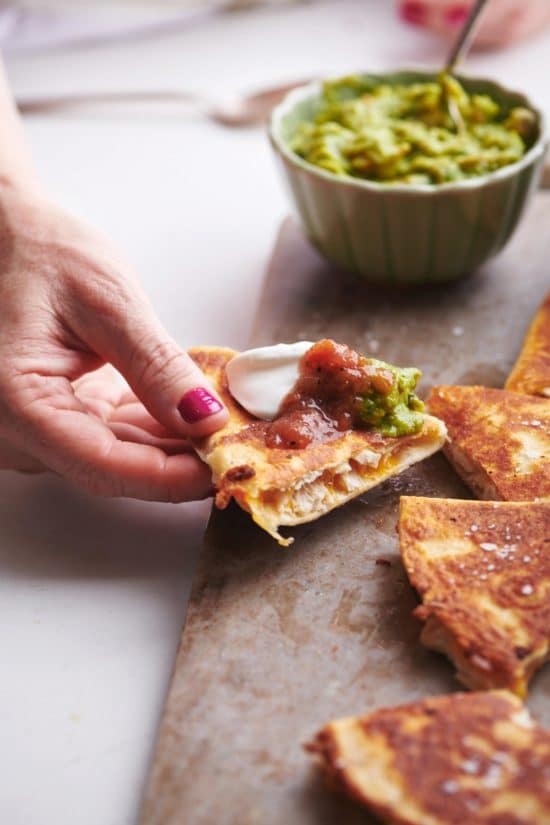 For more tips on making quesadillas, and alternate ways to make them, see How to Make Quesadillas.
Easy Rotisserie Chicken and Cheese Quesadillas: With a rotisserie chicken, a bag of shredded cheese, and some tortillas on hand, a quesadilla lunch or dinner is but minutes away.

Tweet This
Best Cheese for Quesadillas
The cheese choices are very much up to you. I used a blend of fontina and cheddar here, because I love the sharp flavor of cheddar, plus the creaminess of fontina, and the nice melting qualities of that cheese make a stellar combo. You can use any cheese or blend of cheeses you like, including some packaged blend mixes, like Mexican shredded cheese, or an Italian blend.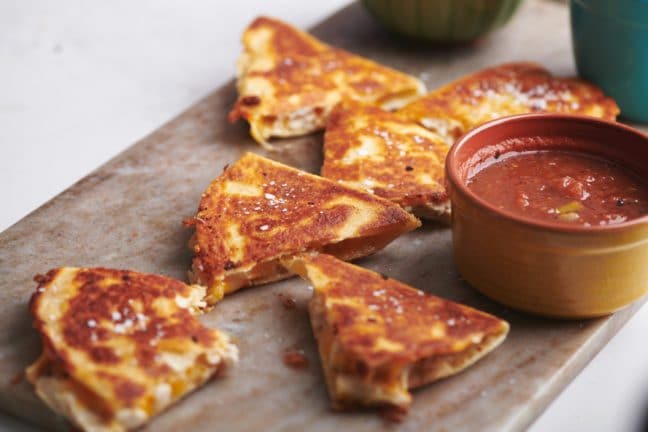 How to Make Shredded Chicken in the Slow Cooker
If you do feel like making your own chicken for shredding, the slow cooker is a great way to go. It makes the most tender chicken for shredding, and it's very hard to beat the slow cooker for set-it-and-forget-it convenience.
If you didn't use up all of your chicken in these quesadillas, check out 10 Things To Make With Leftover Shredded Chicken.
What to Serve with Quesadillas:
Other Easy Quesadilla Recipes:
Like this recipe? Pin it to your favorite board on Pinterest.

Pin This
Easy Rotisserie Chicken and Cheese Quesadillas
With a rotisserie chicken, a bag of shredded cheese, and some tortillas on hand, a quesadilla lunch or dinner is but minutes away.
Ingredients
4

teaspoons

unsalted butter

divided

8

8-inch flour tortillas

3

cups

shredded rotisserie chicken

or other simply cooked chicken

3

cups

(12 ounces) shredded cheese

such as a mix of cheddar and fontina

3

cups

Guacamole, sour cream and salsa (try Salsa Ranchera)

to serve, if desired
Directions
Heat a large skillet over medium high heat and add a half teaspoon of butter.  Place a tortilla in the pan. Sprinkle 3 tablespoons of the cheese mixture over half of the quesadilla, and distribute 1/8 of the chicken over the cheese.  Top that with another 3 tablespoons of the shredded cheese. Flip the bare half of the tortilla over the filling, cover the pan, and sauté for about 2 minutes until the bottom is golden and the cheese has started to melt, then use a spatula to flip the half-moon quesadilla, and continue to cook, uncovered, until all of the cheese is melted and the underside is browned, 2 to 3 minutes.
Nutrition Information
Calories:
346
kcal
|
Carbohydrates:
16
g
|
Protein:
25
g
|
Fat:
19
g
|
Saturated Fat:
10
g
|
Cholesterol:
85
mg
|
Sodium:
538
mg
|
Potassium:
202
mg
|
Fiber:
1
g
|
Sugar:
2
g
|
Vitamin A:
361
IU
|
Calcium:
315
mg
|
Iron:
2
mg
The nutrition values are provided as an estimate. It is not intended as a substitute for the advice of a qualified healthcare professional.
Made this recipe? Post a photo of your delicious creation on Instagram with our hashtag #dinnersolved