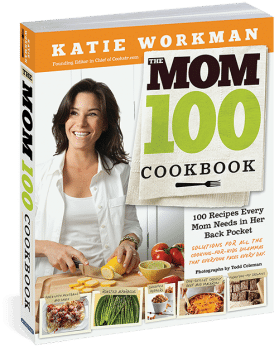 The MOM 100 is the lifesaving cookbook that every mom needs, filled with delicious, no-fuss, easily adaptable recipes, plus tips, attitude and wisdom for surviving and staying happy in the kitchen while proudly keeping it homemade. Because homemade not only tastes best, it is best for you.
The Mom 100 dazzles with main-dish meats, Monday Night Brisket to Apple-Glazed Pork Chops, fish dishes they'll actually eat, healthy snacks and pretty healthy desserts, like fun Fruit Salad on a Stick.
Picky eaters? Breakfast insanity? Last-minute company? Don't worry – the Mom100's got you covered!
---
Buy The Mom 100 Cookbook
---
Inside The Cookbook
The MOM 100 Cookbook contains a wide variety of extra helpful elements throughout. Where relevant, many recipes have notes on the following topics to provide more information.
Make Ahead:
Tips on how the dish, or parts of it, can be made in advance.
Cooking Tips:
Miscellaneous bits of advice, clarifications, shortcuts, and other info about preparing the recipe
Fork in the Road:
Throughout the book you will notice a number of dishes marked as Fork in the Road recipes. This addresses the need to adapt a recipe to suit the needs of a family where picky palates are prevalent. Basically a recipe is made fairly simply up to a certain point. Then some of the dish is removed (think plain pasta sauce, pita chips, and sauteed chicken cutlets) and set aside for the kids or for those with milder palates. Then you continue on with the rest of the dish, adding some additional ingredients and flavors for those with more adventurous palates.
The result is that you get to make one dish for the whole family. Everyone is sharing the same meal, but the grown ups are eating something with more interest and sophistication, while the kids are eating a great meal that doesn't push them past their limits.
What the Kids Can Do:
There's no guarantee on this, but it's often the case that when your kids help prepare something, they are more likely to try it. With that in mind each recipe is accompanied by tips on what your kids can do, though of course you have to make the determination based on their age and ability.
Variations:
There are so many ways to tweak a recipe and lots of them are presented throughout. But don't hesitate to come up with some of your own to best suit your families tastes; switch in a favorite vegetable, change up the spices, make the recipes your own.
---
Praise
"One of the best weeknight cookbooks of all time."

Tasting Table
"I have forever seen recipes on TV and around the web for something called Mexican Lasagna… I spied a version of the dish in Katie Workman's Mom 100 Cookbook that stopped me in my tracks for all the reasons any recipe ever does: I was so hungry, and it was so pretty….what went into the oven was an exactly perfect-as-written and what came out looked exactly like the photo and tasted even better than I could have dreamed. It has taken a level of self-control I succeed in employing nowhere else in my life to not make this at least once a month since."

Deb Perelman, The Smitten Kitchen
---