Marinara sauce is kind of the backbone of Italian-American cooking. Not a super quick sauce, not a slow-simmered gravy or ragu, it's a gentle tomato-based sauce that is terrific served with any kind of pasta or used as a dipping sauce (think fried calamari or zucchini fritti).
Marinara translates to "seafaring" and is also often interpreted as "sailor style" or "mariner style." The sauce originated in Naples, Italy. Apparently, Italian mariners used to eat this dish on their long ocean voyages.  
Dial the amount of garlic and oregano up or down as you wish. Crushing the garlic cloves imbues the sauce with a lighter garlic flavor than you would get if you added sliced, chopped, or minced garlic. You can leave the cooked cloves in the sauce or take them out before serving it. The generous amount of olive oil in the homemade marinara sauce adds a velvety richness to the sauce.
What Is the Difference Between Marinara Sauce and Pasta or Spaghetti Sauce?
Pasta or spaghetti sauce may mean a few different things (and it means different things to different people, depending on what things were called when you grew up!). Both marinara sauce and spaghetti sauces are tomato-based. Many spaghetti or pasta sauces are chunky or might have meat or chopped vegetables in them. Some pasta or spaghetti sauces are slow-cooked and can have robust seasonings.   Marinara sauce takes a fairly short time to simmer, has simple seasonings, and is usually fairly smooth.  
Homemade Marinara Sauce Recipe: This simple, smooth sauce is the perfect balance of tangy tomatoes with just the right amount of seasoning.

Tweet This
What Is in Marinara Sauce?
The ingredients are almost radically simple.
Olive oil – A generous amount of olive oil adds flavor and a silky mouthfeel to the sauce.
Garlic – crushing the garlic instead of chopping it allows the allium to gently flavor the sauce without the taste of garlic becoming too overpowering. The cloves will mellow or soften as they cook but still have a sharp bite if you eat one. You can remove them from the sauce before serving it with pasta, or leave it in and let your diners know that there are chunks of garlic in the sauce to be enjoyed (or avoided!).
Crushed tomatoes – use crushed tomatoes in their juice for this sauce, rather than in puree, which will make the sauce thicker. There are so many brands to choose from: if you can find San Marzano tomatoes, those have a sweeter, richer, deeper flavor, and your sauce will reflect that difference.
Dried oregano – the quintessential herb used in so many Italian tomato-based sauces.
Red pepper flakes – Just a pinch will give the sauce a bit of heat and kick.
Kosher salt and freshly ground pepper to taste – always!
Sugar – Why add sugar to marinara sauce? And if you are adding sugar, how can such a small amount matter? It just does! Adding a bit of sugar helps amplify the natural sweetness of the tomatoes and counterbalances the acidity at the same time. A little bit is all you need. Many jarred tomato sauces have lots of extra sugar added, which is just not necessary — when you are making homemade marinara sauce, a pinch of sugar is all you need to smooth out the flavor or the sauce. Here we add just half a teaspoon to enhance the sweetness and counterbalance the acidity of the tomatoes.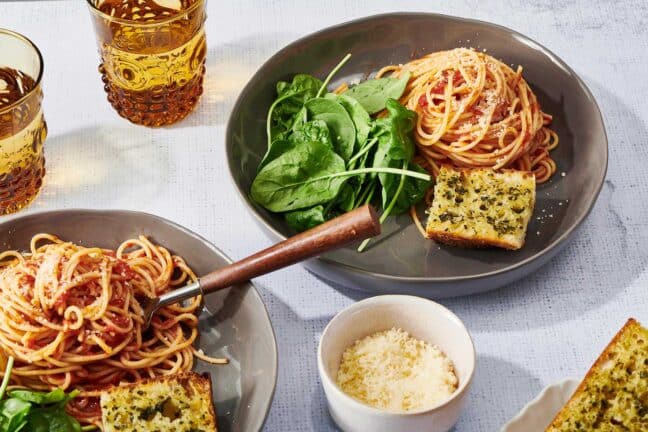 What Pasta Goes Best With Marinara Sauce?
The overriding consensus is…spaghetti! The smooth sauce coats the thin strands very nicely. But truly, any shape of pasta would be fantastic, so don't feel wedded to spaghetti. Try other long thin pasta like angel hair (vermicelli) linguine or fettuccine, or chunkier shapes like rigatoni, ziti, or penne.
Marinara Sauce Substitutions
You can use marinara sauce basically in any recipe that calls for tomato sauce or spaghetti sauce. Marinara sauce is vegetarian, which is helpful if you are making a dish that calls for spaghetti sauce and you want to keep the dish meat-free. You can also use the marinara sauce in any Italian or Mediterranean recipe that calls for canned crushed tomatoes or tomato sauce. If you need to use canned tomato sauce instead, you might just add a bit of oregano and garlic to the recipe to amp up the flavor.
Storage
Marinara will keep for up to 5 days in a sealed container or covered pot in the fridge.
Freeze marinara sauce for up to 6 months. When you pour it into a container or freezer-proof bag for the freezer, make sure to leave about ½ inch of headroom in the container or bag. The sauce will expand slightly as it freezes, and you don't want the container to pop open. Defrost it on the counter for several hours, or in the fridge overnight.
What to Serve With Pasta and Marinara Sauce
Other Pasta Sauce Recipes
Like this recipe? Pin it to your favorite board on Pinterest.

Pin This
Marinara Sauce
This simple, smooth marinara sauce recipe is the perfect balance of tangy tomatoes with just the right amount of seasoning.
Ingredients
½

cup

olive oil

6

garlic cloves

(crushed)

2

(28-ounce) cans crushed tomatoes in their juice

1

teaspoon

dried oregano

Pinch

red pepper flakes

(or to taste)

Kosher salt and freshly ground pepper

(to taste)

½

teaspoon

sugar

1

pound

hot cooked spaghetti

(or other pasta, optional)

Freshly grated Parmesan cheese

(to serve, optional)
Directions
In a large saucepan, heat the oil over medium-low heat. Add the garlic and sauté for 5 minutes press the garlic down into the oil, until the garlic is light golden brown (adjust the heat if the garlic seems to be browning too quickly; it should just turn golden). Add the tomatoes, oregano, red pepper flakes (if using) salt, pepper and sugar. Bring the sauce to a simmer over medium-high heat, then reduce the heat and continue to simmer the sauce for 20 minutes, stirring occasionally.

Serve tossed with the hot cooked pasta of your choice (spaghetti is the most popular pasta pairing for marinara!) perhaps topped with some freshly grated Parmesan, chopped fresh basil, or some additional red pepper flakes for sprinkling. Or use as a dipping sauce. If used as a dipping sauce, you can serve it either room temperature or warm.
Nutrition Information
Calories:
531
kcal
|
Carbohydrates:
77
g
|
Protein:
14
g
|
Fat:
20
g
|
Saturated Fat:
3
g
|
Polyunsaturated Fat:
3
g
|
Monounsaturated Fat:
13
g
|
Sodium:
355
mg
|
Potassium:
960
mg
|
Fiber:
8
g
|
Sugar:
14
g
|
Vitamin A:
575
IU
|
Vitamin C:
25
mg
|
Calcium:
117
mg
|
Iron:
5
mg
The nutrition values are provided as an estimate. It is not intended as a substitute for the advice of a qualified healthcare professional.
Made this recipe? Post a photo of your delicious creation on Instagram with our hashtag #dinnersolved