This post may contain affiliate links. Please read our privacy policy.
Whether you purchased packaged shredded cheese or shredded it yourself, sometimes you don't use it all up, and there is no way this is going to waste. In fact it's one of the best "leftovers" ever – I actually buy cheese and shredded cheese all the time without the slightest notion of what I will make with it, because I know when I have shredded cheese in the house, only good things will happen.
Different Kinds of Shredded Cheese:
While some of these recipes might stipulate a particular kind of cheese, almost always it's up to you which one you'd like to use. If a sharp cheddar is called for, for instance, then you may not want to swap in mozzarella, which is much milder….or maybe you would like to, because that's what you have and you are fine with a softer cheese-flavored dish. It's all good. It's all really, really good.
Here are some cheeses you might have or want to buy, and a bit about their flavors and intensity:
Cheddar:
A firm cow's milk cheese, often available in white and orange varieties, and made in a whole lot of parts of the country—Wisconsin, New York, Vermont, to name a few. There are many kinds of cheddar, and also many levels of sharpness. Pick the one that feels right for the dish and your folks.
Monterey Jack:
An easy to love firm, semi-soft cheese made from cow's milk, this melts really nicely and kind of goes with everything. It's flavor is quite soft though, so it's nice blended with other cheeses.
Pepper Jack:
Same cheese as above but with bits of jalapeno or other spicy peppers sprinkled throughout.
Mozzarella:
Usually available in part-skim and whole milk varieties. Fairly soft, super mild, easily meltable, used often in pizzas and lasagnas and other Italian pasta dishes.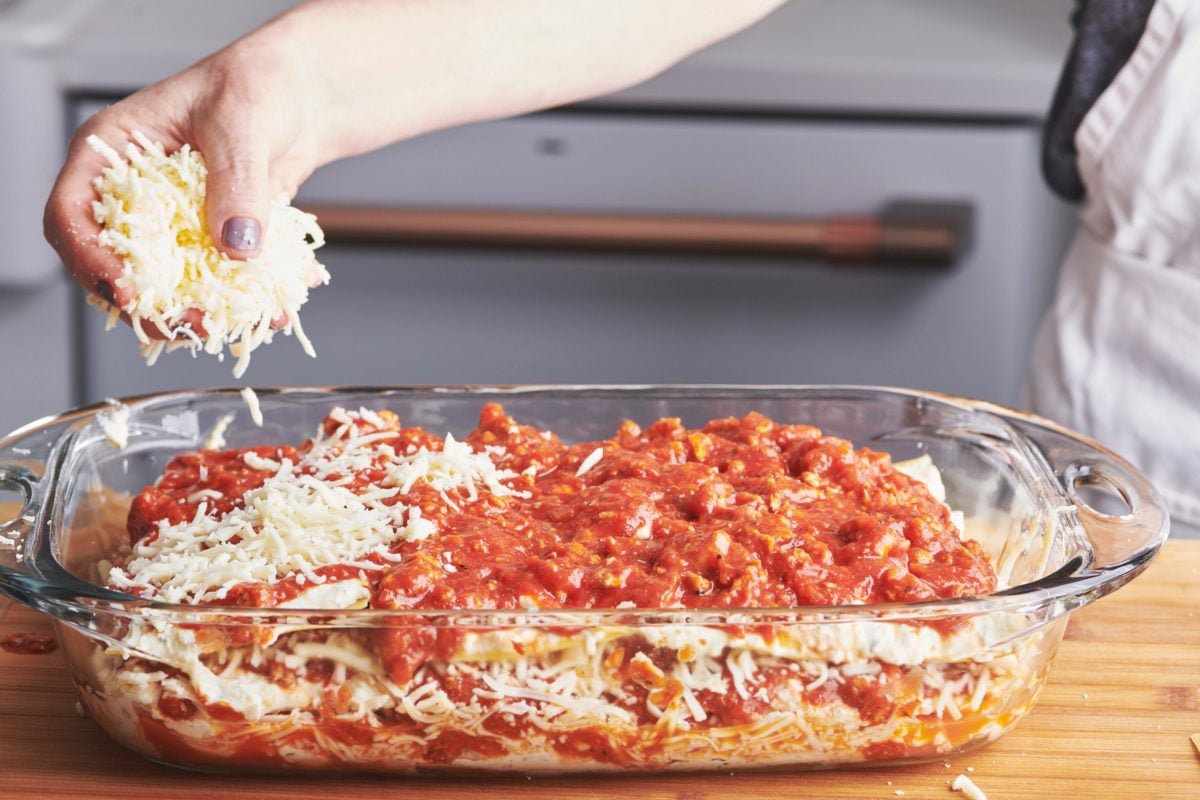 Provolone:
Fairly firm, often slightly smoky (sometimes more than slightly – it might even have smoke flavoring added). Medium level of flavor intensity.
Parmesan:
Parmesan cheese comes grated in a variety of densities, from an almost powdery fine grated version, to hefty strands. It's is nutty and salty and intensely flavored, so if you do decide to go with Parm you may want to blend it with another milder cheese, unless you are really going to a full-flavored nutty taste.
The world of Parmesan is a deep one, with all sorts of things to know about where the cheese is made, how it's made, how long it is aged, and more, so if you want to dig in deeper, here's some reading on that. It's super flavorful, but not the meltiest of cheeses (and when it melts it's not that creamy)
Shredded Cheese Blends:
There are lots of blended shredded cheese available in packages. Mexican Blend, Italian blend, Pizza Blends, Taco Blends, more specific blends like Cheddar-Jack, Colby Jack, Mozzarella-Provolone and others. There seem to be more and more blends available, which is awesome. I love these blended shredded cheeses, because with no extra work on my part, I'm getting a variety of cheese flavors in my dish.
26 Things to Make with Leftover Cheese: If you have leftover cheeses of all kinds, these recipes will help you put them to fabulous use.

Tweet This
What is added to shredded cheese?
Usually wither cellulose or potato starch are added to package shredded cheeses to prevent clumping, but in very small amounts. Check the label to see, and if you are a purist, you can buy blocks of whole cheese and shred your own.
---
26 Things to Make with Leftover Cheese
---
---
---
---
---
---
---
---
---
---
---
---
---
---
---
---
---
---
---
---
---
---
---
---
---
---
Also see: