Chicken Vegetable Quesadillas
I have changed a lot of things about my quesadilla-making over the years. I am a continually evolving human being, and while my spiritual growth is perhaps less brisk than other growth areas, I like to think I'm moving forward in multiple arenas. And as of this writing I am meditating regularly, which is so unlike me that I can't even, so the fact that I am expanding and improving my quesadilla making techniques is perhaps small potatoes in comparison.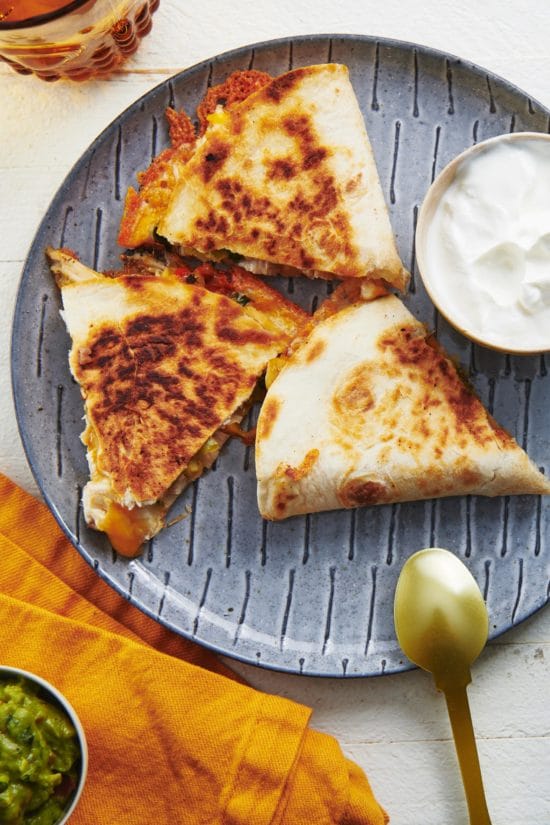 For one thing, I used to broil quesadillas, and while I still occasionally do that—or bake them, more on that soon—more often than not I now cook them on the stove. Yes, you have to use two pans to get as many done at one time, or plan for the whole thing to take longer than broiling up a whole bunch of them on one sheet. But I think the payoff of the crispy but not dry lovely golden brown exterior is worth it. Also, you can cook two at a time, if you nestle them in the pan with the flat sides of the half moons abutting each other.
And the other big thing is that I have become an unabashed fan of the overstuffed tortilla. Those slight little triangles with a smattering of cheese, and a sprinkling of filling are not for me. Give me a quesadilla with height and weight over a delicate wedge any day. These are jammed with a medley of vegetables and a generous amount of shredded chicken, and then it's all bound together with a pile of cheese. And that's before we get to the toppings.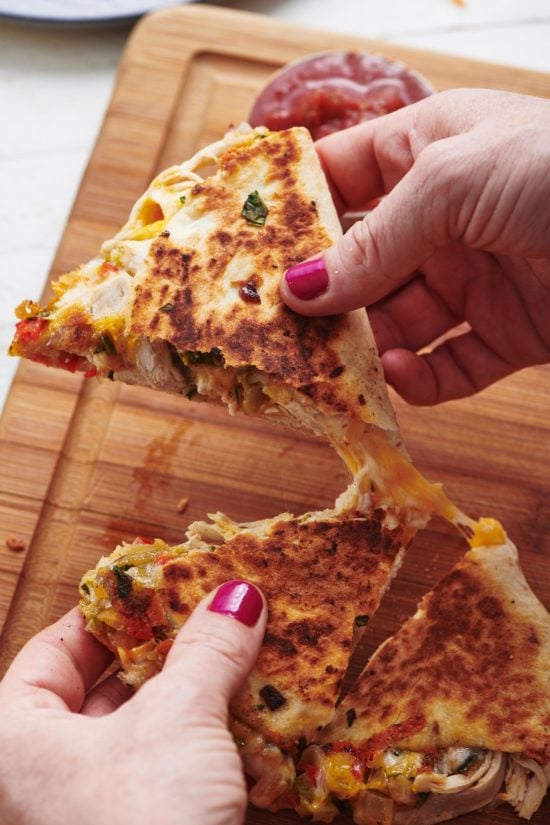 Overstuffed Chicken and Vegetable Quesadillas: Big fat wedges of quesadilla, filled with all of the good stuff (and lots of cheese!)

Tweet This
The vegetables listed in the recipe are a lovely combo, but you can use whatever you have around. A terrific way to use up a bit of asparagus from last night's dinner, that extra cup of sautéed collard greens. Have a lot of vegetables, and no chicken (or you are in the market for an overstuffed vegetarian quesadilla)? Add two more cups of cooked vegetables. You do you.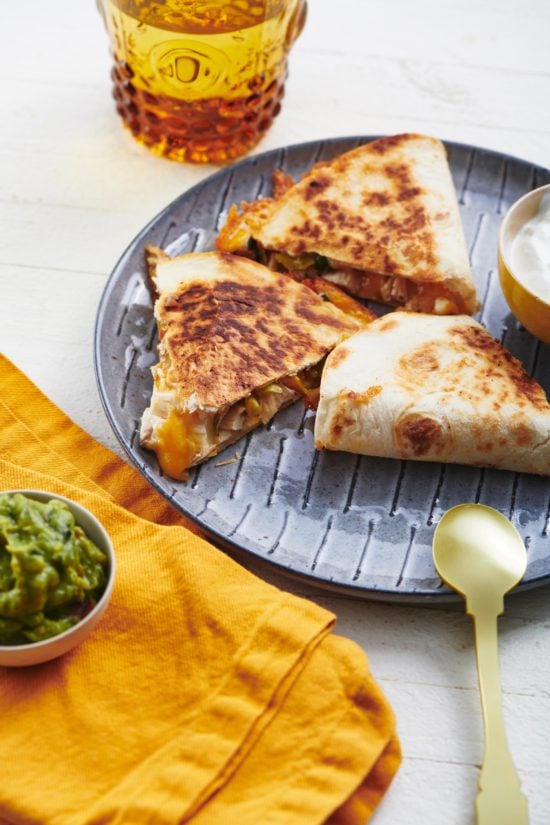 Other Quesadilla Recipes: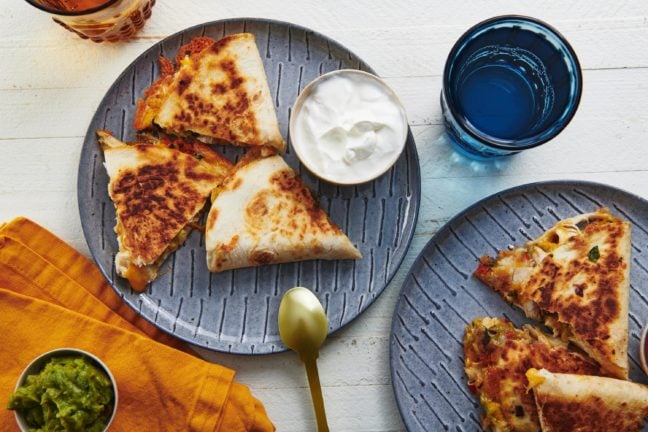 Like this recipe? Pin it to your favorite board on Pinterest.

Pin This
Overstuffed Chicken and Vegetable Quesadillas
I would much rather have a few wedges of a generously filled quesadilla than multiple wedges of a skimpy quesadilla.
Ingredients
1

tablespoon

vegetable or olive oil

1

cup

chopped onion

1

cup

chopped broccoli

1

cup

chopped red bell pepper

Kosher salt and freshly ground pepper

to taste

1

cup

roughly chopped spinach or baby kale

½

teaspoon

minced garlic

1

teaspoon

chili powder

2

tablespoons

minced fresh cilantro

optional

2

cups

shredded cooked chicken

4

teaspoons

unsalted butter

divided

8

8-inch flour tortillas

3

cups

(12 ounces) Mexican blend cheese

or another type of combo or shredded cheese

Guacamole, sour cream, and salsa

to serve
Directions
Heat a large skillet over medium high heat, and add the vegetable or olive oil. Add the onion, broccoli, bell pepper, season with salt and pepper, and sauté for 3 minutes until the vegetables starts to soften. Add the spinach, garlic and chili powder and stir for another minute until you can smell the garlic, the spinach is wilted and everything is well combined. Stir in the cilantro if using, turn the mixture into a bowl, and stir in the chicken until everything is blended.

Wash and dry the skillet (or grab a new skillet). Place the skillet over medium heat and add a half teaspoon of butter. Place a tortilla in the pan. Sprinkle 2 tablespoons of the cheese mixture over half of the quesadilla, and distribute 1/8 of the chicken and vegetable mixture over the cheese. Top that with another 2 tablespoons of the shredded cheese. Flip the bare half of the tortilla over the filling, cover the pan, and sauté for about 2 minutes until the bottom is golden and the cheese has started to melt, then use a spatula to flip the half-moon quesadilla, and continue to cook, uncovered, until all of the cheese is melted and the underside is browned, 2 to 3 minutes. You can cook two at a time, if you nestle them in the pan with the flat sides of the half moons abutting each other.

Remove the quesadilla to a cutting board and let the quesadilla sit for a minute before you slice into 2 or 3 wedges. Repeat until all of the quesadillas are cooked. Serve with guacamole, salsa, and sour cream.
Nutrition Information
Calories:
352
kcal
|
Carbohydrates:
20
g
|
Protein:
22
g
|
Fat:
20
g
|
Saturated Fat:
11
g
|
Cholesterol:
72
mg
|
Sodium:
537
mg
|
Potassium:
292
mg
|
Fiber:
2
g
|
Sugar:
4
g
|
Vitamin A:
1440
IU
|
Vitamin C:
36
mg
|
Calcium:
328
mg
|
Iron:
2
mg
The nutrition values are provided as an estimate. It is not intended as a substitute for the advice of a qualified healthcare professional.
Made this recipe? Post a photo of your delicious creation on Instagram with our hashtag #dinnersolved