Ok, if I had to eat just one potato salad for the rest of my life, this might be it. I love potato salads of all stripes, with horseradish, with lemon, with egg, with bacon, with all kinds of twists and turns. But if forced to pick one…forever…this is the potato salad I would marry.
Traditional Potato Salad with Mayonnaise
This is a very classic creamy, mayonnaise-based potato salad, all-American and old-fashioned in the best sense of the word. Red onion, dijon mustard, celery, a splash of vinegar, parsley, and a generous scoop of mayo make up the dressing. Sweet pickle relish is optional, since I love it with and without. If you want to add other fresh herbs to the mix you can – try a couple of tablespoons of chopped fresh basil, a tablespoon of chopped mint, or a teaspoon of thyme leaves.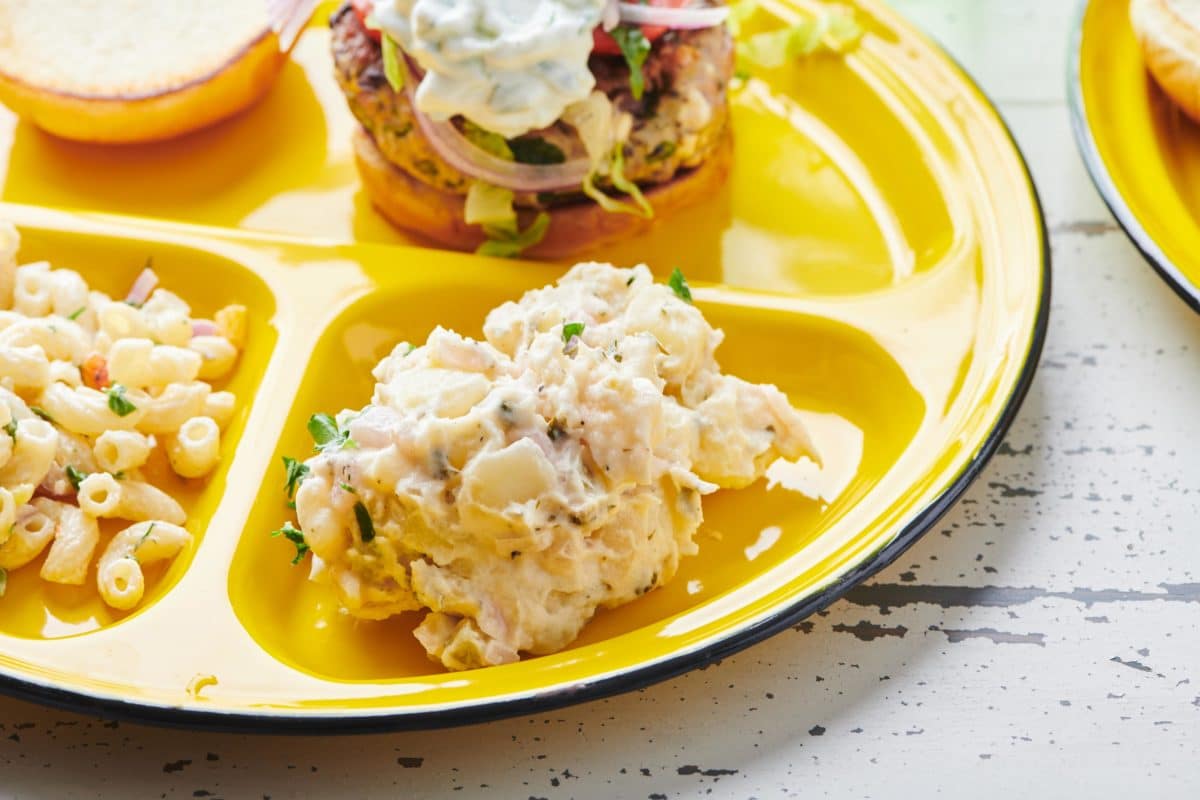 You can make the whole thing in 15 minutes, if you pull together the dressing while the potatoes are cooking.
Cooling Potato Salad
In my most perfect world, I make a potato salad and cool it only at room temperature, and never put it in the fridge. This keeps the dressing super creamy. So that would mean about 2 hours of cooling at room temp, which is not always the way your timing will work, since most of the time we are trying to make things ahead of time when we can. And potato salad is a great make ahead dish, so in that case you will chill it in the fridge for at least a few hours, up to a few days, and then bring it to room temperature before serving. Let it sit out for about 20 minutes and the dressing will get creamy again.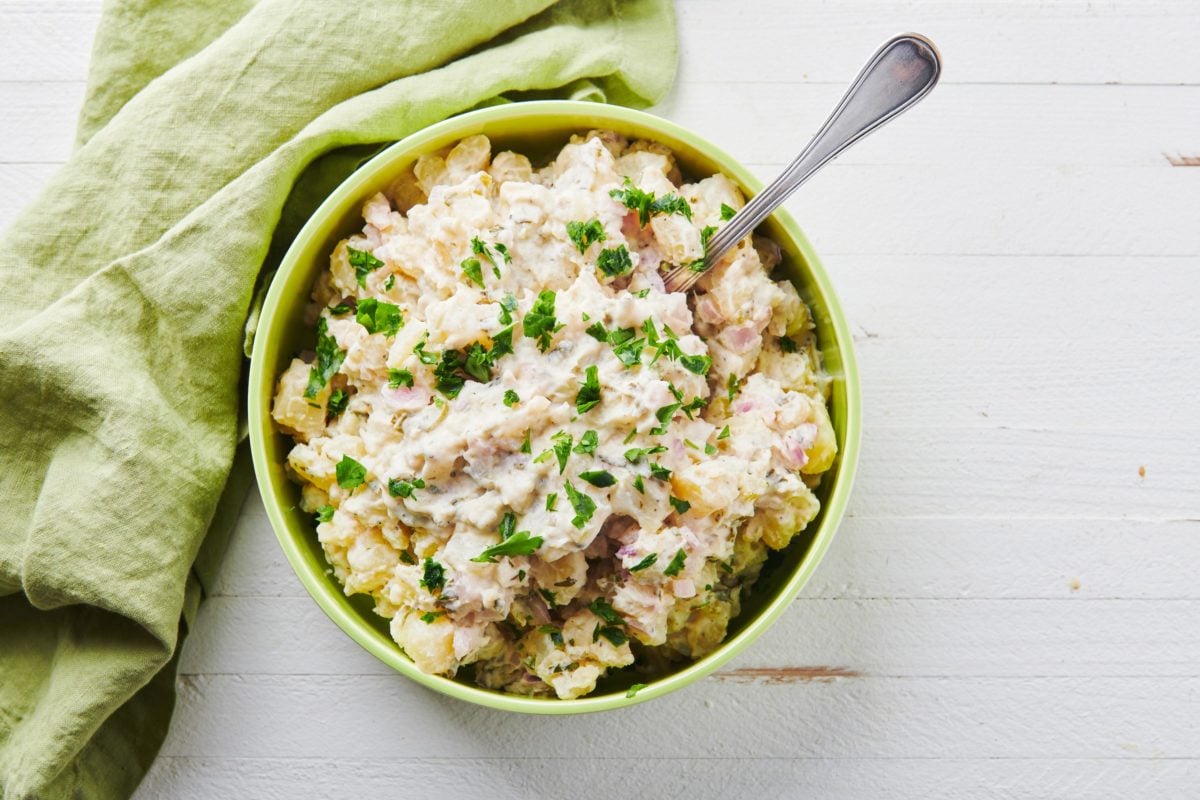 The Best Potatoes for Potato Salad
The potatoes you want here are waxy potatoes, Yukon golds, or yellow or white or red skinned potatoes. They also have thin skins, which some people like to leave on in their potato salads; peel or don't peel it's completely up to you. Yukons have slightly more starch than other waxy varieties, but they still work well in potato salads.
While we all love a good russet potato baked or maybe turned into French fries, those aren't the potatoes you want for potato salad. Russets (or all-purpose) potatoes are too starchy, and will get mushy and fall apart when cooked and toss with the dressing.
This is a very classic potato salad, all-American and old-fashioned in the best sense of the word.

Tweet This
Cooking Potatoes for Potato Salad
I like to dice my potatoes and then simmer them, as opposed to cooked whole potatoes and then dicing them, but both are options. Cutting them before cooking means that you can get cleaner little cubes, and also they cook faster than whole potatoes. Add when you add the cooked potatoes to the dressing the will hold their shape better.
Once you bring the water to a boil, lower the temperature. Once the potatoes start to soften and become tender they can fall apart if the water is bubbling too vigorously. Adjust the heat to keep the water simmering, but not getting to a full boil.
If you have leftover cooked potatoes, however, whether they be roasted or steamed or grilled or whatever, you can still make potato salad from them! They may have a slightly different texture if they were cooked another way, or of course if they are a different type of potato, but potato salads are a terrific way to repurpose leftover potatoes of all kinds.
Summer Salads
Below are a whole bunch of salads, which is such a great way to entertain during summer months. Try the chicken and avocado salad and/or the shrimp tomato and avocado salad. The macaroni salad goes with everything.
Serve this Easy Classic Potato Salad with:
Other Potato Salad Recipes:
Like this recipe? Pin it to your favorite board on Pinterest.

Pin This
Easy Classic Potato Salad
This is a perfect potato salad, all-American and old-fashioned in the best sense of the word.
Ingredients
3

pounds

waxy potatoes

peeled and cut into ½-inch cubes

1

tablespoon

salt

⅔

cup

mayonnaise

1

tablespoon

Dijon mustard

1

tablespoon

red or white wine or cider vinegar

¼

teaspoon

salt

¼

teaspoon

pepper

½

cup

chopped red onion

¼

cup

chopped celery

¼

cup

chopped fresh parsley

2

tablespoons

sweet pickle relish

optional
Directions
Place the potatoes in a saucepan and cover with cold water. Add the salt. Bring to a boil, reduce the heat, and allow the potatoes to simmer until tender, about 10 minutes. Drain

While the potatoes are simmering, in large bowl, mix together the mayonnaise, Dijon mustard, vinegar, salt and pepper. Add the onion, celery, parsley and relish, if using, and stir. Add the drained warm potatoes and toss to coat with the dressing. Cover the salad and wither cool to room temperature or refrigerate for at least 3 hours, or up to 4 days, to cool completely.

Remove from the fridge about 20 minutes before serving to bring the salad to room temperature.
Nutrition Information
Calories:
258
kcal
|
Carbohydrates:
30
g
|
Protein:
4
g
|
Fat:
14
g
|
Saturated Fat:
2
g
|
Cholesterol:
8
mg
|
Sodium:
1150
mg
|
Potassium:
807
mg
|
Fiber:
3
g
|
Sugar:
4
g
|
Vitamin A:
242
IU
|
Vitamin C:
18
mg
|
Calcium:
25
mg
|
Iron:
1
mg
The nutrition values are provided as an estimate. It is not intended as a substitute for the advice of a qualified healthcare professional.
Made this recipe? Post a photo of your delicious creation on Instagram with our hashtag #dinnersolved