Easy Hoisin Shrimp
Put some jumbo or colossal shrimp in front of me and I become a jumbo or colossal glutton. I get a little glassy eyed, and there is a thought bubble over my head that says something complex like "SHRIMPSHRIMPSHIRMP".
Year ago Gary and I went to Las Vegas on a work trip….I was a showgirl, you see, and….NO, I wasn't a showgirl, though as the years creep past I wonder more about what those things would be like, as I struggle my way through a Body Scuplt class. Anyway, NO, it wasn't my work trip, but rather Gary's when he had a job that entailed him going to conferences like the Consumer Electronics Show, which is a convention that is basically like small city of companies showing off their new shiny electronic toys.
Anyway, I decided to tag along on the trip, and we went to a fancy Vegas-style cocktail party before a fancy Vegas-style dinner and there they were: colossal fancy Vegas-style shrimp. Seriously almost the size of my hand, and piled very high. Think lobster tails, but SHRIMP.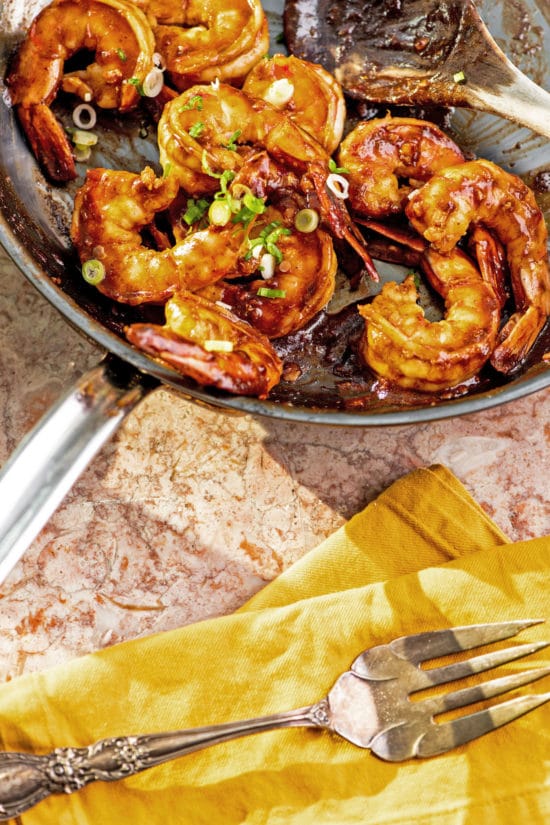 15-Minute Hoisin Shrimp: You won't believe how flavorful these are—and ready in the blink of the eye.

Tweet This
I ate three of them, which doesn't sound like, much, but I'm sure they weighed about 4 ounces each. And then I went to dinner, where I was too full to eat anything else. This is a stupid and embarrassing story, but now you have an understanding of how little self-control I have and how much I love shrimp. I like big shrimp and I cannot lie…..
Quick Shrimp Stir Fry
Now, let's talk about this shrimp stir fry, because perhaps that's what you are actually interested in. It's absurdly flavorful, thanks to the oyster sauce and the hoisin sauce. Make sure to start the rice before you start the shrimp because otherwise your shrimp will be done first, no kidding. This hoisin shrimp recipe is fast, it's flavorful, and it's simple as can be, as long as you have a few very useful Asian pantry ingredients on hand. If you like Asian food, do consider investing in these $3-5 staples—it will open up a whole of fresh fast cooking, and cut your dependence on the take-out Asian food situation.
What Is Oyster Sauce?
Oyster sauce is another thick, savory Chinese sauce or condiment that usually does have oysters involved, though vegetarian versions are available. It has a piquant, rich flavor, and often contains sugar, salt and cornstarch. It can be used as an ingredient, a glaze, or a dipping sauce.
What Is Hoisin Sauce?
Hoisin is a rich, vegetarian Chinese sauce made from starch, sugar, soybeans, white vinegar, garlic, chili peppers. It is used as an ingredient or a dipping sauce, and as a glaze, and its flavor is a bit sweet, a bit spicy, and a bit salty. It's very strong in large amounts. Once you have a jar opened, you will be looking for hoisin sauce recipes like crazy.
More Stir Fry Recipes:
Because there can never be too many stir fries…
Hoisin Sauce Recipes:
And you may also want to know: How to Cook Perfect Rice on the Stove
Like this recipe? Pin it to your favorite board on Pinterest.

Pin This
Hoisin Shrimp
You won't believe how flavorful this shrimp stir fry is —and ready in the blink of the eye.
Directions
Heat the oil in a wok, and add the garlic and shrimp. Stir fry for 2 minutes, until they shrimp are mostly pink on the outside, then add the hoisin sauce, oyster sauce, and orange juice, toss the shrimp until they are well coated with the sauce and cooked through, about 4 minutes. Serve hot, with the rice.
Nutrition Information
Calories:
153.35
kcal
|
Carbohydrates:
4.04
g
|
Protein:
23.54
g
|
Fat:
4.09
g
|
Saturated Fat:
0.42
g
|
Cholesterol:
285.92
mg
|
Sodium:
1131.5
mg
|
Potassium:
108.4
mg
|
Fiber:
0.15
g
|
Sugar:
1.94
g
|
Vitamin A:
11.33
IU
|
Vitamin C:
7.9
mg
|
Calcium:
170.47
mg
|
Iron:
2.47
mg
The nutrition values are provided as an estimate. It is not intended as a substitute for the advice of a qualified healthcare professional.
Made this recipe? Post a photo of your delicious creation on Instagram with our hashtag #dinnersolved