Easy Zucchini Bread
My start in this whole food writing/recipe developing business was on the other side of the desk, as a cookbook editor.  One of the first cookbooks I edited "on my own" (not really, there were some training wheels) was a book called Quick Breads by a talented cook and baker named Beatrice Ojakangas. I worked on a few books with Beatrice, and loved being her editor, in part because I liked saying her last name.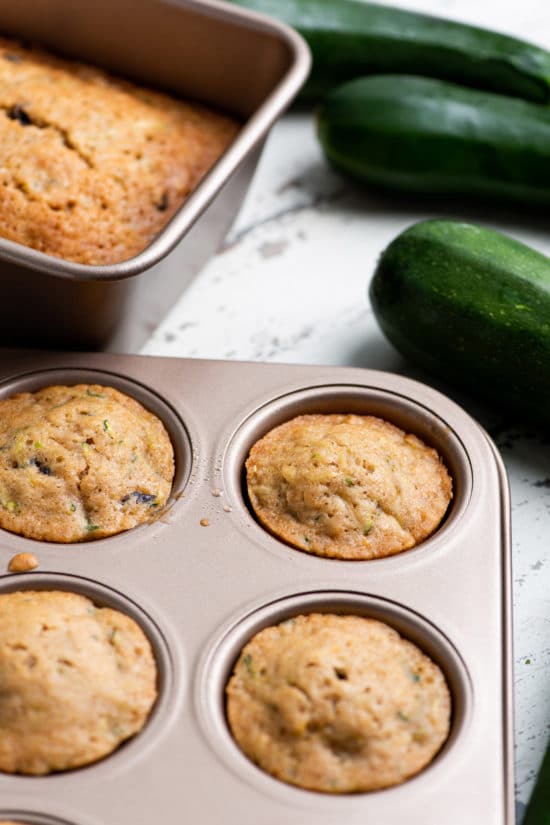 Anyway, it sparked a deep love for quick breads, which are one of the best things to think of when you need a baking project that's quick (yes, Katie, we understand what a quick bread is), satisfying, substantial, and for the most part can stick around and be delicious for a good few days before getting dry or stale.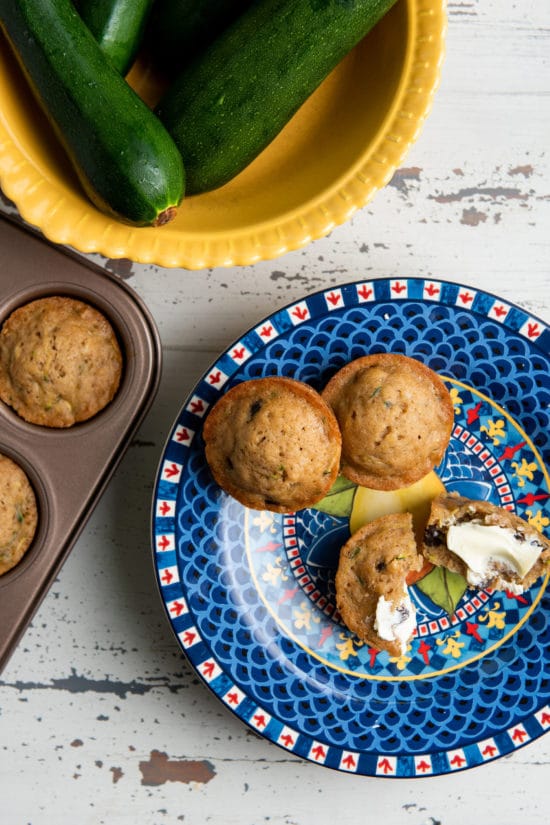 Quick Breads
Quick breads are great kid-cooking projects, they make super gifts over the holidays or for any thinking-of-you moment, they're very portable (wrap it well, and you could even overnight a loaf to a lucky recipient). I have 4 banana bread/cake recipes on this blog alone…..definitely a fan.
And in this particular instance they are probably the best way to make use of the copious amounts of zucchini that erupt from gardens in late summer. And unlike some other recipes where the smaller, more tender zucchini are pretty much all you'd want to use, zucchini bread (or zucchini muffins) is quite forgiving.
Grating Zucchini for Zucchini Bread
If you are using one of the bigger zucchini, just keep two things in mind before you start grating it (and by the way, use the biggest holes on a box grater for this, or you'll end up with watery pulp): check to see if the skin is thick and tough – if so peel it. If not, you are fine to include that in the grating.
Also, grate from the outside of the vegetable in, and stop grating when you get to the middle, which can not only be unpleasantly seedy, but also start to become mushy and/or spongy. If you like you can slice the zucchini in half lengthwise, scrape out the seedy, spongy middle with a spoon, and then grate however you please.
Zucchini Muffins
This recipe can become two zucchini bread loaves, or 24 zucchini bread muffins…. or in this case 12 muffins and one loaf, since I was being indecisive.
So easy and moist—and ready to pop into the oven in less than 15 minutes! This Classic Zucchini Bread recipe makes 2 loaves or 24 muffins!

Tweet This
Too Much Zucchini
My neighbor Ted has this to say about zucchini season: "When I was a kid, it was the only time we ever locked our houses and cars in town. You didn't want to go out, and then come back to find a bag of zucchini left on your car seat or kitchen counter." When they come, the come with a vengeance, and a faster growing vegetable is hard to find. You could wander inside for a glass of lemonade and return to the garden to find that 8-inch zucchini had grown to 9 inches while you were away.
Therefore, zucchini has the well-deserved reputation of too-muchness. They come thundering in, whether it's at the farmers market or in your own garden, and they demand to be used.
The raisins or walnuts are optional, but I love a good raisin in my zucchini bread. You could reduce the sugar to 1 1/2 cups if you like a slightly less sweet zucchini bread.
How Long Will Zucchini Bread Keep?
Zucchini bread will keep, well wrapped, for up to 4 days. You can also wrap it well and freeze it for up to 8 months. Wrap it first in plastic wrap, then wrap it again in aluminum foil. Mark the package as zucchini bread, and add the date. Muffins will keep for a similar amount of time, if wrapped well in a similar fashion. Defrost either on the counter for a day, though muffins may defrost in under 12 hours.
Other Quick Bread Recipes to Try:
More Zucchini Recipes:
Like this recipe? Pin it to your favorite board on Pinterest.

Pin This
Classic Zucchini Bread or Muffins
No such thing as too much zucchini, when you can make these!
Total Time:
1
hour
25
minutes
Ingredients
3

cups

all-purpose flour

1

teaspoon

kosher salt

1

teaspoon

ground cinnamon

½

teaspoon

baking powder

½

teaspoon

baking soda

3

large eggs

1

cup

canola or vegetable oil

2

cups

sugar

2

teaspoons

vanilla extract

3

cups

lightly packed grated zucchini

peel the zucchini if necessary before grating if the skin is tough

1

cup

raisins or chopped walnuts

optional
Directions
Preheat the oven to 350°F. Grease two 8 x 4 inch

loaf pans

, or grease 24 medium-sized

muffin tins

and line with paper liners if you like (or spray either with nonstick spray).

In a medium-sized bowl, combine the flour, salt, cinnamon, baking powder, baking soda, and cinnamon together in a bowl.

Beat the eggs, oil, sugar and vanilla together in a large bowl. Add the zucchini and stir until combined. Add the flour mixture and stir until there are no streaks of flour visible. Stir in the nuts or raisins, if using. Pour the batter into the prepared pans.

Bake the loaves for about 50 to 55 minutes, or the muffins for 20 to 25 minutes, or until a skewer or toothpick inserted in the center comes out clean. Cool in the pan on a wire rack for 20 minutes. Remove the bread or muffins from the pans, and allow to completely cool on the wire rack (or enjoy ever so slightly warm).
Nutrition Information
Calories:
141
kcal
|
Carbohydrates:
29
g
|
Protein:
2
g
|
Fat:
2
g
|
Saturated Fat:
1
g
|
Cholesterol:
20
mg
|
Sodium:
129
mg
|
Potassium:
73
mg
|
Fiber:
1
g
|
Sugar:
17
g
|
Vitamin A:
61
IU
|
Vitamin C:
3
mg
|
Calcium:
12
mg
|
Iron:
1
mg
The nutrition values are provided as an estimate. It is not intended as a substitute for the advice of a qualified healthcare professional.
Made this recipe? Post a photo of your delicious creation on Instagram with our hashtag #dinnersolved