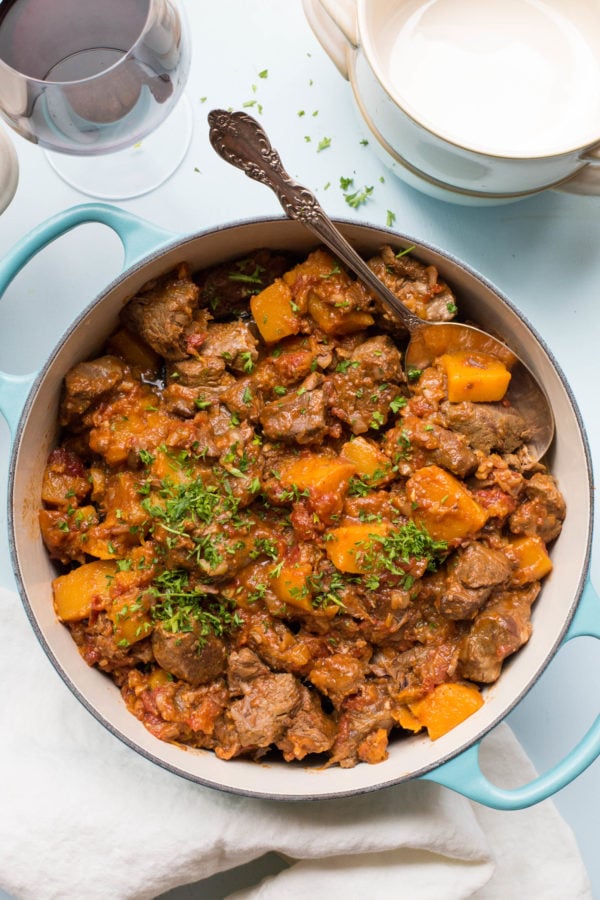 This dish should almost come with a money back guarantee that when a member of your family opens the door he or she will enter saying, "Oh my goodness, what is that incredible smell?" Actually you're not paying for this recipe, so I guess I might as well offer you a money back guarantee. So yes, why not, I promise to return any money you paid me for this recipe if this doesn't happen.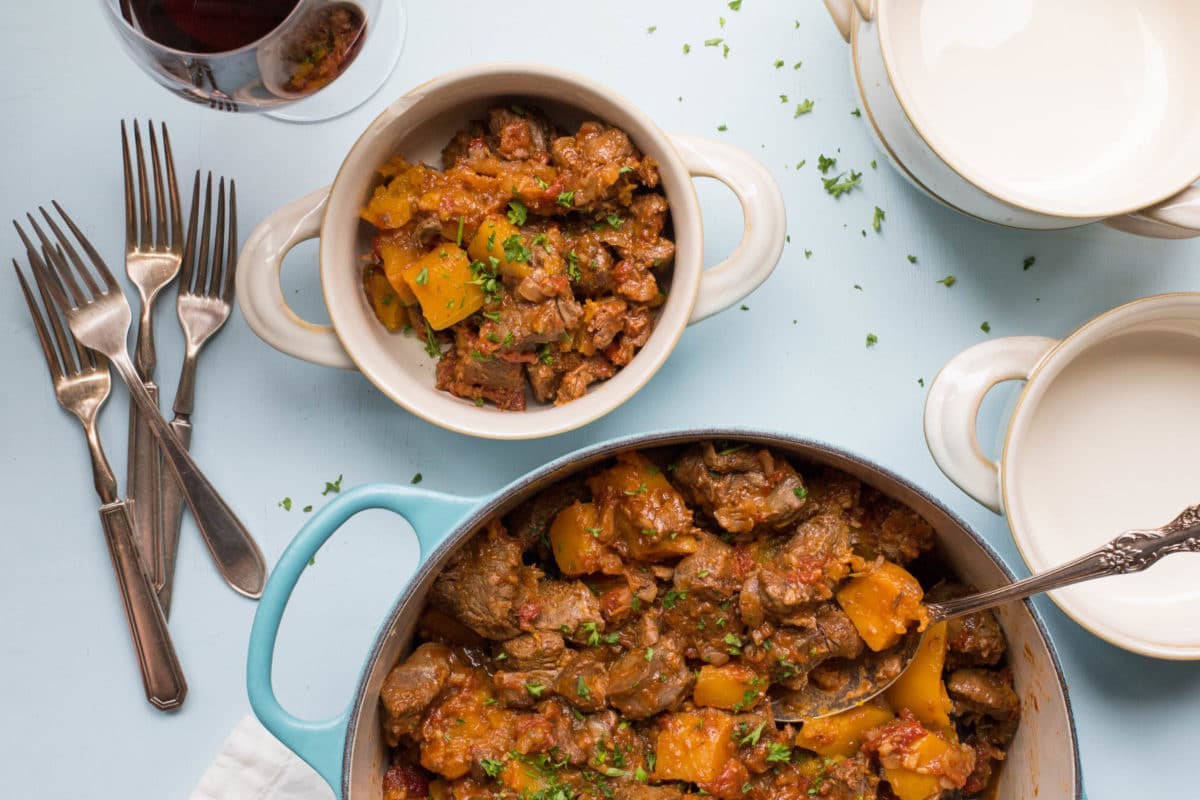 All dopiness aside, get ready for some great smells in your place. And as they say on Game of Thrones, Winter is Coming. I have never watched Game of Thrones, but only know this because you can't not know this and be a sentient member of society at this point.
If you are one of those people who think stews are tricky, 9/10 times it's because you just haven't cooked the meat long enough, or kept the temperature low enough. Most stews call for cuts of meat that are very tough when cooked quickly, or at too-high temperatures, and there's no amount of seasoning or wishing that can change that. Low and slow, low and slow.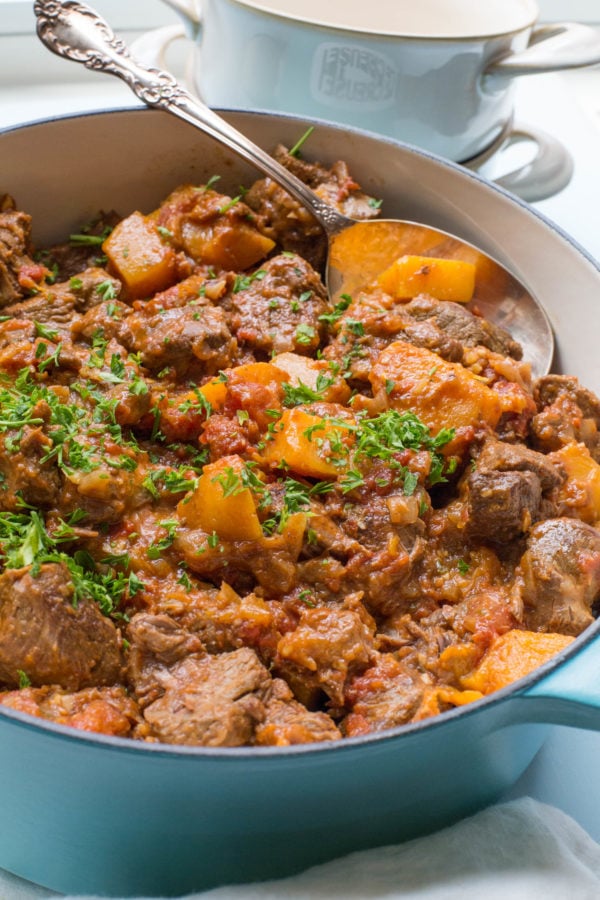 The good news of course is that these cuts of meat, whether beef or pork or lamb, are usually much less expensive than the more tender cuts. Another tip for adding flavor and texture is sautéing the meat in a hot pan with olive oil before you start adding liquid and braising the crap out of the meat.
You can almost always use the same pan that you are going to use to make the stew in, so it's not an added thing to wash. I sometimes use ghee instead of olive oil – a bit of a buttery flavor is added, but the smoking point remains high so the pan won't start to smoke. Ghee is lactose free so you won't have any issues on that front.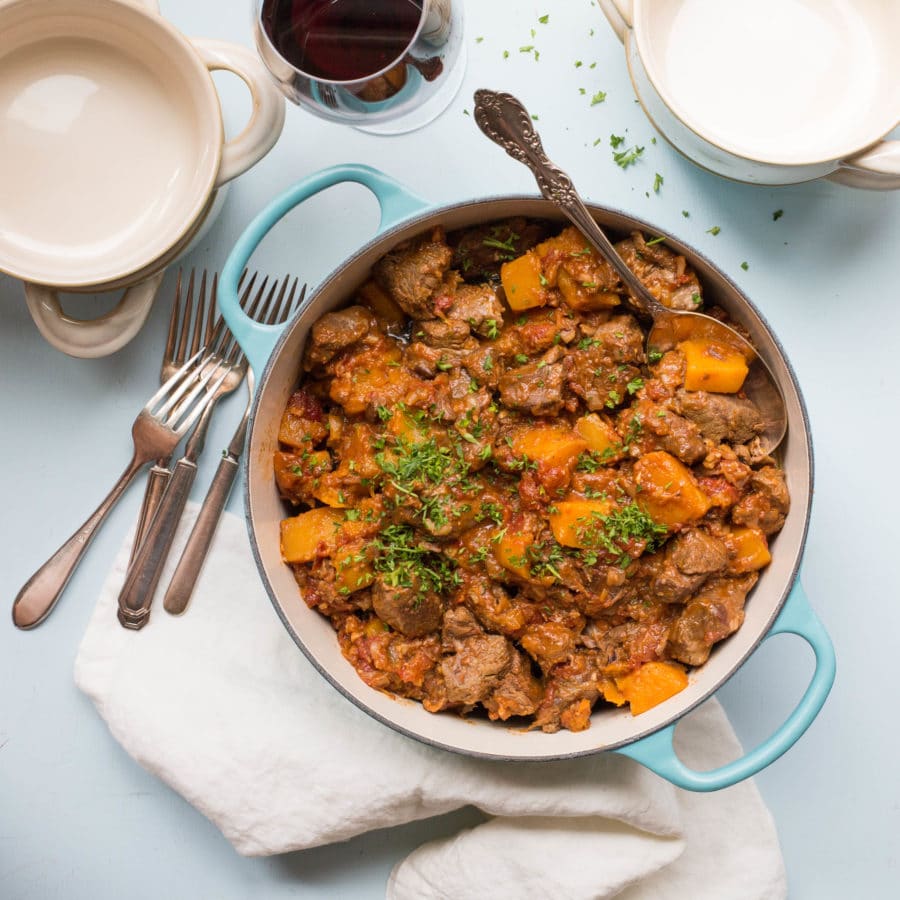 Also many stews, like this one, have the vegetables built right in, so they are classic one pot meals. So when my husband Gary walks in the door, he will not only say, "Oh something smells fabulous," he may also say, "Holy shit, why is the kitchen so clean?" Which is not something he says most nights. Same 9/10 ration, probably.
You can stir the parsley into the stew at the end, or sprinle the parsley on top of the whole thing, or just on the portions of those who don't have issues with green flecks in their food. Find yourself a great looking pot to cook this in, so you can plunk it down on the table, and save yourself washing a serving bowl (by "yourself" I mean "Gary"). I am currently having a fling with my aqua Le Creuset Dutch oven.
Maybe make a salad, but only if you feel like it. You could serve this over mashed potatoes or rice, or just in a bowl on its own.
More Lamb Recipes to Try:
Like this recipe? Pin it to your favorite board on Pinterest.

Pin This
Moroccan Lamb and Butternut Squash Stew
Lovely to come home to on a chilly night (and reheats like a dream).
Total Time:
3
hours
20
minutes
Ingredients
2

pounds

lamb stew meat

cut into 1 1/2-inch cubes

Kosher salt and freshly ground pepper

to taste

1

tablespoon

olive oil

1

large onion

chopped

2

teaspoons

minced garlic

1

tablespoon

grated peeled fresh ginger

1

teaspoon

ground coriander

½

teaspoon

ground cinnamon

¼

teaspoon

red pepper flakes

1

14-ounce can diced tomatoes

with their liquid

2

cups

water

2

cups

cubed butternut squash

about 3/4-inch

½

cup

chopped parsley
Directions
Season the lamb with salt and pepper. In a large pot heat the oil over medium high heat, then brown the lamb on all sides, about 6 minutes in all. Transfer the lamb to a plate with a slotted spoon. Add the onions and garlic to the same pan and sauté for about 5 minutes over medium heat until the onions are tender and lightly golden.

Add the ginger, coriander, cinnamon and red pepper flakes to the pot and stir so that the onion is coated with the spices. Add the tomatoes and the water, return the lamb to the pot, and bring to a simmer over medium high heat. Reduce the heat to medium-low, cover the pot, and keep it at a low simmer for about 2 hours, until the lamb is almost tender. Add the squash and simmer for another 45 minutes until the lamb is very tender and the squash is cooked through.

Sprinkle over or stir in the parsley and serve hot.
Nutrition Information
Calories:
267
kcal
|
Carbohydrates:
11
g
|
Protein:
32
g
|
Fat:
11
g
|
Saturated Fat:
3
g
|
Cholesterol:
98
mg
|
Sodium:
202
mg
|
Potassium:
745
mg
|
Fiber:
2
g
|
Sugar:
3
g
|
Vitamin A:
5063
IU
|
Vitamin C:
18
mg
|
Calcium:
67
mg
|
Iron:
4
mg
The nutrition values are provided as an estimate. It is not intended as a substitute for the advice of a qualified healthcare professional.
Made this recipe? Post a photo of your delicious creation on Instagram with our hashtag #dinnersolved