This post may contain affiliate links. Please read our privacy policy.
Cooking Pumpkins
Maybe you've been lured in by some of the fabulous seasonal produce at a farmers market. Maybe you've joined a CSA. Maybe you've heard good things about cooking with fresh pumpkins, or tried a dish – savory or sweet—with fresh pumpkin at a restaurant and you'd like to give cooking with pumpkin a shot, especially for the holidays.
And maybe you don't know exactly how to cook (or shop for, or store, or prepare) fresh pumpkins. Fair enough….let's fix that!
More on potentially confounding produce here:
---
What Pumpkins Are Best for Cooking?
Make sure you are starting with a pumpkin that is meant for cooking, not carving. You know you are on the right track if you see pumpkins labeled "pie pumpkin," or "sugar pumpkin."
More specifically, look for varieties like Cinderella, Baby Bear, Baby Pam, New England Pie Pumpkin, Long Pie or Nantucket Pie, Fairy Tale, and the white Lumina pumpkin. The flesh (other than the white varieties) will usually be a rich orange color and have a smooth texture. Some of the shells will be tougher than others to cut through; use a large, sharp knife and work carefully.
Not all pumpkins are going to yield satisfactory results when it comes to cooking with them. Many pumpkins, especially the larger ones, have flesh that is stringy and watery, and don't make for such a great eating or baking experience. Save those for Jack-O-Lanterns.
How Do I Know Which Pumpkin to Buy?
See above for varieties of pumpkins that are best for cooking. Then pick a pumpkin somewhere around 4 to 7 pounds; this is just an average, though there are some good cooking varieties that run smaller or large; this is just an average. A few dings or dents don't matter, just don't choose any pumpkins that are soft.
What Does Fresh Pumpkin Taste Like?
If you've ever had a pumpkin pie, then you probably have some idea, though most pies are made with canned pumpkin (perfectly great product – more on that below!) and of course in pumpkin pie you are also tasting the sugar and warm spices added to the filling.
There are subtle flavor differences between the various varieties of pumpkin, but on the whole fresh pumpkin tastes much like a winter squash, such as butternut or acorn, possibly a bit sweeter. Roasting a pumpkin intensifies the natural sweetness the most of all of the cooking methods.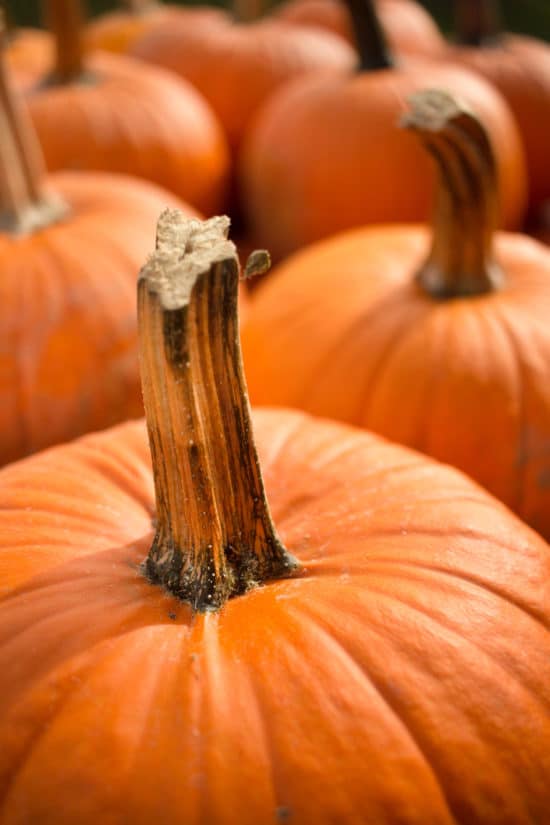 How Do I Cut Up a Pumpkin?
Know that the skin is usually very thick and often hard, and you need to use a very sharp knife and be careful. Depending on how you are going to use the pumpkin, you may be cutting it into pieces for roasting and leaving it in the shell, or cutting it into pieces and removing the rind.
If you need to remove the skin, or "peel" the pumpkin, and keep it uncooked in the process, then you need to work with a very sharp knife and a lot of focus. See below for how to use the microwave to soften a pumpkin and peel it more easily.
Cut the pumpkin in half through the stem and clean out the seeds and fibrous gunk using a sharp spoon or an ice cream scoop. Make sure to use a spoon with sharp edges, such as a metal spoon, to scrap out all of the pulpy stringy insides including the seeds.
Place each pumpkin half cut side down on a cutting board and use a sharp knife to slice off two flat panels from the shell, one slice removing the root end, and one slice removing the stem end.
Sit the pumpkin upright on one of these newly flat sides and slowly working your way around, slicing off the sides of the skin of the pumpkin, following the shape of the pumpkin as best you can. You will lose a bit of the flesh as you go, there's no way around that. Then the peeled pumpkin flesh will now be ready to be sliced or cubed or whatever you want for your recipe.
How Do I Peel Pumpkin in the Microwave?
You can use the microwave to make pumpkin peeling a bit easier. Cut the pumpkin into large chunks, or in half if it is on the smaller size, making sure that the pieces can fit in the microwave. Scrape out all of the seeds and gunk with a sharp spoon or ice cream scoop.
Place the pieces of pumpkin in a shallow microwave safe dish or plate, as many as can easily fit, with a thin layer of water at the bottom of the dish.
You can microwave the pumpkin for about 6 minutes, checking after around 4 minutes, until the skin and flesh have softened somewhat. Let it cool until cool enough to handle then use a sharp knife or even a vegetable peeler to remove the skin – this will be easier than peeling off the shell from an uncooked pumpkin.
If you are planning to puree the pumpkin you can continue cooking it in the microwave until the flesh is completely soft, which might take up to 20 minutes, possibly longer if the pumpkin is very dense or thick. Check every 3 minutes or so after 15 minutes. When a knife slides into the skin easily, it's done.
Use a knife to remove the skin, or just scoop out the flesh from the shell when it is cool enough to handle.
How Do I Cook Fresh Pumpkin in the Oven?
If you are planning to cook and then puree or mash it, then you can bake it in the shell, which is the easiest method of cooking pumpkin (or see above for microwave cooking instructions).
Preheat the oven to 375°F, line a rimmed baking sheet with foil and spray it with nonstick spray. Cut the pumpkin in half vertically. Scoop out the seeds and stringy interior scraping to get all of the gunk out (save the seeds for roasting), place the pumpkin halves cut side down on the prepared baking sheet. Bake for about 1 1/2 hours, then remove and allow the pumpkin to cool to room temperature.
How Do I Make Fresh Pumpkin Puree?
Preheat the oven to 375°F. (Alternately you an use the microwave method which follows). Cut the pumpkin into chunks (make sure to remove all fibers and seeds). Line a baking pan with a lid (or have extra aluminum foil at the ready) with aluminum foil, and lightly spray with nonstick spray or lightly brush with vegetable oil. Place the pumpkin pieces skin side up on the prepared baking sheet. Cover the pan with the lid, or with aluminum foil, crimping the foil to create a seal over the pan.
Roast for 1 to 1/2 hours until the pumpkin is tender. Let cool until cool enough to handle. Scoop the flesh from the rind and place it into a food processor or blender, in batches if necessary. Process until smooth, or as smooth as desired. You can also use a food mill for this.
Line a fine mesh sieve with a double layer of 100% cotton cheesecloth (or make sure that our cheesecloth is double layer thickness). Add the puree to the sieve, place the sieve over a bowl, and allow to stand for 2 hours until any excess water has drained off. Press down on the pumpkin light to press out any remaining water, and then proceed with your recipe.
What is the Difference Between Fresh Pumpkin and Canned?
Cooked fresh pumpkin is usually a bit lighter in color and texture than canned. It might be a bit more watery, though if you puree it and let it drain in a sieve it will thicken up. Fresh pureed pumpkin also may be a bit less sweet. When pureed and drained it can be substituted cup for cup.
How Much Pumpkin Puree Will a Pumpkin Yield?
A 3-pound cooking pumpkin will yield about 2 cups of drained puree. A 5 to 6-pound pumpkin will yield about 3 cups of drained puree – the yield will depends on the variety of pumpkin. Some pumpkins have thicker shells, others have more flesh or meat.
How Do You Use Fresh Pumpkin?
You can use fresh pumpkin pretty much in as many ways as you can use fresh winter squash, such as butternut. You can also use fresh pumpkin in savory and sweet recipes instead of squash, whether it's pureed in a soup, or cubed and cooked and used in salads, pasta dishes, casseroles, soups and stews. Squash can be sautéed, roasted, steamed, simmered in liquid, and baked.
Can You Substitute Fresh Pumpkin for Canned?
Yes, you can substitute fresh for canned cup for cup. If you can allow time for fresh cooked pumpkin puree to sit in a fine mesh sieve lined with cheesecloth for a couple of hours at room temperature to drain off excess water, then you will have a condensed puree, more similar to the texture of canned.
If you want to use pureed pumpkin in a soup, you might skip the draining step, but use slightly less additional liquid to make the soup.
Is Canned Pumpkin as Good as Fresh?
Even though it's a nice treat to use fresh pumpkin, plain canned pumpkin is really a great product. Unless it's labeled Pumpkin Pie Filling, it's usually just cooked pumpkin with nothing added (check the ingredients – it should just say "Pumpkin"). So when pureed pumpkin is called for either one is fine, though draining pureed fresh pumpkin will give you a texture closer to canned.
How Much Pumpkin is in One Can?
One 15-ounce can of pumpkin holds about 1 cup and 14 tablespoons (just shy of 2 cups) of pumpkin puree.
How Do I Store Fresh Pumpkin?
A whole fresh pumpkin can last anywhere from 1 week to 1 month stored at cool room temperature. If it starts to become soft in spots, it's past its prime.
Cooked fresh pumpkin can be stored tightly sealed in the refrigerator for up to 3 days, or frozen in an airtight container or freezer proof zipper top bag for up to 6 months.
When Is Pumpkin in Season?
Pumpkins are usually harvested in September and October in the US.
Is Pumpkin Nutritious?
Pumpkins are rich in Vitamins A and C, beta-carotene, iron and potassium, the antioxidant lutein, and have lots of fiber. One cup of cooked pumpkin has about 50 calories. The seeds have protein, omega-3 fats, and some minerals.
---
Pumpkin Recipes
Try pumpkin in these recipes! Substitute for sweet potato or butternut squash where appropriate. Some of these recipes also call for canned pumpkin, but you can use your own fresh purée.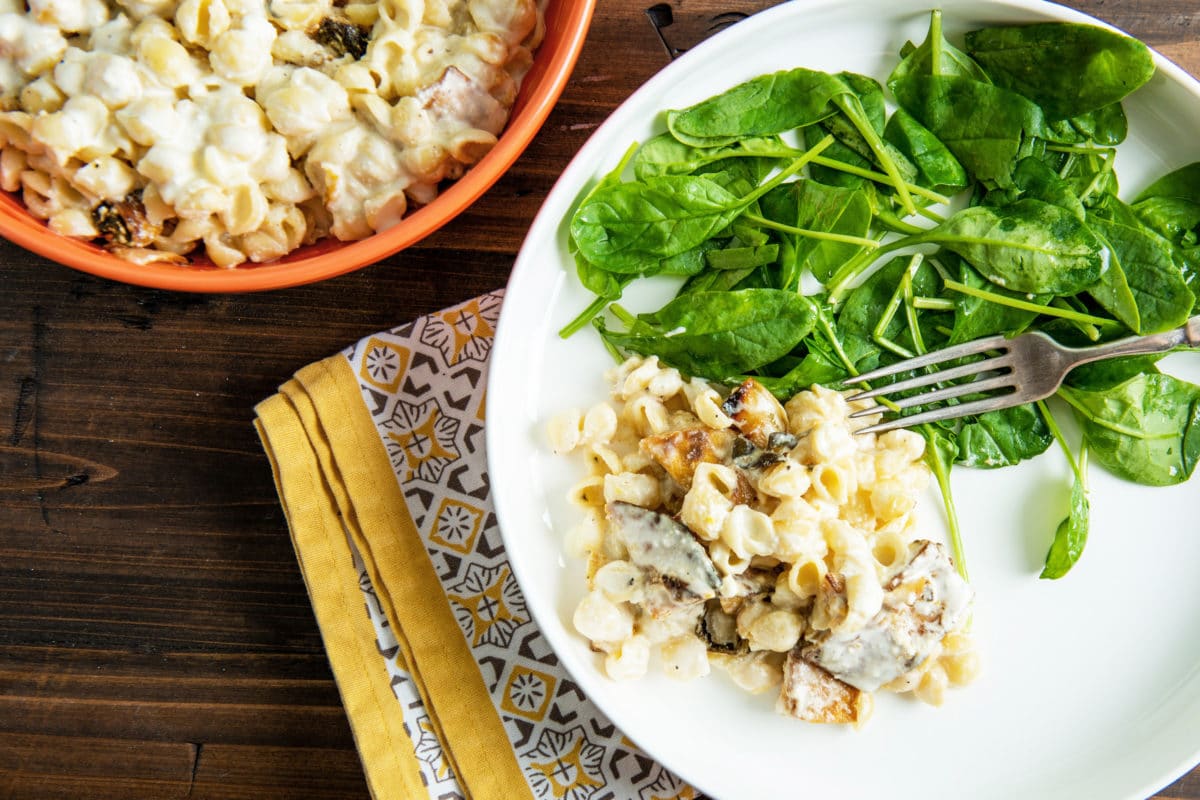 Pretty, satisfying, cold weather comfort food
---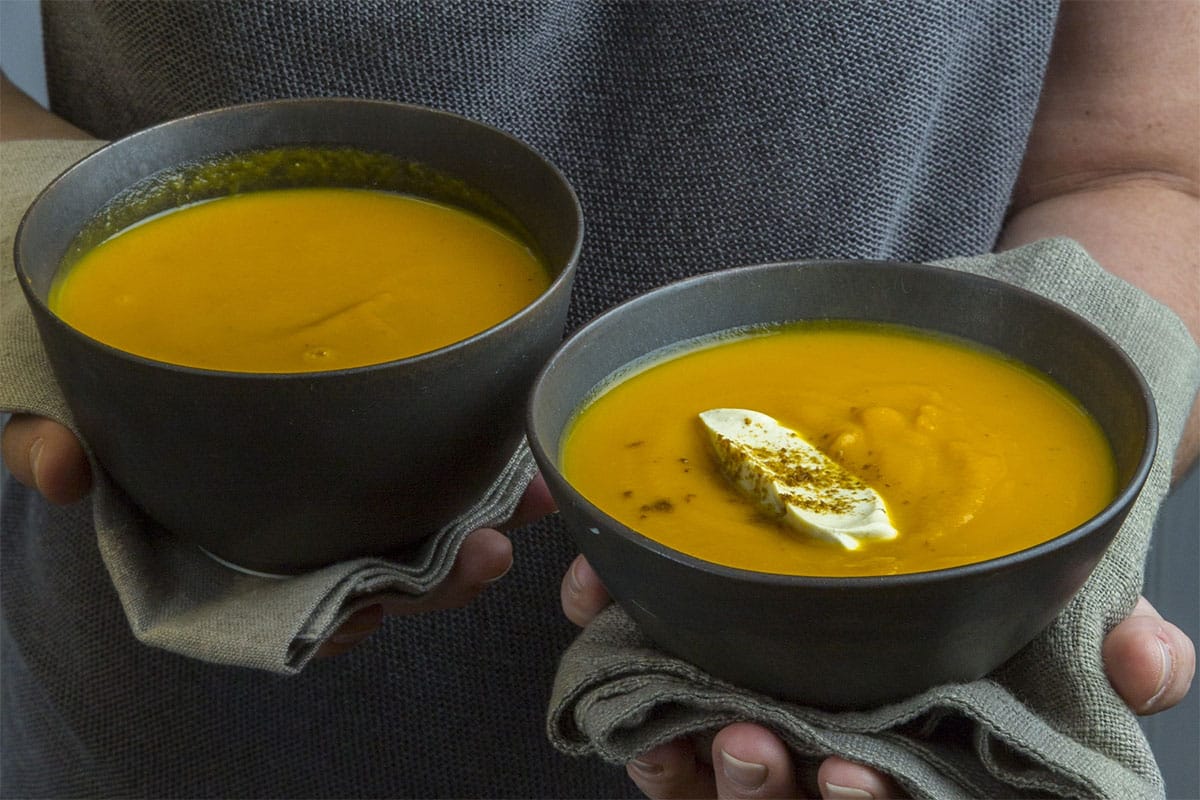 Creamy, comforting, earthy, warming, silky, and gorgeous, this butternut squash and carrot soup with Indian-inspired spices is a must-make recipe.
---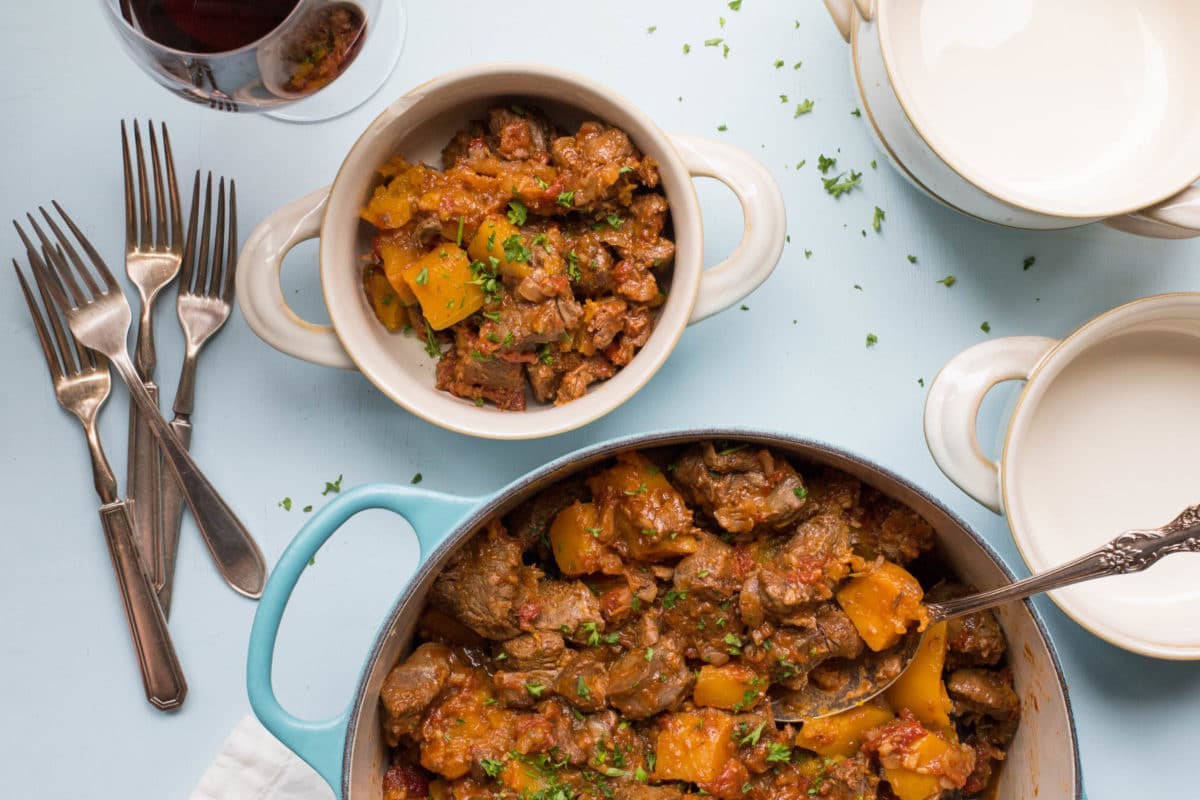 Lovely to come home to on a chilly night, this lamb and butternut squash stew reheats like a dream.
---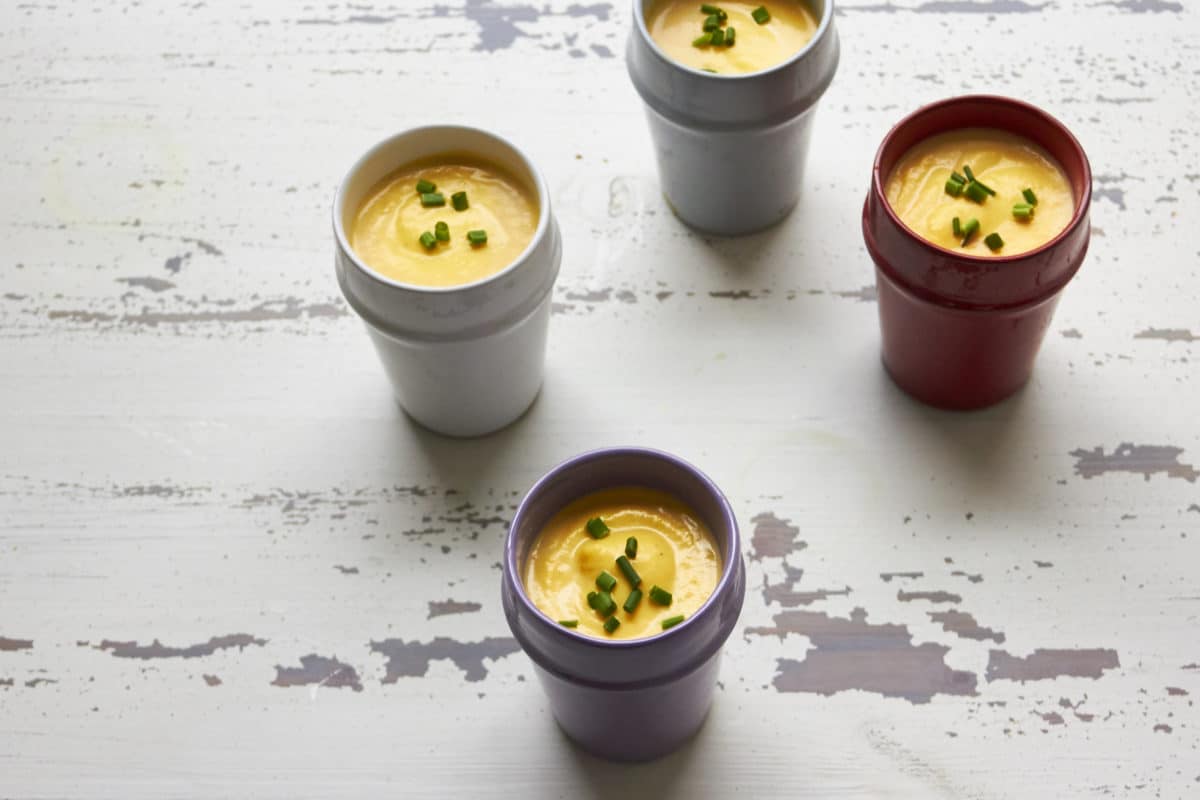 Sauteed fennel and onions add lovely layers of flavor to this cold-weather soup.
---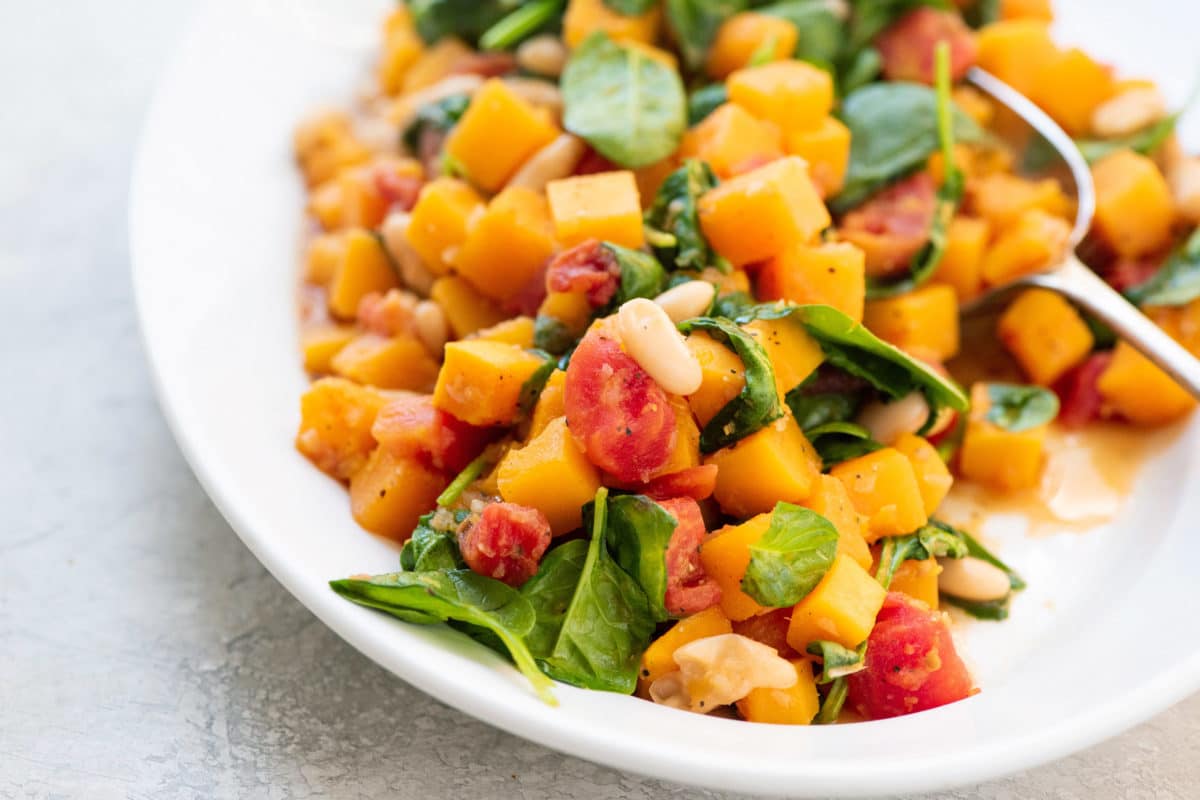 A vegan ragout recipe that's healthy and satisfying, plus a serious dose of good-lookingness (which is now officially a word).
---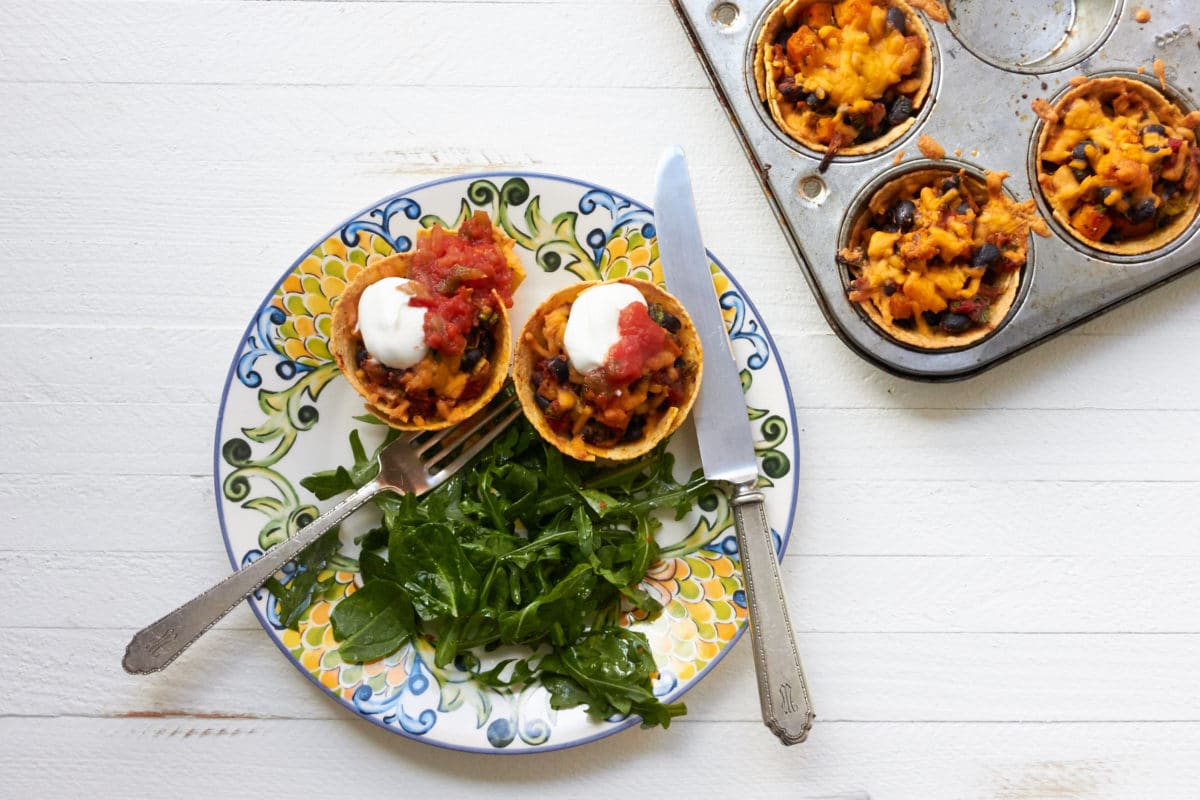 While I am never about cuteness in food for cuteness' sake, in this particular case it really works.
---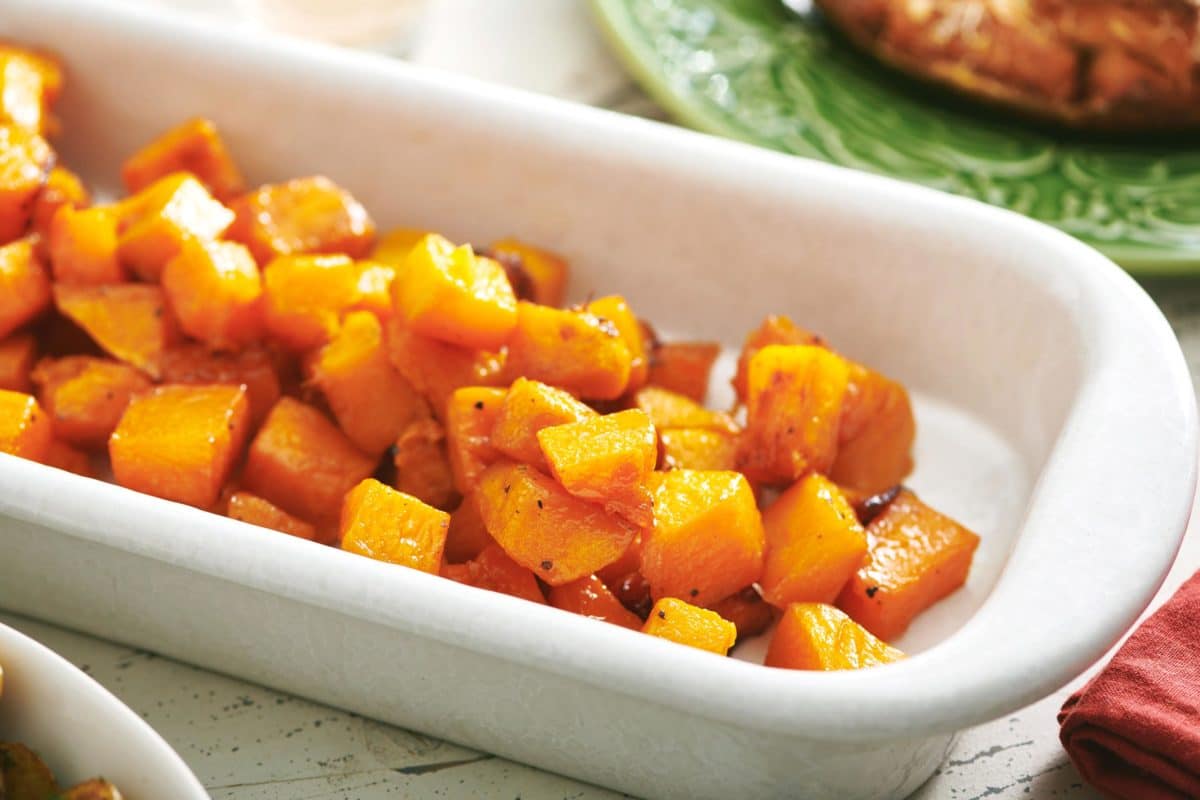 Caramelized and beautiful – the perfect addition to any fall or holiday table.
---
Do you like pumpkin pie? Then you'll like this.
---
Spoon bread is a soft and comforting sweet potato casserole perfect for holiday meals.
---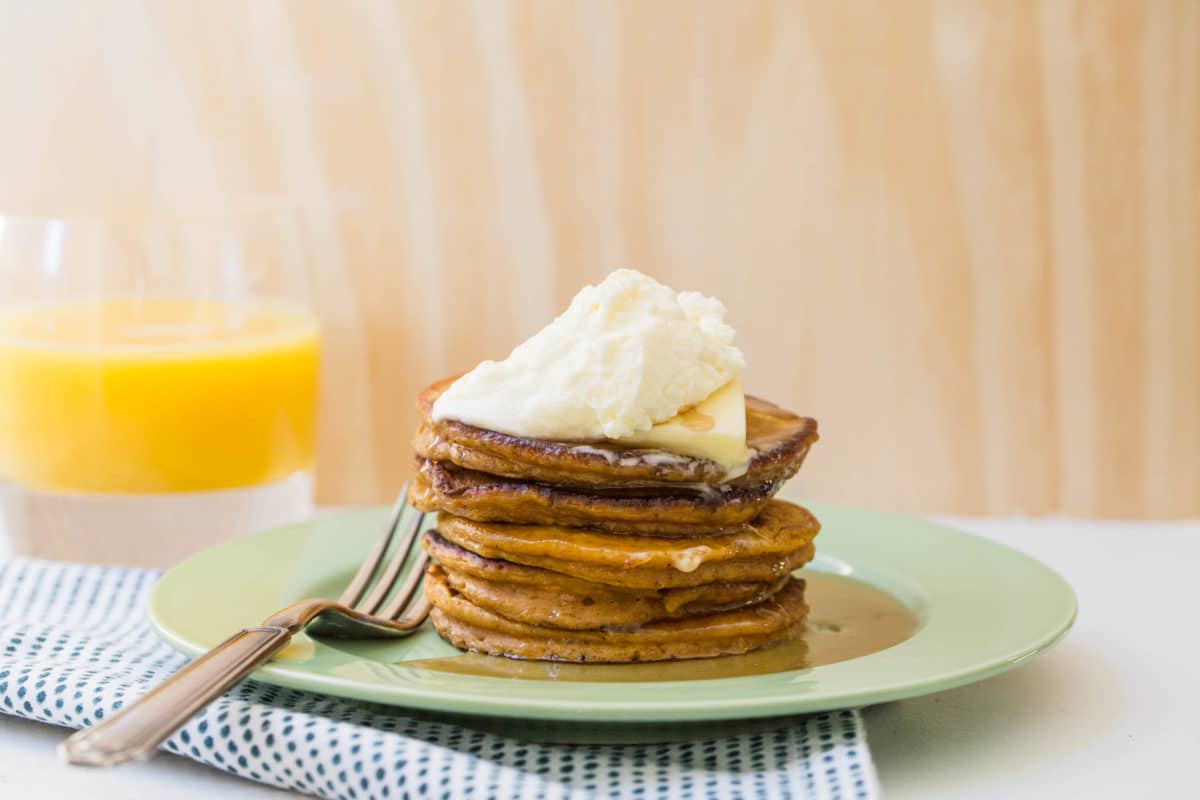 A great way to make use of that extra can of pumpkin
---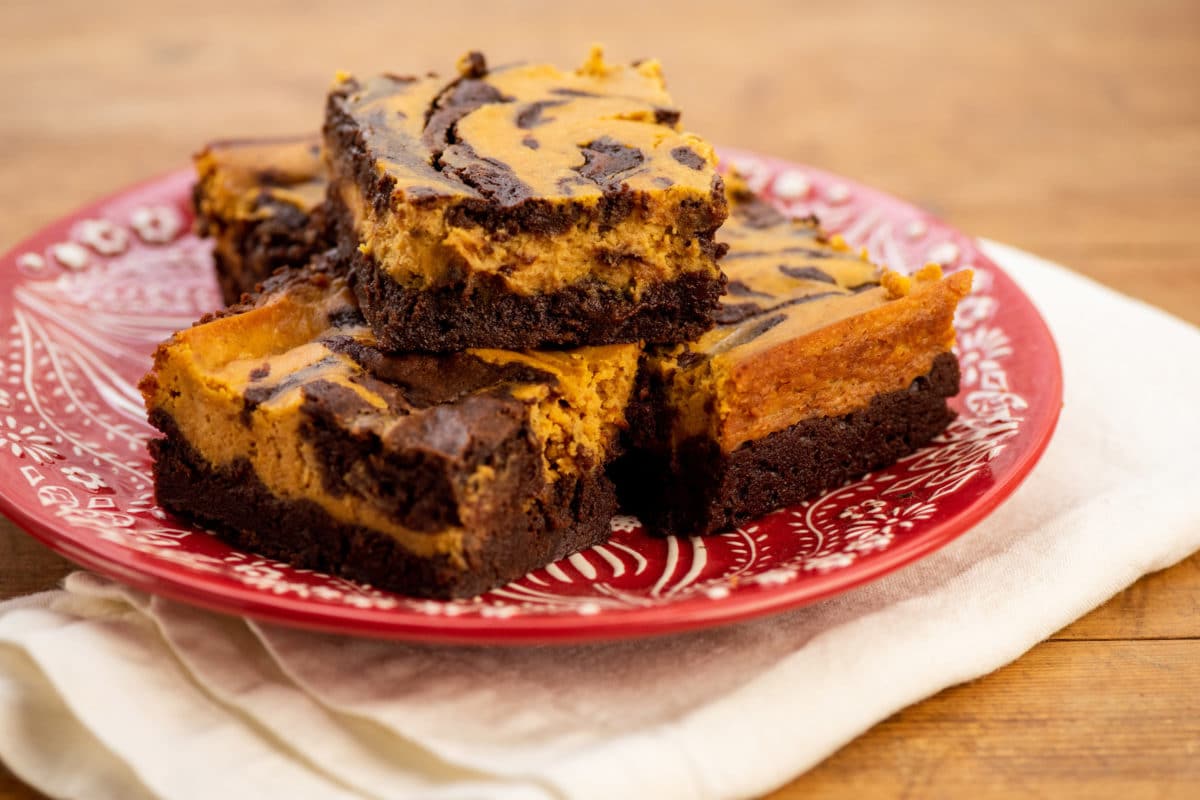 What's orange and brown and chocolatey all over?
---
This deliciously moist pumpkin bread takes all of 10 minutes to get into the oven.
---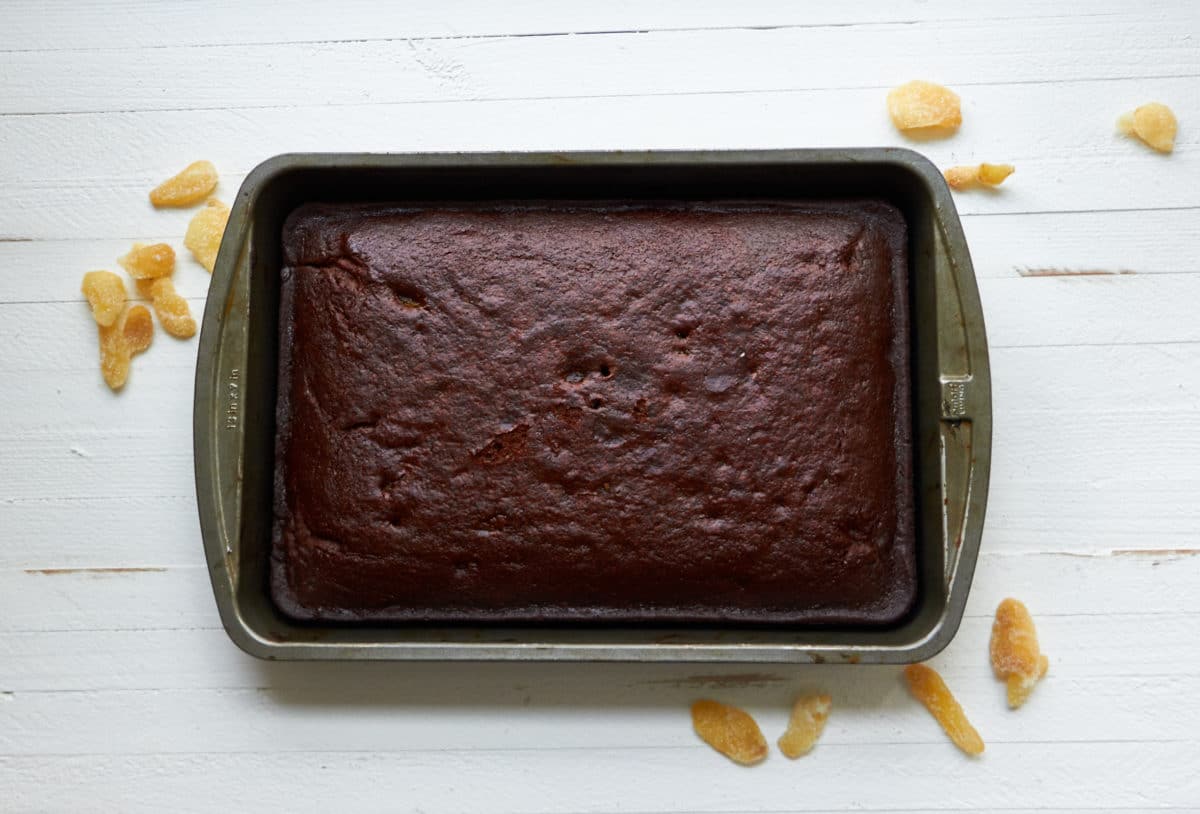 Ginger, molasses, pumpkin – if you want your house to smell like the holidays, this is the recipe for you.
---