This post may contain affiliate links. Please read our privacy policy.
When it comes to leafy salad bases, radicchio is delicious. Radicchio certainly can be used in a "lettuce"-way, but it actually is much more versatile than your typical lettuce. The Italians know this well and have been grilling, roasting, and cooking it for centuries.
I like to either tear my radicchio or sliver it for salads. Wedges are great for grilling and roasting, and bite-sized pieces are more conducive for sautéing. In classic, simple Italian cooking, it can be grilled or roasted in chunks or wedges, then topped off with a little fresh Parmesan and a drizzle of good balsamic vinegar. This is a perfect side dish to many meats, from Bourbon Brown Sugar Pork Loin to Chicken Francese.
Radicchio can also stand up well with other ingredients that help highlight and complement its bitter flavors, such as citrus, bacon, capers, walnuts, and different cheeses. It can also be added to soups and stews, like this Chicken and Rice Soup or Instant Pot Mediterranean Lamb Stew.
What Is Radicchio?
Radicchio, although often thought to be a colorful red lettuce or cabbage, is actually a type of chicory (leafy vegetable family). It has a bitter taste and gets most of its fame in Italian cooking, where they grow at least 15 varieties, most named after the regions where they originate.
But here in the U.S., it isn't as popular, and usually, we can find one main variety called radicchio di Chioggia (originated in Chioggia, Italy, but is now mostly grown in California for U.S. purposes). Another variety in the U.S. markets (albeit not as common) is Treviso, which tastes a little more delicate and less bitter.
What Does Radicchio Look Like?
Chioggia radicchio does indeed look like a small reddish-purple cabbage or head of lettuce. The leaves are fairly thick (slightly cabbage-like), and they have white veins and are tightly formed in a round (sometimes elongated) head. The smaller the radicchio head, the thinner and less bitter the leaves.
Treviso radicchio is elongated, and its shape looks more like that of romaine lettuce.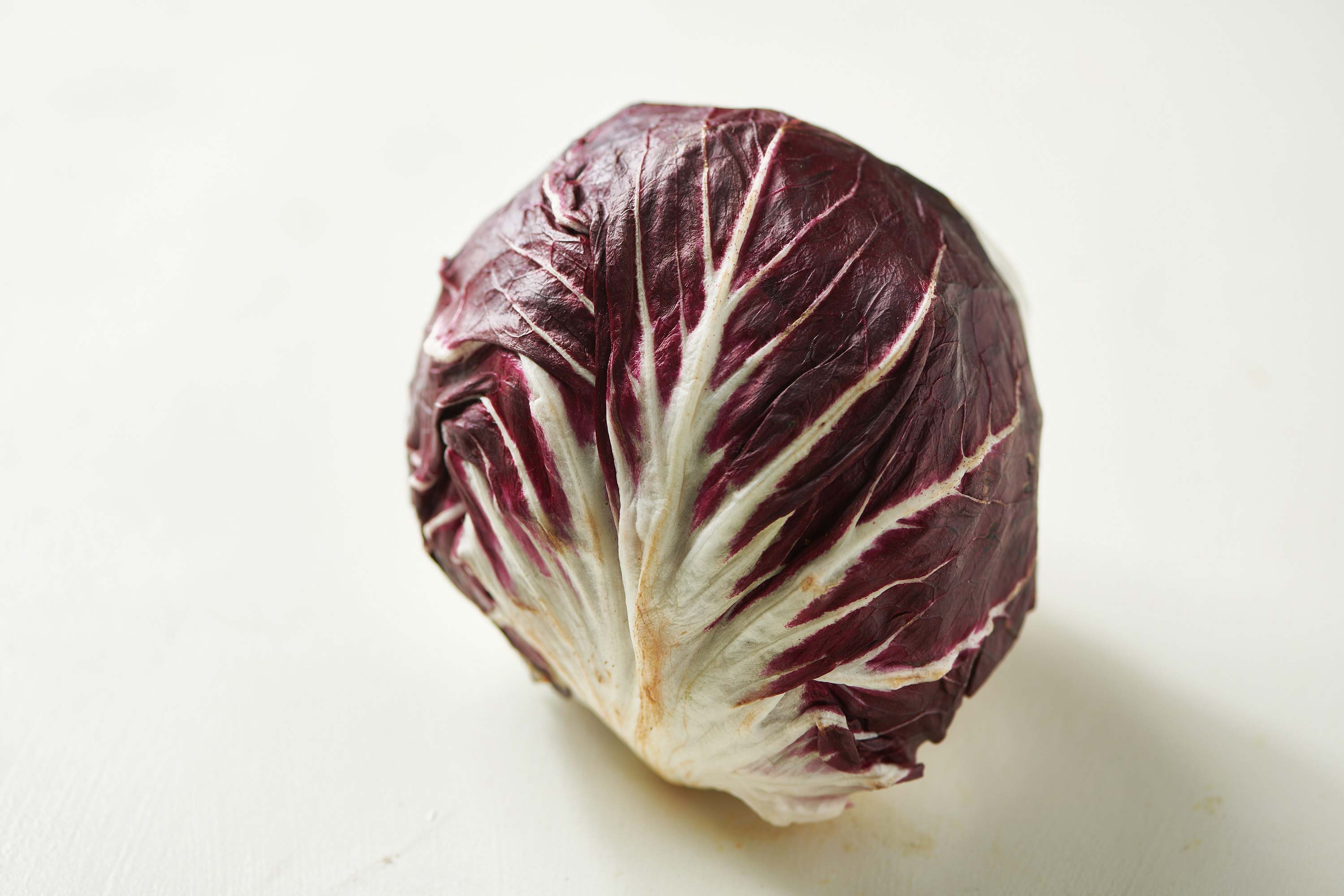 What Does Radicchio Taste Like?
I find people either love radicchio or hate it…or just have never tried it. It has a bitter taste, almost spicy at times. When cooked, it mellows in flavor. Radicchio leaves are crisp with a bit of density that gives a bit of chewiness.
Its best substitute is either endive (a little milder in flavor and different in color) or dandelion greens (similar in taste although very different in look and texture). Treviso radicchio and some other Italian varieties are a little more delicate and less bitter than the more common Chioggia.
Types of Radicchio
There are many types of radicchio, but a lot of them are hard to find. But seriously, if you can, seek them out — not only are they delicious, they are GORGEOUS.
Look for Variegato Radicchio, Rosso Tardivo Radicchio, Rosa di Padova Radicchio, and La Rosa di Veneto Radicchio, all of which have different colorings, shapes, textures, and tastes. A salad made with an assortment of different kinds of radicchio is simply stunning.
Where to Find Radicchio
Typical Chioggia radicchio is generally found in most supermarkets in the produce section year-round. The Treviso variety, and others, can be more difficult to find and often can be found in specialty markets.
How to Pick the Best Radicchio
Like any produce, a head of radicchio should be bright in color, crisp, and free of any damage or bruises. The leaves of radicchio should be thick and tightly bound — if the outer leaves are a little limp, simply remove them and make sure what is under is ideal.
How to Prepare and Cook Radicchio
For almost all recipes using radicchio, preparation is quite simple.
Discard damaged goods: Throw out any wilted or damaged outer leaves.
Wipe it down: Wipe the head with a damp paper towel. (Because the head is so tightly wrapped, the inner leaves usually are free of dirt.)
Chop it up: Next, it is just a matter of cutting it into shapes and pieces desired for whatever recipe you are doing!
Thinly sliced or ripped pieces of radicchio are often added to lettuce mixes for salads. The Italians have cornered the market on recipes using radicchio to its fullest potential; grilling, roasting, and sautéing really highlight this vegetable. It is almost always cooked with olive oil, whether sautéed or roasted.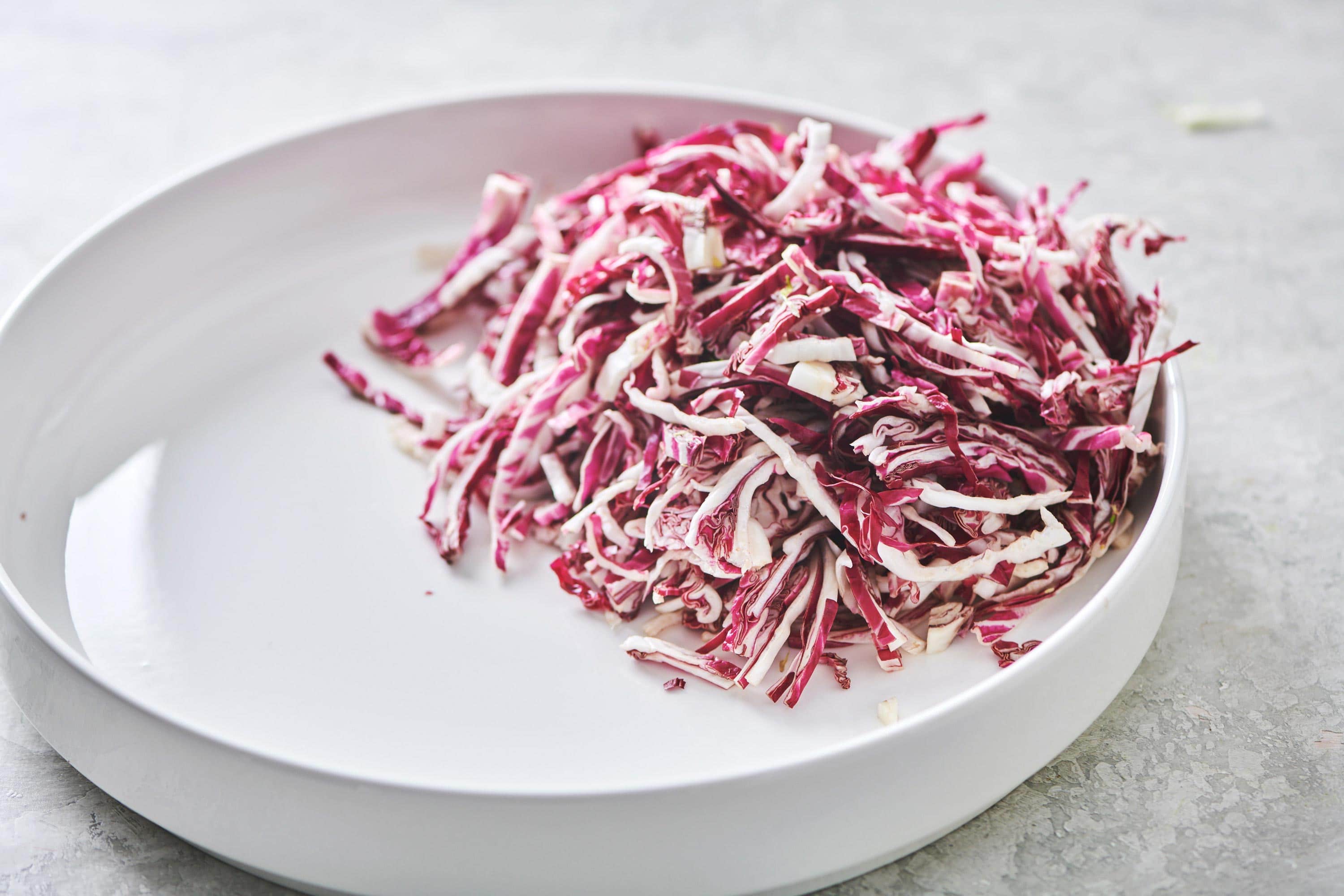 How to Store Radicchio
The best way to store radicchio is unwashed and in a bag in the vegetable bin in your refrigerator. If stored like this, it will last 4 to 5 days.
Washing the leaves before storing tends to encourage the growth of mold and bacteria, so don't wash it until just before preparing. If your head or leaves are looking a little limp, you may be able to revive them by soaking them in an ice bath for about 10 minutes.
FAQs
When is radicchio in season?
Radicchio can generally be found year-round, but its peak season is midwinter to early spring.
Is radicchio nutritious?
Radicchio has a high nutrient profile. According to Healthline, radicchio offers lots of fiber (digestion), potassium (regulates nerve signals and muscles), calcium and Vitamin K (good for the bones), a range of the Vitamin B's (good for metabolism), and Vitamin C (good for immunity and gut health).
How do you make radicchio less bitter?
It's true — sometimes radicchio can end up tasting pretty bitter if you don't treat it right. There are tricks to limit that bitterness, though.

To make radicchio less bitter, start by cutting off the outer leaves of your radicchio. Next, separate the individual leaves, cut them into pieces, and dunk all of them into a bath of ice water for up to thirty minutes. After a nice soak, the leaves should still be crispy, and they'll be a little less bitter, too!
---
6 Radicchio Recipes
Here are some recipes that use radicchio.
The perfect sophisticated nibble to serve with cocktails, and so easy to make.
---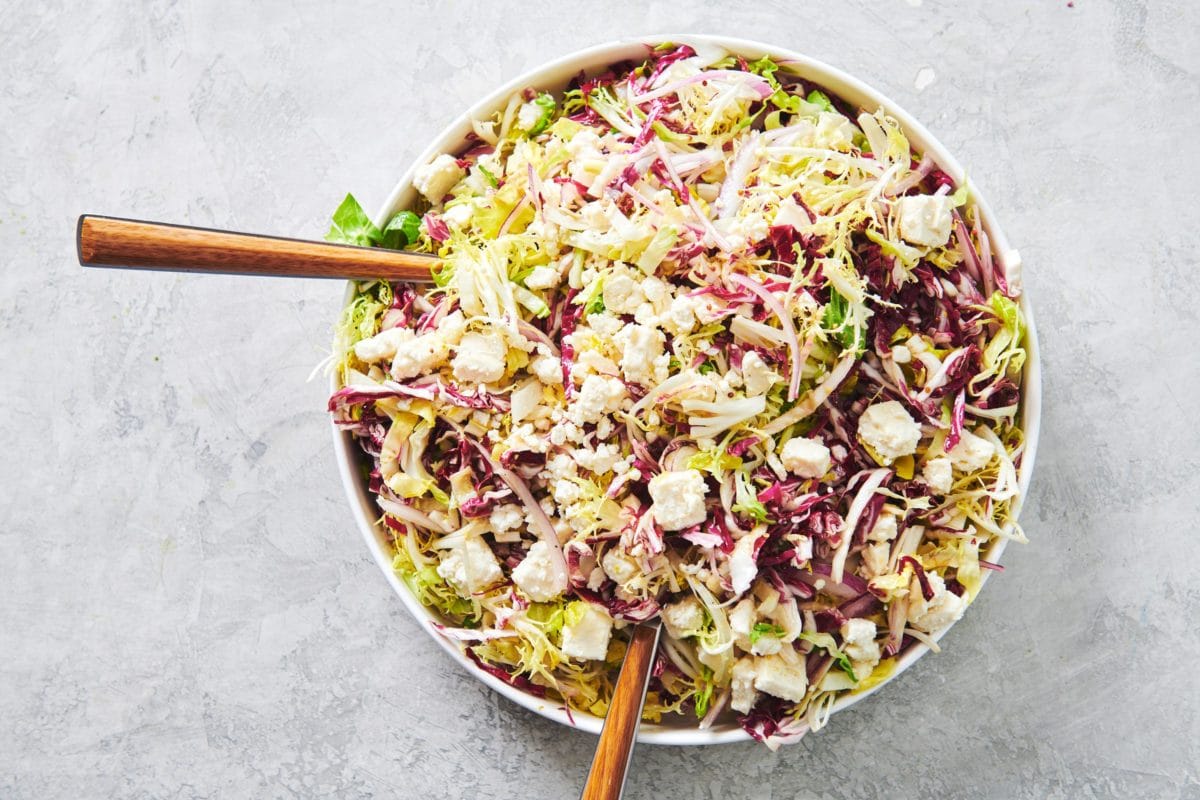 When you are serving up a rich main course a bitter greens salad is the most amazing counterpoint.
---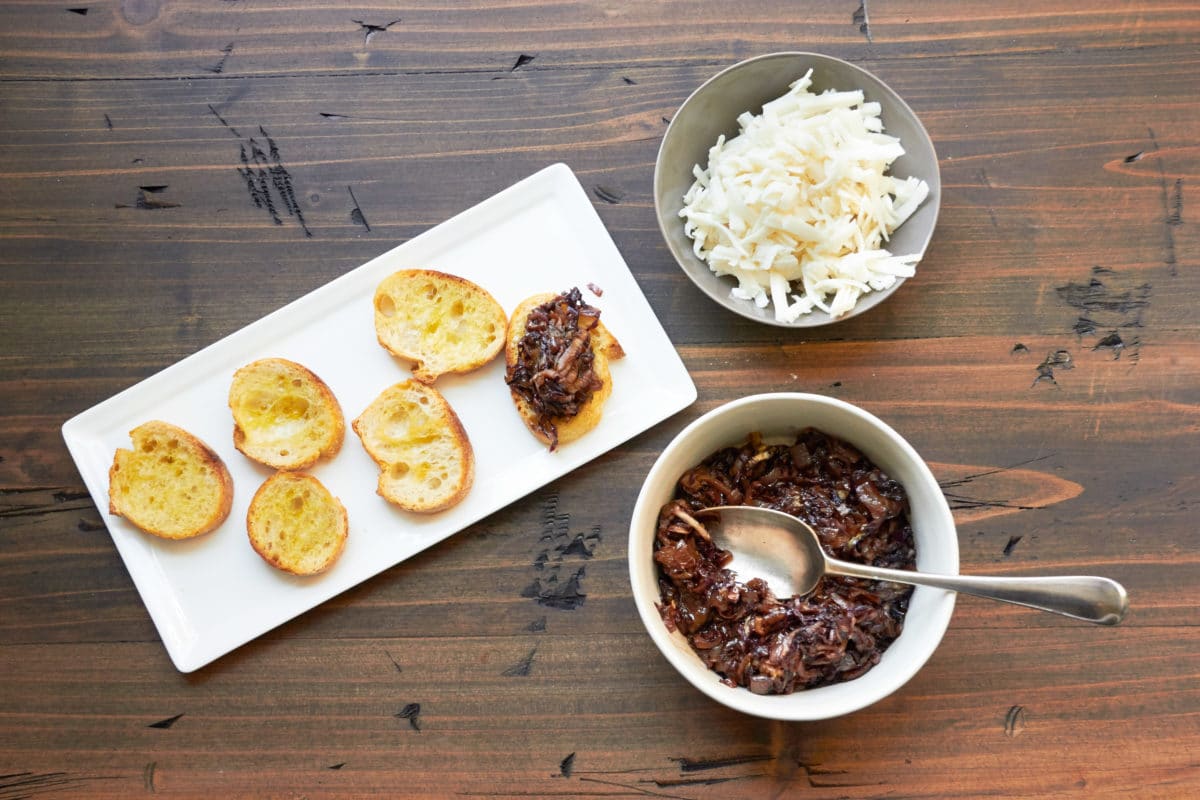 Slightly bitter lettuces turn into a sweet topping with a bit of balsamic glaze.
---
Dinner feeling a little drab? Add this burst of color and flavor.
---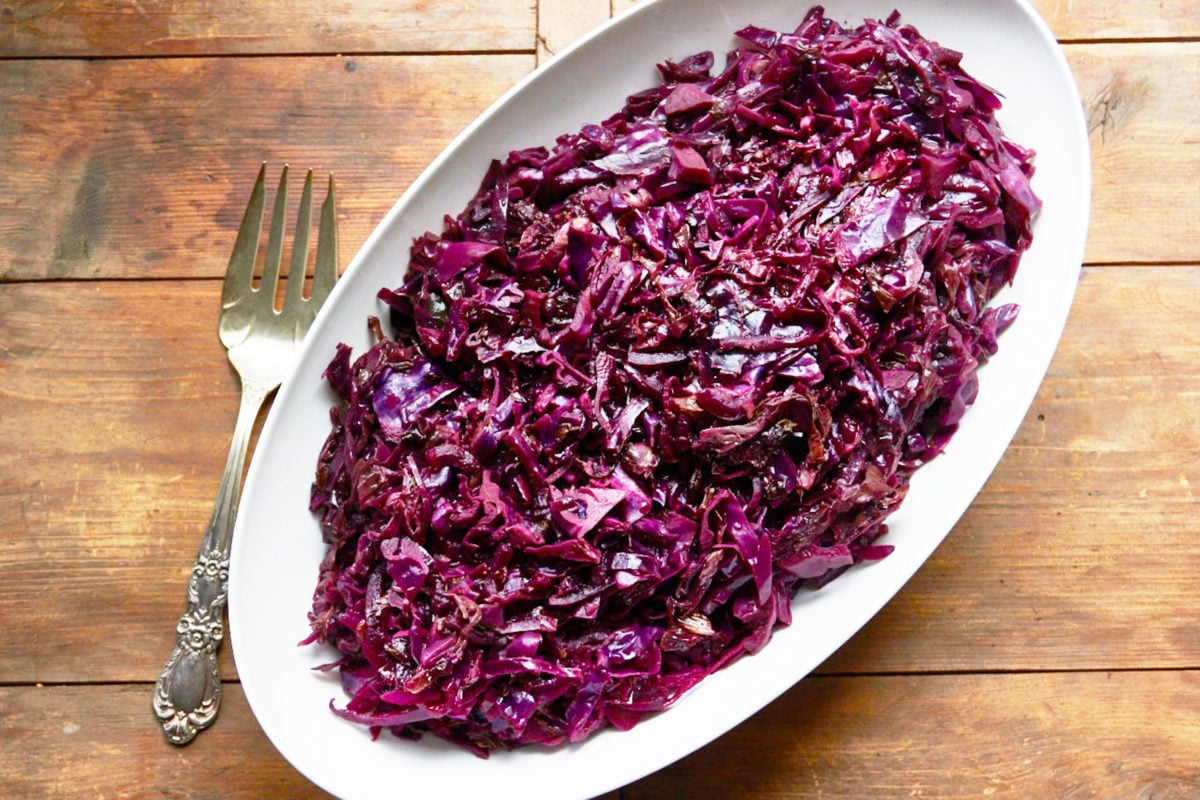 Braised cabbage with radicchio and citrus is a gorgeous side dish and a great companion to roast meat. Perfect for Jewish holidays like Rosh Hashanah.
---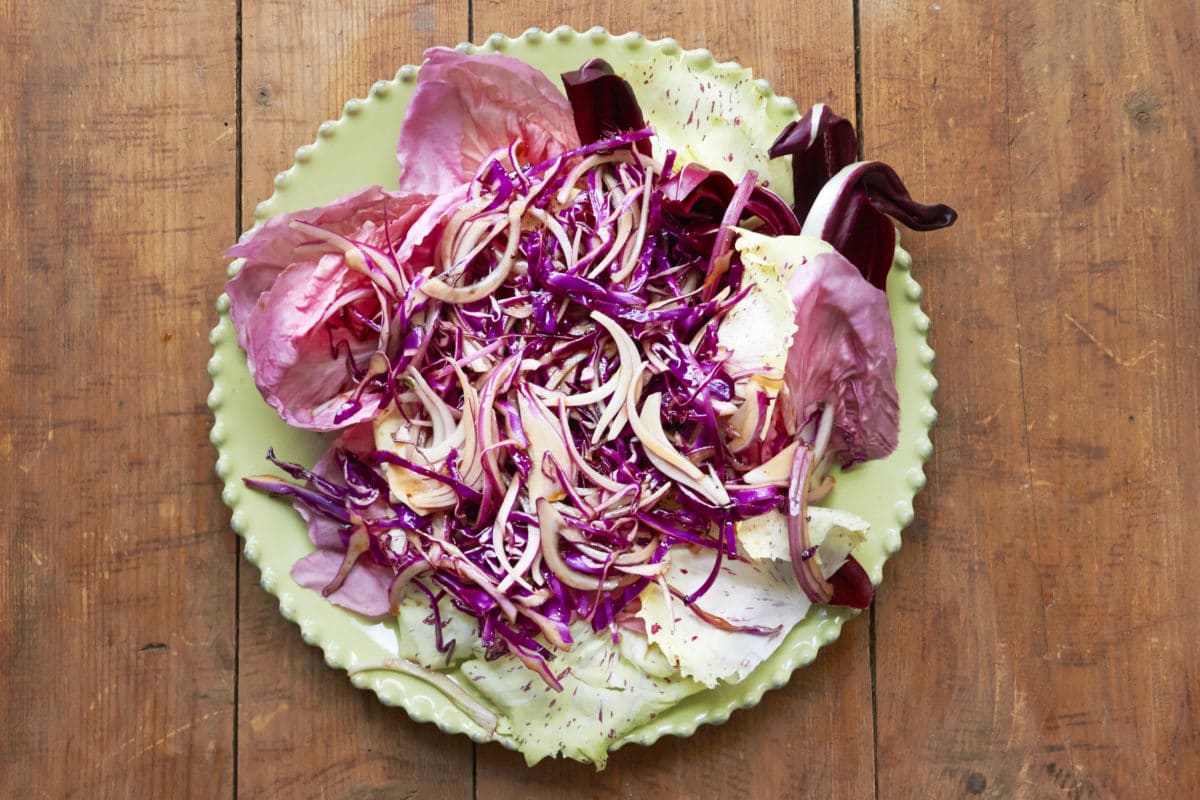 This salad adds wonderful color to a holiday table.
---
Endive and Radicchio Salad with Fresh Mozzarella
The bitter lettuces are a great companion to creamy mozzarella. This is a great first course or side dish to an Italian dinner. Think about pairing this with Pasta alla Vodka, Shrimp fra Diavolo with Linguine, or Spaghetti with Tomato Sauce.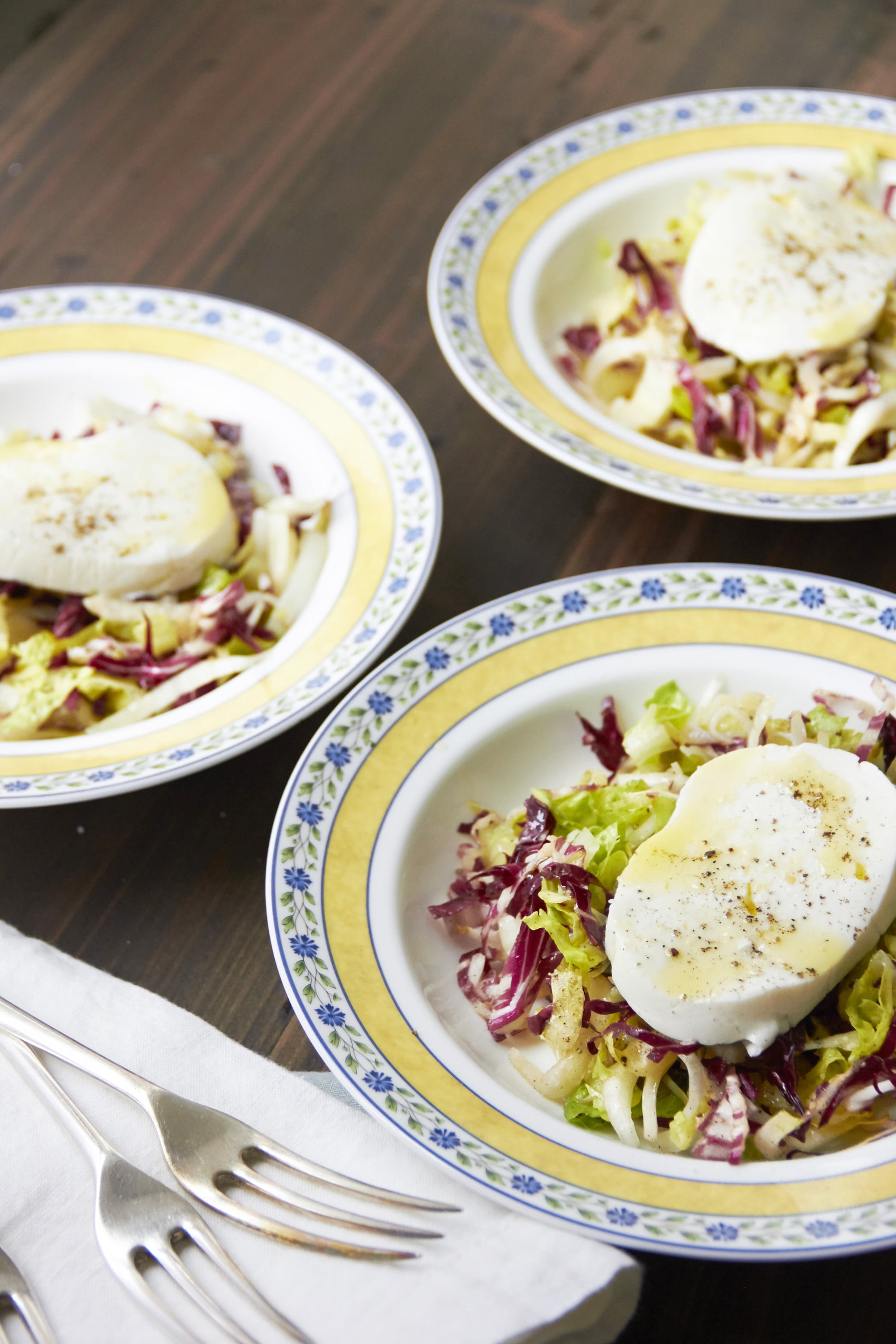 Ingredients
Radicchio – The star of this post and the diva of this salad!
Endive – Endive is one of my favorite salad ingredients. If you like it here, you'll love it in this Fennel and Endive Salad.
Heart of romaine – The inner leaves on a head of romaine are the crispest, which makes the heart the best base for this salad.
Olive oil – Drizzle all over this salad and let the gloriousness ensue.
Lemon juice – To add some acidity to the dressing.
Salt and pepper – To taste.
Mozzarella – I think the fresh mozzarella on top is what makes this so inviting for kids to try.
Endive and Radicchio Salad with Fresh Mozzarella
Everything you need to know about cooking with radicchio, plus a collection of radicchio recipes, including one for a simple salad with endive and mozzarella.
Ingredients
1

head

radicchio

2

heads

endive

1

head

heart of romaine

¼

cup

olive oil

(plus more for drizzling)

1

tablespoon

fresh lemon juice

Kosher salt and freshly ground pepper

(to taste)

6

thick slices fresh mozzarella
Instructions
Roughly chop the radicchio, endive, and romaine. Place in a serving bowl and toss with the ¼ cup olive oil, lemon juice, salt, and pepper.

Divide the lettuces onto salad plates. Place a slice of mozzarella on each plate, drizzle the cheese with a little more olive oil, and season with a bit more salt and pepper.
Notes
You can blend in more romaine if you want to temper the bitterness of the radicchio and endive.
Nutrition
Calories:
167.77
kcal
,
Carbohydrates:
8.77
g
,
Protein:
3.51
g
,
Fat:
14.38
g
,
Saturated Fat:
2.18
g
,
Cholesterol:
1.19
mg
,
Sodium:
61.53
mg
,
Potassium:
776.28
mg
,
Fiber:
7.57
g
,
Sugar:
1.01
g
,
Vitamin A:
7336.32
IU
,
Vitamin C:
17.21
mg
,
Calcium:
133.9
mg
,
Iron:
2.22
mg
Nutrition information is automatically calculated, so should only be used as an approximation.
Like this? Leave a comment below!