What are Strawberries?
Strawberries are (obviously) a kind of berry (actually part of the rose family!) that is known for its bright red color. They are native to North America but strawberry plants were shipped to Europe as early as 1600 during the beginning of the colonization era. Most of the strawberries grown in the world come from China, and then California is the largest producer, followed by Mexico.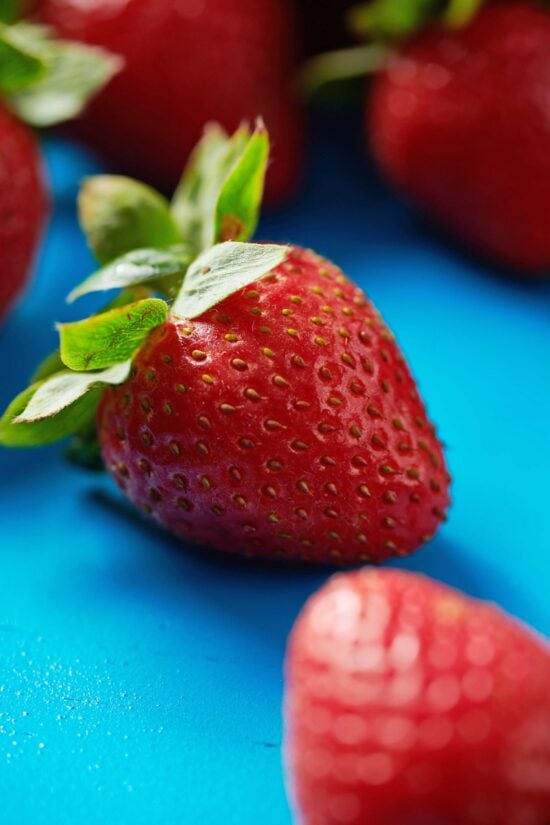 As we are approaching the season for strawberries, here are some tips of what and how to use them:
Substituting for Strawberries
Strawberries are a unique addition to a dish and in some cases changing the ingredient will redefine the dish (strawberry shortcake comes to mind!). However, in many cases you can sub in another berry for the strawberries, such as raspberries, blueberries, or blackberries. In salads, dried strawberries can usually do the trick or you can add other fresh berries.
Can I Use Frozen Strawberries in Place of Fresh?
If a recipe calls for fresh strawberries and you only have frozen, the type of dish you are making will dictate whether you can use frozen instead of fresh. Thawed strawberries will lose some flavor and texture. You can use frozen berries in baked goods like cobblers, crumbles and pies, and they also work well in compotes or jams. Smoothies and shakes are another great use of frozen berries. In recipes like these, the strawberries can be used right from the freezer.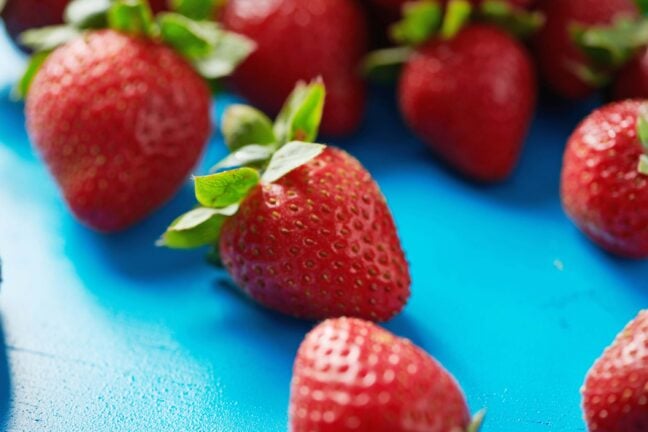 How to Pick the Best Strawberries
Strawberries are somewhat unique fruit in that they do not continue to ripen after they are picked. So, when you are choosing strawberries, go for ones that have a bright red color and a fresh looking green stem. The more red the strawberry is, in general the sweeter it will be.
However, you may find white strawberries in the market, especially in farmers' markets during the seasonal months. These are more rare, and despite their paleness (they can be white or pale pink) they have a sweeter flavor than most red strawberries.
When Are Strawberries in Season?
Fresh local strawberries are one of the most welcome and delicious signs of spring, even though thanks to global shipping they are available in markets year round.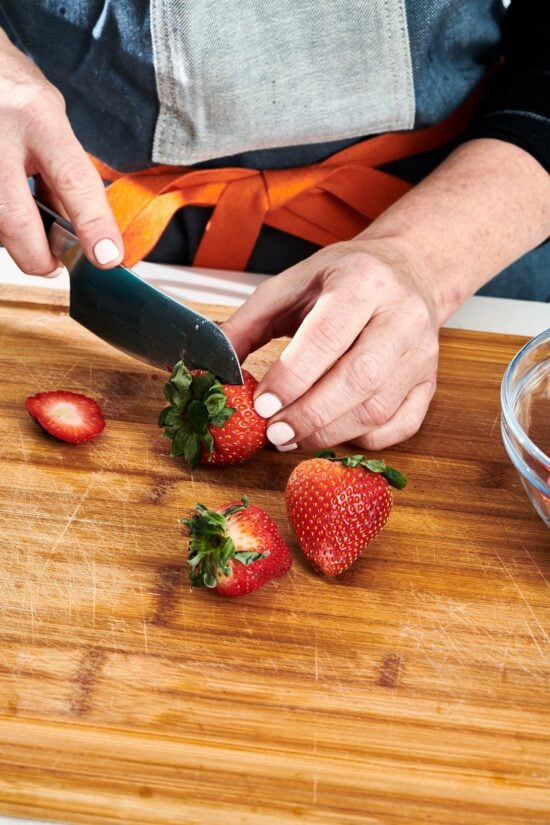 Peak season in most areas of the country are May and June, but in places with more temperate climates, like California, strawberries are grown for much longer parts of the year. And you can find strawberries in the supermarket 12 months a year, mostly from California, which produces about 80 percent of the strawberries grown in the U.S.
How to Store Strawberries
In a perfect world you would buy fresh strawberries the day you planned to eat or cook with them, and they would never need refrigeration – this allow their fruity, perfumey taste to be at its peak.  However, most of us will bring home berries and eat them over the course of the following days, and in that case they should be stored in the fridge.  When strawberries are whole, they should last for up to 7 days in the fridge.  Cut strawberries will last about 3 days.  
How to Clean Strawberries
Surprisingly, one of the best ways to wash strawberries is in a vinegar bath! And don't worry, the vinegar all washes off and your berries won't taste like they've been dunked in vinegar. The vinegar kills and mold and spores on the berries, which allow them to stay fresher longer.
To clean strawberries, combine three cups of very cold water and 1 cup of vinegar in a bowl. Add the strawberries and soak them for 5 minutes. Drain the berries and rinse them in a colander with cold water for a few minutes to rinse off the vinegar solution. Pat the berries dry with a clean dish towel. Store them as directed above in the refrigerator.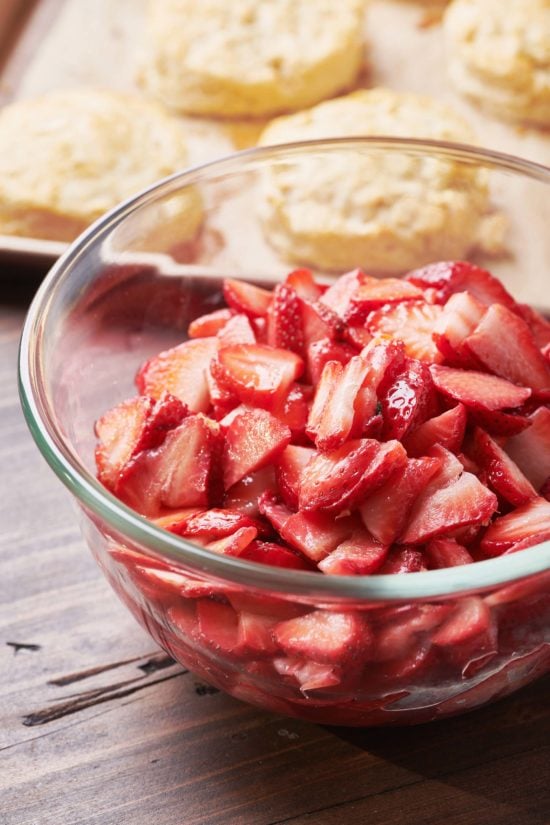 How to Freeze Strawberries
Strawberries last the longest when they are frozen or refrigerated. The best way to freeze strawberries is to rinse them and then cut off the stem. Next, you put all of the cleaned, and cut strawberries cut side down on a cookie sheet with parchment paper. Leave the cookie sheet in the freezer for 24 hours until the berries are solid. Then, you can transfer the strawberries to a freezer safe container or bag, press out any air if possible, and seal the bag or container. They should last several months stored in this way. 
Everything you need to know about how to buy, store, freeze, and cook with strawberries. Plus 12 strawberry recipes!

Tweet This
Best Ways to Use Strawberries
Strawberries can show up in everything from salads to baked goods – and in fact those are two of the most popular ways to include them in your menus. Strawberry shortcake is probably the best-known strawberry centric dessert, and strawberry jam is one of the most popular flavors (and so easy to make at home!). Strawberry topping for cheesecake is also extremely beloved. Other classic uses for strawberries are strawberry milkshakes and smoothies. Desserts like crisps and cobblers are also a great way to make use of a bonanza of fresh strawberries.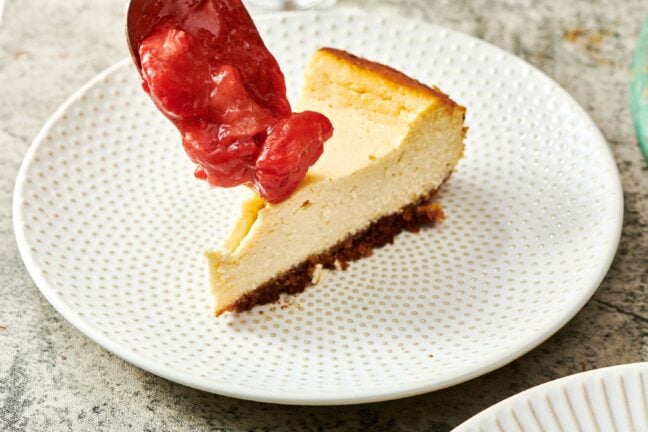 Strawberries pair up perfectly with other fruit in a fruit salad. They also have an affinity for herbs and spices like mint, cinnamon, vanilla, and cardamom. You can add them to a graze or cheese board, blend them into a salad dressing, or create a surprising combo by serving them with fish and chicken! Strawberries are often added to savory dishes with a balsamic glaze or marinade.
Are Strawberries Good for You?
Strawberries are known to be high in fiber, sodium-free, fat-free, cholesterol-free, and low-calorie. They are also a good source of vitamins like manganese and potassium. Strawberries also have many antioxidant properties.
---
Strawberry Recipes
Try these recipes with strawberries!
Bursting with fresh flavor, you won't believe how quick and easy homemade strawberry jam is to make!
---
The most popular cheesecake topping of all, and SO easy to make!
---
This berry cobbler recipe is the height of summer indulgence and a beautiful finale to any festive dinner.
---
A custard-ey cake studded with berries, and topped with poofs of whipped cream.
---
The dog days are over. If you make one icy smoothie drink this summer, it should be this refreshing and colorful one.
---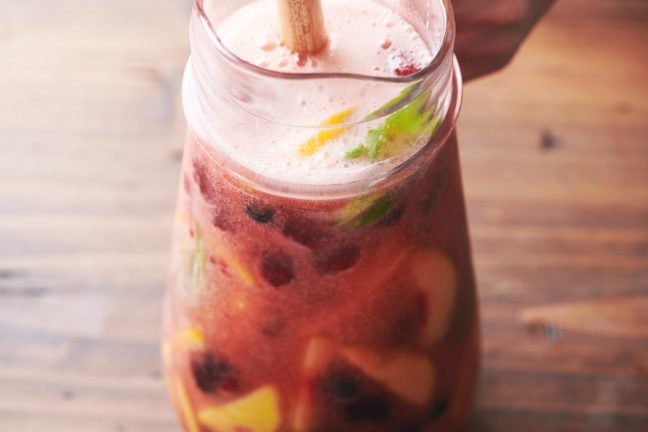 Sangria is one of the most deliciously fun ways to make the most of summer fruit.
---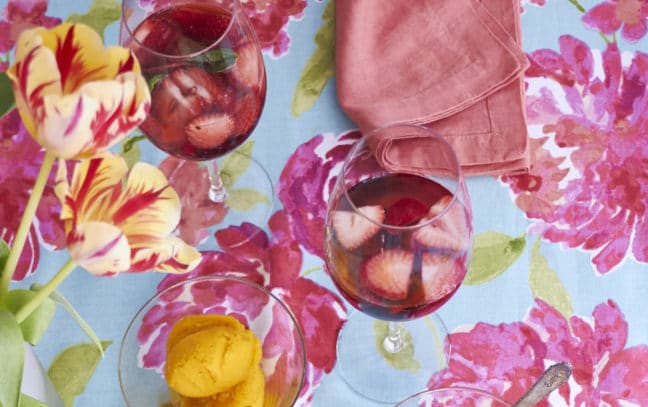 This sangria is so pretty and so fruity and SO summery.
---
Strawberry shortcakes are THE dessert to make in the Spring. If you can find wild strawberries, or at the very least really flavorful ones from a farmers' market, this is nothing short of heavenly.
---
The perfect dessert for Memorial Day, the 4th of July, or any summer gathering.
---
Studded with the berry of your choice, and topped with a delicious layer of sweet-crumbly streusel.
---
Served warm with ice cream and whipped cream, is one of the best summer desserts ever.
---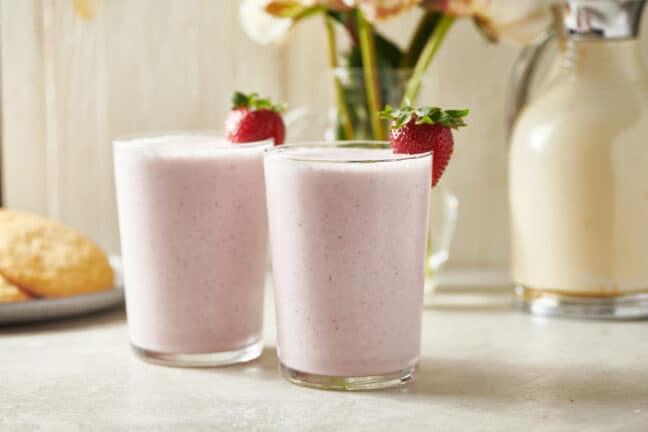 The old-school appeal of a strawberry milkshake is hard to overstate.
---