This post may contain affiliate links. Please read our privacy policy.
Holy mother of summer, it's been HOT. My dog is sleeping in our shower because the tiles are cool. I'm testing recipes in the morning because I 'm not so inclined to have my oven cranking all afternoon. And (this is how I know it's really hot), I may be coming close to drinking my daily recommended amount of water.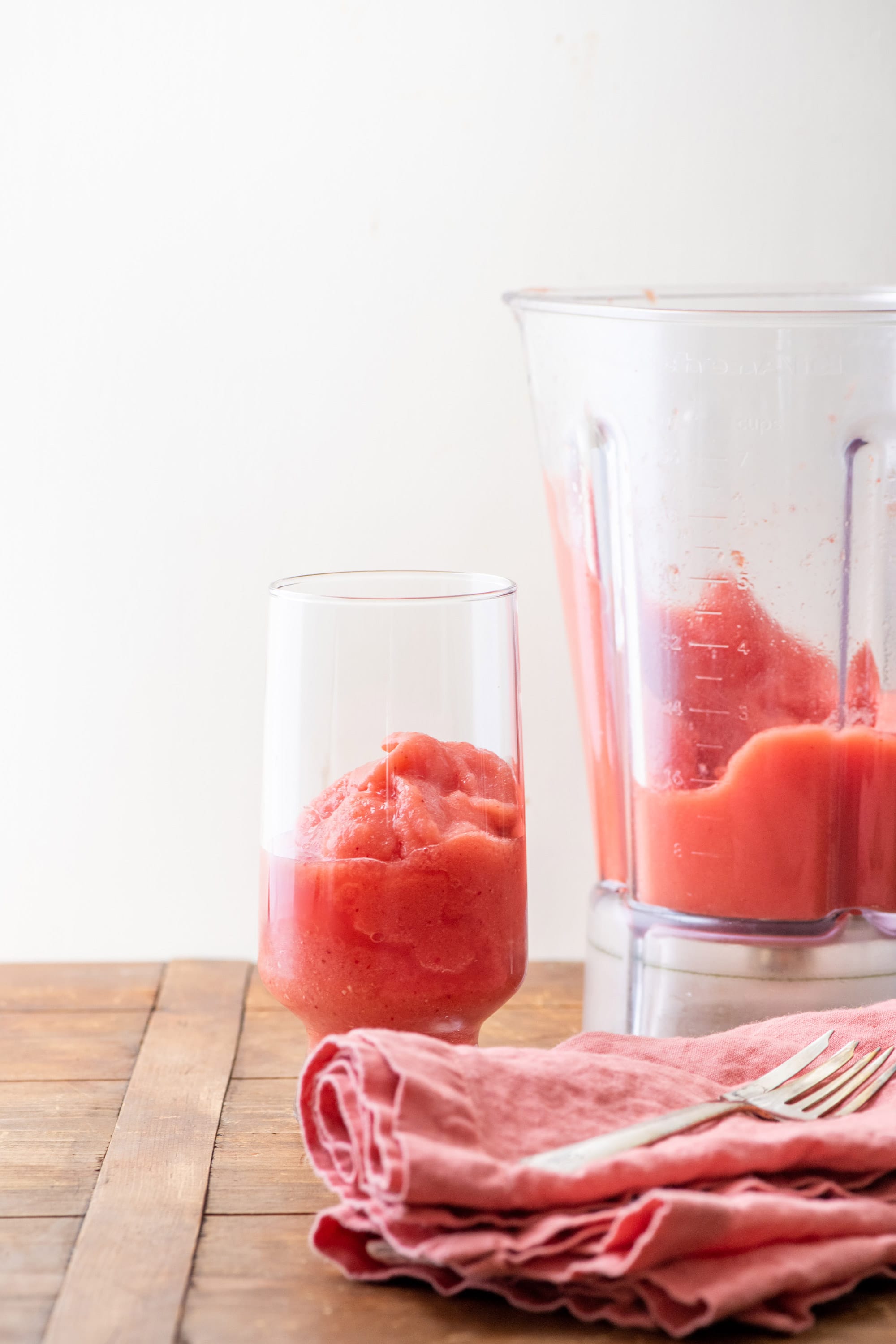 If you make one icy smoothie drink this summer, it should be this refreshing and colorful Watermelon Strawberry Smoothie.

Tweet This
As long as we count diet soda as water. I know, kind of gross.
Has anyone ever carried an umbrella while walking around to shield themselves from the sun? I can't quite bring myself to do such a thing, but I'm jealous of people who can.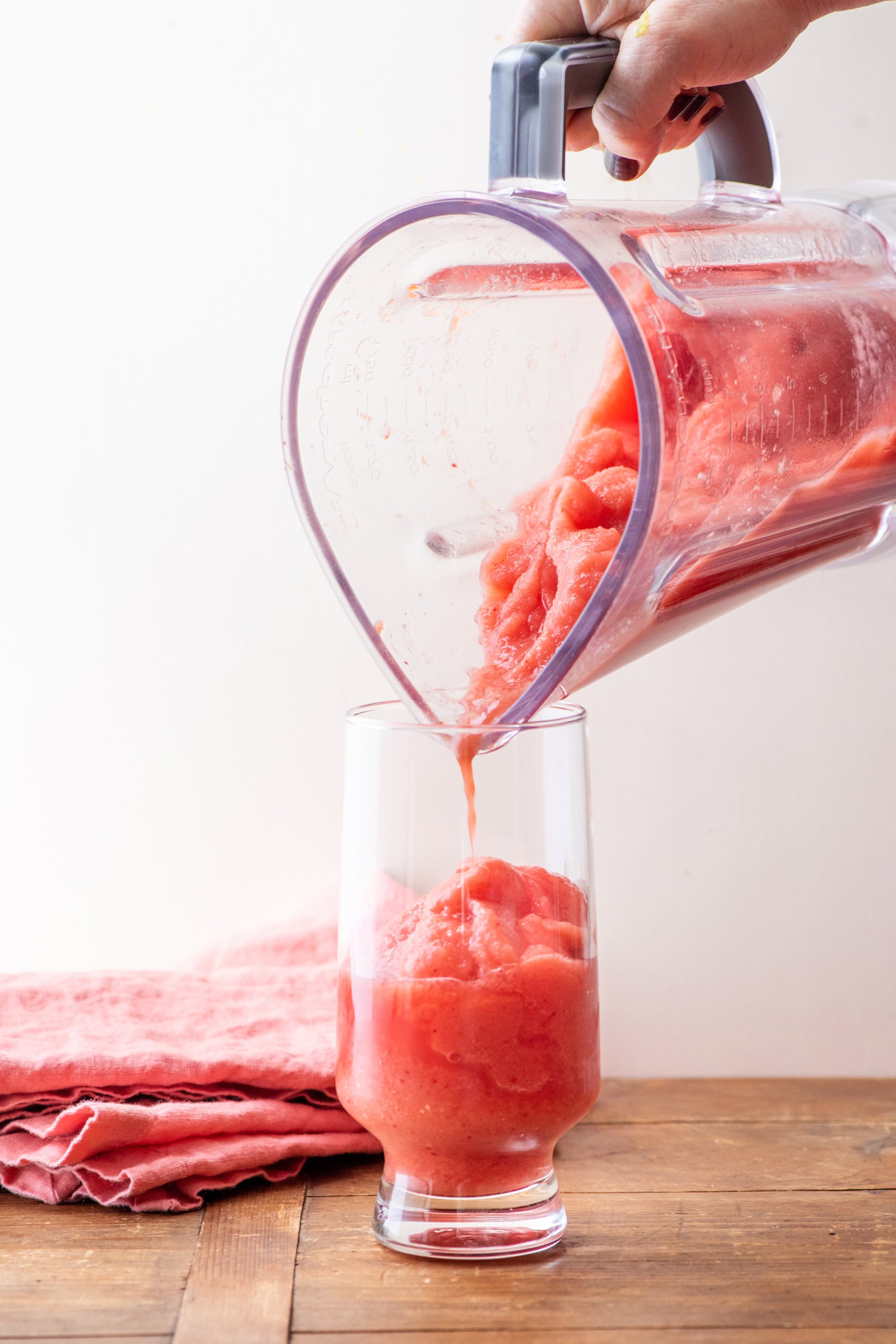 Blender Fruit Smoothies
All this is by way of saying if you have a blender, get it out, and make this Watermelon Strawberry Smoothie. Buy frozen berries and other frozen fruit, or freeze the fresh stuff yourself. Cut watermelon into chunks and stash those in the freezer (seriously, this may be the nicest thing you can do for your family this summer. That and a trip to Cape Cod). Have some honey or agave or simple syrup (see Recipe Note) on hand.
You might need to let the frozen fruit soften a tiny bit for it to puree easily in the blender. Blend all of this up, maybe with some crushed ice, or some juice or even some sort of milk or nut milk or yogurt for those of you who are into the creamier thing. Drink.
Rinse and repeat.
Adding Booze to Frozen Drinks
After 5:00 p.m. you may also add liquor to the grown up's glasses. Vodka or rum are great choices for this watermelon berry smoothie. I would imagine tequila would be excellent. After 4:00 if it's a Sunday. After 3:00 if it's above 90°F outside and it's a Sunday. Cute straws also don't hurt (go for paper straws – easier on the environment, or be super green and get yourself some of these).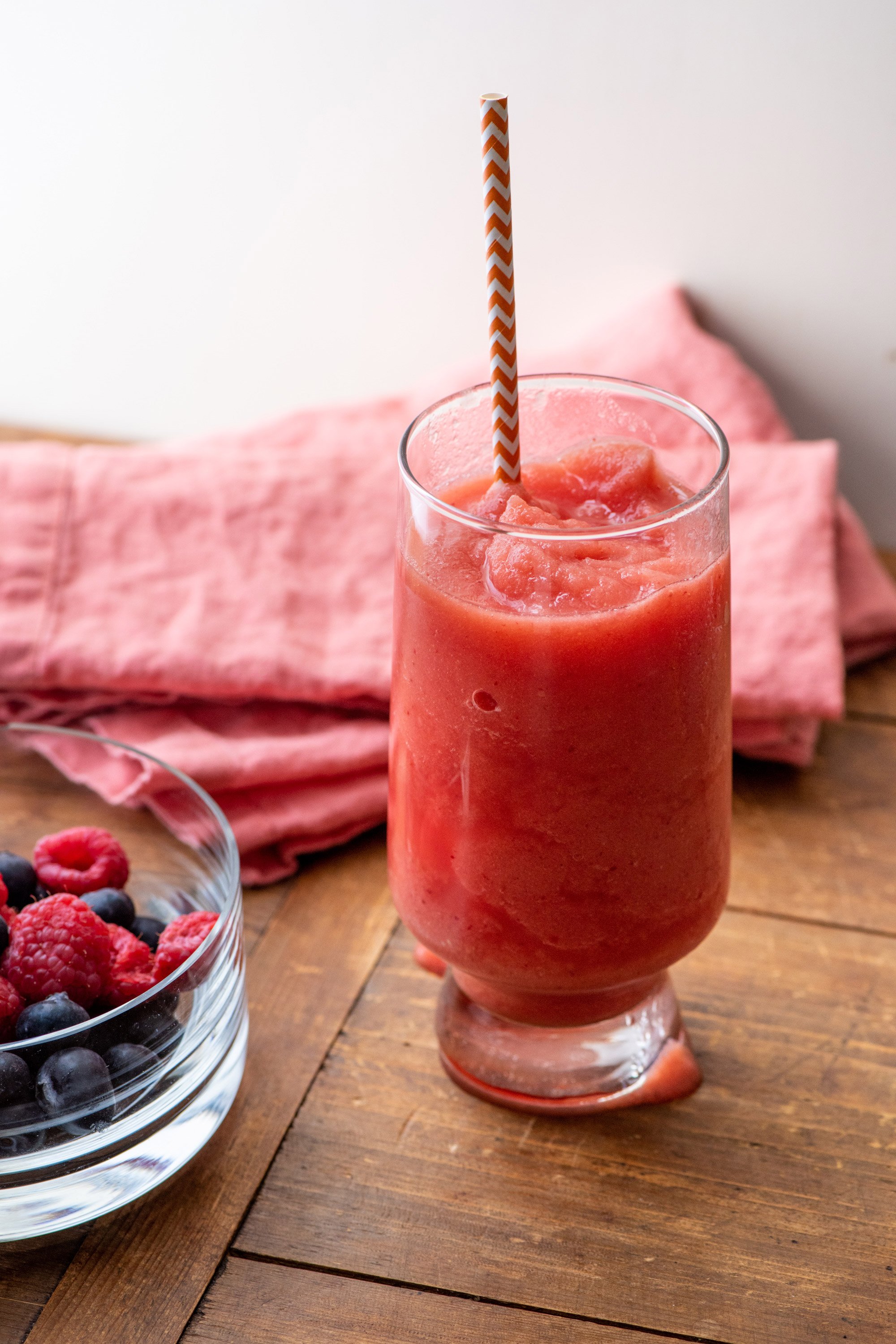 I know I sound like a woman who's reached the end of her tether. But this smoothie really did help. On an unrelated note, how many of you have ever put an ice cube into the center of your bras to cool down? Asking for a friend.
More Refreshing Drinks for Summer
Watermelon Strawberry Smoothie
The dog days are over. If you make one icy smoothie drink this summer, it should be this refreshing and colorful one.
Ingredients
2

cups

frozen watermelon chunks

1

cup

frozen strawberries

1 ½

cups

orange juice

(preferably fresh)

2

teaspoons

fresh lemon juice

½

cup

crushed ice

1

tablespoon

agave or honey or simple syrup

(or more to taste)
Instructions
Place the watermelon, strawberries, orange juice, lemon juice, ice and agave or honey in a blender.

Process until blended and thick. Serve in glasses with straws.
Notes
Combine 1 cup sugar and 1 cup water in a saucepan. Cook over medium heat until the sugar is completely dissolved. Remove from the heat and cool completely. The simple syrup will keep in the refrigerator for at least 1 month.
Nutrition
Calories:
185.99
kcal
,
Carbohydrates:
44.71
g
,
Protein:
2.73
g
,
Fat:
0.87
g
,
Saturated Fat:
0.08
g
,
Sodium:
7.53
mg
,
Potassium:
652.4
mg
,
Fiber:
2.42
g
,
Sugar:
35.84
g
,
Vitamin A:
1236.88
IU
,
Vitamin C:
149.58
mg
,
Calcium:
42.62
mg
,
Iron:
1.03
mg
Nutrition information is automatically calculated, so should only be used as an approximation.
Like this? Leave a comment below!