A streusel berry muffin is pretty much what most people I know would want for breakfast on a given day. Man, you know how great those monster muffins look in the stores? I see them at bakeries, at the bagel place, even in delis, and they look so majestic and enticing.
But many of us don't have those monster muffin pans, and also, that's a really big muffin to justify. This recipe is could make those big muffins, if you have one of those big tins, and buy some of those big muffin liners – then you'll get 12 and probably need to bake for 22 to 28 minutes, OR, you can stick with a normal sized muffin tin, and just enjoy your 16 regular sized muffins.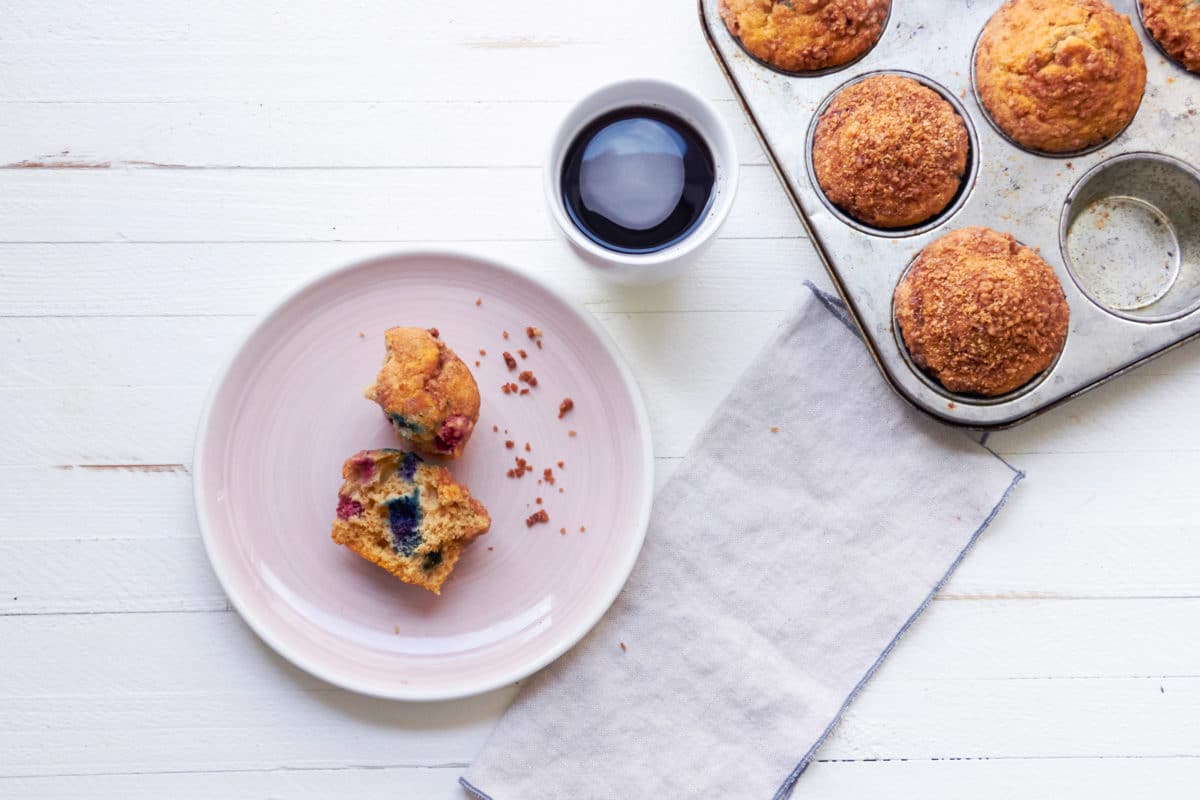 Even though many recipes don't advise you to spray the paper muffin liners with nonstick spray, I find this to be a bit dicey. Sometimes they peel off like a dream without spray, sometimes they stick and pull of the whole outer layer of the muffin, resulting in a not-so-pretty muffin, and also less of it (unless you are willing to scrape the rest of the muffin off of the paper liner with your teeth, which I may or may not be willing to do).
I have made these a few times, and am always trying to figure out just how much streusel I need for the muffins. The ones in this photo have a delicate amount of streusel, less than you will end up with if you follow the recipe below. I took photos during a less streusel-ey baking day, but then decided that was just not enough streusel, so bumped up the streusel amounts so that you will actually get a nice pile of streusel on each muffin.
Studded with the berry of your choice, and topped with a delicious layer of sweet-crumbly streusel.

Tweet This
However, you can't just pile on streusel willy nilly, or it will start to weigh down the muffins, at least that's what happened to me with this recipe. SO they will have a nice amount of streusel, but not rise properly with that perky little crown on top. I'm not going to mince words with you people; I have to work on my streusel game. I won't rest until I can achieve the rice rounded tops AND the big pile of streusel on each muffin.
One more thing, which I mention from time to time, so forgive me if you've heard it enough. Don't skimp on the salt in your baked goods. Salt enhances flavor, in foods both sweet and savory, and a little more salt brings a level of sweet-salty sophistication to almost anything that will come out of your oven. I like to be able to taste the salt in my baked goods (I sometimes add even a touch more than I list out in the ingredients)….not everyone does, but either way, don't even consider skipping it!
It's officially August and we're celebrating with Muffin Week! An amazing group of food bloggers and I have teamed up to bring you muffin recipes all week! You'll find the full spread of savory, sweet, healthy and indulgent muffin recipes over at A Joyfully Mad Kitchen. Be sure to look for some new muffin recipes to try!
More Delicious Sweet Breakfast Recipes:
Like this recipe? Pin it to your favorite board on Pinterest.

Pin This
Berry Cinnamon Streusel Muffins
Studded with the berry of your choice, and topped with a delicious layer of sweet-crumbly streusel.
Ingredients
For the Streusel Topping
⅓

cup

granulated sugar

3

tablespoons

firmly packed light or dark brown sugar

¼

cup

all-purpose flour

½

teaspoon

ground cinnamon

¼

teaspoon

ground ginger

½

teaspoon

kosher or coarse salt

6

tablespoons

cold unsalted butter

cut into small pieces
For the Muffins
2

cups

all-purpose flour

1 ½

teaspoons

baking powder

½

teaspoon

baking soda

½

teaspoon

ground cinnamon

½

teaspoon

kosher salt

6

tablespoons

unsalted butter

softened

¾

cup

sugar

2

large eggs

2

teaspoons

vanilla extract

½

cup

sour cream or plain Greek or whole milk yogurt

½

cup

whole milk

1

cup

mixed berries

frozen (not defrosted) or fresh
Directions
Preheat the oven to 350°F. Grease a 12-cup large muffin tin, or spray with nonstick spray or line the cup with paper liners and give them a spritz, too. If you want to use regular sized muffin tins, you will make 16 muffins.

Make the streusel topping: Combine the 1⁄3 cup of granulated sugar, the brown sugar, 1⁄2 cup plus 2 tablespoons of flour, 1 teaspoon of cinnamon, the ginger, and salt in a food processor and give it a good whirl. Add the pieces of butter and pulse until the butter is incorporated and the mixture is crumbly. Do not over process; you don't want a paste. Set the streusel topping aside.

Make the muffins: in a medium bowl, combine the flour, baking powder, baking soda, cinnamon and salt. In another medium bowl, combine the butter and sugar together with an electric mixer. Beat in the eggs one at a time, then beat in the vanilla. Use the mixture on low, or switch to a spoon and stir in half the flour mixture, just until almost incorporated. Stir in the sour cream or yogurt and the milk, also just until blended. Stir in the rest of the dry ingredients, leaving the batter a bit lumpy but fairly incorporated – do not overmix. Gently fold in the berries.

Scoop the batter into the prepared muffin cups, dividing it evenly. Distribute the streusel topping over the muffins. Bake for 18 to 22 minutes until a toothpick or a wooden skewer inserted into the center comes out clean. Cool the muffins in the tin on a wire rack for 5 minutes, then carefully remove them and continue to cool on wire rack until warm or room temperature.
Nutrition Information
Calories:
233.77
kcal
|
Carbohydrates:
31.32
g
|
Protein:
3.04
g
|
Fat:
10.94
g
|
Saturated Fat:
6.57
g
|
Cholesterol:
47.53
mg
|
Sodium:
199.15
mg
|
Potassium:
90.61
mg
|
Fiber:
0.8
g
|
Sugar:
17.25
g
|
Vitamin A:
353.68
IU
|
Vitamin C:
0.31
mg
|
Calcium:
43.35
mg
|
Iron:
0.99
mg
The nutrition values are provided as an estimate. It is not intended as a substitute for the advice of a qualified healthcare professional.
Made this recipe? Post a photo of your delicious creation on Instagram with our hashtag #dinnersolved