There are a few dish that embody summer in our house. This is definitely one of them. Throughout the months of August and September we eat this as often as humanly possible, and it is this dish that made fresh tomato lovers out of my kids and my husband (Gary still does't care all that much for tomatoes in any other form – crazy man).
There is that moment where the tables at the farmers markets are piled high with all kinds of crazy looking tomatoes with funny names; Green Zebra, Brandywine, Lillian's Yellow Heirloom, Mortgage Lifter, Black Crim, Purple Calabash, just to name a few. These often fall into the category of heirloom tomatoes. This is a great opportunity to let the kids have at it, picking the weirdest looking tomatoes they can find.
Then when you get home, and are now wondering what to do with all of these gorgeous specimens, (other than slice them onto a platter, drizzle them lightly with olive oil and sprinkle them with coarse salt, which is another option), make this. The only key to tomato bruschetta is to use perfectly ripe tomatoes, even if they don't have a goofy name.
What is the Difference Between Bruschetta and Crostini?
This discussion gets a little murky, since there are Italian purist definitions, and then definitions that have become more commonly associated with each word. Since page space is limited for lengthy academic classifications (and this isn't that kind of book anyway), here is a short version, which will surely raise debate in some circles, but that's okay.
Crostini translates into "little toasts," and generally mean plain, thin slices of bread, brushed with olive oil and toasted. They may or may not be topped with different things.
Bruschetta also means toasted bread, authentically toasted on a grill over coals, and usually are thicker and larger than crostini, and often eaten with a knife and a fork. They are sometimes rubbed with a garlic clove, and also may or may not have toppings, which can be more rugged and messier than crostini toppings, because they are served on thicker bread, and usually on a plate, sometimes even with a knife and fork. Try making this with Grilled Bruschetta.
The word bruschetta is often associated with toasted bread topped with a chopped fresh tomato topping (like this recipe); however, technically it's the toast itself that is actually the bruschetta; the tomato topping is just the most common one associated with the toast.
Throughout August and September we should eat this as often as humanly possible. Use only perfectly ripe tomatoes.

Tweet This
Extra Bruschetta Topping
You can also make a double batch of the tomato mixture, cook up a pound of pasta and toss everything together for an amazing late summer pasta dish. You'll probably want to add an extra splash of olive oil, as well as a ladle of water from cooking the pasta to help form a sauce. A sprinkle of freshly grated parm or crumbled goat cheese or a small handful of slivered fresh mozzarella on top of each portion is excellent.
What else to do with those perfect tomatoes?
Tomatoes with Mint Basil Pesto is one idea. Summer Corn, Tomato and Bacon Salad is another. Perfect End-of-Summer Pasta Salad, also a contender. You'll find something good to do.
More Bruschetta Recipes: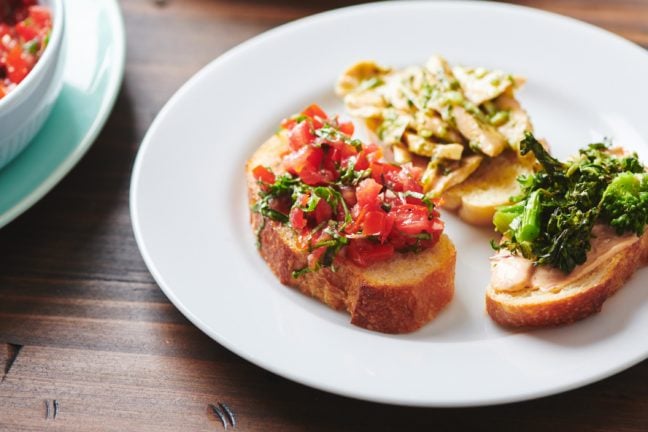 Like this recipe? Pin it to your favorite board on Pinterest.

Pin This
Tomato Bruschetta
This is the first thing I think of when I bring home a bunch of gorgeously ripe late summer tomatoes. Use only perfectly ripe tomatoes.
Ingredients
1

long baguette

sliced ⅓ to ½-inch thick (about 30 slices; see Note)

½

cup

olive oil

approximately, for brushing

Coarse salt

2

garlic cloves

halved (optional)

5

cups

cored

seeded and diced ripe tomatoes (about 4 large tomatoes; you can use any mixture of tomatoes)

⅓

cup

extra virgin olive oil

⅓

cup

slivered fresh basil leaves

1

teaspoon

minced garlic

1 ½

teaspoons

kosher or coarse salt

or to taste

Freshly ground pepper

to taste
Directions
Preheat the oven to 350°F. Line a baking sheet with parchment paper or aluminum foil.

Lightly brush each of the baguette slices with the olive oil and place them side by side on the baking sheet (they can be touching, but not overlapping – you may need two baking sheets, or do this in two batches). Sprinkle the bread with coarse salt.

Bake for 4 to 7 minutes until lightly brown. Remember that they will harden as they cool, so take them out before they get too crisp. If desired, lightly rub the flat side of a cut garlic half against the top of the bread.

Combine the tomatoes, olive oil, basil, garlic, salt and pepper in a medium-sized bowl. You can let this, and the crostini, sit at room temperature for up to an hour before topping the crostini.

Lay the crostini slices on a serving tray and top each with a spoonful of crostini, or simply serve the tomato mixture in a bowl with the crostini on the side. When you scoop the tomatoes onto the bread, use a slotted spoon, or tilt the spoon a bit, to allow some of the liquid to drain off…or use your clean hands. If you are topping the crostini, do it right before serving or the bread will become soggy.
Nutrition Information
Calories:
183
kcal
|
Carbohydrates:
5
g
|
Protein:
1
g
|
Fat:
18
g
|
Saturated Fat:
3
g
|
Sodium:
373
mg
|
Potassium:
180
mg
|
Fiber:
1
g
|
Sugar:
2
g
|
Vitamin A:
663
IU
|
Vitamin C:
11
mg
|
Calcium:
12
mg
|
Iron:
1
mg
The nutrition values are provided as an estimate. It is not intended as a substitute for the advice of a qualified healthcare professional.
Made this recipe? Post a photo of your delicious creation on Instagram with our hashtag #dinnersolved