This post may contain affiliate links. Please read our privacy policy.
When the boys were little, during the summer there were a bunch of families from the kids' school that all spent some weekend and vacation time in lower part of Litchfield country in Connecticut. There were 5 families, all with kids about the same age (Charlie's year connected all of the families, I had one older child, and there were a smattering of kids in the group trailing down in years to toddler-age). It was a happy circumstance to be near one another, and the result was many, many an outdoor gathering.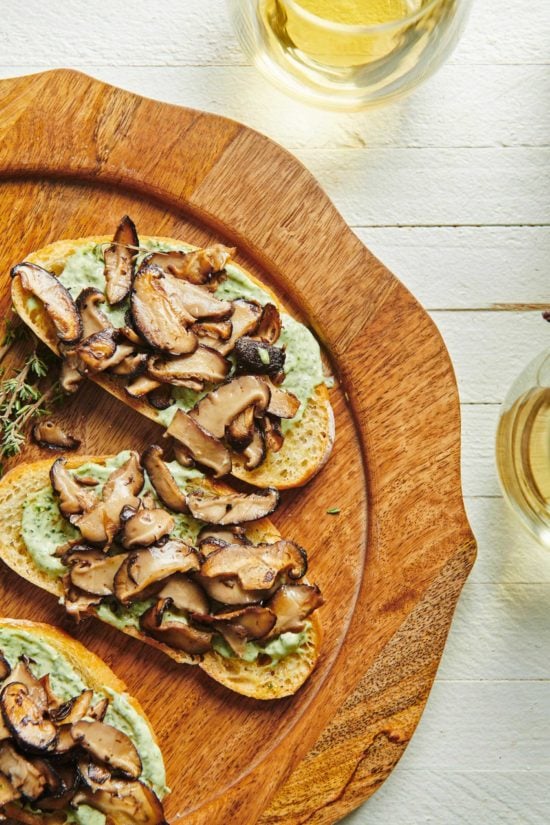 We hosted often. My memories of this time are probably artificially rosily-colored, as I look back now with one kid a mercurial teenager, and one off at college in Chicago. I recall lazy late afternoons running into evenings, the adults coasting along in a little river of sprightly conversation fueled by a cooler full of beer and rosé wine.
The age difference between the kids never stopped them from running around like a swarm of bees, changing direction when one appeared from another direction with a water balloon or when Jack, the defacto captain of the group with three years seniority, yelled, "Guys, over here!" The littler people trailed behind, still part of the gang, but with an occasional "wait for me….!" Fueled by juice boxes and chips, they mostly kept themselves busy until it was time for dinner.
It would be silly to think I didn't care about the food. Of course I cared about the food; I always care about the food. And golly, everyone knows I care about the food so of course the food was important!
Except it really wasn't. If you asked me what I made on any of those given occasions, I could guess at it, but I really wouldn't be able to remember what was on the table on any specific day. I know over the years there were burgers, and grain salads, and green salads, and kebabs and ice cream sandwiches. And wherever the gatherings were, we always pot-lucked to some extent, and I know my friend Alice brought over peach crisps and Pam arrived with brownies and David always makes a mean guacamole. I kind of wish I were the type to write these things down, like my friend Jenny of Dinner a Love Story, but while I attempted to keep a little log once or twice, it just didn't take.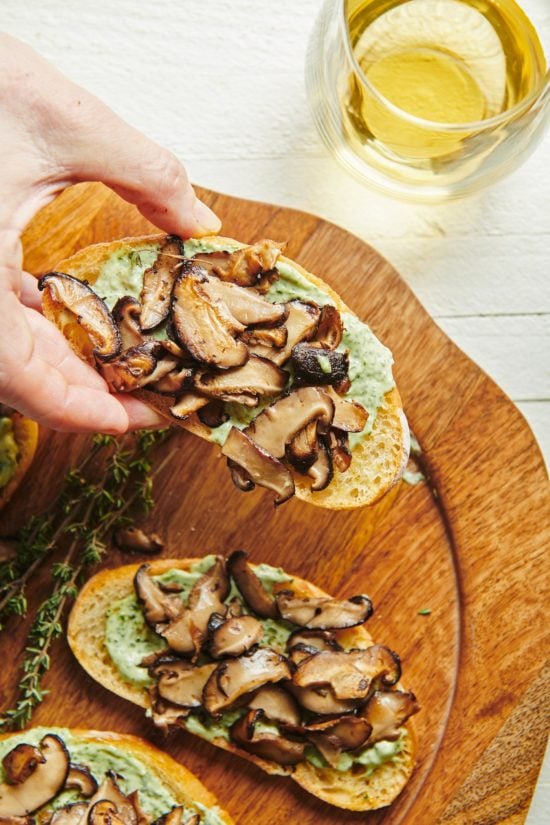 I do know that I made a lot of crostini and bruschetta. And I still do. It's such a low maintenance way to start a party. You make the little toasts ahead of time, either in the oven or make Grilled Bruschetta if you're planning to fire the grill up anyway. And then you can top them in pretty much an infinite number of ways.
When I am thinking about crostini or bruschetta I often reach for mushrooms. I think a pile of sautéed mushrooms atop a tender-crunchy piece of olive oil slicked bread is divine. And also yes, I'm back again with another recipe featuring one of my favorite homemade condiments of the year, Herbed Mayonnaise. Can't get enough of the stuff.
The kids are all older, and have their own schedules, so inviting these families over and getting a full house of attendees is much more difficult. But I can see these Mushroom Bruschetta kicking off our next gathering, even though we might not be playing to a full house.
Mushroom Bruschetta with Herbed Mayonnaise: A pile of sautéed mushrooms top some herby mayo on a tender-crunchy piece bread.

Tweet This
And because one bruschetta or crostini is good, but two are better, pair this with any of the following!:
(If you're wondering what the difference is, between bruschetta and crostini, it's mostly size, with a few other details that are up for interpretation.
Bruschetta Recipes:
Crostini Recipes:
Like this recipe? Pin it to your favorite board on Pinterest.

Pin This
Mushroom Bruschetta with Herbed Mayonnaise
A pile of sautéed mushrooms atop some herby mayo on a tender-crunchy piece of olive oil slicked bread.
Ingredients
1

tablespoons

loaf ciabatta

about 8 ounces or other country white bread, sliced—pick a bread that is no taller or wider than 3 or 4 inches, or cut the slices in half

3

tablespoons

olive oil

approximately

Kosher salt and freshly ground pepper

to taste

1

pound

shiitake or other mushrooms

trimmed thinly sliced

2

tablespoons

unsalted butter

1

teaspoon

finely minced garlic

½

cup

Herbed Mayonnaise

approximately
Instructions
Preheat the oven to 375°F. Brush the slices of bread with the olive oil, sprinkle with salt and bake for about 5 minutes until a touch golden around the edges, but not firm – they will firm up a bit as it cools. Transfer the bruschetta to a cooling rack or plate.

Melt the butter in a large skillet over medium high heat. Add the mushrooms, season with salt and pepper, and sauté for about 8 minutes until any liquid released has evaporated, and the mushrooms are nicely browned.  Add the garlic and saute for one more minute until you can smell the garlic.  Remove from the heat.

Spread some of the Herbed Mayonnaise on the toasts and heap them with the mushrooms (ideally while the mushrooms are warm, but not necessarily). Serve quickly so the bread doesn't get soggy.
Notes
Bruschetta, crostini – very similar! Feel free to call either what you wish, and use this topping on any sort of bread.
Nutrition
Calories:
190.77
kcal
,
Carbohydrates:
4.92
g
,
Protein:
1.62
g
,
Fat:
18.86
g
,
Saturated Fat:
4.17
g
,
Cholesterol:
13.41
mg
,
Sodium:
103.61
mg
,
Potassium:
172.37
mg
,
Fiber:
1.42
g
,
Sugar:
1.61
g
,
Vitamin A:
96.56
IU
,
Vitamin C:
0.12
mg
,
Iron:
0.29
mg
Nutrition information is automatically calculated, so should only be used as an approximation.
Like this? Leave a comment below!