As the holidays draw near, I feel like I have two sticks of butter softening on my counter at all times, and I'm always on the verge of preheating my oven to 350°F to make cookies. But also as the holidays draw near, the oven is in high demand, perhaps employed in roasting squash or a big piece of meat. But you know, even if the oven is occupied, we still need to have cookies.
Haystack Cookies
So, in between making the kinds of cookies that get rolled and baked and decorated, we can—and should—all find time for a batch of haystack cookies. Haystacks are one of the quintessential no-bake cookies in the cookie lexicon, and for very good reason—they are delicious, they are easy and they offer up such great crunch. Chow mein noodles! Seriously? Seriously. And pretzels! And peanuts! Sometimes these are called haystacks candy, instead of cookies, and whatever you call them, they are jusrt delicious.
Chocolate Haystacks
This chocolate haystacks recipe stars semisweet chocolate chips, but you could try these with milk chocolate chips for a gentler chocolate flavor, and you could also use lightly crushed cocktail peanuts instead of the pretzels. To crush pretzels, place them in a sturdy zippertop bag, press the air out of it, seal it, and give it a few smacks with your fist. Don't crush them into a powder, you want some pieces and texture.
Chocolate, peanuts AND pretzels in one no-bake cookie? That's a great cookie.

Tweet This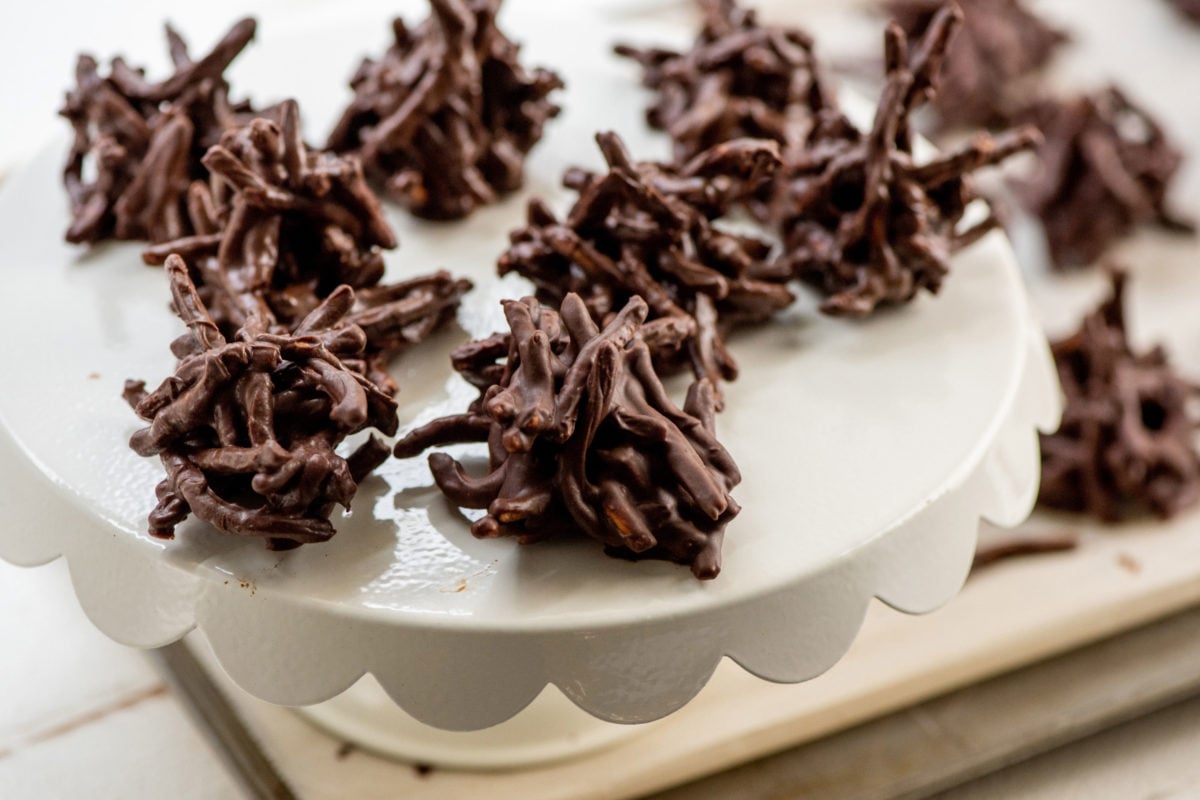 Double Boiler Hack
If you don't have a double boiler you can make one by nestling a metal or heatproof glass bowl over a pot with a bit of water in the bottom – bring the water to a boil over medium high heat, and stir the chips frequently until they melt. You can melt chocolate in a heavy pan works just as well, though, if you make sure you keep the heat very low and stir often.
These would be right at home amidst any platter of holiday cookies (and here is one more recipe for Haystacks, in case you need to try more than one version). A clever cook might bring them to a cookie swap and leave with a selection of more labor extensive treats in exchange for some of these ridiculously simple, but highly addictive cookies.
Storing Haystack Cookies
Store these in an airtight container in the fridge for up to 5 days, or at room temperature for 2 days, and allow to come to room temperature before eating.
And other cookie recipes to fill out the rest of your holiday cookie assort…..
Like this recipe? Pin it to your favorite board on Pinterest.

Pin This
Chocolate, Peanut and Pretzel No-Bake Haystack Cookies
This no-bake chocolate haystack cookie recipe gets extra crunch from peanuts and pretzels.
Ingredients
1

12-ounce package semisweet chocolate chips

2 cups

3

tablespoons

peanut butter

smooth or crunchy

1

5 to 6-ounce package chow mein noodles

about 3 ½ cups

1

cup

lightly crushed pretzels
Directions
Line two baking sheets with parchment or wax paper.

Melt the semisweet chocolate chips in a heavy pot or a double boiler over low heat, stirring frequently, or melt in the microwave on medium power, stopping the microwave and giving the chips a stir every 15 seconds until they are melted. Remove from the heat and stir in the peanut butter until well combined.

Add the noodles and the pretzels to the chocolate mixture and stir to combine.

Drop the mixture by heaping tablespoons onto the prepared baking sheet. Allow to set (in warmer months this is best done in the fridge). Let them sit at room temperature for several minutes before serving.
Nutrition Information
Calories:
63
kcal
|
Carbohydrates:
7
g
|
Protein:
2
g
|
Fat:
3
g
|
Saturated Fat:
1
g
|
Cholesterol:
1
mg
|
Sodium:
104
mg
|
Potassium:
48
mg
|
Fiber:
1
g
|
Sugar:
1
g
|
Calcium:
4
mg
|
Iron:
1
mg
The nutrition values are provided as an estimate. It is not intended as a substitute for the advice of a qualified healthcare professional.
Made this recipe? Post a photo of your delicious creation on Instagram with our hashtag #dinnersolved