This post may contain affiliate links. Please read our privacy policy.
Chocolate Peanut Butter Pie
If you want to end a celebration or a gathering with a big old bang, you would be hard pressed to pick a better dessert than an ice cream pie. Somehow ice cream stuffed into a pie crust just seems so much more festive and decadent and sultry than a bowl of ice cream.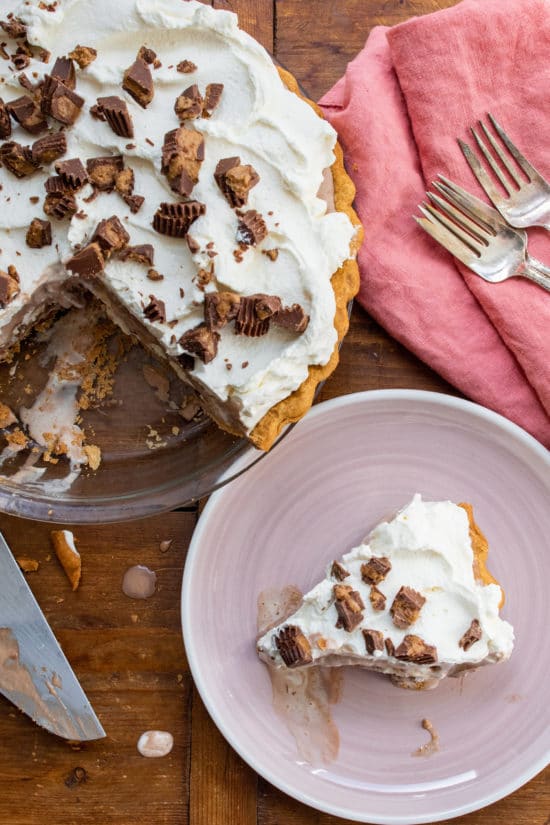 And it's one of the most easy and summer-amazing treats on the planet. Especially this version, with the classic chocolate and vanilla and peanut butter cup thing happening. Not to mention the whipped cream.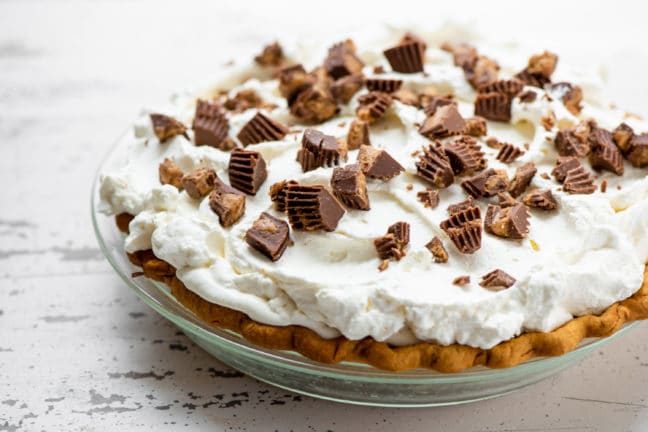 Refrigerated Pie Crusts
Refrigerated pie crusts are one of my favorite shortcut grocery store products. I can promise you that without them there would be way fewer pies in my house. There might never have been a Chocolate Peanut Butter Ice Cream Pie, and that would have been a terrible shame!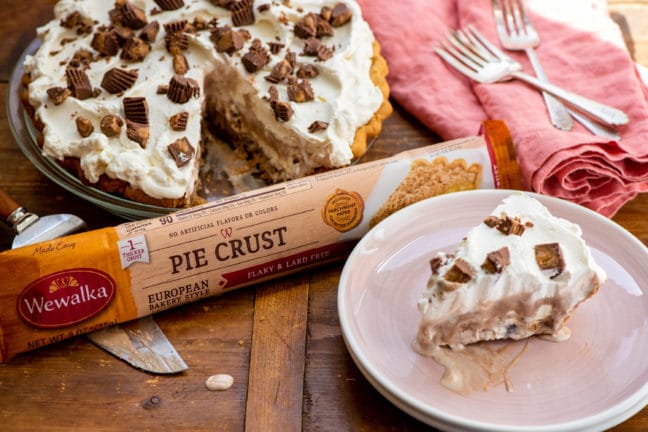 The perfect way to celebrate summer. This ice cream pie recipe features a vanilla and chocolate combo and is studded with Reese's Peanut Butter Cups.

Tweet This
How to Make an Ice Cream Pie
An ice cream pie is more feasible as a two-day project—nothing is hard in the slightest, but as the name suggests, there is some freezing involved.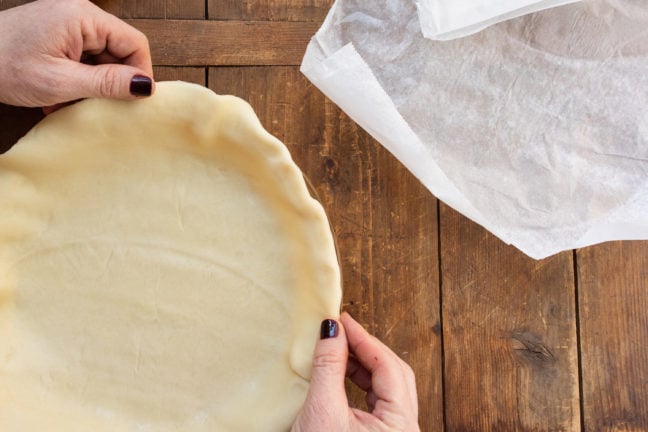 Crust for Ice Cream Pie
For an ice cream pie, you need to bake the crust on its own, which is called blind baking. This way it is fully cooked and wonderfully flaky before you start piling in the ice cream. This is a technique used for many kinds of pies, where the filling doesn't need to be cooked, like a chocolate mousse pie, or all kinds of icebox pies. It's a great technique to know.
(Sometimes a crust is partially baked when the filling only requires a short time, which is known as partial blind baking. We can discuss that another time.)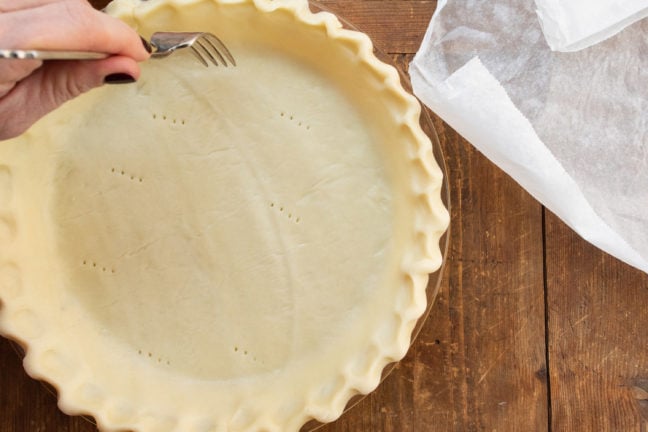 Let the pie crust sit for 15 to 20 minutes at room temperature when you take it out of the fridge. This allows it to soften and prevents it from cracking when you unroll it. Fit the crust into the pie pan, then line it with parchment paper.
Into the freezer it goes to firm up. Then fill it with weights of some sort, for the beginning of the baking process so that the crust doesn't shrink and stays flat when it bakes.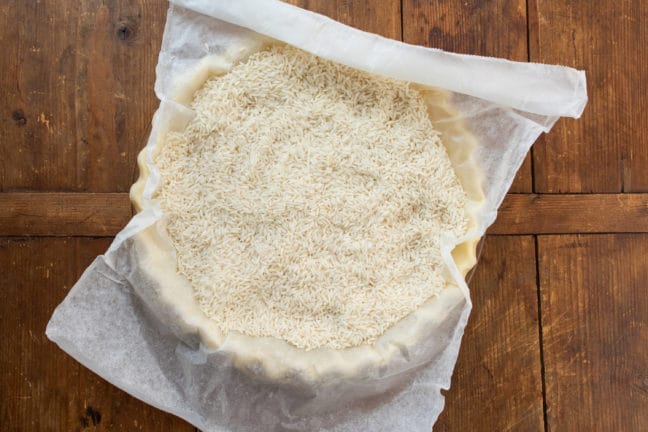 A smart thing to do is to save the rice or beans you used to weigh down the crust while it was baking. Place them in a jar and label them "baking beans" or "baking rice". Then you can keep them for pretty much forever, and they won't go to waste. (You can't cook with them once they've been in the oven).  And having them ready to go probably means you will make this pie again in the next couple of weeks. It's just a more likely scenario, and that is very enticing.
Filling an Ice Cream Pie
Once the crust is cooled, you'll want to let your ice cream soften slightly before scooping it into the pie crust and smoothing it out. You can do a single flavor, or you can layer different ice creams. Grab a couple of pints and play around with fun flavor combos. You can also blend chopped candy into the softened ice cream to further gild the lily, and customize your pie. In this recipe chopped Reese's Peanut Butter Cups are blended into the vanilla ice cream layer.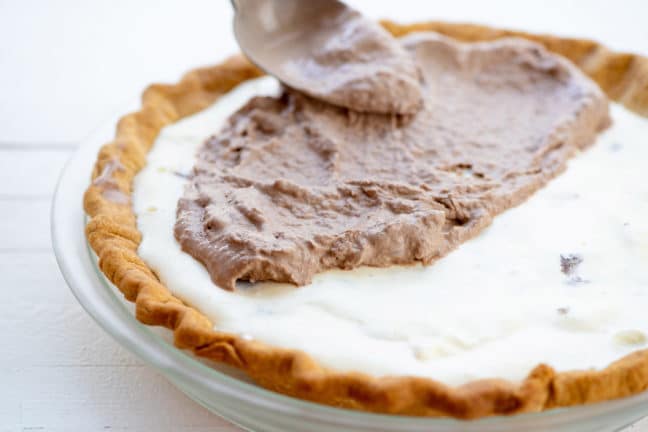 Carefully smooth each layer of ice cream over the bottom one so they layers stay distinct. If you want to make sure your layers are very even and clean you can place the pie in the freezer for about 30 minutes between each ice cream layer addition. This will allow each layer to firm up before more ice cream is added. If you do this, keep the softened ice cream in the fridge while the pie is freezing between stages.
Finally you can top the pie with whipped cream, homemade or otherwise, and the candies or sprinkles of your choice. In this case I threw on MORE Reese's Peanut Butter Cups. Because all in, baby.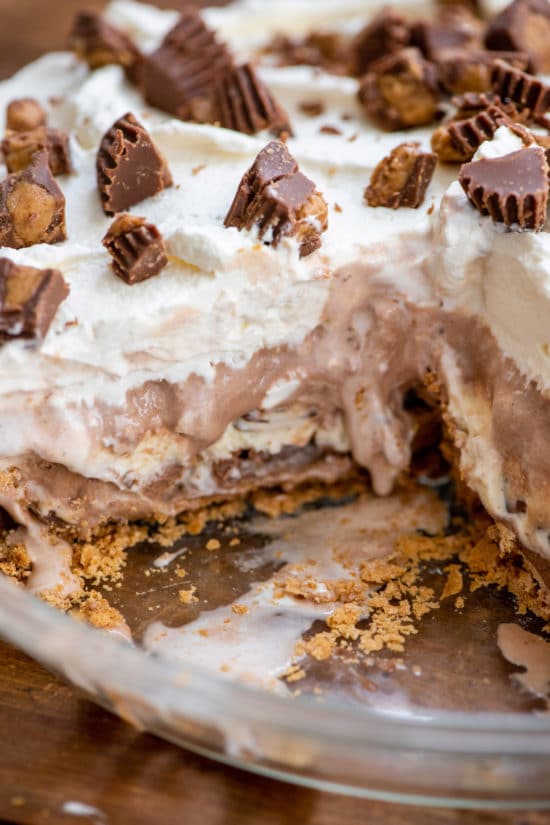 The pie will keep for 5 days in the freezer. Cover it well with plastic wrap once the top is firm. Make the whipped cream just before serving, or a few hours ahead and keep it in the fridge.
You can also slice the pie without with the whipped cream, and serve individual slices with whipped cream added to each piece if you prefer. You could also top the whole thing off with a drizzle of chocolate sauce or caramel sauce. Talk about gilding the lily and throwing all caution to the wind.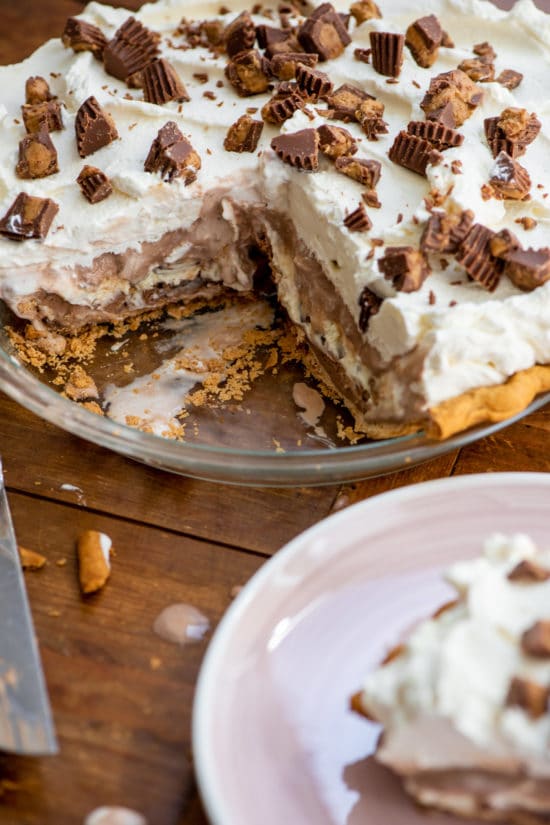 Other Chocolate Recipes:
Like this recipe? Pin it to your favorite board on Pinterest.

Pin This
Chocolate Peanut Butter Ice Cream Pie
If there is a person in the world who can turn down a slice of ice cream pie, well…I don't think that person and I would be friends.
Ingredients
1

pint

vanilla ice cream

1

pint

chocolate ice cream

20

miniature peanut butter cups

chilled and coarsely chopped, divided

¾

cup

cold heavy cream

3

tablespoons

confectioner's sugar

1

teaspoon

pure vanilla extract
Instructions
Let the pie crust sit at room temperature for 15 to 20 minutes before starting. To blind bake the crust, transfer it to a 9-inch pie pan (save the parchment!) gently pressing it into the pan, into the corners and up the sides. Fold the edges underneath themselves to form a thick rim that hangs just over the edge of the pie pan. Place the crust into the freezer and chill for 30 minutes to one hour (you can also do this and leave it overnight, if you want to get this step done ahead of time).

Before you take the pie out, preheat the oven to 375°F. Prick the crust in several places with a fork. Line the inside of the crust with the parchment paper the dough was originally rolled with, then fill it with dry rice or dried beans. Bake the crust for 20 minutes, then carefully remove the parchment with the grains or beans inside. Return the crust to the oven and bake for another 18 to 20 minutes or so, until the crust is golden. Remove and let cool completely on a wire rack.

Take both ice creams out of the freezer and let soften slightly. In a medium sized bowl, combine the vanilla ice cream with 3/4 of the peanut butter cups, blending until they are well combined.

Scoop half of the chocolate ice cream into the cooled crust, spread it evenly, and smooth the top with an offset spatula or the back of a spoon. Turn the vanilla ice cream with the peanut butter cups on top of the chocolate ice cream (see Cooking Tip), and spread that out evenly, trying not to disrupt the bottom chocolate ice cream layer. Scoop the remaining chocolate ice cream on top, and smooth out that layer. Return the pie to the freezer to firm up completely, at least 3 hours, and up to 5 days. If you are storing the pie for more than a few hours cover the top tightly with plastic wrap.

Just before you are ready to serve the pie, place the cream, confectioners' sugar, and vanilla in a mixing bowl. Use an electric mixer to blend the cream until firm peaks just form. Scoop the whipped cream attractively over the top of the pie. Let it sit for 10 minutes so soften just slightly before cutting. Use a sharp knife that has been dipped into a cup of very hot water, and then wiped dry to cut slices. Do this dip and wipe between each slice for the most attractive, clean slices.
Notes
Cooking Tip
If you want to make sure your layers are very even and unblended you can place the pie in the freezer for about 30 minutes between each ice cream layer addition, which will allow each layer to firm up before more ice cream is added. If you do this, keep the softened ice cream in the fridge while the pie is freezing between stages.
Nutrition
Calories:
422.01
kcal
,
Carbohydrates:
43.47
g
,
Protein:
6.3
g
,
Fat:
25.72
g
,
Saturated Fat:
13.43
g
,
Cholesterol:
62.2
mg
,
Sodium:
200.19
mg
,
Potassium:
289.88
mg
,
Fiber:
1.83
g
,
Sugar:
31.06
g
,
Vitamin A:
666.28
IU
,
Vitamin C:
0.72
mg
,
Calcium:
137.9
mg
,
Iron:
1.09
mg
Nutrition information is automatically calculated, so should only be used as an approximation.
Like this? Leave a comment below!