When I first made this salad I kind of held my breath while serving it up – my kids, along with most of the kids in the free world – have been conditioned to hear the word "kale" and blanch. My husband also hears the word kale and flinches. Poor little kale never has much of a shot in our house from the get-go.
As far as I can tell there is a highly populated and fairly evenly spread out kale spectrum. One one end, big kale fans, can't get enough of the stuff. On the other end, people like my family who think kale is a yucky vicious green out to make their lives miserable. And then the rest of us who fall somewhere in between, including a subset of people who fancy themselves "foodies", and who think kale is ov-ah.
Those of us in the middle of the continuum realize that that there is such a thing as too much kale. We also know that large pieces of large mature kale leaves plunked into a salad are a chore to eat. But we also appreciate that prepared in the right way – cooked or raw – and used judiciously, kale is a great and versatile leafy vegetable.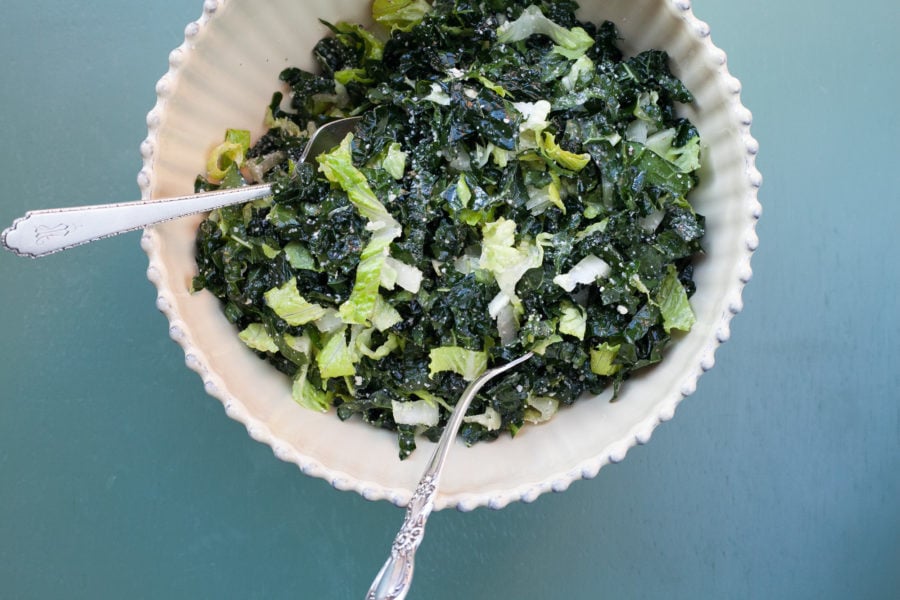 I may or may not have mentioned that there was kale in the salad as I put it on the table. I don't remember, but I'm imagining I was asked to identify the dark skinny ribbons of green punctuating our beloved hearts of romaine (the common denominator in 97% of all my salads). But however the whole thing went down, the salad was eaten, and seconds were enjoyed, and that was the beginning of this salad story.
The kale is slivered super thin, and if you have time, it should sit in the citrusy dressing for a little while before meeting up with the romaine leaves. This softens the kale up, and allows it to really take on the flavor of the vinaigrette. If you have the inclination, use your fingers to the give the dressed kale ribbons a 30 seconds massage to give them even more tenderness.
The salad also has a great pop of savory flavor from the grated cheese. Leave it out if you don't want cheese in the salad because you have a lot of cheese going on in the meal, or for any other compelling reason.
I like using Lacinato, or dinosaur, kale for this salad, which is a bit smoother and less ruffley than regular mature kale. I also think it would also be great with a few handfuls of baby kale instead.
You can use any dry grated cheese in place of the Grana Padano or Parmesan.
You maybe wondering, hey, what are those other green beauties in the photo? Well, one is a Creamy Brussels Sprouts Slaw and the other is an Endive, Arugula and Orange Salad.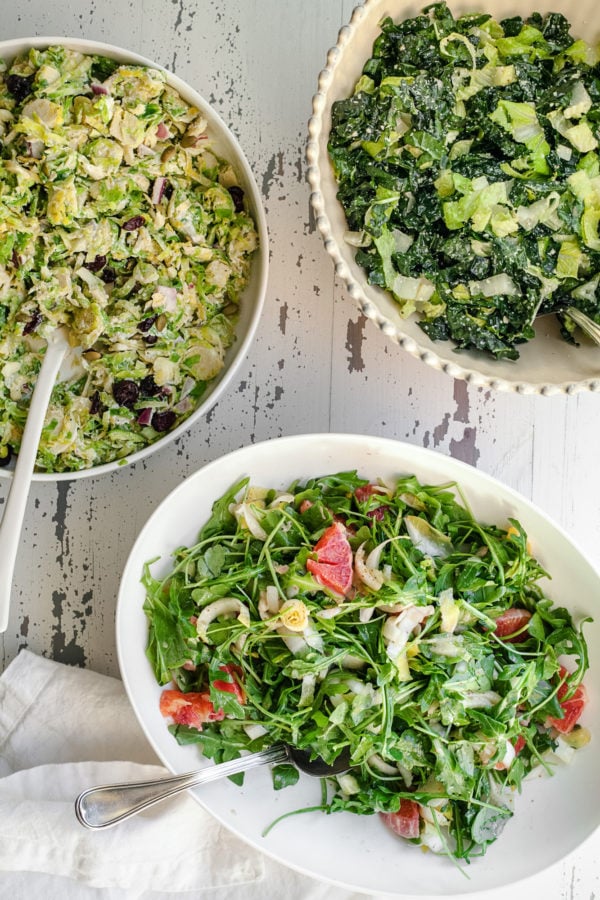 Other Kale Recipes:
Romaine and Slivered Kale Salad with Lemon Dressing
This is one of my favorite simple salads.
Ingredients
6

leaves

kale

such as Lacinato

3

tablespoons

extra virgin olive oil

2

tablespoons

lemon juice

1

tablespoon

Dijon mustard

Kosher salt and freshly ground pepper

to taste

1

heart of romaine

¼

cup

grated Grana Padano or Parmesan cheese
Directions
Fold the kale leaves in half lengthwise so that the rib is clearly visible on one side. Cut out the ribs. Stack the kale leaves on top of each other and roll them up lengthwise. Cut them crosswise into very thin (about 1/4-inch) ribbons.

In a large bowl combine the olive oil, lemon juice, Dijon mustard, and salt and pepper to taste.  Add the sliced kale and use your fingers to rub the dressing into the kale ribbons.  Set aside for up to 30 minutes, or keep going if you don't have extra time.

Cut the romaine crosswise into 1/2-inch slices. Add the sliced romaine to the kale and toss.  Add the Grana Padano and toss again. Serve.
Nutrition Information
Calories:
168
kcal
|
Carbohydrates:
9
g
|
Protein:
6
g
|
Fat:
13
g
|
Saturated Fat:
3
g
|
Cholesterol:
4
mg
|
Sodium:
178
mg
|
Potassium:
490
mg
|
Fiber:
1
g
|
Sugar:
1
g
|
Vitamin A:
11051
IU
|
Vitamin C:
107
mg
|
Calcium:
212
mg
|
Iron:
2
mg
The nutrition values are provided as an estimate. It is not intended as a substitute for the advice of a qualified healthcare professional.
Made this recipe? Post a photo of your delicious creation on Instagram with our hashtag #dinnersolved