This post may contain affiliate links. Please read our privacy policy.
If I had to choose one fish to eat for the rest of my life, it would be salmon. I'm not alone. Rich, moist, juicy, flavorful, and lush, and so easy to make. And it grills up beautifully, firm and flaky, cooked just to the doneness you like. This is one of the healthiest summer meals you can make and one of the most delicious. Serve with Quinoa Salad and Grilled Corn on the Cob for an amazing simple summer dinner. Some Grilled Pineapple would also be a perfect companion.
Salmon takes just minutes to grill up, and you can enjoy it plain and simple, or season or top it any which way you like. You really don't need to do much to this beautifully pink, rich-tasting fish; just serve it up hot or warm, and let the fish itself be the star. Or if you're looking for something special, pair it with a sauce like Easy Lemon Butter Sauce, Chimichurri Sauce, or Dill Sauce.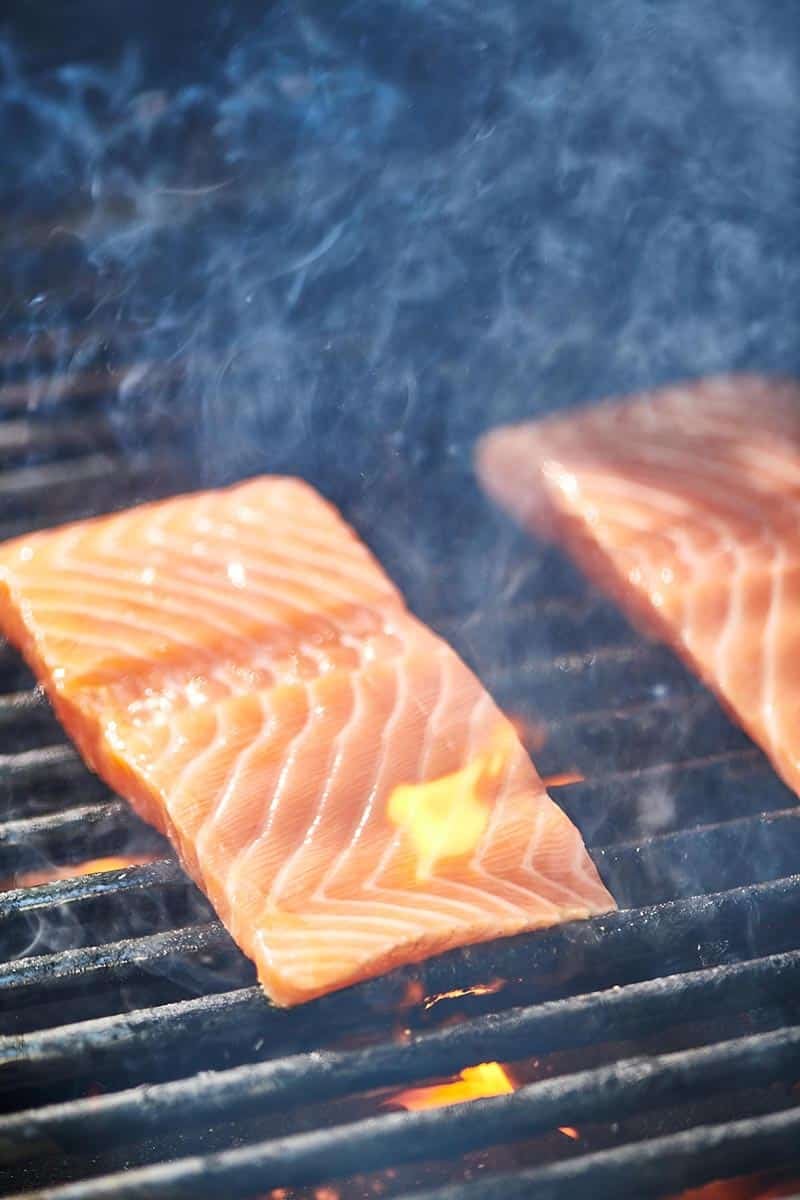 A simple grilled salmon dinner is one of the best things to come off of your grill. Enjoy it plain and simple or season any way you like.

Tweet This
Ingredients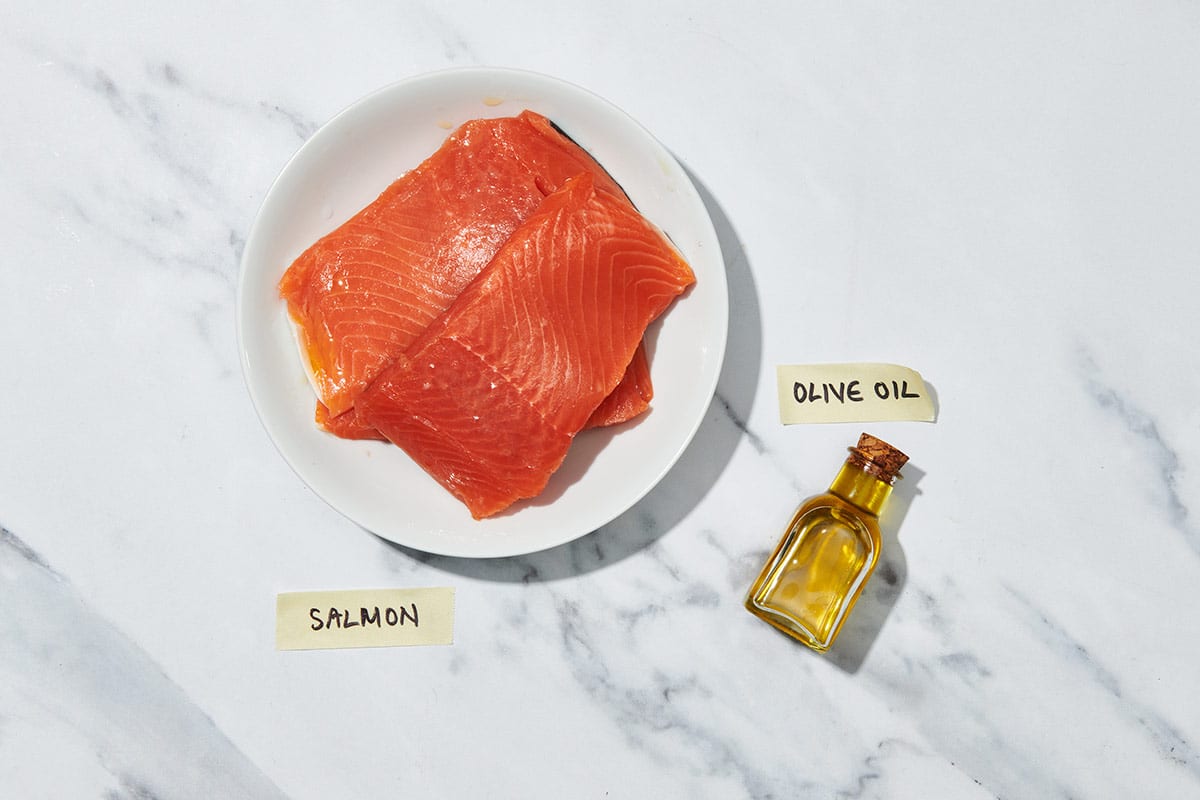 Best Salmon for Grilling
I much prefer filets to steaks in general. To make sure you are buying the most sustainable salmon available to you, check out Montgomery Bay's Seafood Watch website, which tells you which salmon is best in terms of sustainability.
If possible, buy filets of similar thicknesses, so they cook at the same time. If you have some thinner filets, know that you will probably want to take them off the grill earlier. A 1 ½-inch center-cut filet is perfect for grilling, so buy those if you can. Filets from the tail end will be thinner, and those from the head end might be thicker. Adjust the cooking time accordingly.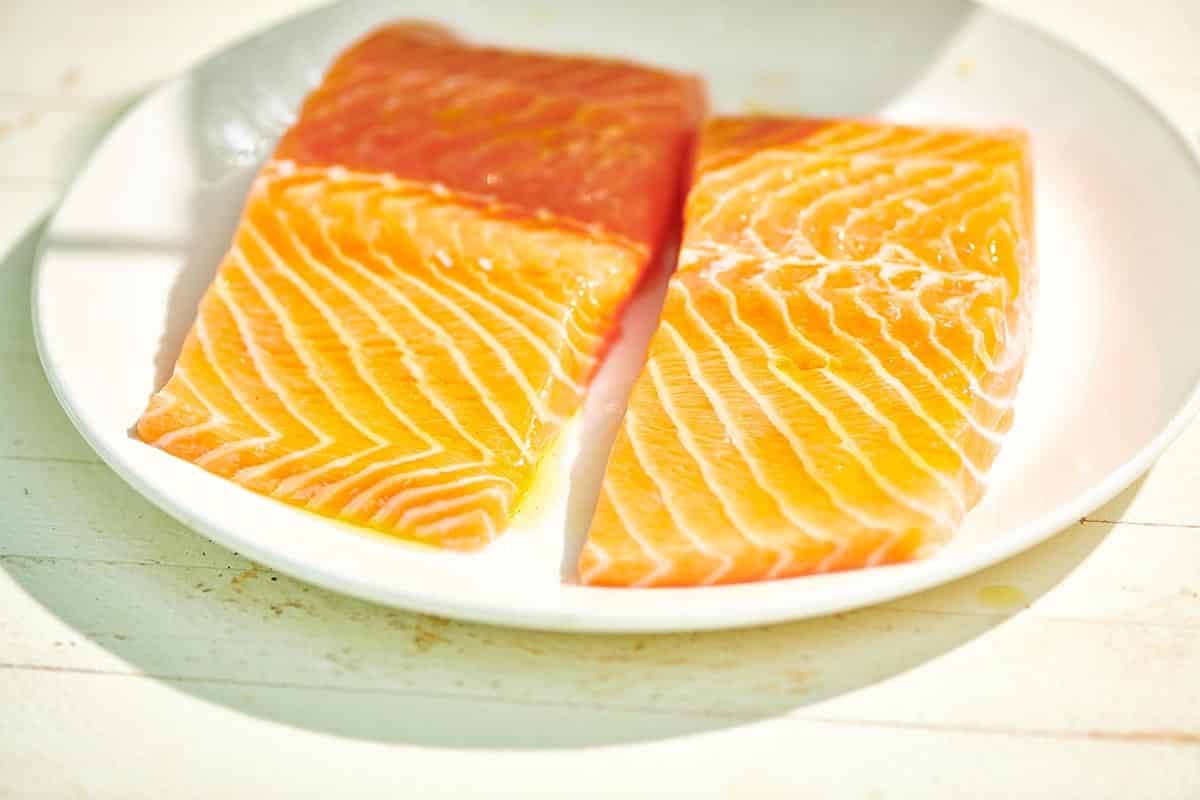 You want to make sure — as with any fish — that your salmon is perfectly fresh before grilling. If possible, purchase your salmon at a fish store that keeps their fish on ice. If you are buying packaged salmon, be sure it comes from a store that sells a lot of salmon. Most salmon has been frozen at some point between the moment it was harvested and when you get it home — that's fine!
Variations
What Temperature Should You Grill Salmon?
Direct medium-high heat is the best for temperature grilling salmon. Grilling the salmon at a higher temperature allows the salmon to get a nice crust on the outside, without cooking the middle more than you like.
One way to test that your grill is at the right temperature is to hold your hand 5 inches above the grill. You should be able to hold your hand there for just 3 to 4 seconds before it gets too hot. This temperature will create the bottom crust that is necessary to turn the fish without having it stick to the grill.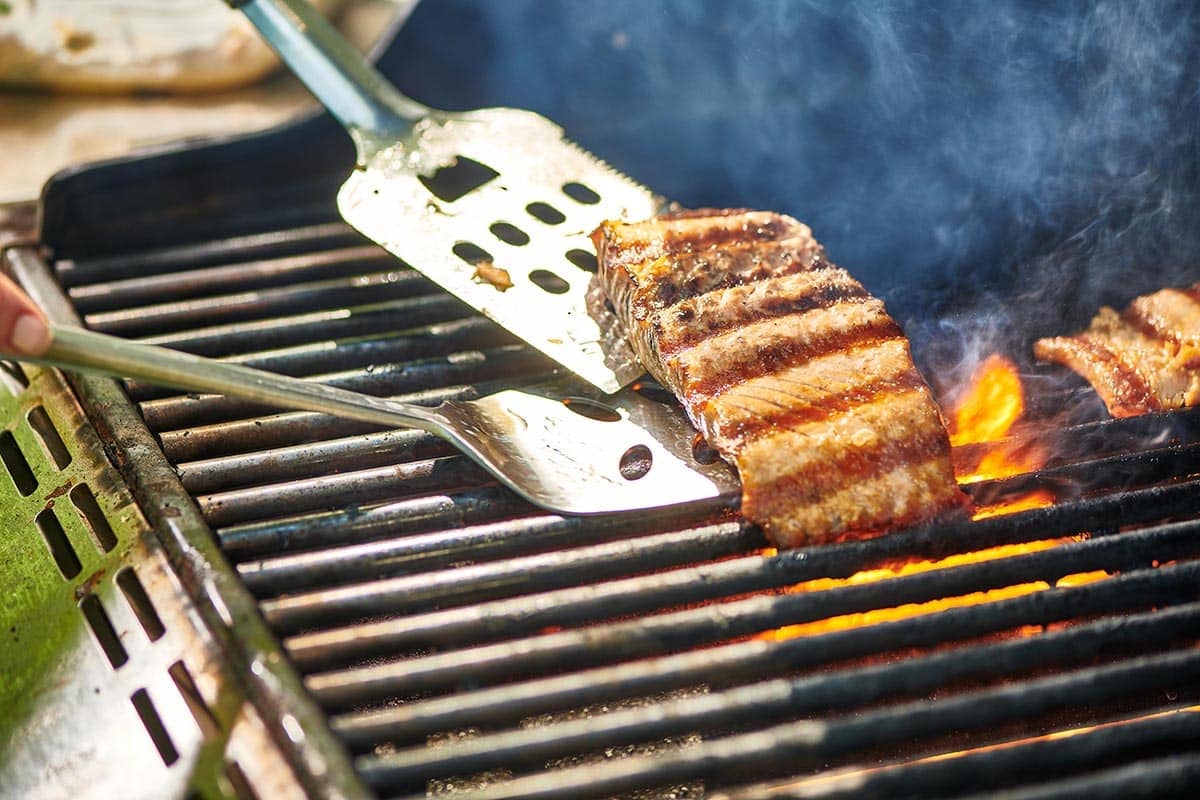 How Long to Grill Salmon
It depends more on the thickness of the fish than the size of the piece. Larger pieces will also take more time, but it's the thickness of the fillets that will mostly dictate the cooking time. The length of time also depends on how you like your fish cooked: I usually prefer salmon on the medium-rare side, with a dark pink center. Others prefer it to be cooked all the way through, so the fish turns opaque and flaky. I actually like it pretty much all ways — except overcooked and dry, which is easy to avoid with some attention!
Use the timing chart below as a guide. Start checking at the earlier side of the cooking range if you like your fish on the rarer side; add those extra minutes if you like your fish cooked completely.
You can grill multiple pieces of fish at a time, and it won't affect the grilling time, or at least not by much. Make sure you can easily tend to and flip and remove the salmon from the grill, so don't overestimate how many pieces you can cook at once! Leave room between the filets for the heat to circulate.
Salmon Internal Temperature
If you want fully cooked salmon, take the fish from the grill when it reaches an internal temperature of 140 degrees; as it rests, the temperature will climb to 145 degrees.
To peek inside the salmon (perhaps you don't have an instant-read thermometer, or maybe you just want to be sure), make a small cut with a paring knife into the fish and peek inside. If it is very close to your preferred level of doneness, pull it from the grill right away. Remember it will continue to cook a bit more off the grill from the residual heat.
Think about finishing these with a drizzle of Easy Lemon Butter Sauce.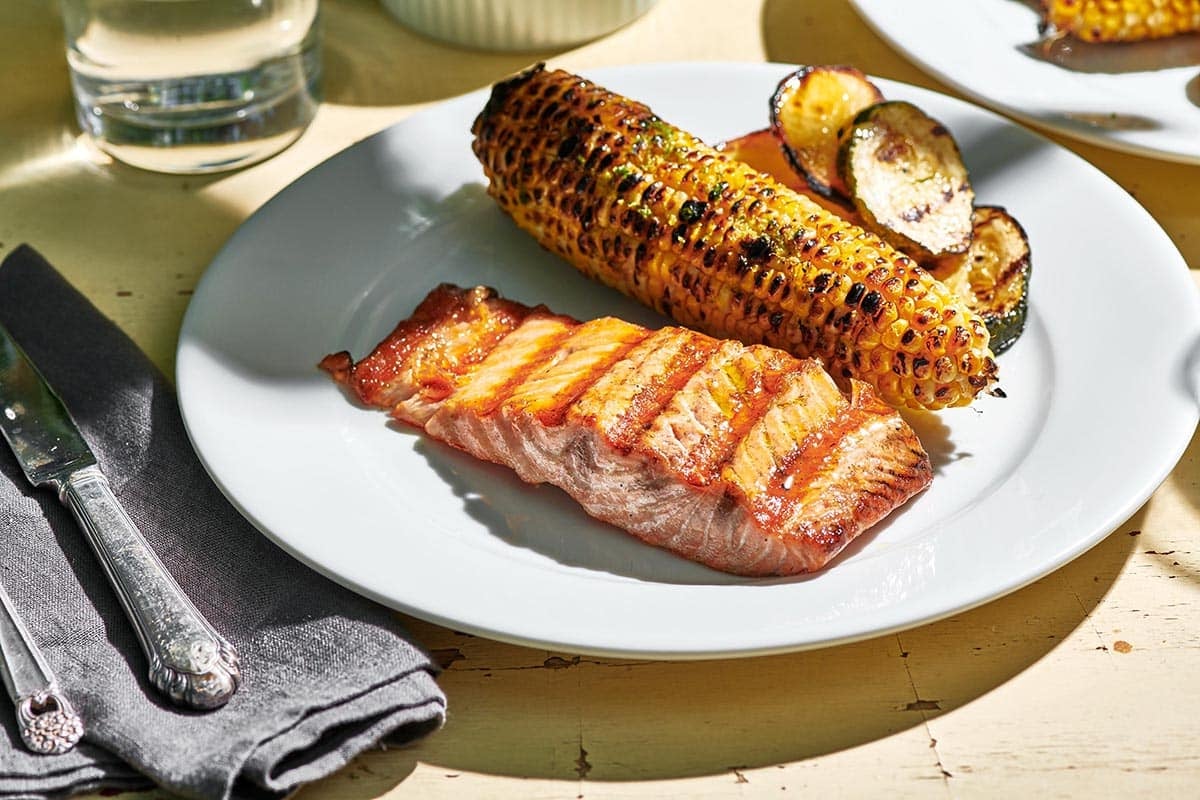 Salmon Cooking Times
| Level of Doneness | Total Cooking Time |
| --- | --- |
| Rare (dark pink in the center) | 7 to 9 minutes |
| Medium Rare | 12 to 16 minutes |
| Medium | 10 to 13 minutes |
| Medium Well | 11 to 14 minutes |
| Well Done | 12 to 15 minutes |
Cooking time for (6 to 8 ounce) salmon filets, about 1 ½ inches thick.
How to Keep Salmon From Sticking to the Grill
First, make sure your grill is very clean. Scrape down the grill grates thoroughly with a grill brush. Then oil the grill grates very well. Drizzle some vegetable oil on a clean paper towel or dip a paper towel into a little bowl of oil. Use your grilling tongs to rub the oiled paper towel over the grill grates until they are shiny. If you are using a grill basket or grill grate (see below), oil that as well.
Also, lightly oil the salmon itself before grilling it! If the salmon is in an oil or mayo-based marinade, that serves the same purpose. Otherwise, brush the salmon with a nice coating of oil. You can use olive oil or vegetable oil, whichever works best with the flavors of the fish recipe. Vegetable oil is more neutral, and olive oil works well with any Mediterranean-style fish dish. Mayonnaise is another option — it is neutral in flavor, and you won't be able to detect it once the fish is cooked.
And if your fish sticks a little, oh well, it will taste fantastic no matter what.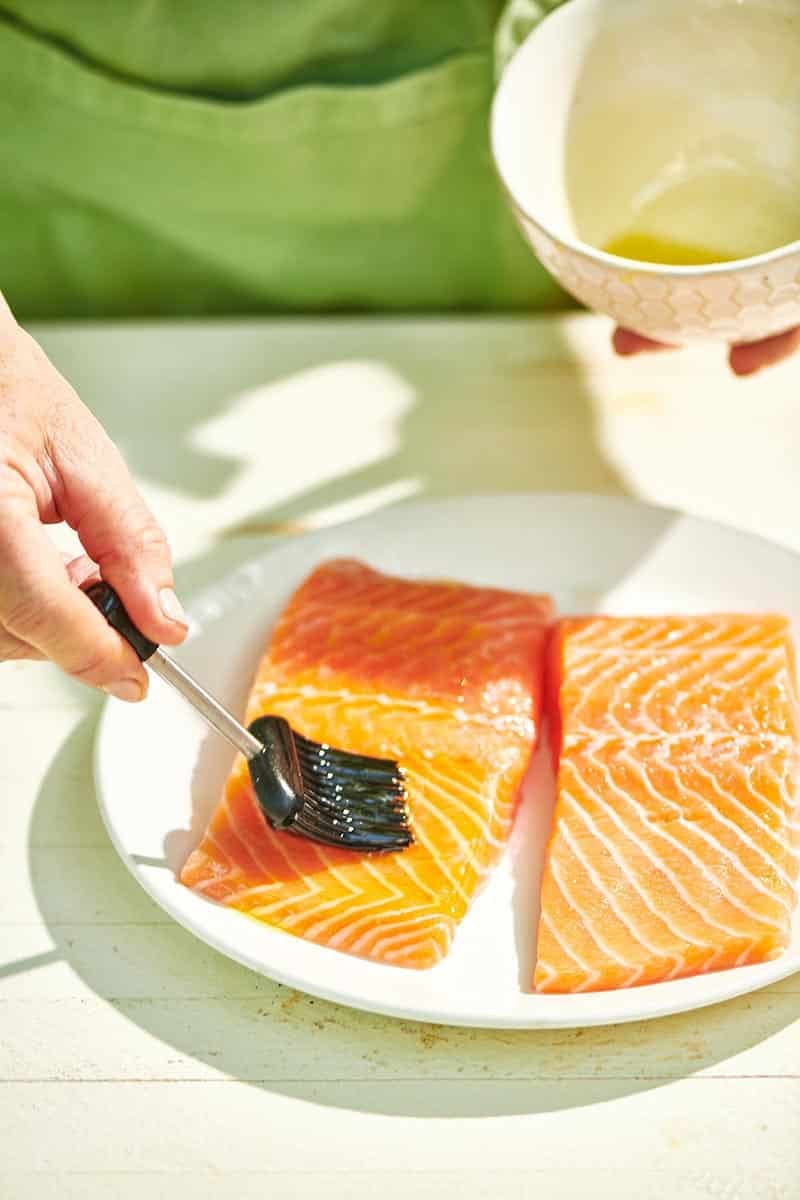 Using a Fish Basket to Grill Salmon
If you like fish on the grill, consider purchasing a fish grilling basket (which can also be used for other things, like vegetables). These are hinged wire baskets that allow the exterior of the fish to get direct contact with the grill and the fire. Put the fish in the basket, close the latch, and turn the basket to turn the fish.
You can also find a grill accessory called a fish grate, or grilling grate. This lays flat on the grill, and because it is flat, it allows a spatula to slide underneath the fish a lot more cleanly than the wider, rounder grill bars. Because there is more surface area, you won't get the same kind of grill marks, but things won't fall through the grates.
How to Grill Salmon
Heat the grill to medium-high: Wipe the grill with oil-dipped paper towels.
Prepare the salmon: Brush the salmon with olive oil and season.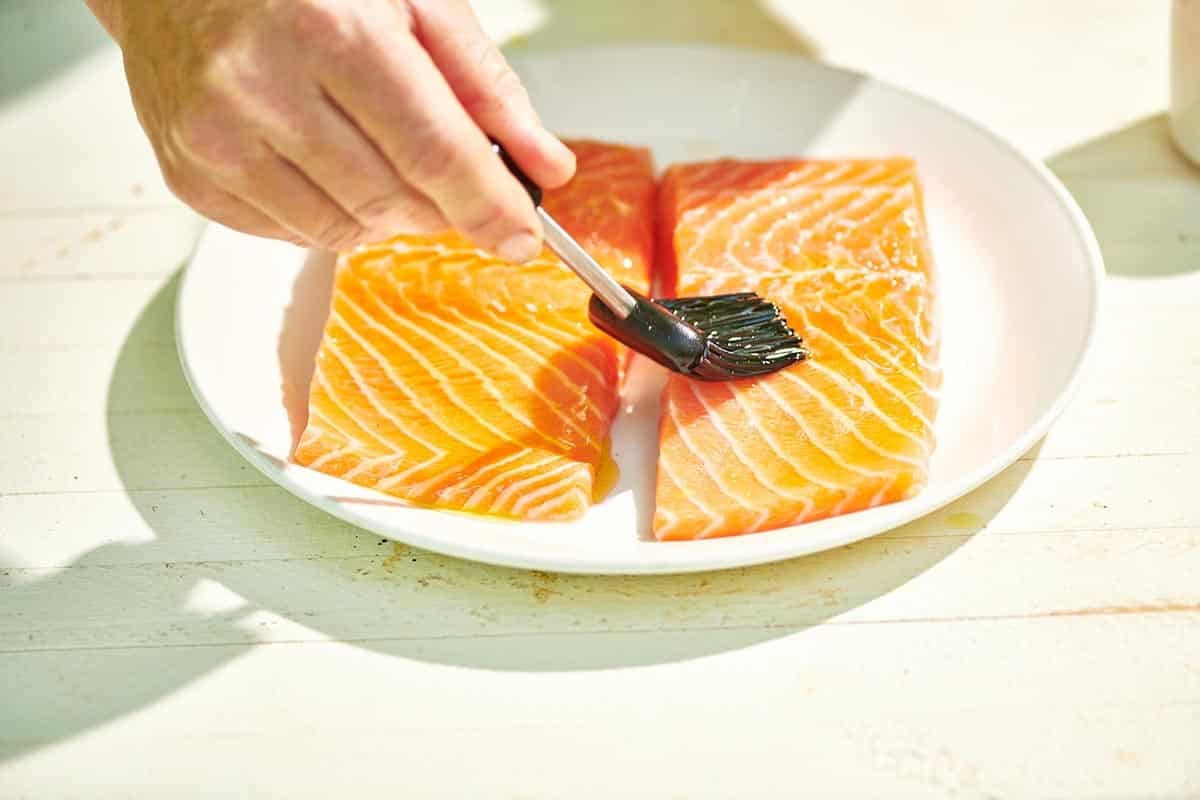 Grill the salmon: Grill the fish for 5 minutes on the first side.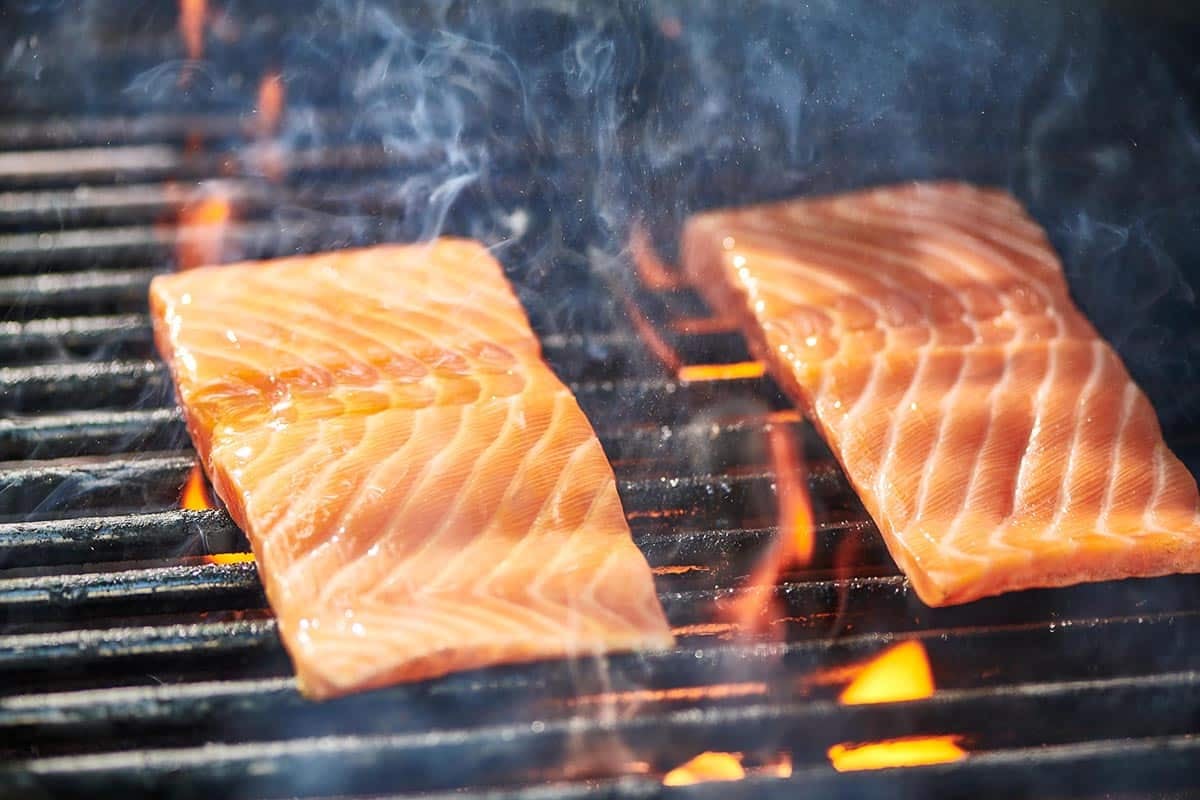 Turn the fish: Cook on the second side for another 4 to 5 minutes, until the bottom is firm with nice grill marks and releases easily from the grill.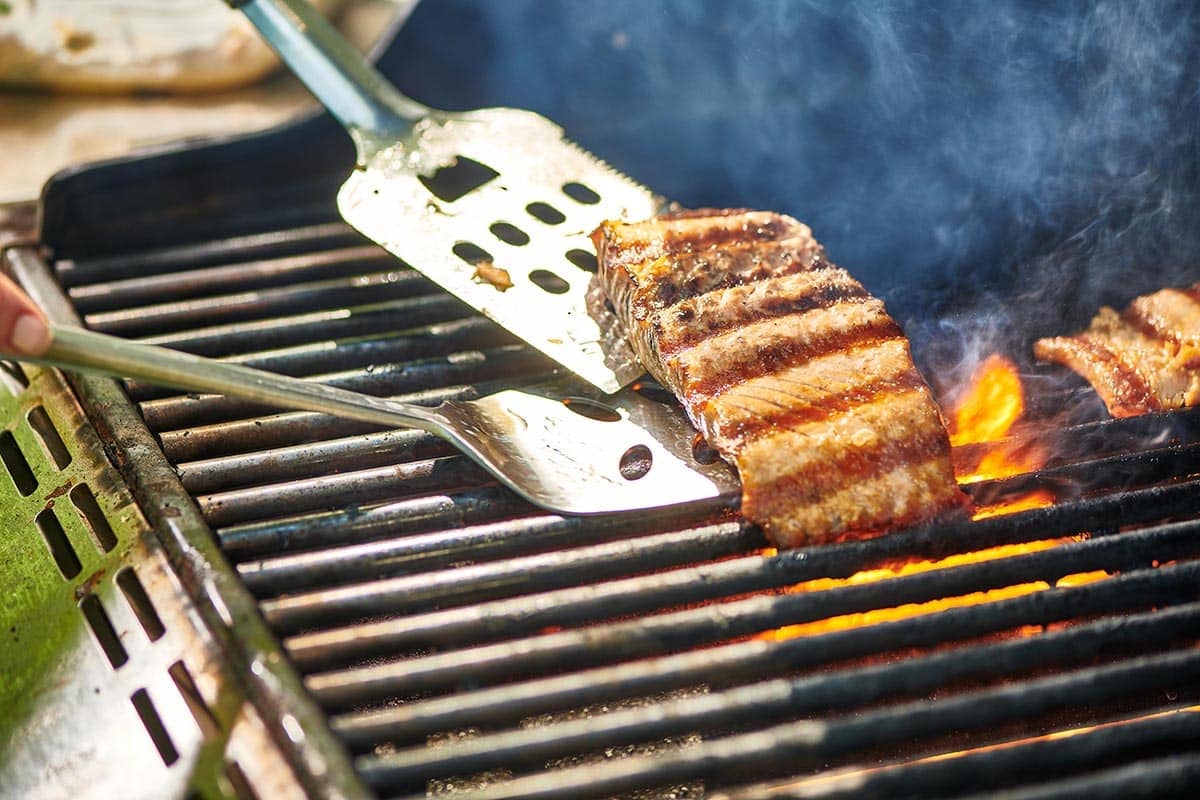 Serve: Transfer the fish to a serving platter. Give the finish a final drizzle of olive oil, if desired, and serve hot or warm with lemon wedges, if desired.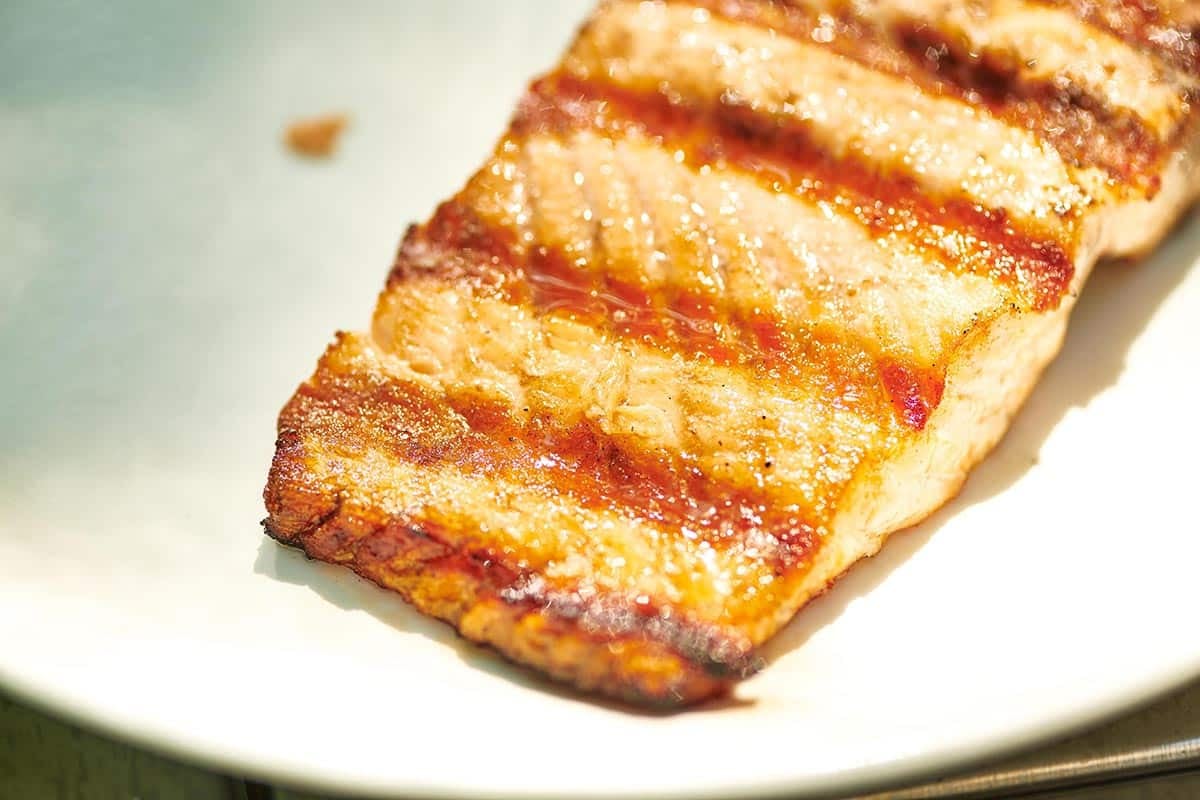 FAQs
Do you grill salmon covered or uncovered?
You can do either, but note that covering the grill will speed up the cooking time by a bit, so start checking your fish a bit earlier.
How do you keep salmon from drying out on the grill?
Because salmon is a very moist, fatty fish, as long as you don't overcook it, it shouldn't dry out on the grill. Make sure to brush it will olive oil first. All fish cooks very quickly on the grill (and elsewhere!) and can go from perfectly cooked to dry in a couple of minutes. Stick close by, check the temperature or level of doneness often, and take it from the heat the moment it is done to your liking.
How can you tell if grilled salmon is done?
Like meat, you can use a touch method to determine if the salmon is cooked to your liking. Give the fish a little squeeze on the side. Medium-rare salmon should be fairly firm with some give, and well-cooked salmon will feel very firm.

Fully cooked salmon will be opaque throughout, and flake easily with a fork. Or, you may want to cook it to medium-rare, with a bit of dark pink in the middle. The FDA recommends a safe internal temperature of 145 degrees for fish and shellfish, but if you are using fresh, high-quality fish, you can cook to an internal temp of 135 degrees, which is the temperature for medium-rare. See the chart for more info!
How do you flip salmon on the grill?
You can use a wide spatula or tongs. If the fish releases from the grill easily and you can flip it with tongs instead of a spatula, you can probably get a nice and clean surface, without tearing the fish. But a flat, wide spatula and a steady, sure hand can also work.

I also like to use two spatulas for flipping fish. I use one to lift up the edge a bit, and then slide the second one underneath, which allows for a smoother motion and prevents tearing the bottom of the fish.
Do you grill salmon with the skin on or off?
That's up to you. You may or may not have the choice to buy when buying salmon, but either will work well. The skin will crisp up nicely on the grill and is quite delicious. However, if all you can find is skin-on salmon, and you prefer it without, go ahead and grill the salmon with the skin, but then peel it off before serving.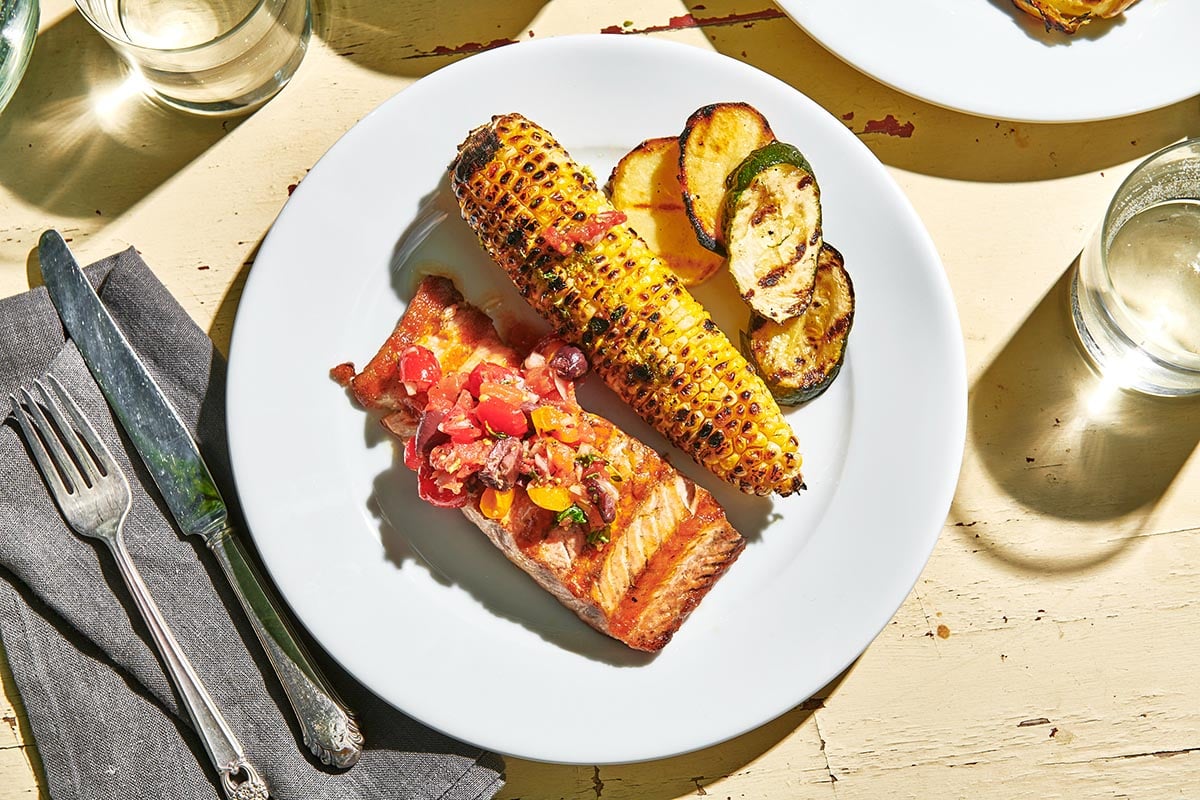 Tips
What to Serve With Grilled Salmon
Sauces for Grilled Salmon
Like this recipe? Pin it to your favorite board on Pinterest.

Pin This
How to Grill Salmon
A simple salmon dinner is one of the best things to come off of your grill.
Ingredients
Vegetable oil

(for brushing the grill)

¼

cup

olive oil

(plus more for drizzling if desired)

4

(6 to 8 ounce) salmon filets

(about 1 ¼ to 1 ½ inches thick)

Kosher salt and freshly ground pepper

(to taste)

Lemon wedges

(to serve)
Instructions
Heat the grill to medium-high. Use grilling tongs to dip a wad of paper towels in some vegetable oil, and use the oil-dipped paper towels to wipe down the grill rack.

Brush the salmon on both sides with olive oil, and season with salt and pepper. Place the fish, flesh side down, on the hot oiled grill and let cook for 4 to 5 minutes without moving. Use a large flat metal spatula, preferably a fish spatula, or grilling tongs to gently lift the edge of the fish from the grill. If you see nice grill marks, and the fish releases easily from the grill, it is ready to flip.

Carefully flip the fish to another clean, oiled part of the grill (you can also give the top of the fish another generous brush of oil to prevent sticking). Cook on the second side for another 4 to 5 minutes, until the bottom is firm with nice grill marks and releases easily from the grill.

Carefully use the spatula to transfer the fish to a serving platter. Give the finish a final drizzle of olive oil, if desired, and serve hot or warm.
Notes
Use a sure hand when flipping the fish.
Try the two-spatula flipping method: Use one spatula to lift up the edge of the fish, and then slide the second one underneath, which allows for a smoother motion, and prevents tearing the bottom of the fish.
When you place the oiled fish on the oiled grill, gently slide it an inch or so forward to prevent it from sticking.
When you are flipping the fish, turn it into a freshly oiled part of the grill that nothing was just cooked on — a totally clean new space.
Nutrition
Calories:
441
kcal
,
Protein:
45
g
,
Fat:
28
g
,
Saturated Fat:
4
g
,
Polyunsaturated Fat:
7
g
,
Monounsaturated Fat:
15
g
,
Cholesterol:
125
mg
,
Sodium:
100
mg
,
Potassium:
1111
mg
,
Vitamin A:
91
IU
,
Calcium:
27
mg
,
Iron:
2
mg
Nutrition information is automatically calculated, so should only be used as an approximation.
Like this? Leave a comment below!