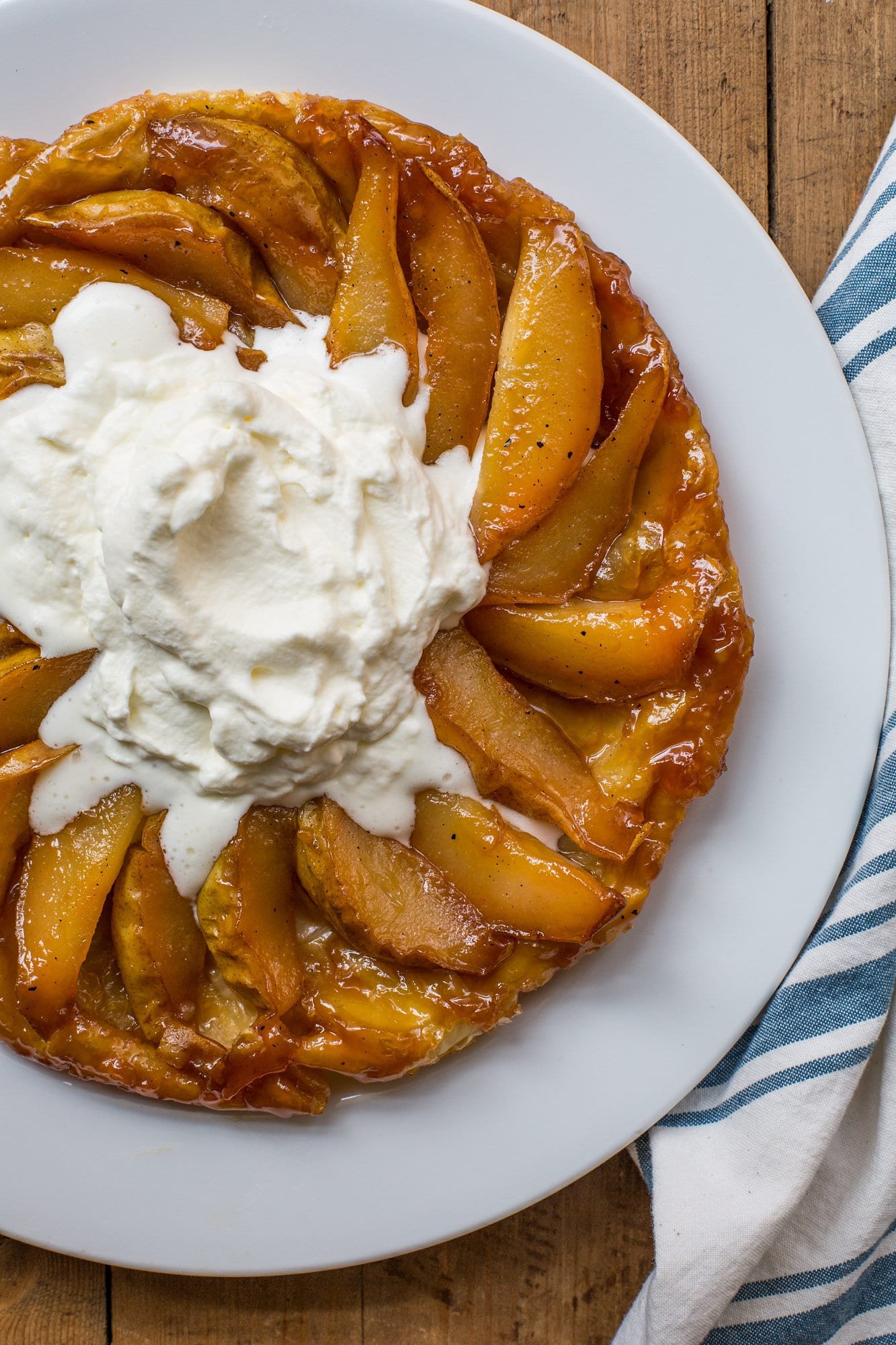 Taxi cab confession: Before now, I had never made a tart tatin. It sounded just plain scary—flipping a pan over so that the fruit ends up on top, and the crust ends up on the bottom. Such drama! Why would anyone put themselves through such angst?
But there I was just minding my own business, and suddenly it was pear season, and the voluptuous, colorful, squatty fruits were everywhere. I bought some puff pastry, gave myself a big old pep talk, and turned up the music.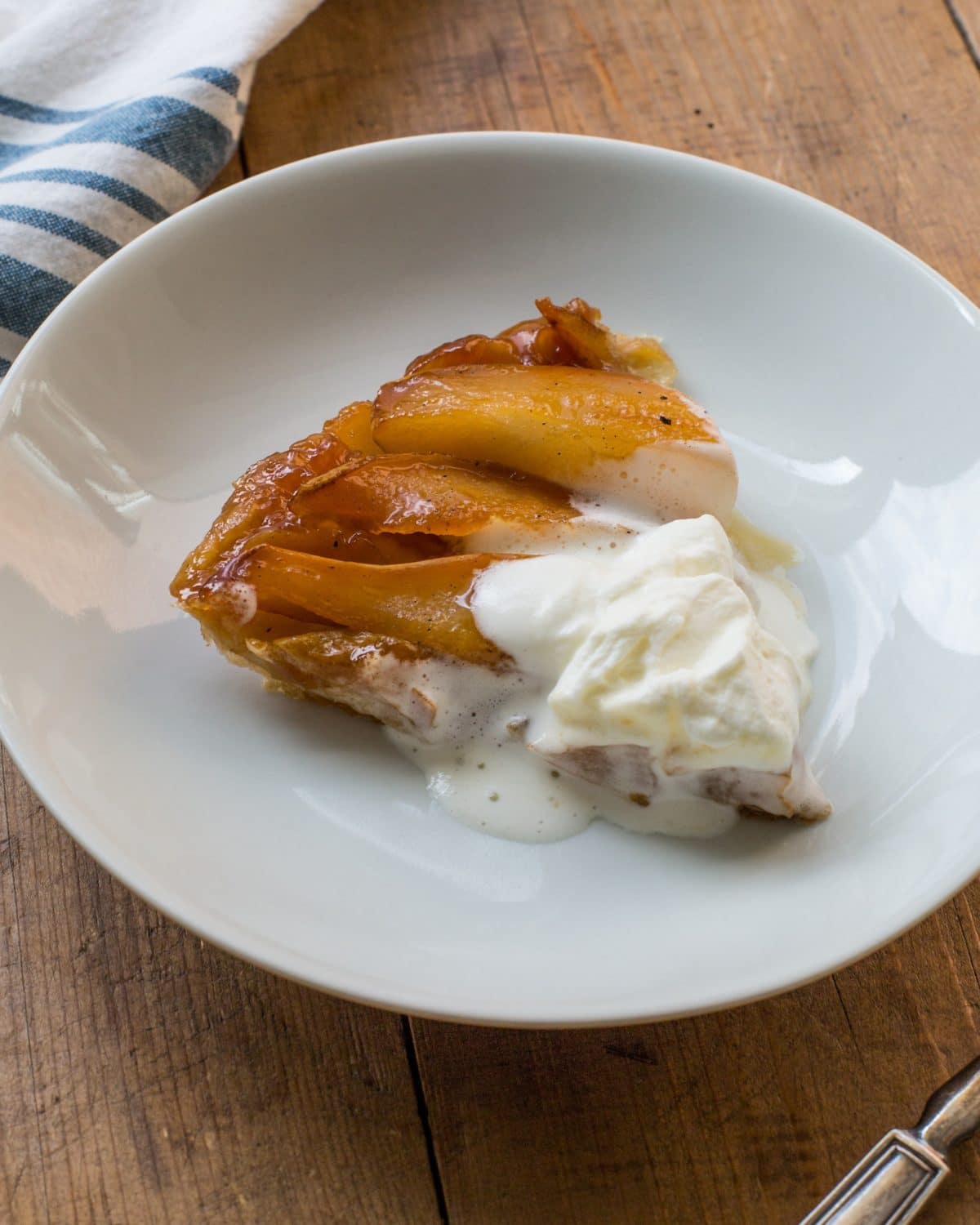 An hour later, my first pear tart tatin was a success. A few pears stuck to the pan when I inverted it, but I pulled them off and settled them back into place on the tart and no one was the wiser. I was glad, however, to be flipping the tart in the privacy of my kitchen, and not in front of a crowd.
And while I will have to accomplish a few more successful tart tatins to feel as though it is no longer intimidating, I am now on my way. I can envision that day when I will be able to say with casual confidence: "Oh, can I bring a dessert? How about a tart tatin?"
This Pear Tart Tatin dessert looks fancy and difficult, but you can pull off easily with the shortcut of premade puff pastry.

Tweet This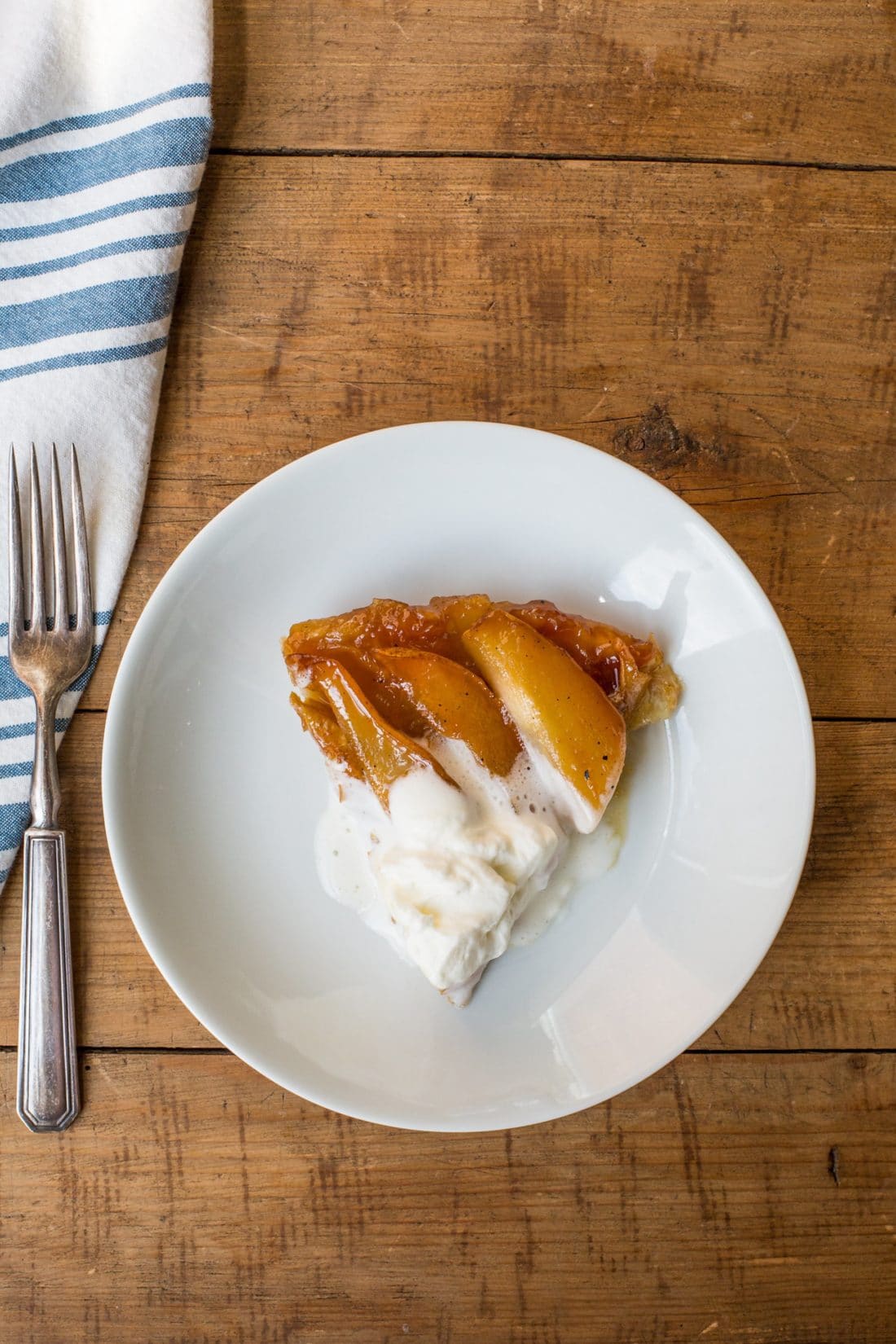 You want your pears to be just ripe, but not soft. They need to hold their shape in the baking. Buy yourself some good ice cream for this—you and your tart tatin deserve it.
And in closing, and once again, I will take a moment to profess my deep abiding love for premade puff pastry. I may be excited to add tart tatins to my repertoire, but I'm pretty far away from wanting to make my own puff pastry.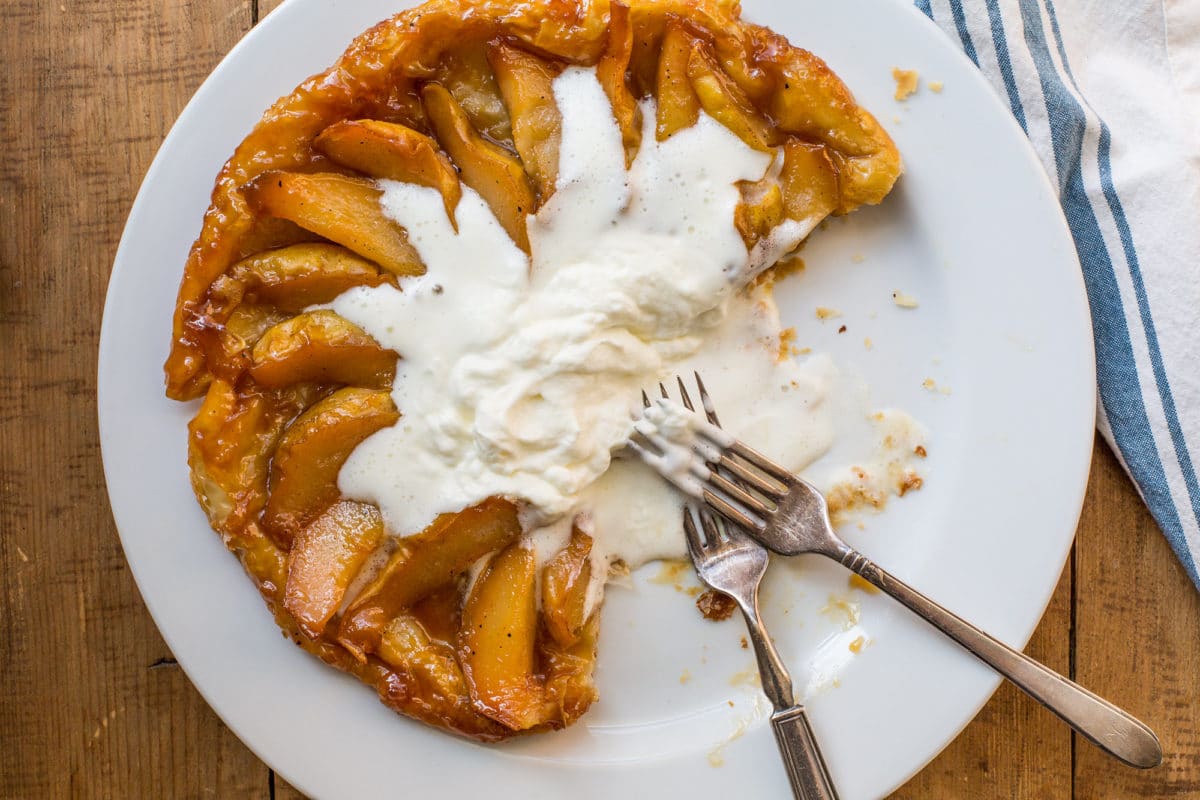 Other Great Fruit Desserts to Try:
And check out How to Cook Pears.
Like this recipe? Pin it to your favorite board on Pinterest.

Pin This
Pear Tart Tatin
A sheet of pre-made puff pastry plus a handful of just-ripe pears turns into this.
Ingredients
½

cup

sugar

3

tablespoons

unsalted butter

2

teaspoons

fresh lemon juice

4

Anjou or Barlett pears

just-ripe but firm

All-purpose flour for rolling out the pastry

1

sheet frozen puff pastry

(½ of a 17.3 ounce package), thawed according to package directions, but still slightly chilled

Vanilla ice cream or sweetened whipped cream

to serve
Directions
Preheat the oven to 375°F.

In a 10-inch heavy ovenproof skillet, preferably cast iron, stir together the sugar with 2 tablespoons of water. Cook over medium heat, without turning, until the mixture starts to turn golden about 6 minutes. Stir in the butter, and continue stirring occasionally until the mixture is a rich golden color. Stir in the lemon juice.

While the sugar mixture is cooking, slice the pears in half, then into quarters, remove the cores with a paring knife, and cut the halves lengthwise into 2 thick slices each (so, 8 slices total per pear). When the sugar mixture is golden, arrange the pear slices in concentric circles in the pan. Reduce the heat to medium low and cook until the pears are slightly tender, about 3 minutes.

Meanwhile, lightly flour a clean work surface. Roll out the puff pastry to a square slightly larger then the diameter of the pan you are using. Trim the pastry into a circle just barely larger than the circumference of the pan, and prick the puff pastry in several places with a fork. Place the pastry over the pears and carefully tuck the edges around the tops of the pears (you may want to use a rubber spatula, as the pan will be hot). Bake for about 25 minutes until the pastry is golden brown and puffed.

Place the pan on a wire rack and let cool for 15 minutes. Run a knife around the edge of the skillet, place a serving plate (larger than the pan) on top of the pan, and carefully invert the tart tatin onto the plate. If any pears clung to the pan, remove them, and place them back in their rightful spots. Let cool a bit more, then serve warm, with ice cream or sweetened whipped cream.
Nutrition Information
Calories:
306
kcal
|
Carbohydrates:
40
g
|
Protein:
3
g
|
Fat:
16
g
|
Saturated Fat:
6
g
|
Cholesterol:
11
mg
|
Sodium:
78
mg
|
Potassium:
122
mg
|
Fiber:
3
g
|
Sugar:
21
g
|
Vitamin A:
153
IU
|
Vitamin C:
4
mg
|
Calcium:
12
mg
|
Iron:
1
mg
The nutrition values are provided as an estimate. It is not intended as a substitute for the advice of a qualified healthcare professional.
Made this recipe? Post a photo of your delicious creation on Instagram with our hashtag #dinnersolved