Banana Cupcakes with Cream Cheese Frosting
Another ode to the overripe banana.
Serving Size: 16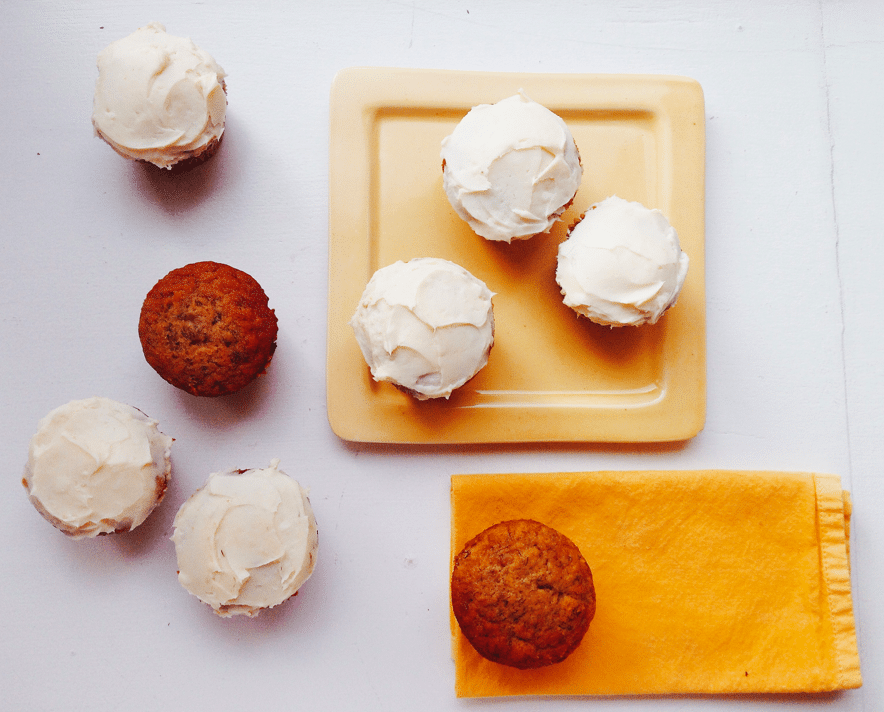 My cousin was coming to dinner, see? And I had these browning bananas, see? Really, nothing more to see here.
Banana Cupcakes with Cream Cheese Frosting
Print
2 cups cake flour

1 teaspoon baking soda

½ teaspoon kosher salt

3 very ripe bananas, smashed

½ cup (1 stick) unsalted butter, melted

¾ cup sugar

½ cup brown sugar

2 large eggs

½ cup sour cream

1 teaspoon vanilla

Pinch salt
Cream Cheese Frosting
1 (8-ounce) package cream cheese, softened

¼ cup (½ stick) unsalted butter, softened

1 teaspoon pure vanilla extract

4 cups (1 16-ounce box) confectioners' sugar

1
1. Preheat the oven to 350°F. Line 16 cupcake tins with paper liners, and spray with nonstick spray.
2. In a medium sized bowl, mix together the flour, baking soda, and salt.
3. In a large mixing bowl, use and electric mixer to combine the bananas, butter, sugar and brown sugar until blended. Beat in the eggs one at a time, then blend in the sour cream.
4. Blend in the flour mixture on low speed in three batches just until incorporated. Scrape down the sides of the bowl. Fill each cupcake liner almost to the top with batter. Bake for about 25 minutes, until a wooden skewer inserted into the middle of a cupcake comes out clean.
5. Cool in the pan on a wire rack for 15 minutes, then remove the cupcakes from the tin and finish cooling on the wire rack.
6. While the cupcakes are cooling, make the Cream Cheese Frosting. In a medium bowl blend together the cream cheese, butter and vanilla, add the salt, then add the confectioner's sugar in a few batches, blending until it is incorporated before adding more.
7. Frost the cupcakes while cool.