This post may contain affiliate links. Please read our privacy policy.
If you want a salad that will shout holiday, then you have landed in a very good spot.
I had so much fun putting this together. First of all, any time you want to make a salad (or anything) feel very festive and holiday-ish, you can't go wrong with pomegranate seeds. That's just a fact. Bright ruby little arils, kind of glowing and translucent, with their sweet-tart flavor – I double dog dare you to find a dish that won't look extra joyful with the addition of pomegranate seeds.
Okay, maybe not meatloaf….or chili…..but you get the point. Also, you can buy these in little containers, and save yourself the hassle of dismantling a full pomegranate (which also can be kind of satisfying).
Fruit in Salad
Also, fruit in salad; it always feels special. And sophisticated. And clever, even though it's not exactly inventing the wheel. Here, pears, because they also have a very holiday vibe.
And cheese! I am always happy to see cheese in a salad, from feta in a Greek salad to goat cheese to ricotta salata. In this salad, we welcome shavings of Parmesan, one of the finest cheeses in the world, with it nutty taste and firm texture.
Holiday Salad with Puff Pastry Croutons
But finally….what makes this salad so special….is puff pastry croutons. I cannot stand packaged croutons. I feel sad when I see them, like they have downgraded my salad, and I will pick them out as quickly as possible. But I love fresh croutons. And I love puff pastry. And I was very excited by how well these turned out – even better than I had hoped.
If you want a salad that will shout holiday, then you have landed in a very good spot.

Tweet This
How to Make Puff Pastry Croutons
I often think of puff pastry when it comes to dessert, but sometimes forget about how many ways it can be used in savory dishes. You will be amazed at how easy these croutons are to make.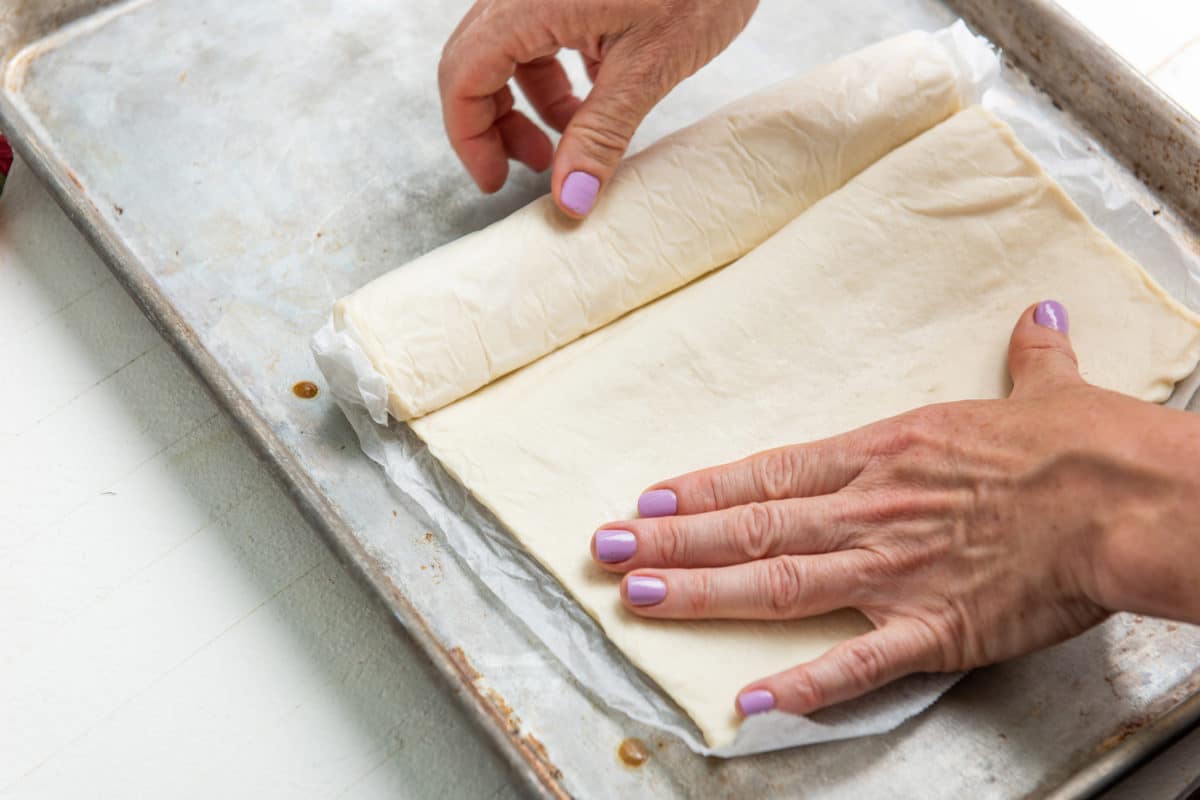 Roll out the puff pastry.
Cut out the shapes you want your croutons to be with mini cookie cutters (available online and wherever baking tools are sold), or just slice the puff pastry into squares or diamond shapes. Remove any excess dough, if needed, give the tops a quick brush with mayonnaise, and a sprinkle of Parmesan and salt, bake briefly and you have these adorable little croutons.
I had these tiny little leaf cookie cutters which were just perfect for an autumnal salad (Thanksgiving, I'm all over you). But I also cut them into diamonds and played with some other shapes. They worked every which way. They worked when I left the pastry dough in place around the cut outs, and they worked when I peeled up the excess puff pastry and left the cut out silhouetted on the parchment paper.
The mayonnaise is like a cross between brushing them with egg and melted butter, both classic options for making pastry glossy and nicely browned. And the sprinkle of Parmesan and salt gives them a great punch of flavor.
They also keep in a sealed container for a few days, so you can make them ahead, or just store your leftovers for some very stylish snacking.
I would also think about floating them on top of a bowl of soup, and using them any way that you like to use croutons.
Anyway, if I sound a little overly self-congratulatory on these, I am sorry, but when you make them I really hope you will also feel like you have made something special. Back to that whole festive salad concept – pretty cool, right?
Other Holiday Salad Recipes:
Like this recipe? Pin it to your favorite board on Pinterest.

Pin This
Green Salad with Pears, Parmesan and Pomegranate Seeds and Puff Pastry Croutons
If you are looking for a salad that shouts "Holidays!" then you have come to the right place.
Ingredients
For the Parmesan Puff Pastry Croutons
½

package

puff pastry dough

defrosted if necessary

4

tablespoons

mayonnaise

approximately or more as needed

3

tablespoons

finely grated Parmesan cheese

approximately or more as needed

Kosher salt

to taste
For the Vinaigrette
1

large shallot

minced

2

tablespoons

white wine vinegar

1

tablespoon

lemon juice

3

tablespoons

olive oil

2

teaspoons

honey

Kosher salt and freshly ground pepper

to taste
For the Salad
4

cups

baby arugula

4

cups

thinly sliced romaine

2

pears

halved, cored, and thinly sliced

½

cup

shaved Parmesan

see Note above

1

cup

pomegranate seeds

divided
Instructions
Make the Puff Pastry Croutons: Line a baking sheet with parchment paper, if you have it (otherwise leave it alone). Unroll the puff pastry onto a baking sheet. Either cut the pastry into squares or diamond shapes, or any other shape you like, or use cookie cutters to cut the pastry into the desired shapes. You can pull up the dough around the shapes, and toss it, and then you will have croutons that are lightly browned on the sides as well as the top, or you can leave the whole sheet of pastry in place, and pop out the croutons once the whole thing has baked. If you have cut the pastry into diamonds, just leaves everything in place.

Brush the tops of the pastry shapes with a very light wash of mayonnaise. If you have pulled up the excess dough, just very lightly brush the tops of the shapes with the mayonnaise. Lightly sprinkle on some Parmesan, and then some salt.

Bake for 12 to 16 minutes (it depends on size of the pastry shapes and whether or not you removed the extra pastry from around the cut out shapes.) When the dough is puffed up and flaky and a rich golden brown on to, it is done. Place the baking sheet on a wire rack and allow the croutons to cool . If you need to pop the shapes out from the rest of the dough do that once the dough has cooled somewhat.

While the puff pastry croutons are baking, make the vinaigrette. In a small container, combine the shallots, white wine vinegar, lemon juice, olive oil, honey, and salt and pepper. Shake to blend.

Place the arugula and romaine in a large serving bowl. Add the pears, Parmesan, and half of the pomegranate seeds to the bowl. Pour the dressing on the salad, and toss to combine. Scatter the remaining pomegranate seeds over the top, distribute the puff pastry croutons over the salad, and serve. You may also choose to serve the salads on individual plates, and then top with the remaining pomegranate seeds, and the croutons.
Notes
Note
Shaved Parmesan is simply Parmesan that has been very thinly sliced, or shaved, into smallish bite-sized pieces. You can actually buy it that way in many upscale supermarkets, in those little tubs. You can also grab a chunk of Parmesan and a vegetable peeler and shave off strips of the Parmesan (make sure you don't get any of the rind. Very easy to do. Allow the Parmesan to sit at room temperature for at least 20 minutes before doing this, so the shavings will come off smoothly and not get crumbly (and if they get crumbly, toss those crumbles right into the salad).
Nutrition
Calories:
695.53
kcal
,
Carbohydrates:
55.73
g
,
Protein:
11.51
g
,
Fat:
48.57
g
,
Saturated Fat:
11.81
g
,
Cholesterol:
11.79
mg
,
Sodium:
443.02
mg
,
Potassium:
331.33
mg
,
Fiber:
5.16
g
,
Sugar:
13.34
g
,
Vitamin A:
3147.08
IU
,
Vitamin C:
9.9
mg
,
Calcium:
174.31
mg
,
Iron:
2.94
mg
Nutrition information is automatically calculated, so should only be used as an approximation.
Like this? Leave a comment below!